All That Glitters in Provincetown, Mass.
With same-sex couples coming out in record-breaking number on the 2010 Census, West Hollywood and San Francisco are dethroned as the meccas of gay cities - at least for those who chose to settle down.
According to demographer Gary Gates at the UCLA Williams Institute, the top 10 cities with the highest rate of same-sex couples are now spread out in six states, twice the 1990 number. The rise of lesser known towns like Rehoboth, Del., New Hope, Pa., and Pleasant Ridge, Mich., account for the diversification that took place over the last two decades.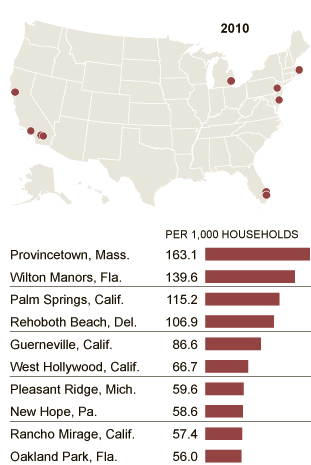 href>
Writing for The New York Times, Sabrina Tavernise reports:
"Last year was the third time the Census Bureau counted same-sex couples. The count included people of the same sex in the same household who said they were spouses or unmarried partners (spouses were not included in 1990)."
"The reordering reflects a growing influence of baby boomers, who became adults in the 1960s and 1970s, when the social stigma was starting to ease, and are more willing than previous generations to stand up and be counted. Now that generation, arguably the first in history with such a large contingent that is out, is beginning to retire, and its life transition is showing up in the data, with older cities as the new popular choices."