Obesity: Can Planners Stem The Epidemic?
The Active Living approach, promoting activity by changing physical space, is not enough to combat the obesity epidemic, Laura Tolkoff writes. Though the urban planner's role in reducing obesity is unclear, Tolkoff presents some possibilities.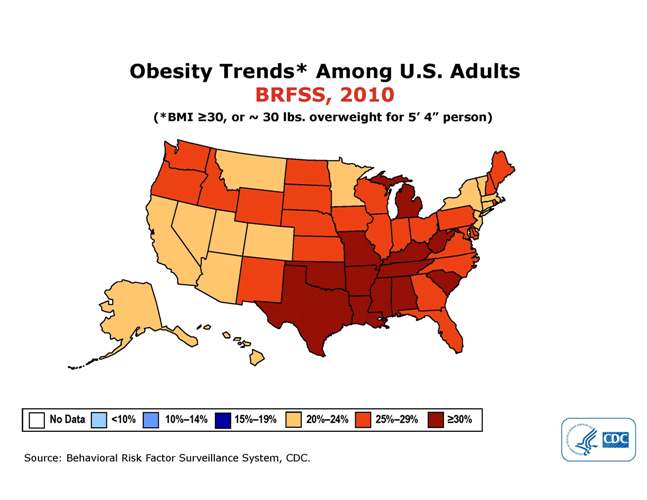 In 2010, each state's population had at least 20% percent that were obese, according to the Center for Disease Control and Prevention. "Patterns of settlement and (in)activity in the places we live, work and play are to blame for the obesity epidemic," Laura Tolkoff wrote.
Here are Tolkoff's main points, while the full article elaborates on each point:
"Planners need to look more closely at the fundamental causes of disease and disregard any policies or design proposals that solve only one disease."
"Planning to promote health needs to be sensitive to, and embedded in, its cultural contexts."
"Planning to promote health must be linked to efforts to preserve undeveloped land in the urban fringe and vacant land in the city."
"To carry the current momentum around active living into permanence, planners, researchers and program managers must evaluate the cost savings associated with active living and healthy planning at the city and county level."
"Economic development must be a central component of Active Living and healthy urban planning."
Published on Tuesday, July 26, 2011
in