Architect Charles Moore was an intellect and practitioner that loved Los Angeles, pushing the envelope of the city's nostalgia and utopianism while simultaneously embracing them, says urban designer Vinayak Bharne.
---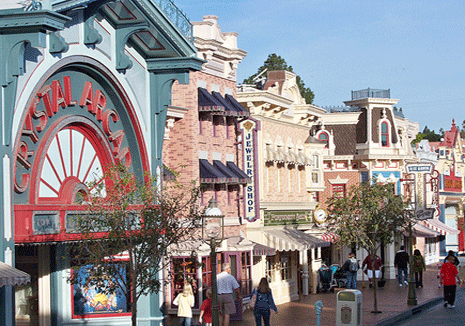 "The most evident thing about Los Angeles ..is that in the terms of any of the traditions we have inherited, hardly anybody gives anything to the public realm. Instead it is not at all clear what the public realm consists of, or even for the time being, who needs it Instead, singlehanded, (Disneyland) is engaged in replacing many of those elements of the public realm which have vanished in the featureless private floating world of southern California, whose only edge is the ocean and whose center is otherwise undiscoverable ."
-Charles Moore, You Have to Pay for the Public Life, Perspecta no. 9-10 (1965)
Four and a half decades since he uttered those words, the architecture and urbanism of Charles W. Moore seem more relevant to Los Angeles than ever before. LA's renewed consciousness towards a public realm and non-utopian urbanisms all seem like tangible embodiments of his perpetually urbane preoccupations.
Moore spent ten years in LA – beginning in 1975, as Program Head and Professor at the School of Architecture and Urban Planning at UCLA, and ending in1985 as the O'Neil Ford Centennial Chair of Architecture at the University of Texas at Austin. His legacy however extends far beyond academia into his firm Moore Ruble Yudell and the numerous peers and friends he influenced. But it also remains largely underestimated at a time when the un-bounded metropolis finally seems to be reinventing itself.
"Unlike most cities, Los Angeles is not organized as a set of places or neighborhoods. It is so big that it must be seen, for the most part, as a set of very long streets or freeways or rides, and the places of interest as events along the way .Of course, there is some architecture in Eden, but it hardly ever carries the story."
-Charles Moore, 'Rides in Ramonaland', The City Observed: Los Angeles (1984)
Beyond his impressive architectural oeuvre, Moore's intellectual contributions to Southern California can hardly be underestimated. He would energize the city with three practices: The Urban Innovations Group at UCLA, Charles Moore, Inc. in his Westwood Apartment (both extant), and Moore Ruble Yudell in Santa Monica, today one of the most respected firms in the country. He would give LA one of his most scholarly books: City Observed: Los Angeles
(See all American Architecture Books)
, transforming Reyner Banham's landscape of "Four Ecologies" to a "city of theme parks" and "rides" superimposing its rich history and experimental utopia. He would challenge Banham's "note on Downtown" redefining its position as "at least the city's symbolic heart". And he would expand the rhetoric of the smoggy regional metropolis by lamenting its visible nihilism to "place", but simultaneously showcasing its "multilayered parfait of civic realities" in the themed world of Disneyland's Magic Kingdom. "There is no one who understands Los Angeles better than Charles Moore" wrote Paul Goldberger, admiring the architect's encyclopedic knowledge and critical openness to LA. There was more to Moore than the Los Angeles knew, and it was lucky to get him.
Or was it the other way round? "Some love (Los Angeles) and feel at once at home – I have, since I was a child," Moore wrote recalling his family's winter escapes from Michigan to LA in the late 1930's. It was when he fell in love with the thrill of Hollywood and Grauman's Chinese Theater, and when the undeveloped hills and beaches, Pasadena, Route 66, and Catalina Island were all "phantasmagorical wonders." It was where his mother had moved when he was twenty, living there for the rest of her life. Perhaps LA was a sort of homecoming, a step closer to his boyhood memories: the rigor of Mexicana, the flavor of "Southernness", the romance of sun-baked white Mediterranean plaster and tiled roofs and their embodiment in what he so repeatedly admired as "one of the most extraordinary buildings in the United States" – the Santa Barbara County Courthouse. Perhaps Los Angeles meant a lot more for Moore. Perhaps he was lucky to get LA.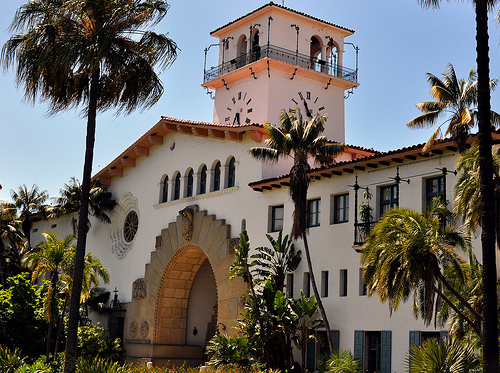 It was where he would design his largest civic projects west of the Mississippi: the Beverly Hills Civic Center (1982) and Oceanside Civic Center three years later. It was where he would test some of his most intricate ideas on urban renewal and housing: the (unbuilt) Bunker Hill Redevelopment project (1979), with "little buildings" at the base of the towers on the downhill plot surrounding the Angels Flight funicular. And it was from where that would concoct one of his most controversial and theatrical creations – the Piazza d'Italia in New Orleans (1978) – perhaps inspired by the LA paradox of fantasy and reality. "Even the strictly architectural sights of Los Angeles are experienced more than seen ." he wrote. "They are theater as much as architecture, ephemeral as often as architectonic, make-believe as often as real; and the result is a greater reality."
"I am especially interested in vernacular architecture .and I believe it is proper for it to be the prime source for my own work."
-Charles Moore, Introduction, A+U Extra Issue (1978)
The southern California of Moore's arrival was a lab of staggering architectural experimentation. Barely three years ago, Reyner Banham had christened it "Autopia", Frank Gehry had completed the Ron Davis Studio and Ceasar Pelli (then of Gruen Associates) the curtain-walled box of the San Bernardino City Hall. Into this gallery of Modern neo-expressionism entered Charles W. Moore, with a bag full of other ideas that had embodied two of his built works in the region - the UCSB Faculty Club (1968), and the Burn's House (1972). Even as Gehry would complete his Santa Monica home in 1978 with asphalt in its kitchen and chain-link for its skin, Moore would finish the Hofflander Condominiums in Westwood, with white plastered walls, and tiled sloping roofs unifying the triplex into a traditional house form. Even as Walton Becket's six-story, blank walled Beverly Center would be erected in 1982, Moore's playful oval voids were coming alive at the Beverly Hills City Hall. In this gallery of the 80's LA Modernist scene, Moore's architecture was thus perhaps best described by David Gebhard as "giving the appearance of being Modern, but in fact more of a comment of the Modern of its day". Moore seemed determined to rediscover Los Angeles only as much as his peers sought to reinvent it.
And yet, it is difficult to gauge his exact stance on LA. It oscillates between nostalgia and heterotopia. As an architect steeped in history and humanism, Moore was openly critical of Century City for its "hard-bitten super-commercial urbanity" that did "not seem to have been designed with people in mind, at least as we know them on earth". But he seemed equally fascinated with Knott's Berry Farm as "surely one of (America's) most enduring places" or Disneyland as "an incredibly energetic collection of environmental experiences" with lessons on "community and reality, private memory and habitation " Might this ambiguity suggest that Los Angeles could have instigated Moore to question some of his own beliefs, or, like his contemporary Robert Venturi did in Las Vegas, fall in love with things about one place that he might not have liked in another? Moore's tryst with LA was an open-ended paradox, a sort of symbiosis – each influencing, titillating, even mutating the other.
Was he too open-minded about Los Angeles, too accepting of everything it had to offer, perhaps far less critical than he should have been? While his departure from Los Angeles was not entirely unpredictable within his larger nomadic repertoire, his words looking back to LA from Texas suggest something else.
"That old Noel Coward thing I quoted over and over again in my LA book about a place where what's phony seems real and what's real seems phony. That back-and-forth between fantasy and the real I liked very much, and my sense is that in the last twenty years things have become increasingly and over-poweringly and suddenly earnest and bureaucratized and tangled up in themselves, desperate to maintain their qualities. And so the California of my joyous remembrances is not very much like the LA of today, which has got more suicidal regulations than any governmental entity I know of."
-Charles Moore, Interview with Drexel Turner (1987)
Twenty years since those words, it seems like Los Angeles has come a long way. There is an emerging public realm (the sort that Moore would have liked) from all the main street renewals, mixed-use in-fills and downtown revitalizations, retooling of the same bureaucracies that had fuelled this placeless landscape. There is a growing web of trains. There are brand new monuments –the Getty acropolises, the Disney Concert Hall and new Cathedral. There is an ongoing Downtown renaissance with numerous modest projects bringing people back into the city's historic heart. And Disneyland though very much alive, is hardly the crowning glory of the LA phonies. Now there is Universal Studios and Third Street Promenade and Victoria Gardens and The Grove and The Americana. In LA, we may still have to "pay for the public life", but perhaps for the first time in almost five decades, there is a clear choice to do otherwise.
For the first time in almost half a century, when Los Angeles stands up for humane urbanisms, the multifaceted dialogues of Charles Moore's LA lie buried and forgotten. They deserve to be excavated and examined. They can serve as a refreshing barometer for LA's evolution and maturity over the past few decades. They can serve to remind us that the idea of place and place-making, rather than being reduced to the pitiful footnote of architectural styles, should be revealed instead through the richness of architectural and urban pluralism. That it's ok not to belong to a camp, but to oscillate between nostalgia and utopia. That Los Angeles, for all its self-imposed nihilisms, also boasts a wealth of wonderful historic places that can inspire contemporary urbanism. And that this regional post-metropolis, is not that different after all, seeking the same humane manifestations that have perpetually embodied great urban life.
---
Vinayak Bharne is a practicing urban designer, a professor of urban design and planning at the University of Southern California, and a contributing author of Los Angeles: Building the Polycentric Region (CNU 2005).
Making Healthy Places
The editors of the book "Making Healthy Places," recently published in a second edition by Island Press, discuss the intersections of public health and planning, including key concepts such as green gentrification, health impact assessments, and AI.
The Great American Exodus: A Conservative's Perspective
During his keynote speech on September 11 at the National Conservatism Conference in Miami, Florida Governor Ron DeSantis describes the demographic shifts in America since he became governor in 2019 in what he calls the 'Great American Exodus.'
This six-course series explores essential urban design concepts using open source software and equips planners with the tools they need to participate fully in the urban design process.
This course aims to provide an introduction into Urban Design Sketching focused on how to hand draw master plans using a mix of colored markers.
View More