<p> Google Labs has released another fascinating tool for researchers. Readers may already be familiar with  <a href="http://trends.google.com">Google Trends</a> which can chart and reveal trends in search patterns for the last decade. The new tool allows similar analysis of Google&#39;s impressive library of digitized books spanning centuries. </p>
---
Google Labs has released another fascinating tool for researchers. Readers may already be familiar with  Google Trends which can chart and reveal trends in search patterns for the last decade. The new tool allows similar analysis of Google's impressive library of digitized books spanning centuries.
Google Labs new online tool is  called the Google Books Ngram Viewer. Google has been digitizing books since 2004. It's digitlized library now includes 15 million books. Discover reports (via Slashdot):
"Together with over 40 university libraries, the internet titan has thus far scanned over 15 million books, creating a massive electronic library that represents 12% of all the books ever published. All the while, a team from Harvard University, led by Jean-Baptiste Michel and Erez Lieberman Aiden have been analysing the flood of data.

Their first report is available today. Although it barely scratches the surface, it's already a tantalising glimpse into the power of the Google Books corpus. It's a record of human culture, spanning six centuries and seven languages. It shows vocabularies expanding and grammar evolving. It contains stories about our adoption of technology, our quest for fame, and our battle for equality. And it hides the traces of tragedy, including traces of political suppression, records of past plagues, and a fading connection with our own history." 
The Ngram Viewer displays a graph showing how those phrases have occurred in a collection of books over the years.
To try it out, I searched for the following terms between 1850 and 2008 :
city planning
landscape architecture
town planning
urban design
(I excluded "architecture" because its higher usage meant that it was harder to compare the other terms in the graph.)
Here is the chart for a collection of all books in English: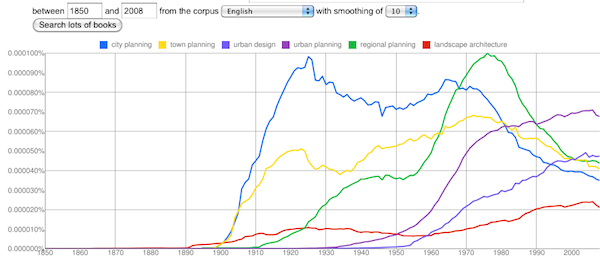 Here is the same chart for American English: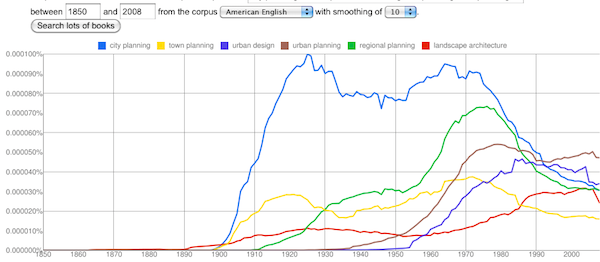 Here is the same chart for British English: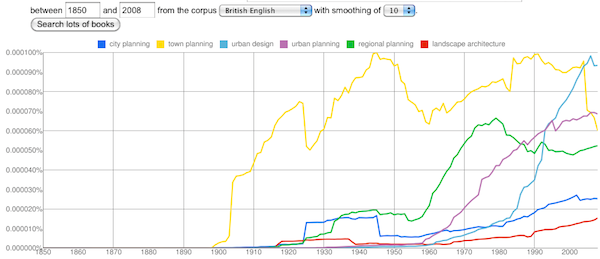 I will leave it to Planetizen readers to speculate if there is anything we can infer from these visualizations.
You can run your own searches at ngrams.googlelabs.com and post links in the comments below. 
---
Inclusive Prosperity: No Displacement Necessary
Recent analysis identifies nearly 200 U.S. neighborhoods that have achieved the highly-sought-after goal of increasing the prosperity of residents without displacing the existing community.
Making Healthy Places
The editors of the book "Making Healthy Places," recently published in a second edition by Island Press, discuss the intersections of public health and planning, including key concepts such as green gentrification, health impact assessments, and AI.
This six-course series explores essential urban design concepts using open source software and equips planners with the tools they need to participate fully in the urban design process.
This course aims to provide an introduction into Urban Design Sketching focused on how to hand draw master plans using a mix of colored markers.
View More