Susanna Diaz reviews a new book covering the history and thought of urban planning in Brazil, edited by Profs. Vicente del Rio and William Siembieda of Cal Poly San Luis Obispo.
---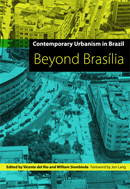 Much has happened in the urban development of Brazil since 1960, when the building of Brasilia as the country's new capital captured the imagination of architects and urban designers around the world. While no similarly grand design gesture has been made in Brazil since 1960, there have been equally important interventions in many of the country's major cities since then. Beyond Brasilia effectively surveys contemporary Brazilian urbanism and how it shaped eight of the country's capital cities in the last two decades of the twentieth century.
Brazil is South America's largest country, occupying nearly half the continent; and with a population of 187 million, it is the fifth most populous country (and the fourth most populous democracy) in the world. Brazil's architects and planners have contributed much to urban design with sculptured buildings, streetscapes, and transit designs that continue to inspire colleagues around the world.
This compendium of 12 case studies (written by 18 authors and edited by Vicente del Rio, a native Brazilian, and William Siembieda-both professors at California Polytechnic University, San Luis Obispo) describes the forces that created the urban living environments experienced in Brazil today. The cities examined - which range in population from 1.5 to 11 million - are Belém, Brasilia, Curitiba, Palmas, Porto Alegre, Rio de Janeiro, Salvador, and Sao Paulo.
Brazil began as a federated republic in 1889. Throughout the twentieth century, the country experienced periods of development where the government sought to manipulate urban space to shape society. Post-Brasilia, from 1964 to 1985, the country was under the rule of military leaders, and until 1990 there were no popular elections for President. However, beginning in the late 1970s, Brazil gradually returned to democratic rule, and in 1982, direct elections were held for state governorships. It is this period of redemocratization that Beyond Brasilia examines - decades of intense urban planning, feisty politics, successful public and private collaboration, and sometimes innovative city design.
By creating a foundation for understanding the development of towns and cities through case studies, Beyond Brasilia accomplishes the editors' goal of familiarizing readers with Brazilian urbanism. The analyses are particularly instructive because, while the country has modernized rapidly, there are major differences between rich and poor. Developing countries elsewhere can assess how Brazil's planners used urbanism to overcome social inequities while attempting to meet market and social demands and respect place, culture, and history. Highlighted with maps, photographs, and diagrams, each well-crafted chapter discusses the correlation of urban development and the political, economic, and social environment in specific localities. Brazil's cities endured controversies and struggles similar to those in some American cities as the country encountered the need to recognize "the value of historical precedents, multiple uses, sustainable development, and the growing role of the private sector as a partner in public projects."
Vicente del Rio-a professor at Cal Poly San Luis Obispo and formerly at the Faculdade de Arquitectura e Urbanismo, Federal University of Rio de Janeiro, 1978 to 2001-introduces the common thread by summarizing the history of Brazil's political and planning environment in the twentieth century. He also offers informal and informative introductions to each of the book's three major parts by summarizing the contributing authors' views.
Beyond Brasilia is thus a catalog of information enhanced by the authors' opinions-held to a minimum-while their objective and factual studies delve into the processes that occurred and the urban mechanisms used in response. Structured in three segments, the book presents three overarching struggles discussed as topics rather than chronologically. In each of the three parts, the contributors explain how "the public and private realms are being reformulated to address social and cultural requirements."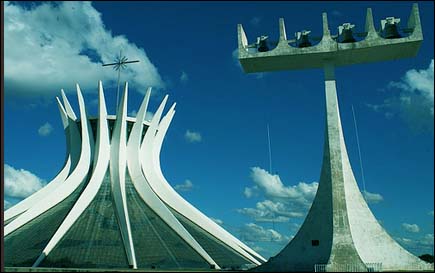 Part 1, "Late Modernism," concerns the struggle to control city form and function. The case studies include shaping the new state capital of Brasilia (from a winning design by Lucia Costa in 1960), creating a new town design for Palmas, shaping and zoning the vertical cityscape in Sao Paolo, and shopping center design in Sao Paolo. This section offers a window into the difficulties Brazilian planners experienced in attempting to create and sustain a well-designed urban environment.
For example, Dirceu Trinidade, author of the chapter on "Challenges for New Town Design in a Frontier Region: Palmas," suggests the design of Palmas was undermined by "obsolete urban legislation" and a lack of proper shepherding in a quickly designed town. Other parts of this segment discuss how the government sponsored the planning of Brasilia and helped master plan a 164-foot "environmental preservation area" along the streams in the new privately invested town of Palmas.
In "The Vertical Cityscape in Sao Paolo," Silvio Soares Macedo, professor of Landscape Architecture in Sao Paolo, states that building height regulations adopted in the second half of the twentieth century need to be revised to address environmental needs. According to Macedo, the Brazilian culture of "living in tower buildings has become a common and desired lifestyle-one that is fully accepted by all income groups and has morphologically structured extensive urban areas for the whole country."
Evolving from "late modernism" is Part 2, "Revitalization, the struggle to make the best of the existing city." The case studies here include the cultural corridor project in downtown Rio de Janeiro, preservation and place marketing in Salvador, the riverfront revitalization of the Amazon in Belém, and redesigning brownfields in Porto Alegre. This segment will be illuminating for every planner interested in promoting social and economic equity through revitalization. The authors include practicing planners and active and retired professors.
"Part 3, Social Inclusion," covers "the struggle to make a better city for the community." The four case studies in this segment delve into the urban design and politics of development in Curitiba, reclaiming city image and street livability in Rio de Janeiro, contemporary urban intervention in Sao Paolo, and upgrading squatter settlements into city neighborhoods in Rio. Much has happened in Curitiba since the initial planning of its infrastructure in the 1960s and 1970s. Clara Irazábal, an assistant professor at Columbia University, argues that Curitiba, a city world renowned for its innovations and frequently referred to as the model of a sustainable city, must pay more attention to social and spatial inequalities in order to continue its remarkably successful planning efforts. Her chapter, "Urban Design, Planning, and Politics of Development in Curitiba," is an informative journey through the history of Curitiba, its "topdown politics," and the establishment of the Institute of Urban Research and Planning of Curitiba (IPPUC). For those interested in public transportation, this chapter alone makes the book a worthwhile read, with ample information and photos showing how this rapidly growing area developed a cutting edge bus system that rivals light rail.
In the conclusion, co-editor Siembieda, department head of the City and Regional Planning Department at Cal Poly, reflects on how contemporary urbanism in Brazil mirrors postmodern urbanism internationally.
Beyond Brasilia is a Herculean compilation of historical and contemporary examples of the ways planning and politics have shaped major urban areas, while nourishing (or not) their historical pasts. A significant resource of planning practices and methods, this is a book that urban planners everywhere will want to keep near for reference and inspiration.
---
Susanna Diaz is a contract planner for public workshops, visualizations, and mapping. She can be contacted at [email protected].
The above article first appeared in the September 2009 issue of Northern News, the monthly publication of the American Planning Association, California Chapter, Northern.
This six-course series explores essential urban design concepts using open source software and equips planners with the tools they need to participate fully in the urban design process.
Learn the tools for implementing Universal Design in planning regulations.
View More