<p class="MsoNormal"> <span style="font-size: 11pt; font-family: Garamond">There are three types of bicyclists: Advanced Bicyclists, Intermediate Bicyclists and Beginner Bicyclists. We need to plan and build facilities to accommodate all of them. Those cities that do are experiencing ridership numbers far above the national average.</span> </p> <p class="MsoNormal"> <img src="/files/u405/Advanced_Bicyclist_2.jpg" width="350" height="233" /> </p>
---
There
are three types of bicyclists: Advanced Bicyclists, Intermediate Bicyclists
and Beginner Bicyclists. We need to plan and build facilities to accommodate all of them. Those cities that do are experiencing ridership numbers far above the national average.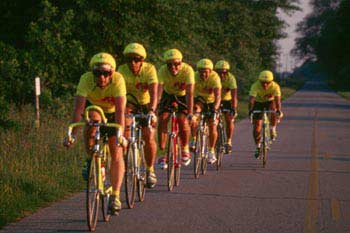 Advanced Bicyclists are highly skilled, comfortable "taking the lane" in traffic, and
move consistently at speeds greater than 12mph. This group is largely comprised
of daily commuters, racers, bicycle messengers and "weekend warriors" (those
spandex/jersey wearing regulars you see plying the streets early on Saturday and Sunday mornings). Such riders often move in pelotons or "packs," and customize
their road, recumbent, commuter and fixed-gear bicycles to reflect their riding
eccentricities. Many own more than one of the above. Advanced bicyclists tune
their bikes regularly, take bicycle touring vacations to Europe or Napa, and may pack a
folding bike while traveling on business. They willingly participate in
competitive racing, rides for charity and/or or Critical Mass. They subscribe
to Bicycle Magazine or actively participate in obscure email listserv
discussions. They form the memberships of grass-roots advocacy organizations
and road biking clubs across the country. They were the first to buy Livestrong
Bracelets and may let you know it. Advanced Bicyclists generally ride with great
confidence, but often do not ride safely – opting to skirt existing traffic
laws in favor of efficiency.
Despite sharing a passion for two wheels, Advanced Bicyclists are fragmented
into two distinct schools of thought: those who favor bikeway facilities like bicycle
lanes and bicycle boulevards, and those who do not.
Although
capable of riding without them, those who favor bikeway facilities believe they increase predictability, their own safety and the number
of cyclists on the road. In defense of bikeway facilities this subset focuses on qualitative issues, finding bicycle lanes and the like to be instructive for intermediate or novice riders. They also appreciate
the space and dignity a designated bikeway provides. Thus, this group finds bicycle
advocacy to be a populist endeavor, one that ostensibly improves safety,
awareness, and the environmental issues for which they are passionate. Portland, Oregon and Davis, California are model examples.
Those
who loathe bicycle lanes tend to view them as a form of nanny-state
coddling. Alternatively, they implore
"vehicular cycling," as the only means for safe and effective bicycling. This subset conducts quantitative studies to
disprove the assertions of bicycle lane supporters. They are largely comprised of engineer-type
male bicyclists who suppose their superior cycling abilities can be achieved by
the masses if taught correctly...by them. They emphasize training classes and support
laws that support their agenda. Their leaders are John Forrester and John
Allen, whose passionate bicycle lane dissent is, for better or worse, becoming
increasingly irrelevant in the face of a growing movement of populist bikeway
facility and infrastructure advocates.
The truth
is that both groups could learn a great deal from each other, if they would
just stop bickering. Their greatest hope for compromise is the "Sharrow."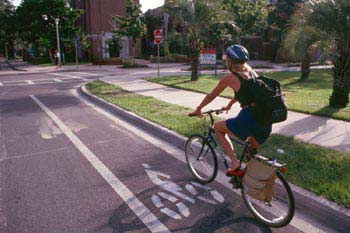 Intermediate Bicyclists are relatively skilled recreational and utility riders who bicycle with varying regularity. If proper
bikeway facilities exist, they might use their bicycle for commuting. This group is the largest users of bicycle racks (especially those on buses) and off-street bicycle paths. Less ideological
and discerning than Advanced Bicyclists, they ride road, electric, hybrid, mountain, cruisers and retro-cool Schwinn ten speed bicycles. Intermediate bicyclists occasionally frequent
the local bike shop and still
ride on the sidewalk if they feel threatened. They will eventually teach their progeny
to do the same. This group generally supports bikeway facilities and would probably ride more often if bicycle lanes and boulevards were to expand
into a coherent network. They are not aware of the bikeway facility divide between Advanced Bicyclists. Generally in tune with other aspects of bicyling culture, Intermediate bicyclists brought Livestrong bracelets
from niche cause to international trend.
Appealing
to Intermediate Bicyclists in America
is essential, as they represent the largest opportunity for an increase in
bicycle ridership.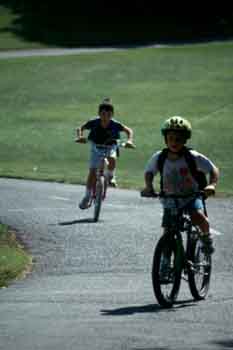 Beginner
Bicyclists include children and other first-time bicyclists. They ride
primarily on sidewalks, recreational bicycle paths, or in parks or college campuses. They
ignore traffic laws with regularity, not knowing they apply to bicycles. They
ride new big-box store mountain bikes, BMX, and cruisers, or inherit "hand-me-down" bicycles from family members and friends, which they rarely, if
ever, tune. Ideally, they would undergo some level of safety instruction before
moving onto busier thoroughfares, but will likely be acculturated by observing
those properly and improperly using the existing network. As it relates to children, a well-formulated Safe Routes to School program can do the most to promote safe cycling.
Although all of the above is subject to scrutiny, I cannot ignore years of observing bicyclist behavior, trends and pecularities. In general, I write because striping a network of bicyle lanes or adding "Share the Road" signs is simply not enough to create a complete system for all three user types. Thus, a much more fine-grained approach is needed in bicycle planning, one that will help interested bicyclists evolve "up the ladder." I will outline how this might be conceived in a not-too-distant future post.
---
Planning for Congestion Relief
The third and final installment of Planetizen's examination of the role of the planning profession in both perpetuating and solving traffic congestion.
Short-Term Rentals Vex Dallas City Council
Residents complain that vacation rentals exacerbate the city's housing shortage and bring traffic and noise to residential neighborhoods, calling on the city to impose—and enforce—stricter regulations.
This six-course series explores essential urban design concepts using open source software and equips planners with the tools they need to participate fully in the urban design process.
This course aims to provide an introduction into Urban Design Sketching focused on how to hand draw master plans using a mix of colored markers.
View More