Say you're a big city. But right next door is an even bigger big city. What do you do to stand out? Josh Stephens explores the unique plight of America's so-called stepsister cities.
---

Pick any diminutive and David Graybill has probably heard it: Second city, shadow city, stepsister, satellite, dumping ground.
As president of the Tacoma-Pierce County Chamber of Commerce, Graybill has the unenviable job of distinguishing Tacoma from a neighbor iconic enough to need no introduction. At times he has had to contend with an "'always looking over our shoulder' sense of, 'Can we ever be like Seattle? We wish we were like Seattle,'" said Graybill.
Surely Tacoma is no Seattle. But with over 200,000 residents and another half-million in surrounding Pierce County, it is hardly a backwater either. It belongs to a distinct, yet formally undefined, class of American cities with large populations, complex economies, and palpable civic identities-and the misfortune being located just a little too close to even larger neighbors.
"[The center city] remains a signature," said Curtis Johnson, a writer with urban think tank Cititates Group. "It's the name that falls out of your mouth whenever you say where you're from, if you're a long way off." This tendency to reduce metropolitan areas to a single signifier-the center city-consigns would-be metropolises to the sidelines of public perception.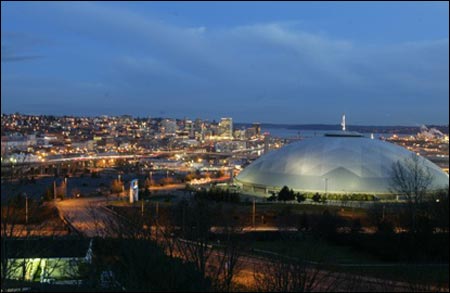 Newark is the largest city in New Jersey but has been known largely for trading in riots and homicide. Oakland has suffered the wit of onetime resident Gertrude Stein ("there's no there there"). The more notable of the two Kansas Citys isn't even in the state of Kansas. And, though Fort Worth ranks as the nation's 19th-largest city according to 2005 estimates, it's easy to assume that many of its 650,000 residents commute to work via hoof.
Meanwhile, the population of Long Beach outranks that of Olympics host Atlanta (not to mention those of Miami, Cleveland, and Minneapolis), but somehow isn't enough to support a minor league baseball team. Some of its natives-including actress Cameron Diaz and rapper Snoop Dogg-have arguably greater name-recognition than the city itself.
St. Petersburg and St. Paul, could lodge similar complaints, while the seven cities of Virginia's Hampton Roads region clamber over each other like puppies, with none emerging atop the heap.
These are America's stepsister cities.
Neither Center Nor Edge
Situated like suburbs or edge cities, stepsister cities thwart the tenets of location theory that dictate that large settlements ought to be spread out. According to Water Christaller's Central Place Theory, Cities are not supposed to be too close to each other, lest their economies cannibalize each other and suburban areas traditionally depend on the urban core.
Stepsister cities are too small to be center cities but--unlike office-oriented edge cities or hypertrophic bedroom communities such as Mesa, Ariz., or Aurora, Colo.--they still lay claim to distinct local economies, urban character, and even urban sub-regions of their own.
"It's different from an edge city," said Graybill of Tacoma. "We aren't a city that just developed. We've been here awhile."
Cities such as Long Beach and Tacoma originally developed around deep-water harbors, which sustained their growth but gave them decidedly gritty identities. Many similar cities have housed the smelters, loading docks, stockyards, military bases, and refineries that power their regions' industrial sectors-a far cry from tech, media, finance, and fine dining.
"Oakland suffers from-let's call it-the 'shadow city' phenomenon," said Karen Engle, director of economic development at the Oakland Chamber of Commerce. "A lot of philanthropic resources and business attention are focused on San Francisco or Silicon Valley, so Oakland becomes neglect-able."
And yet, with the breakdown of the traditional model into urban regions with complex economies and mobility patterns, these odd little cities that are discovering their own versions of prosperity and prominence, even in the absence of sports teams, media markets, four-star hotels, and the refulgence of tall buildings.
Antidotes to Sprawl
In Tacoma, the din of prosperity has of late drowned out much of the derision.
"That's kind of history-I don't hear it that much anymore," said Graybill. "We have a strong, diversified economy that, if it were outside an urban area, would be very strong on its own."
Whatever bad PR they have suffered, stepsisters have chugged along in part because of their connection to larger urban economies. With the exception of Newark, New Jersey, they have proven less vulnerable than, for instance, isolated Rust Belt cities of comparable size.
"The advantage of being part of the region is that the region is economically large and diverse," said Bill Moore, professor of public policy at Cal State University, Long Beach.
As downtowns revitalize and the suburban flight of the 20th century has waned, stepsisters are finding themselves with plenty of suitors. Some residents and businesses that would otherwise favor Los Angeles, San Francisco or New York are now discovering Long Beach, Oakland, and Newark, where, cachet notwithstanding, the urban lifestyle and agglomeration economies are very much in effect. (That can also include ethnic diversity. Long Beach and Oakland rank first and second among the most diverse cities in the country, according to a recent calculation by USA Today.)
Newark Deputy Mayor Stefan Pryor said that though "the economy of the (New York) region has overlooked Newark for a long time," Newark has in recent years become the fastest-growing urban core on the East Coast because, according to Pryor, "people are recognizing that Newark has great assets." Pryor cited commercial rents in the range of $30-$40 per square foot, compared to Midtown Manhattan's $100.
"The demand for housing and business location in the urban core will only increase in the coming decades," said Engle, of the Oakland Chamber of Commerce. "If we invest in infrastructure smartly, cities like Oakland, Long Beach, and Tacoma are charted to thrive and be reinvigorated. The challenge is, how do you do that without losing your soul?"
The solution may lie in sticking with fundamentals rather than seeking the spotlight.
"You don't need to be that famous per se," said Johnson, of the Citistates Group. "The economy and the ties that go with it make for an urban region, of which the center city is just the best-known place."
Coffeehouses and Container Ships
The joke in the Dallas area used to be that the best thing about Dallas is that is has a real city 30 miles to the west. What began as a quip to combat an inferiority complex may be coming true.
"With the stuff going on in and near downtown Ft. Worth, in less than ten years Dallas people will have Ft. Worth envy," said Johnson.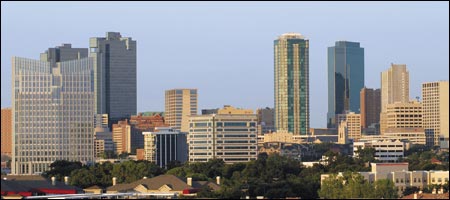 Ft. Worth's booming museum district, population growth, and western-flavored streets offer inspiration for other stepsisters that are intent on cultivating stronger internal identities and taking care of their own.
"We're moving away from comparing ourselves to the larger city to the north and focusing on our own assets," said Tacoma Mayor Bill Baarsma. "We're not gridlocked, we're laid-back; we have tremendous opportunities." Baarsma cited a "billion dollars of investment downtown" as an indicator of Tacoma's upswing.
"I think the issue of identity is important to the notion of community-building," said Mark Pisano, senior fellow in public policy at the University of Southern California and former executive director of the Southern California Association of Governments. "It's critical for the issue of how does a city, mayor, city council mobilize the population within the jurisdiction."
But because urban economies take place on a regional level, Johnson said that the main point of contention between center cities and stepsisters lies in amenities for residents-educational institutions, restaurants, attractive urban spaces, museums, theaters and other cultural esoterica-rather than in any quantifiable comparison.
"This cultural competition is sort of fun: who can produce something that attracts jobs and employers?" said Johnson. "That's OK, as long as you have realistic regional (political) arrangements to do the serious things that affect the meat and potatoes side of their agendas."
Center cities are even taking note of the ports' importance to regional economies and are joining forces with siblings that they might have previously neglected or competed against. Through regional councils of government, chambers of commerce, and other organizations, they are turning rivalry into prosperity.
"Relationships in some of these regions are getting very collegial," said Johnson. "They're worried about their international positioning, not about eating each other's lunch."
Cities that developed and held their own because of their proximity to a harbor are now taking advantage of the increase in international trade and the vast goods movement and logistics industry that annually spirits tens of millions of containers to the hinterlands.
In the age of globalization, what these cities lack in prominence as cultural icons or tourist destinations they make up for in economic importance-so much so that Shanghai may care more about Long Beach than, for instance, Detroit.
"Given the increasing role of global trade...Long Beach is far more powerful than many of the other cities in the 10-30 [population ranking] category," said USC's Pisano. "They are considered a national gateway with a large influence."
Long Beach to OMB: Drop Dead
So central is Long Beach to the global and local economy that its success calls into question the standard subjective and statutory methods for defining metro areas in the United States. The federal Office of Management and Budget defines metropolitan statistical areas according to county boundaries, which means that if you ever need to hide a major American city, head to Los Angeles County.
With a population over 10 million and a makeup of 88 cities, Los Angeles County is larger than every other urban area in the country, with the exception of New York and Greater Los Angeles itself. But even in this instance, OMB's position is unyielding.
"OMB [defines] metropolitan statistical areas solely for statistical purposes," OMB spokesperson Jane K. Lee wrote via e-mail. "[MSAs] should not be used to develop and implement [f]ederal, state, and local nonstatistical programs and policies."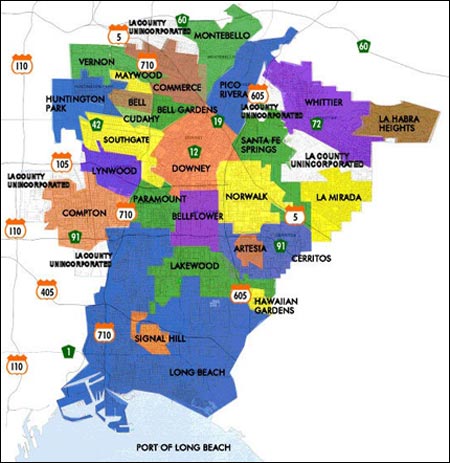 But whether OMB likes it or not, MSA designations can influence urban identity, and in an effort to assert themselves within L.A.'s unwieldy mass, Long Beach and 26 cities surrounding it have formed a confederation known as the Gateway Cities. With a population of roughly 2 million-and an economy with about as much to do with Hollywood as Timbuktu-the Gateway Cities would rank as the 27th largest metro area in the country.
"The trade related-interactions with shipping, cargo handling, warehousing, trucking, rail yards, which is unique to this region add to the distinct view that the Long Beach Gateway Cities region is deserving of its own metro identity," wrote Long Beach City Council Member Bonnie Lowenthal via e-mail. "Long Beach Gateway Cities would be one of the largest and most vibrant [metro areas] in the nation."
An MSA of its own will not turn Long Beach into an American Shanghai. Likewise, the New Jersey Devils' new hockey arena hasn't caused all of Newark to gleam, nor has the new Kimball Museum enabled Ft. Worth to challenge Paris.
But that's hardly the point. In a world of tabloids, American Idol, and insensate fixation on all things famous, these cities and the other members of their distinct sorority suggest that, for once, fame is not everything.
---
Josh Stephens is a former editor of The Planning Report and the Metro Investment Report, monthly publications covering, respectively, land use and infrastructure in Southern California. Josh also blogs on Planetizen Interchange.
San Francisco Just Ended Single-Family Zoning
The San Francisco Board of Supervisors voted to Tuesday to eliminate single-family zoning, but pro-development advocates say additional changes are needed to unleash a wave of construction.
This six-course series explores essential urban design concepts using open source software and equips planners with the tools they need to participate fully in the urban design process.
This course aims to provide an introduction into Urban Design Sketching focused on how to hand draw master plans using a mix of colored markers.
View More