<p><font face="georgia, bookman old style, palatino linotype, book antiqua, palatino, trebuchet ms, helvetica, garamond, sans-serif, arial, verdana, avante garde, century gothic, comic sans ms, times, times new roman, serif"><em> It is by riding a bicycle that you learn the contours of a country best, since you have to sweat up the hills and coast down them. Thus you remember them as they actually are, while in a motor car only a high hill impresses you, and you have no such accurate remembrance of country you have driven through as you gain by riding a bicycle.</em> ~Ernest Hemingway</font></p>
---
It is by riding a bicycle that you learn the contours of a country best, since you have to sweat up the hills and coast down them. Thus you remember them as they actually are, while in a motor car only a high hill impresses you, and you have no such accurate remembrance of country you have driven through as you gain by riding a bicycle. ~Ernest Hemingway
Though I don't find myself sweating up too many hills in Miami, bicycling the 8.5 miles from South Beach to our office in Miami's Little Havana neighborhood allows me to absorb the contours of this strange city in a way that, as Hemingway notes, is only possible via foot or bike. Sure, co-workers and friends think I am a little 'insane' or 'heroic' for traveling the auto-dominated Miami streets by bike, but I wouldn't have it any other way. The freedom is exhilarating, the cost cheap, and the intimate knowledge gained about this ever-changing city irreplaceable.
Before continuing, those not familiar with Miami should know that high density residential development is out of control. The building boom, which began approximately in 2002, has increased dramatically in 2007. According to Boom or Bust Miami, the city saw 24 major residential projects built from 2002 - 2006. In 2007 alone, there have been an additional 27. No other city in North America, except for Vancouver, has seen such a spike in downtown, high-rise residential building. Vancouver is known as one of the world's most livable cities. Miami is not, for reasons outlined below.
The continued development may come as a surprise, given that Miami is currently one of the worst real estate markets in the country. Apparently, developers and city officials are still betting that these condos will someday fill up with people and help to populate what is essentially an extended vertical office park -- people drive in, people drive out. No one stays past 6pm. However, with little to no consideration for street life or adding to the quality of the public realm, many of the new buildings will fail to do anything but put residents high in the sky with their amenity soaked buildings. The developers win, the city as a whole loses. Though Miami 21 will revamp the city's zoning codes to ensure that all new development actually benefits the city, many fear that for this building cycle it may be too little, too late.
For an urbanist, the social, political, and economic contours of 'Magic City' are both fascinating and frustrating. The following images reveal what I encounter everyday on a bicycle.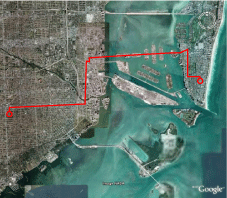 My route takes me from South beach(circle at right)to Little Havana (circle at left).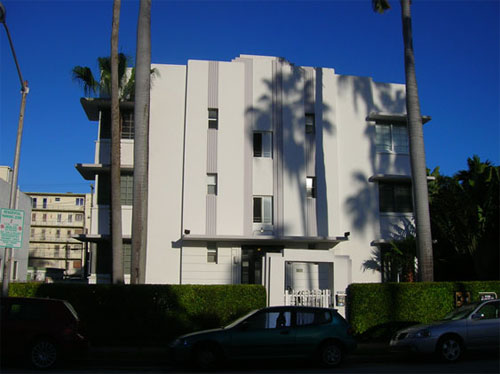 Leaving our 1939 Art Deco apartment unit at 7:30am. South Beach is blessed with the largest collection of Art Deco buildings in the world and should be commended for designating them as historically significant structures. At two to four stories, they allow for a dense, human-scale neighborhood urbanism, which is something that the City of Miami lacks.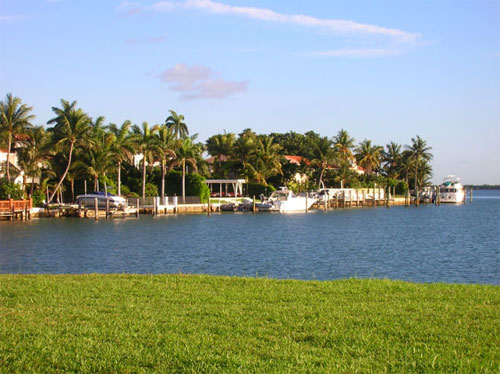 Departing Miami Beach by bicycle requires a pleasant ride across Biscayne Bay via the Venetian Causeway. As you can see in the image above, lush landscaping and single family homes line the water of these man-made islands. Though not the wealthiest neighborhood in the city, the Venetian Islands maintain a level of exclusivity commonly desired by the upper echelons of Miami's monyed classes. This mentality, replete with a self-entitlement complex, is unfortunately manifested throughout much of the city's latest high-rise development.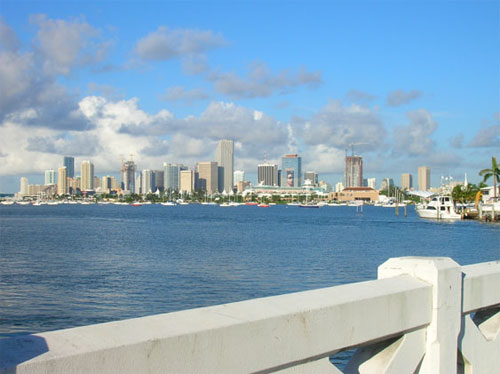 Further along the Venetian Causeway the ever-developing Miami skyline reveals itself behind the calm blue waters of Biscayne Bay.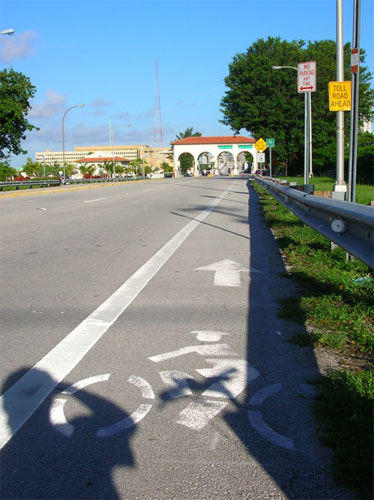 Though Miami Beach is becoming an increasingly bike friendly city, Miami is most definitely not. This Venetian Causeway bike lane is utilized by cyclists of all abilities and ages. However, it ends abruptly upon entering Miami proper, effectively telling cyclists that they are no longer welcomed. It's no wonder that virtually everyone turns around and rides back towards South Beach. Also of note is the toll both in the background. It sure feels good to ride through that and not have to pay a dime.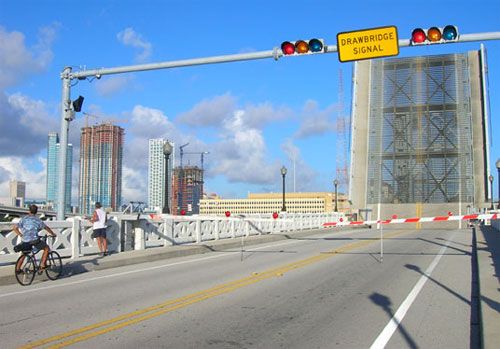 The final causeway bridge occasionally rises to make way for a passing boat, extending my ride by five minutes or so. A Jogger and fellow cyclists take in more high-rise condominium developments on the edge of Miami's CBD.
After leaving the Causeway, the social and economic contours of my ride change dramatically. The picture above displays Miami's warehouse district, which is addled by vacant lots, empty buildings, poverty, and racial segregation. I count more people sleeping on the streets here than I do active pedestrians or other cyclists. High-rise condos in the background, a grouping that my girlfriend thinks are particularly scary from the street level, creep ever-closer.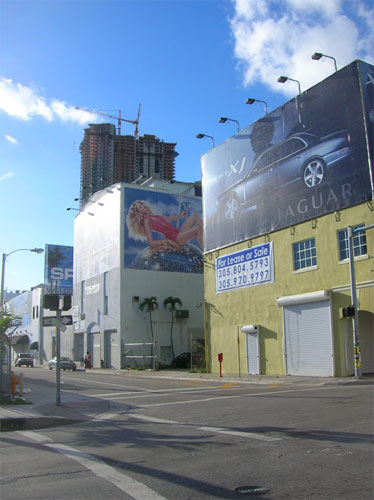 At the edge of the Warehouse District oversized advertisements display a high-class, sophisticated urban lifestyle. The ads conveniently cover the blight so that potential condo buyers who whiz by on the nearby highway take notice. Despite the promise of luxury, no one in their right mind walks here. Apparently that would be too much of a luxury. A nice dose of irony for my early morning ride.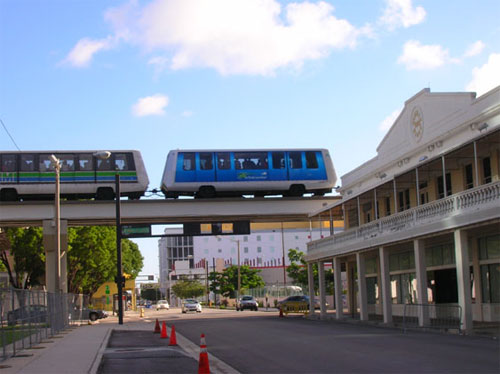 Approaching Miami's government center area I stopped to look back and capture the City's elevated Metromover. Despite frequent criticism and the limitations of the system, I do see morning commuters making use of it. Comparing this thing to Detroit's People Mover, a transit boondoggle of a similar vintage, shows that Miami got one thing right...it at least moves in two directions! To the right, a two-story historic arcade building begs to be redeveloped. Despite almost two hundred thousand day-time Central Business District employees (Miami DDA) and an increasing residential population, the city struggles to create viable street-level retail.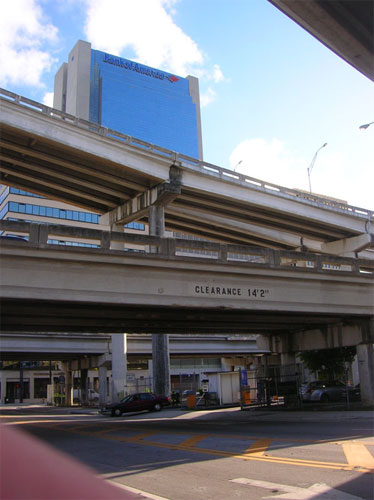 Though living in Miami often feels like living in another country, the above picture shows a distinctly American characteristic -- the brutal imposition of America's highway infrastructure.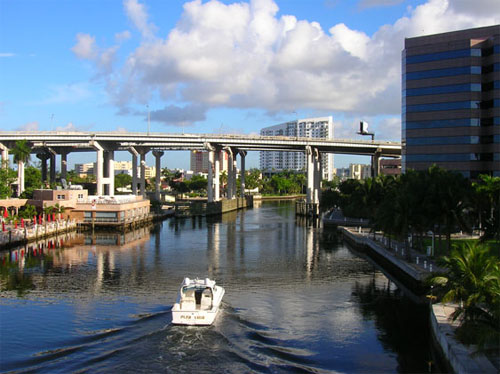 The view from Miami's SW 2nd Avenue Bridge displays a boat gently cruising inland. Primarily an industrial corridor, a slowly expanding riverwalk, though inactive, is helping the Miami River slowly transform itself into a public amenity. Interstate 95 looms in the background.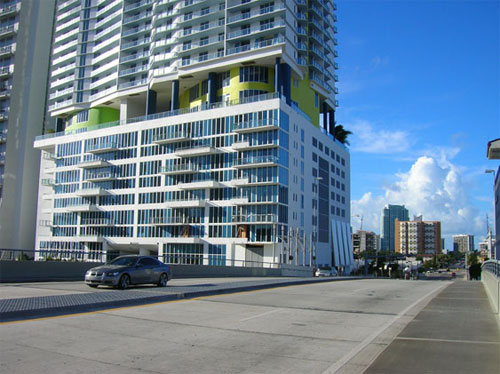 A brand new 30-something story residential tower nears completion at the corner of the SW 2nd Avenue bridge and SW Seventh Street. The rhythmic pulse of construction in this area is loud and consistent. For once, the architect chose to line the 9-story parking garage pedestal with habitable space along the river. Unfortunately he/she failed to do the same on the prominent intersection -- resulting in a hollow corner condition and more dead street space.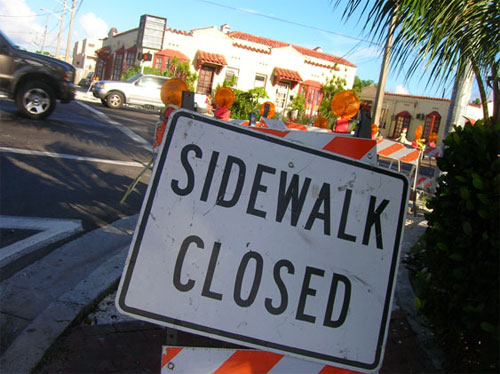 Upon leaving downtown Miami, I ride west along SW 7th Street, a major east-west surface corridor through the Little Havana neighborhood. This primarily residential street is one-way and has three travel lanes. Though the posted speed limit is 30mph, I think I bike closer to the speed limit than anyone drives. I would like to take more pictures of this street, but I am usually too busy surviving.
Our office, located on SW 25th Avenue.(photo courtesy of Duany Plater-Zyberk & Co.)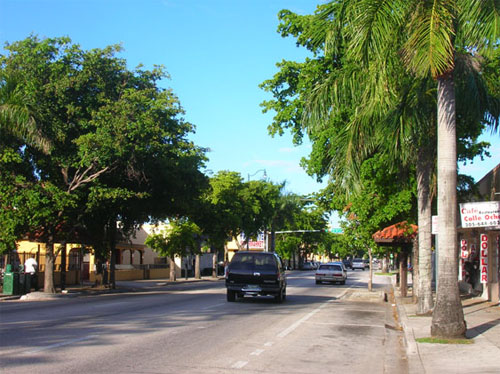 Leaving the office in the evening I ride along SW 8th Street, or Calle Ocho as it is most commonly referred. It is the epicenter of Cuban culture in Miami. Urban conditions vary along the corridor, but the particular stretch from our office on SW 25th Avenue to downtown is fairly walkable and presents a mixture of retail, restaurant and cultural offerings. Nonetheless, the street is absolutely inhospitable to the cyclist, which is why the majority of people ride on the sidewalks.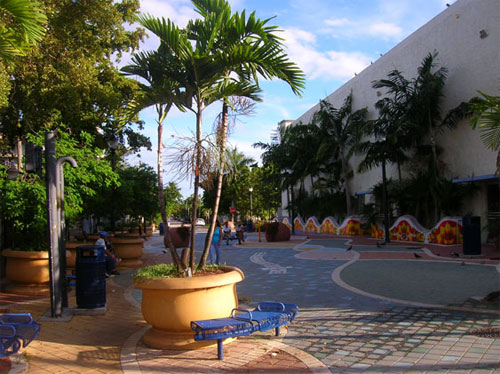 Maximo Gomez Park, located next to the historic Tower Theatre, is surprisingly quiet on this hot summer eve. Otherwise known as Domino Park, the recently redesigned plaza is typically active long in to the evening, especially on the last Friday of every month for Viernes Culturales (a neighborhood street fair/block party).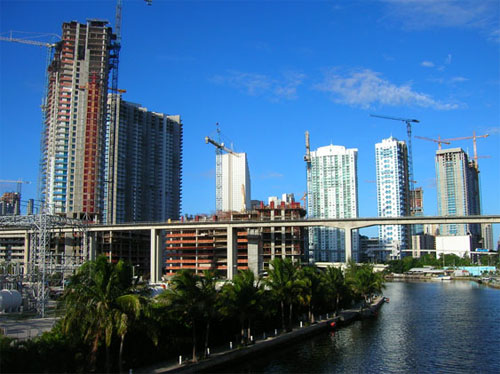 Heading back over the SW 2nd Avenue bridge one can see the inactive riverwalk below, the lone elevated Metro line viaduct in the middleground and a spate of highrise residential development in the background.
The brand spankin' new Federal Courthouse in downtown Miami is a complete tragedy. Due to security reasons, the entire perimeter of the block is enclosed by a chain link fence. This effectively seals off the plazas and waterfall from the public. What could be an active public space for the downtown is limited to the users of the building. No comment on the actual design of the building.
The Bell South parking lot is across the street from the courthouse pictured above. Apparently, they are taking protection cues from their new neighbor. Of all the streets in downtown Miami, this one might receive 'the most dead after 6pm award.' I often ride for several blocks without seeing another human, save the loan security guard stationed at the entrance to the courthouse. It is eerie.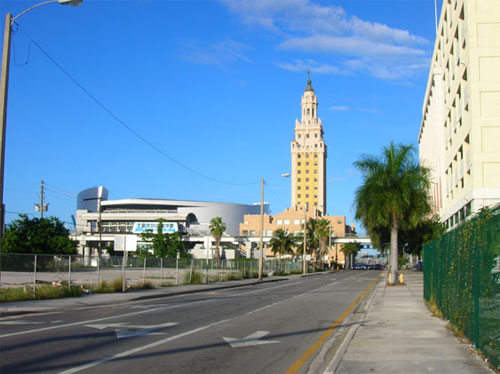 Heading north towards the Causeway I often enjoy the juxtaposition of the historic Freedom Tower (commemorating Cuban immigration) and the American Airlines Arenas. On the night of events, the parking lot at left is filled, but otherwise the street remains empty. What would people walk to?
As I ride back through the warehouse district, this banner always brings a smile to my face. The last thing Miami needs is more space! (Space is actually a popular nightclub, one of a few that is indeed helping to bring people back downtown at night).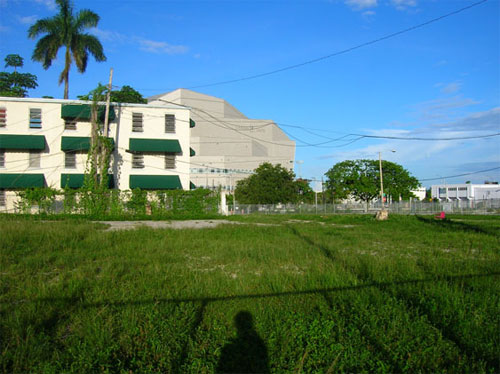 Just up the street from the Space banner is a large vacant lot with the brand new lumpen shaped Caesar Pelli designed Carnival Performing Arts Center in the background. Many hope the Carnival Center will continue to spur downtown revitalization. With evidence already showing positive results, I do too.
Back on the Venetian Causeway, this final image shows South Beach from afar. With new gleaming high rises and lush vegetation, South Beach does not look all that different from Downtown Miami at a similar vantage point. However, once on the streets of the dense island city, anyone can see there is a world of difference. It is an urban oasis. It is home sweet, home.
---
San Francisco Just Ended Single-Family Zoning
The San Francisco Board of Supervisors voted to Tuesday to eliminate single-family zoning, but pro-development advocates say additional changes are needed to unleash a wave of construction.
This six-course series explores essential urban design concepts using open source software and equips planners with the tools they need to participate fully in the urban design process.
This course aims to provide an introduction into Urban Design Sketching focused on how to hand draw master plans using a mix of colored markers.
View More