L.A.'s One Way Proposal Goes The Wrong Way
While there's no doubt Los Angeles has a traffic problem, it would be a mistake to put congestion relief over neighborhood revitalization.

Los Angeles is infamous for its traffic problems. With the city's population having surpassed 4 million, the streets and freeways are more clogged than ever, and motorists and bus riders alike are increasingly fed up with the situation.
In response, politicians are trying to show that they are working on the problem. A recently passed state bond measure will feed billions into new transportation projects. The city council is cautiously considering dedicating bus-only lanes on some major streets. And Mayor Antonio Villaraigosa hardly misses an opportunity to tout his support for the expansion of the city's subway.
Meanwhile, hoping to provide a more immediate and practical solution, Los Angeles County Supervisor Zev Yaroslovsky has floated a proposal to transform two major east-west boulevards -- Olympic Boulevard and Pico Boulevard -- into a pair of one-way thoroughfares that could provide commuters with an alternative to the congested Santa Monica freeway.
However well intentioned, the truth is that such a proposal is misguided and could not have come at a worse time. Los Angeles is in the midst of finally growing up and understanding the importance of place-based and neighborhood-oriented planning. Good things are happening. Yet, the idea of slicing the city with two freeway-like arterials simply flies in the face of these positive changes and will seriously set back neighborhood revitalization efforts underway Downtown, in Westlake, Pico-Union, Mid-City, and beyond.
The problem quite simply is speed. Motorists want more of it, while revitalizing neighborhoods need less of it. In other words, motorists simply want to pass on by, whereas revitalizing neighborhoods want people to stop by, and to stay a while. Great neighborhoods are not built out of six-lane arterials that allow one to drive at upwards of 45 mph; rather, great neighborhoods are made up of destinations and places you would like to be and spend time in.
At one time, Pico and Olympic Boulevards actually contained quite a few discernible neighborhoods you wanted to spend time in, complete with pedestrian life and neighborhood-serving commercial uses. The demise of these hubs of activity coincided with, among other things, the decline of the streetcar and the transition of these boulevards into strictly traffic arterials. To traffic engineers, these streets became the perfect east-west corridors for connecting motorists from more affluent West-Side communities to Downtown. Suddenly no one wanted to or needed to stay and could simply pass on by, and the neighborhoods went into decline.
It should come as no surprise then that Pico and Olympic Boulevards now cut through some of L.A.'s most disenfranchised communities, such as Pico-Union, Westlake, and Koreatown. In fact traffic-related poor air quality, noise pollution, pedestrian hazards and a generally degraded environment now plague almost all of L.A.'s low-income communities. East Los Angeles, Pico Union, Lincoln Heights and many other low-income communities are still suffering the effects of LA's infamous freeway system, much of it built over 30 years ago. The irony of this inequity is that by and large car ownership is low while pedestrian volumes are high in these neighborhoods, yet the physical environment simply ignores this reality. Pedestrian fatality rates in the City of Los Angeles now run highest among Latinos, largely because many Latinos are car-less but must walk across streets, intersections, and driveways that have been widened ad infinitum to serve impatient commuters and at the behest of traffic engineers.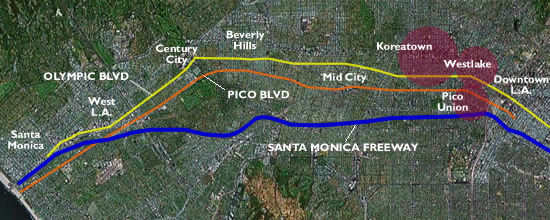 Despite Los Angeles' dismal track record on pedestrian-friendliness, things have been looking up for many Los Angeles neighborhoods. Neighborhood Initiative (LANI), has invested millions of public dollars on urban design improvements along Pico Boulevard to improve livability in this low-income community. New medians and mid-block crossings in Larchmont Village have helped make this neighborhood a model for pedestrian-friendly design. And the Los Angeles City Planning Department has just released its "Do Real Planning" manifesto, which includes, among other things, a call to limit road-widenings and to promote pedestrian-friendly urban design.
Thus, the Olympic-Pico one-way proposal really could not have come at a worse time and is altogether old-fashioned. Rather than further transform Pico and Olympic into urban freeways, we should use this opportunity to transform them into "complete streets" -- roads designed to accommodate all users: pedestrians, bicyclists transit riders, and, yes, motorists. This means allowing for bi-directional travel for bicycles and transit vehicles, safe crossings and inviting sidewalks for pedestrians, bus-only lanes, and techniques to moderate the speeds of motor vehicles. This also means modifying zoning at key points along these boulevards to encourage new housing, mixed-use, and commercial development. It's this approach that will truly propel LA properly into the 21st century, towards a more pedestrian-friendly, sustainable, and neighborhood-oriented future.
James Rojas is a transportation planner in Los Angeles County. He is the founder of the Latino Urban Forum (LUF), a group dedicated to improving the Latino built environment through urban planning and advocacy.