---
Legendary urbanist, thinker, writer, and activist Jane Jacobs died Tuesday, April 25, 2006. Jacobs, never formally educated or professionally trained in urban planning, came to be the field's most famous critic and commentator, through her writings and grassroots activism. She inspired countless individuals, re-establishing the importance of citizen participation in community design. This special section presents the top news articles about Jane Jacobs from our archives, as well as capsule reviews of two of Jacobs' books included on Planetizen Top Book lists: The Death and Life of Great American Cities (1961, Planetizen Top 20 All-Time Urban Planning Book) and Dark Age Ahead (2004, Planetizen Top 10 Book for 2004).
Remembering Jane Jacobs (1916 - 2006)
"Great cities are not like towns, only larger. They are not like suburbs, only denser. They differ from towns and suburbs in basic ways, and one of them is that cities are, by definition, full of strangers."

"It may be that we have become so feckless as a people that we no longer care how things do work, but only what kind of quick, easy outer impression they give. If so, there is little hope for our cities or probably for much else in our society. But I do not think this is so."
--Jane Jacobs, The Death And Life of Great American Cities (1961)
Jane Jacobs (May 4, 1916 -- April 25, 2006) was an American-born Canadian writer and activist. She is best known for The Death and Life of Great American Cities, a powerful critique of the urban renewal policies of the 1950s in the United States. The book has been credited with reaching beyond planning issues to influence the spirit of the times. "Jacobs came down firmly on the side of spontaneous inventiveness of individuals, as against abstract plans imposed by governments and corporations," wrote Canadian critic Robert Fulford. "She was an unlikely intellectual warrior, a theorist who opposed most theories, a teacher with no teaching job and no university degree, a writer who wrote well but infrequently." Source: Wikipedia.
Top Books
The Death and Life of Great American Cities
By Jane Jacobs (1961)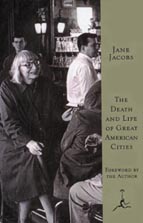 A classic since its publication in 1961, this book is the defintive statement on American cities: what makes them safe, how they function, and why all too many official attempts at saving them have failed. The New York Times writes: "Perhaps the most influential single work in the history of town planning."
Dark Age Ahead
by Jane Jacobs (2004)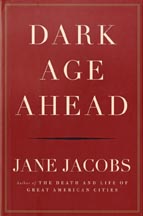 Ever since publishing her classic The Death and Life of Great American Cities in 1961, Jane Jacobs has expanded her focus, writing on The Economy of Cities (1969), Cities and the Wealth of Nations (1984), and The Nature of Economies (2000). Now, with Dark Age Ahead, she tackles her most impressive topic yet: western civilization. Jacobs, using the sweep of human history as evidence (somewhat in the fashion of Jared Diamond's Guns, Germs, and Steel, which she frequently cites), argues that western culture is heading towards a "dead end." Focusing on the United States and Canada, with some references to Europe, Jacobs believes that as our culture shifts from agrarianism to a "technology-based future," we are in real danger of losing our memory of the old world, and before we know it, we could enter our own Dark Age. How could this be possible in the time of libraries, television, and the internet? Jacobs convincingly asserts that a significant part of any culture is transmitted from generation to generation by word of mouth and setting an example for others. Teachers and cooks, for example, don't just read books to learn their trade -- they learn firsthand from others with experience. In a manner similar to aboriginal cultures the world over that have suffered cultural Dark Ages (mostly) brought on by outside forces and a shift in economies, few people in the U.S. today remember what it's like to leave their homes unlocked while on vacation. According to Jacobs, our entire vision of the past could slip away.
Jacobs describes how the five pillars of society -- community and family, higher education, science and technology, governmental representation, and self-regulation of the learned professions -- are showing signs of decay. Later, asserting the interlocking nature of cultural problems, she attempts to "unwind" one of the "viscous cycles" damaging our cities and landscape: In the 1930s and 40s, depression and war led to homelessness and a lack of affordable housing, which led the government to promote homeownership and long-term, low-interest mortgages. This trend led Americans to sprawl into the countryside, taking down farmland along their way, and furthering the loss of our agrarian culture. Ultimately, Jacobs proves optimistic -- Dark Age Ahead is a warning, not a death knell. Suburbs, for one, can be densified and mass transit introduced. In general, by recognizing the problems facing our culture today, we can avoid downfall "by tenaciously retaining the underlying values responsible for the culture's nature and success."
News Archive
Jane Jacobs Still Shaping Cities
CNN features an in-depth discussion of the impact Jane Jacobs' books have had on the debate about urban sprawl.
     Nov 28, 2000 - CNN
Godmother Of The American City
An interview with the renowned urbanist Jane Jacobs.
     Mar 01, 2001 - MetropolisMag.com
Jane Jacobs Reviews New Urbanism
Reason Magazine interviews Jane Jacobs about New Urbanism, city planning, Los Angeles, and how she would like to be remembered.
     Jun 01, 2001 - Reason Online
Jane Jacobs: Unlabeled Anti-Planner
A critique of Jane Jacobs' insights on the economic nature of communities and on central planning.
     Jun 20, 2003 - Ludwig Von Mises Institute
A Conversation With Jane Jacobs
Urbanist Jane Jacobs talks to the New Yorker about New York, Ground Zero, and "Dark Age Ahead," her new book.
     May 11, 2004 - The New Yorker
Jane Jacobs: The Twilight Of Civilization
Jane Jacobs sounded the alarm about cities 40 years ago -- now her worries are bigger.
     May 18, 2004 - Christian Science Monitor
Jane Jacobs: What's Old Is Good
Jane Jacobs, now 88, makes a rare appearance in San Francisco, CA, to promote her new book, Dark Age Ahead.
     May 22, 2004 - San Francisco Chronicle
Jane Jacobs Recognized As One Of The Greatest Innovators
Business Week profiles Jane Jacobs as one of the greatest innovators of the past 75 years.
     Aug 16, 2004 - Business Week
Legendary Urbanist Jane Jacobs Dies
The revered writer, activist, and intellectual urban pundit, author of The Death and Life of Great American Cities, has died at the age of 89.
     Apr 25, 2006 - Toronto Star
More articles about Jane Jacobs
Please comment below with your thoughts on Jane Jacobs.
San Francisco Just Ended Single-Family Zoning
The San Francisco Board of Supervisors voted to Tuesday to eliminate single-family zoning, but pro-development advocates say additional changes are needed to unleash a wave of construction.
Something Old, Something New: Biden's Housing Plan
President Biden's Housing Supply Action Plan is a catchall of existing proposals, tiny tweaks, and things Congress would have to fund—plus a few genuinely interesting administrative moves. Here's the rundown.
This six-course series explores essential urban design concepts using open source software and equips planners with the tools they need to participate fully in the urban design process.
This course aims to provide an introduction into Urban Design Sketching focused on how to hand draw master plans using a mix of colored markers.
View More