Why Public Buildings Are Important To Planning
Our public buildings -- courthouses, post offices, town halls, libraries, schools -- are a reflection of who we are as a community and as a people.

Many of us are fortunate to live in cities and towns where we can take pride in our public buildings. These buildings are not always "grand edifices" -- sometimes they're small, but distinguished, additions to a neighborhood. Just a block from my home, for example, you'll find one such building, Burlington, Vermont, Fire Station No. 3, built in 1896. (In case you're curious, the 50 foot tower was used for drying out the canvas fire hoses, a necessity in firehouses until the electric hose dryer was introduced in the 1940s).
Many of our finest public buildings were constructed in the 19th or early 20th century. Unfortunately, since World War II many public buildings have been bland and undistinguished. Moreover, they've increasingly been located outside downtown or core areas. In the short run, some money may be saved. In the long run, however, the community's civic fabric is weakened.
Among the many variety of public buildings, perhaps the most emblematic of America is the courthouse. Former U.S. Supreme Court Justice Lewis F. Powell, Jr., has observed that, "Public buildings often accurately reflect the beliefs, priorities, and aspirations of a people. ... For much of our history, the courthouse has served not just as a local center of the law and government but as a meeting ground, cultural hub, and social gathering place" [from Forward to Virginia's Historic Courthouses by John and Margaret Peters]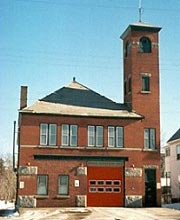 The preservation of historic courthouses is a nationwide problem, especially as many courthouses were built 90 to 100 years ago and are in need of costly renovations. Interestingly, the National Trust for Historic Preservation in 1998 included Texas' courthouses on its list of 11 most endangered historic places in the United States.
Of even greater interest, instead of taking offense at the National Trust listing, then Governor George Bush and the Texas Legislature responded positively -- and rapidly -- by establishing an innovative program to provide state matching grants to counties needing to renovate their old courthouse buildings.
Within little more than a year, grants ranging from $37,000 to over $3 million have been distributed to some 47 counties, making full use of the Legislature's $50 million initial allocation. Many of the counties received funding to develop architectural plans for courthouse renovations, the first step in the preservation process, while others received funds to cover actual repair and restoration work.
The Texas Historical Commission, which administers the grant program, found the response to the program "overwhelming" and noted that "the need is so great that we presently have 99 counties needing more than $201 million for courthouse restoration projects." Additional grant funds will be sought during the current session of the Texas Legislature.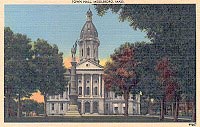 Courthouses, post offices, and other public buildings have long served as key economic anchors to downtowns. Indeed, the historic land use pattern of many towns and cities (especially county seats) finds the key public buildings located on or across from the central square, with law-related offices and other commercial businesses nearby. As historian Richard Francaviglia puts it in his book Main Street Revisited "in many centrally located towns, the business district grew around the courthouse ... commercial properties were deliberately located facing the courthouse square, a recognition that the courthouse could serve as a magnet to commercial enterprises."
To help educate citizen planners about the important role that public buildings play in communities, we've focused on this topic in this Winter's issue of the Planning Commissioners Journal. We have also provided a virtual tour of public buildings across the United States (using old linen postcard images and text) on our PlannersWeb site. I hope you'll take a look.
---
Wayne M. Senville is Editor of the Planning Commissioners Journal and its related PlannersWeb site. He is former Director of Regional & Local Planning Assistance for the Vermont Department of Housing & Community Affairs. Mr. Senville also served on the Burlington, Vermont, Planning Commission from 1990-1999, including three years as its Chair.
Topics