The days and weeks since the arrival of Covid-19 have been filled with so much noise about the future, it's been difficult to distinguish between big stories and frivolous distractions. Planetizen is here to help.
---
Ever since the early days of the Covid-19 pandemic, the potential for the field of planning to veer off into radical new directions is more conspicuous than ever before. 
That consequences are so readily apparent in every aspect of contemporary life might be due to the fact that so much of our energy in the past three years have been devoted to dealing with the consequences or our actions. That might explain the ubiquity of the phrase "*fool around and find out" (*the first word in this phrase has been changed, in case that wasn't obvious). The pandemic has also propelled a cottage industry of doomsayers— on every side of seemingly every issue, but loudest of all when it comes to such consequential issues of public health and election integrity. When adding up the many voices predicting this or that terrible outcome, it becomes more and more difficult to identify the trends, events, and people with the most potential to energize the field of planning. Where do we even start to figure out how to plan for a future that seems so fraught with political and moral quandary?
We can start with what we already know. Many of the trends identified in Planetizen's "2022 Year in Review"—i.e., zoning reform, downtowns in crisis, street configurations, fare-free public transit, and planning in response to climate change—will continue to have significance in the coming year. The American Planning Association is also providing direction, publishing an annual planning trend report useful for identifying the trends planners should be preparing for in both the short term and the long term. 
It's also best not to overthink it, however. You're a planner. You probably think about the future a lot, and the trends with the most potential to alter the future of the profession and the planet are already well documented. The trends are obvious enough, in fact, that a computer could write this post (more on that in a moment). But it takes some human ingenuity, free of institutional or technological influence, to recognize the moments and stories that signify real, lasting change. The chance to identify these trends, and respond effectively, will come down to millions of personal moments every day. For more part, I'll be watching the following stories closely this year for an indication of which way planners are headed, by their choice or not. 
The Colorado River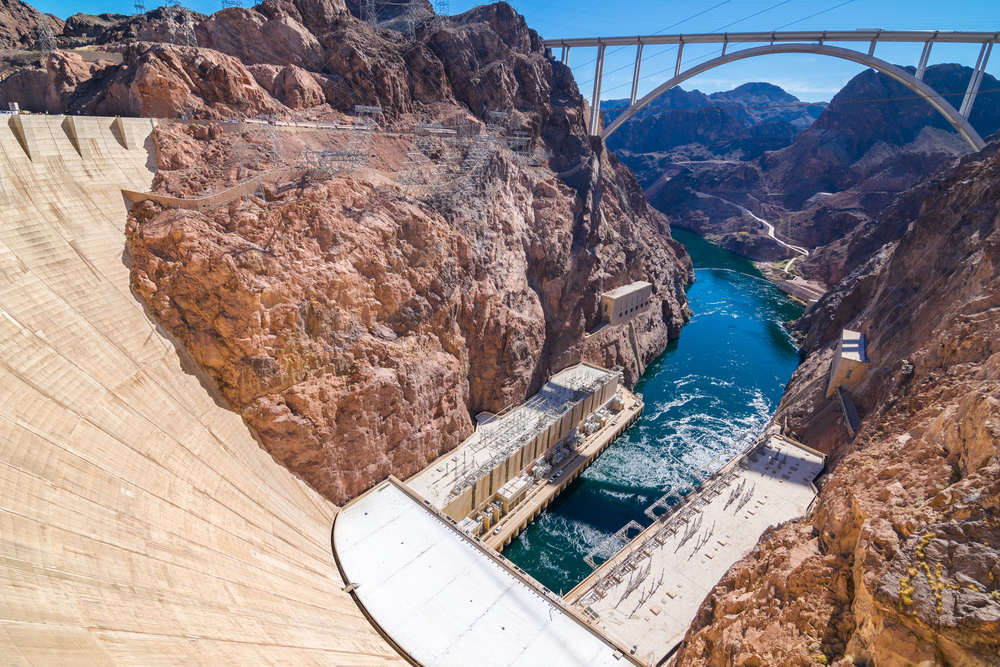 Out west, the decline of the Colorado River is the only trend. All other trends flow to this one—it's a stream with many tributaries. 
Some extreme weather could be described as photogenic, while utterly terrifying, but it's a slow-motion crisis unfolding in the U.S. West that threatens to cross a devastating threshold of significance in the coming months. The Colorado River is suffering from a drought unparalleled in a millennium. Despite the adoption of a landmark Drought Contingency Plan by Congress, with the participation of seven U.S. states, in 2019, the political situation along the Colorado River watershed has degraded as the water levels in lakes Powell and Mead have dropped. The entire watershed is on the precipice of catastrophic failure. Only a few municipalities have realized that the days of unfettered growth are quickly coming to an end.  
The first few weeks of winter were wet in the West, but it's far from enough to lift the Colorado Rover watershed out of drought. Even if it was enough to mark a brief reprieve from drought, growth in the West and unsustainable uses by everyone from homeowners to rice farmers create a structural deficit that requires a solution. Until then drought is a permanent condition. Most pressing though, is this brink that the west stands on now, with Lake Mead on the verge of a "dead pool," with water levels too low to allow water pass through the Hoover Dam. Experts are predicting Lake Meade will cross that threshold in 2025; whether those predictions come true will depend on the actions states take in 2023. For recommended reading on this subject, the Los Angeles Times has been providing high quality coverage of the Colorado River crisis, including a feature series documenting the river's decline, published earlier this year. 
A New Housing Market Cycle Begins
In January 2022, the big question about the housing market was how high prices would go. Prices were climbing, homeowners were becoming millionaires without lifting a finger (multiple times over in many places) and housing prices were skyrocketing places like Austin and Miami into realms of unaffordability previously occupied only by the San Francisco Bay Area and New York City. Then, in March 2022, the Federal Reserve raised federal interest rates for the first time of many in 2022. The real estate market quickly changed—home sales declined, inventory fell off the market, and prices started dropping in some of the hottest markets in the country. Prices kept going up in many places, to be sure, and no one could confuse this market reset with some newfound affordability. According to an analysis by Moody's published in January 2023, for example, the average American household is now rent burdened (i.e., spending more than 30 percent of household income on rent) for the first time since the data has been tracked.
Those who remember the convulsions of the Great Recession—the foreclosures and vacant properties and the sudden shift of millions of potential homebuyers to the rental market—will be watching the housing market very closely for new signs of stress. With the Federal Reserve continuing to raise the federal interest rate into this very month of February 2023, it's clear that the old low-interest market cycle—starting from the country's emergence from the foreclosure crisis of the Great Recession and continuing through the migrations of the Covid-19 pandemic—has come to an end. The defining qualities of the next market cycle will determine every opportunity, and challenge, in the field of planning for the next decade and beyond.     
A Looming 'Fiscal Cliff'
One of the earliest concerns to emerge during the pandemic was the fiscal reality of operating public transit during a pandemic. Several rounds of federal stimulus funding has prevented the worst case scenarios imagined in March 2020, but numerous transit agencies are still struggling to figure out how they will fund operations and maintenance once the federal funding that kept them afloat, just barely, for the past few years runs out. 
While the most recent federal funding packages, the Infrastructure Investment and Jobs Act and the Inflation Reduction Act, promise more funding for capital investments, few of those programs are designed to resolve the deficits of post-pandemic transit planning—new commute patterns, the popularity of work from home and hybrid schedules, urban dwellers decamping to suburban and rural climes, and the difficulty in hiring and maintaining a workforce commensurate with the requirements of bus and rail systems. As we get deeper into the calendar year, we will see more stories about the looming fiscal cliff— facing transit agencies in New York City and Washington, D.C., but also in potentially numerous places in California and Colorado and the rest of the country.  
The same dynamics of post-pandemic demographics and economy will finally manifest in fiscal concerns for the broader public sector, including potentially for planners. Cities and states can only function for so long with reduced property taxes, caused by offices shuttering for good or residents moving away. San Francisco and New York City get all the press for dealing with this double whammy, but they are far from alone in facing the music in a sudden, thorough shift in demographics and lifestyle preferences. Inflation has also completely redrawn the boundaries of what to expect of budgets set just a few years ago. The impacts of inflation aren't just a coastal problem. Austin is actively trimming expectations for the Project Connect regional transit plan approved by voters in 2020, for example. 
So far, most of the expected recessionary outcomes in the economy have yet to show in the public sector, while the tech industry making headlines for shedding jobs. Elsewhere in the economy, the story keeps coming back to how hard it is for most employers to hire the right people for all the jobs available. Hopefully, we'll have a better idea of whether that trend will hold by the end of the year, or whether cities, states, and regional governments will finally have to start cutting jobs in the face of reduced revenues. 
ChatGPT
It's been hard to ignore the recent discussions about artificial intelligence (AI) and ChatGPT, despite my best attempts. There are more than a few people in the world already chomping at the bit to use this technology to automate my job and the jobs of people like me. So I finally got curious enough to give it a try. I asked ChatGPT to provide a list of urban planning trends to expect in 2023 (i.e., I asked ChatGPT to do the work of writing this post for me. Here is what ChatGPT said in response to my query (after including a caveat that as an AI model it only has access to information through September 2021, and thus "cannot provide a list of urban planning trends to expect in 2023." However, ChatGP was still willing to offer a "general idea" of the "emerging" trends in urban planning up until 2021:
Smart cities: The use of advanced technology, such as IoT sensors and data analytics, to improve the efficiency of urban services, reduce energy consumption, and enhance the quality of life of residents.
Green infrastructure: The integration of natural elements, such as parks, green roofs, and rain gardens, into urban areas to mitigate the impacts of climate change, improve air quality, and provide recreational opportunities.
Mixed-use development: The development of walkable, compact communities that combine commercial, residential, and recreational spaces, promoting social interaction and reducing the need for car travel.
Transit-oriented development: The development of communities that are centered around transit stations, making it easier for residents to use public transportation and reducing reliance on cars.
Adaptive reuse: The repurposing of existing buildings and infrastructure for new uses, such as converting industrial buildings into housing or retail spaces, reducing the need for new construction and preserving historic structures.
Complete streets: The design of streets to accommodate all users, including pedestrians, cyclists, and public transit, as well as cars, promoting safety and accessibility.
Affordable housing: The creation of more affordable housing options to address the growing housing affordability crisis in many urban areas.
That list is both playing it safe and sounding vaguely familiar. It turns out, five of these seven of these terms (all but smart cities and green infrastructure) are included among the growing list of Planopedia definitions. All seven of these terms are mentioned (admittedly in more florid phases) in the various "Top Trends" posts I have written in recent years. I can't help but wonder how much of ChatGPT's knowledge is due to my hard work and the work of others like me. Can the computer even do this job without us?
I have no idea whether that is a reasonable  question or just wishful thinking, because this is my first experiment with the technology. ChatGPT's emergence, however, is a sign for those of us who have been reluctant to learn more about the role of AI in planning practice to wake up to reality. The APA has identified AI as a trend to watch for several years now. Tom Sanchez, professor of Urban Affairs and Planning at Virginia Tech, is a great source of information on the many potential applications of AI in planning practice, which extend far beyond replacing all the writers of Planetizen. We all still have a lot of say in how AI will be used in the future—including to help achieve new success for current planning practices and in crafting the planning practices of the future
Come to think of it: Even while opening its list with a discussion of "smart cities," ChatGPT didn't mention AI as a trend to watch in urban planning. Don't let it sneak up on you.
The Quiet Housing Crisis in Rural America
While housing shortages in major cities are grabbing headlines, rural communities are seeing higher rates of growth in housing prices and a silently spreading homelessness crisis.
This six-course series explores essential urban design concepts using open source software and equips planners with the tools they need to participate fully in the urban design process.
Learn the tools for implementing Universal Design in planning regulations.
View More