A manifesto by planning and transportation professionals committing to hearing all voices during public engagement processes.
---
We represent three firms in the transportation and planning space committed to learning and innovating how we engage the public in the future. The pandemic highlighted the inequity in our systems—in how we move, how we communicate, how we plan cities and public realms. At the same time, the pandemic created an ever-changing, uncertain environment that requires nimbleness, flexibility, and constant adaptation. Together, our firms (Connect the Dots Insights, Sam Schwartz, and Nelson/Nygaard) believe that innovative, flexible public involvement processes will be the most critical way to build robust, far-reaching solutions and long-lasting impact—particularly for groups that have been kept from the table for far too long. Meaningful engagement will shape the places and systems we build, so we must adapt and improve how we engage along the way.
To move forward, our firms came together to reflect on the past two years and develop the below recommendations for which engagement and outreach strategies to keep, which to start, and which to stop.
Keep
Offering virtual sessions: Online public meetings enable some different audiences to take part than the traditional in-person open house. Typical in-person events require one to be free of other obligations and to take time to travel to attend. People can pop in when and if they are free, and it's wonderful to see people interacting in meetings while they hold their kids or cook dinner—which illustrates how meetings are now accessible to people who may not have had time to attend in-person meetings in the past. Moreover, they can be recorded for later viewing or joined by people in other cities and countries We recommend using online platforms that enable interactivity, such as online worksheets, polls, breakout groups, and more. Platforms that have call-in options are best as it helps to bridge the digital divide.
Bridging the digital divide through creativity: The Covid-19 pandemic spurred creativity that should continue in the tactics used by transportation planners to reach people. We've learned about the adaptability of our firms in the age of pandemic, and it's important to apply those lessons in reaching people in as many ways as possible. We need to make stronger linkages between digital and analog outreach tactics. For example, real-world outreach (e.g., tabling, project ambassadors, mailers, and posters at key community gathering spots) should include links, QR codes, or information on virtual engagement opportunities (e.g., websites and 'office hours'). It's important to identify and prioritize hard-to-reach communities, which can be achieved through polling or tapping into local networks. Professional polling or market research services can call and direct members of the community to engagement opportunities or immediately conduct engagement over the phone.
Sharing and shifting power: Community members should be actively engaged as collaborators in all public participation processes. To truly shift power and build an equitable process, this means enlisting trusted advocates from the communities you are trying to reach—and hiring community members onto the team. Community members are the true experts, and this approach allows an engagement process to happen with rather than to a community. Relevant stipends or other compensation should be immediately factored into project budgets, because we want to increase opportunities within communities and provide mutual benefit. Local ambassadors can spread the word throughout communities and conduct engagement activities, such as intercept surveys, during public participation periods. Additionally, engaging with focus groups that represent marginalized communities should be part of all public processes—their feedback is essential to understanding gaps and opportunities. Events should be set up to allow for and encourage active participation of these groups.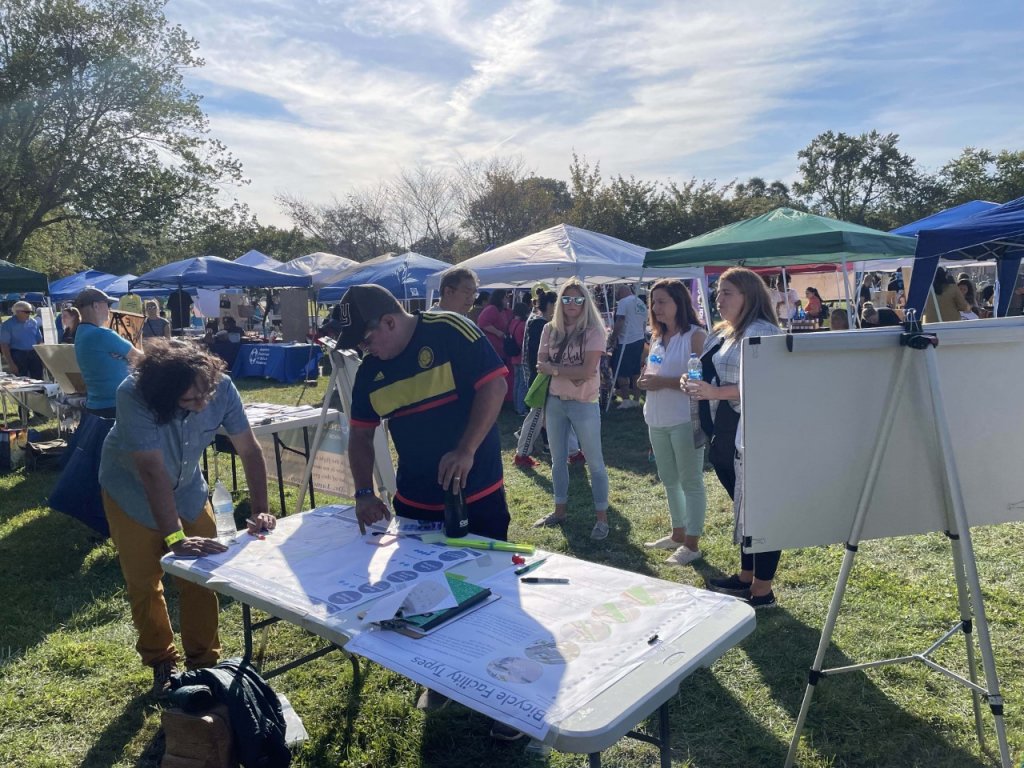 Start
Leveraging hybrid engagement: People are now comfortable with and practiced at remote meetings, but at the cost of the many of the benefits of in-person engagement, such as networking, human connection, and the flexibility of one-on-one conversations. The ideal approach is to continue virtual engagement in addition to in-person events. We recommend hosting parallel tracts of meetings, virtual and in-person, and also offering call-in options. For the outreach and communications to spread the word about these meetings, it's also still important to sustain traditional communication tools such as phone calls, mail, flyers, and the like to bridge the digital divide.
Measuring the impact of engagement: Measuring the impact of community engagement should be built directly into a project. Though this assessment is likely to happen a year or more after the project is over, it will strengthen projects and their impact by looping participants back in after the conclusion of the engagement process. Rather than waiting to measure impact, community engagement targets can be set during the project itself, such as achieving adequate representation (a target proportion) from different sub-geographies or demographic groups.
Beginning at the right level: Institutions and agencies that generate requests for proposals (RFPs) should be aware of the costs and timelines associated with best practices for community engagement. Best practices often require working with community partners to co-design a tailored, best-fit public involvement strategy, but setting the scope at the RFP stage precludes this from happening in a meaningful way. To address this disconnect, we recommend building flexibility into scopes of work and developing RFPs that allow for flexibility and iteration throughout the process rather than as prescriptions. We also suggest establishing a rule-of-thumb for the percentage of a planning project's budget dedicated to engagement (15%? 30%? etc.). We have the power to recommend an industry best practice while acknowledging the flexibility needed for good engagement and how engagement can scale up or down depending on project sizes.
Intertwining engagement with technical processes: The integration of engagement and process ensures that the engagement is effectively conveying the goals, options, and ideas being developed as part of the technical analysis and likewise ensures that the thoughts, concerns, priorities, and ideas received through engagement are directly informing the planning and engineering work. We should stop parceling out engagement as a separate silo or "add-on" task.
Centering previously unheard voices: As leaders in the field, we should be using our expertise to position marginalized groups at the forefront of urban policy in areas like pedestrianization, climate resiliency, and neighborhood-scale community development. While we are subject to a client's needs and wishes, it's important to approach projects as advocates for innovative forms of urban living and coexisting. Community engagement should explicitly target communities who historically haven't been at the table, such as lower-income residents, immigrants, non-English speakers, and the disabled, among others. This approach should be engagement's starting point and central organizing principle rather than an afterthought, similar to how equity has become the foundation of planning projects in the last few years rather than just an add-on or afterthought. As part of this effort of centering marginalized voices, we can also start measuring who is engaging in virtual meetings and find out how we can extend our reach to more diverse audiences. We need to dig deeper, meaning not giving up on going where the people are. Now that emergency orders are being lifted, we hope to get back to the bus stops, the community events, and the farmers markets to reach more people for more feedback.
Extending virtual engagement beyond a time-restricted event: The new, collective familiarity with remote engagement can be expanded beyond Zoom meetings to a host of virtual platforms that evolve with projects. These "living" platforms can include maps, graphics, and past meeting recordings, generating asynchronous public input for review by project teams. At the conclusion of a project, virtual engagement allows a one-stop-shop for agencies, consultants, and the public to see the history of the project and how it was informed.
Reimagining the large-format public workshop: While large-format public workshops can be an effective engagement method for bringing diverse perspectives to the table, it's critical that a true diversity of people are willing and able to attend. If diversity isn't possible, then we suggest rethinking the format and considering breaking the event idea down into smaller-scale workshops, office hours, pop-up events, in-person tabling, ongoing online engagement platforms, games, competitions, Facebook Live sessions, and more. This is where creativity is important to truly meet people where they are and build a tailored, effective engagement process.
Understanding that engagement moves at the speed of trust: True community engagement takes time—it takes building real, trusted relationships with the members of the communities you are trying to reach and investing in relationships before tasks. Engagement that matters doesn't happen overnight—there's a deep, human focus to the work of achieving measurable impact that cannot be overlooked. Engagement should be a relationship-building exercise that lasts beyond the project timeline. It is better if people from the community—who live in the project area and can communicate with the community outside formal structures of engagement (such as chat with people in a park or at a cookout)—are part of the project team.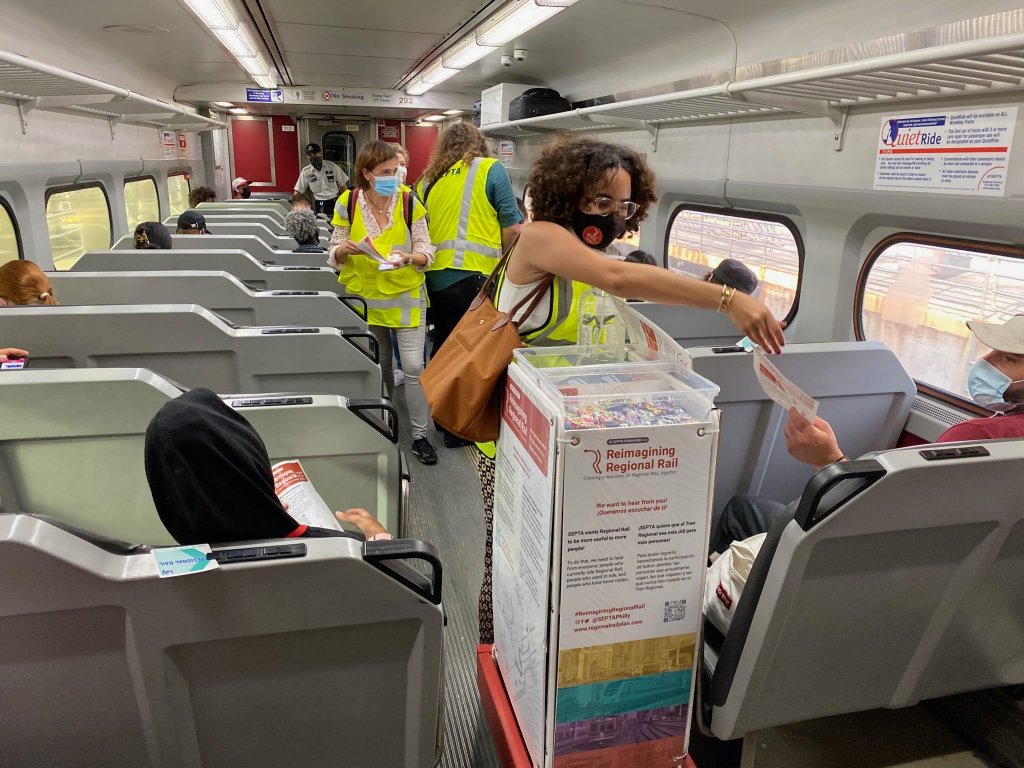 STOP
Enabling check-the-box engagement. Simply offering an in-person meeting will not solve any problems that were present before March 2020. We also need to stop believing that a project is over when the consultant gets their final paycheck: engagement must be ongoing. Setting up communities for success means building in opportunities for stewardship and empowerment throughout the project.
Using buzzwords to communicate or sell complex ideas. Community engagement is ideally about inclusivity, which requires making complex projects or processes easy for people to understand regardless of their background or expertise. Buzzwords and vague language only alienate people from understanding projects and how to best share their opinions and input.
Holding meetings at times and locations that only work for a small slice of the population. It's important to plan for those who do not have the luxury of time and transportation—or else we will keep seeing the same small active group of people that are not representative of the whole. True "best faith efforts" to break down barriers to participation require multiple times, multiple methods, and, where possible, wraparound supports. This is about meeting people where they are in every sense of the phrase. It's about making it easy for people to share their voices and perspective, in the way that works best for them.
It's past time for the planning and transportation field to commit to hearing all voices during public engagement processes. How we engage the public and how we uplift perspectives that are often not prioritize should become a key marker of a project's success. After all, without the input and collaboration of those we are planning for, how can our recommendations truly stand up?
Marisa Denker leads Connect the Dots, a WBE/DBE firm specializing in community engagement and public involvement on planning, transportation projects, infrastructure, public realm, and economic development projects across the Mid-Atlantic region. The firm particularly focuses on developing and delivering innovative, fresh methodologies that enable more equitable and inclusive engagement. Marisa is also a professor of Participatory Cities at the University of Pennsylvania. Marisa earned her BA at University of Pennsylvania in Urban Studies and then went on to a Fulbright Fellowship / Masters in Dublin. More information about her firm Connect the Dots can be found at connectthedotsinsights.com.
Mike Flynn, AICP leads Sam Schwartz's transportation planning and strategic planning practices, delivering rigorous, innovative solutions to a range of complex mobility challenges. The team's award-winning work includes transportation plans and multi-modal design at all scales; complex data analysis, modelling, and visualization; resilience and sustainability planning; management and organizational consulting; and strategic communications. 
Samantha Donovan: AICP, a transportation planner at Sam Schwartz Consulting, assists in the development of plans such as, Bicycle and Pedestrian Master Plans, Safety Action Plans, Concept Development Studies, and Circulation Elements of Masterplans. She earned her MCRP from the Bloustein School of Planning and Public Policy at Rutgers University in 2019.
Theresa Carr is an economist, planner, and project manager, bringing 20 years of experience in transportation planning. She serves as the leader of Nelson\Nygaard's Boston office. Theresa's extensive project management experience spans from long-range transportation planning and public involvement to alternatives analyses, environmental documentation under the National Environmental Policy Act (NEPA), and conceptual design.
Naomi Doerner, is the director of Equity, Diversity, and Inclusion (EDI) at Nelson\Nygaard, Naomi is a nationally recognized transportation equity and mobility justice strategist with expertise facilitating and implementing institutional change at organizations, agencies, and institutions so that communities of color thrive. Prior to her role at Nelson/Nygaard, Ms. Doerner served as Seattle Department of Transportation's—and the nation's—first-ever Transportation Equity Program Manager. Naomi is also co-founder and a national co-organizer of The Untokening, a multiracial collective of leaders advancing mobility justice; a Robert Wood Johnson Foundation Culture of Health Leader; and NextCity Vangaurd Alum. She earned her Master of Urban Planning from NYU's Robert F. Wagner School of Public Service. 
Alexandra Zazula is a planning and engagement professional who has contributed to a variety of planning and design projects at Connect the Dots. She specializes in urban design, data collection, public space activation, and strategic communications, among other skills. She earned her Master of City Planning from the University of Pennsylvania in 2019.
European Cities Act on Density
The sprawling mass of suburbia has been a disaster for the environment. But now smaller, denser cities herald a renaissance in city living.
Nashville Sets Downtown Parking Maximums
Nashville is the latest city to enact a substantive change to the parking requirements set by the city's zoning code—doing away with parking minimums and setting parking maximums in the city's Urban Zoning Overlay.
This six-course series explores essential urban design concepts using open source software and equips planners with the tools they need to participate fully in the urban design process.
Learn the tools for implementing Universal Design in planning regulations.
View More