An Interview with East Atlanta's CoCo The Geek, who saw an increase in household electronic waste during the Covid-19 pandemic and decided to do something about it.
---
Searching Twitter for examples of frugal innovation, freecycling, reuse, and repair culture, I found the work of CoCo The Geek, LLC (CoCo Hankerson, CEO) in East Atlanta. CoCo The Geek had my attention with posts about collecting discarded George Foreman grills and other small home appliances (along with audio equipment, batteries, cables, computers, monitors, games, media, lights, tools, etc.) for free—with a few caveats—as part of their social enterprise approach. The following interview explores how CoCo The Geek is helping to address and draw from some of Atlanta's complex residential waste stream while providing a model for much needed similar work in other communities.
What inspired you to start CoCo The Geek?
CoCo The Geek actually started off as a nickname for me because I was such a geeky person, doing production audio, repairing equipment, and offering tech support—so, I was known as the "geek" around town. When I started offering free electronic waste and metal recycling to people in my neighborhood, everyone assumed CoCo The Geek was a company and not an individual, so I built around that.
The COVID 19 pandemic has really allowed me to go full force with my company due to the high increase in waste I was seeing. People had more time, so they were cleaning out stuff, and also needing to upgrade computers, laptops, etc. When I saw the need for my service, I just took a leap of faith.
How did you become CoCo The Geek?
My life has always revolved around electronics, tech, and just being a hands-on person. Prior to starting Coco The Geek, I already had over 13 years of Audio and IT experience—both very technical fields—so, I was already doing the majority of what I do now. The only difference is my work is now on a larger scale and more focused on cutting the amount of e-waste and metals that end up in the landfill.
Are there any regional or national organizations that support efforts like CoCo The Geek or that you follow or look to for advice?
The company Nextdoor is a huge advocate and supporter of the work we do. They have been key to the growth of the business. Their platform alone draws in about 95% of our customer base. They have featured us in articles as well as recommended us to other outlets to share our story.
Walk the reader through a typical day at/as CoCo The Geek.
A typical day starts at 4:44 am every Monday to Friday. I spend the first hours getting my mind right—meditating, walking and feeding the dogs, and doing whatever else I need to do. At about 7:45 am, I begin to shift directions and put focus on the business, such as making sure the route for the day is updated and ready to go, all the tools are loaded in the van, etc. I don't like rushing, so I give myself more than enough time to be ready. CoCo The Geek offers contactless pickup services Monday through Wednesday. Because we do contactless pickups, customers don't even have to be home—they just leave items on their porches. Items are then brought back to the shop to be sorted. Where we will sort by reuse and recycling. The goal is to get as many items as possible in a reusable state.
With items to be recycled, we disassemble them to remove plastics, metals, computer boards, etc., and then sort the removed items—for example, separating memory ram, cpus, hard drives, etc. The reuse pile is also thoroughly checked and sorted to be either donated or resold [via eBay, Amazon, Mercari, etc.]. Typically, I finish at about 5pm.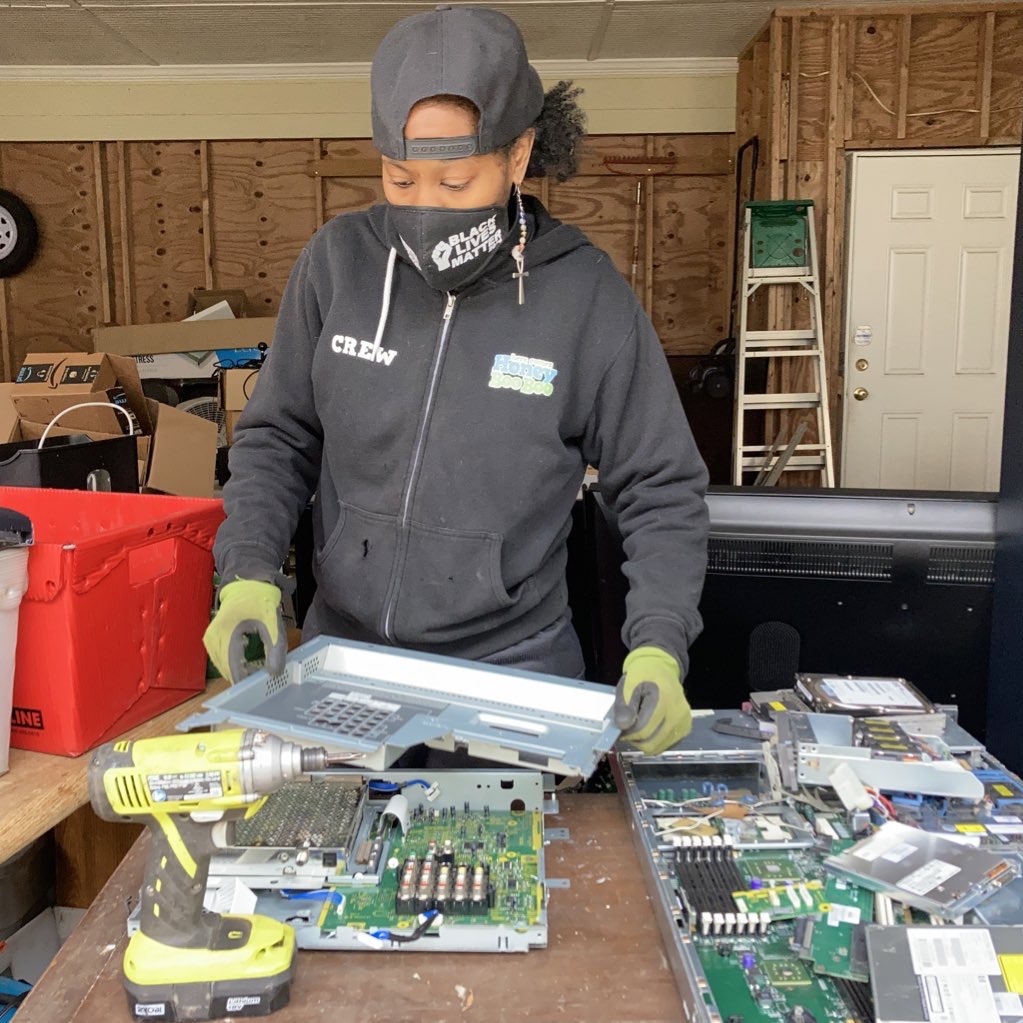 What infrastructure or resources do you rely on to do your work?
We rely on our cargo and minivan for pickups and to drop off donations and recyclables, as well as take other items to the scrap yard. Additionally, our website helps us to keep our pickups organized, and that is where all the bookings take place. We also use an app called RoadWarrior, which maps out our routes. It really makes pickup days a breeze.
What has been the impact of CoCo The Geek?
It has given the community hope and a chance that the right thing will be done, and less e-waste and metals will end up in the landfills or on the streets.
What have been some challenges?
One of the main challenges we face is not being able to accept oversized CRT TVs; we just don't have the space to accommodate them anymore. If we could get more space, we could offer to accept larger-sized items, including refrigerators, washing machines, etc.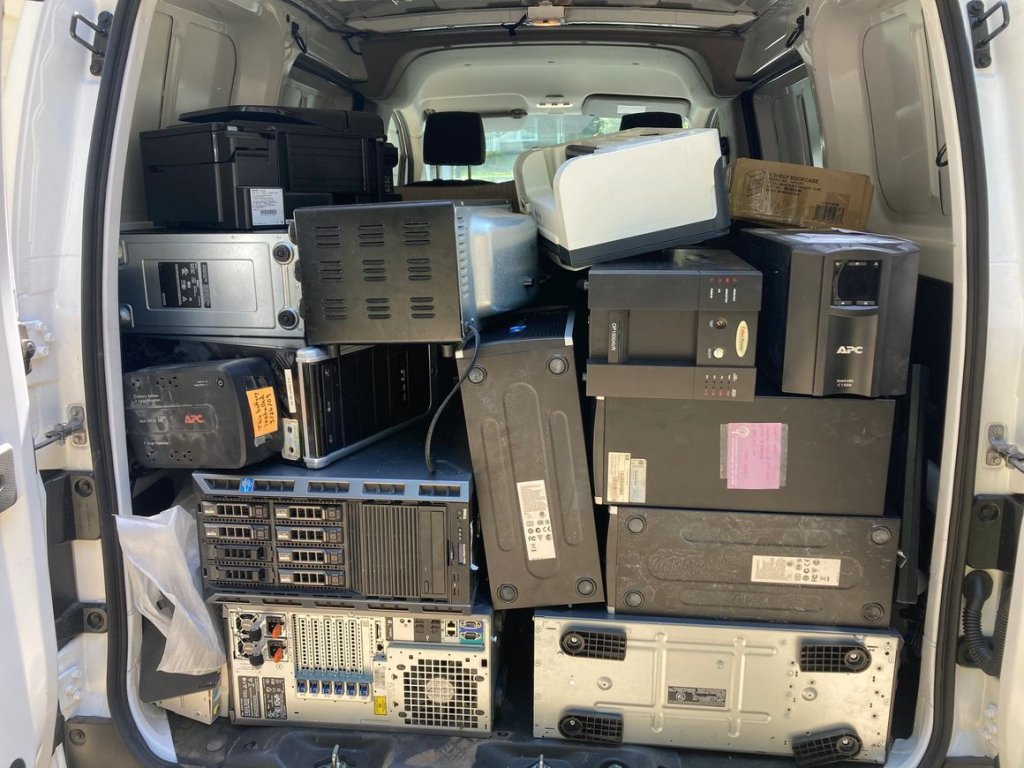 What have you learned about Atlanta by doing this work?
I learned by doing this that Atlanta is very, very wasteful, and I'm here to change the narrative.
What do you think cities like Atlanta could do to support work like yours? What do you wish people in Atlanta and elsewhere knew about your work?
I think Atlanta could support what we do by offering more recycling events to the public, creating recycling workshops to educate the community, as we all hiring us to help them retrieve e-waste and metal. I really just want people to understand the importance of reuse and recycling. My main goal with CoCo The Geek is to educate and lead by example.
Can you talk more about how you are using social media to operate?
Beyond using Nextdoor for customer leads and for direct connection with neighbors, we also enjoy using Twitter—which has landed us so many opportunities to voice what we do. Also, we just recently got back on Instagram, which allows us to showcase day-to-day tasks as well as create a portfolio of the items we have picked up or of things happening around the shop.
What advice would you give anyone hoping to start a similar effort in their community or college?
The best advice I can give is you have to be very passionate about this kind of work. It's not an easy job, and it requires a lot of research and knowledge on how to properly sort and break down these items and to know what is hazardous and what is not. I feel like this is not a job for someone looking just to get by, but it is for someone looking to make a change and have a major impact in their city.
What should urban planners understand about your work? How about colleges and college students?
We just really want the community to know we are here to help as well as educate. Colleges create a ton of e-waste—especially technical-based colleges. Most schools are familiar with e-waste recycling, but I feel like it should be mandatory for every college to have an e-waste recycling center on campus for students to utilize free of charge. If you want results you have to lead by example.
Anything else that you would want readers to know?
Thanks for wanting to hear my story and I hope that you find something inspiring and consider making a change to better protect our planet. Together we can make a difference. Love, Peace, and Happiness!
CoCo Hankerson is CEO of CoCo The Geek, LLC – a female owned and operated electronic waste and metal recycler and micro scrapper. CoCo has a background in audio engineering and hardware technical support.
Mark Tirpak (PhD, MSCRP) is an urban researcher, planner and consultant with a passion for sustainable and frugal innovation and development. Mark can be reached at http://www.urbanplanb.com.
European Cities Act on Density
The sprawling mass of suburbia has been a disaster for the environment. But now smaller, denser cities herald a renaissance in city living.
Nashville Sets Downtown Parking Maximums
Nashville is the latest city to enact a substantive change to the parking requirements set by the city's zoning code—doing away with parking minimums and setting parking maximums in the city's Urban Zoning Overlay.
This six-course series explores essential urban design concepts using open source software and equips planners with the tools they need to participate fully in the urban design process.
Learn the tools for implementing Universal Design in planning regulations.
View More