Most jurisdictions have off-street parking requirements that increase motorists' convenience but reduce housing affordability. It's time to reform these policies for the sake of efficiency and fairness.
---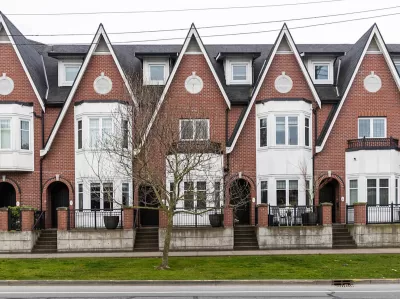 My province, British Columbia, is introducing an ambitious set of development policy reforms called the Homes for People Action Plan, designed to significantly increase housing supply and affordability. It requires local governments to establish housing supply targets and plans, streamline housing approvals, upzone urban neighborhoods and reform parking requirements.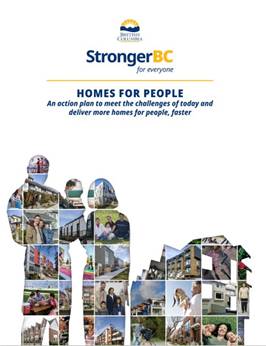 This plan will eliminate public hearings for individual housing projects: city governments are required to approve proposals that meet their Official Community Plan requirements for features such as density and height. I have mixed feelings about this provision; public hearings sometimes identify overlooked problems and council approval requirements often lead to better designs, but they also cause costs and delays early in the development process that significantly reduce housing supply and affordability. Eliminating these hearings will free city councils and staff from countless hours of public meetings, but increases planners' responsibilities to identify and prevent problems, and to work with developers to improve building designs.
These reforms also eliminate parking minimums in areas with frequent transit service. Most North American jurisdictions require one, two or even three off-street parking spaces at each home, which significantly increases housing costs, automobile traffic and sprawl, and unfairly forces many lower-income households to pay for costly parking facilities they don't need. Eliminating parking minimums can provide huge savings and benefits.
My newly revised report, Parking Requirement Impacts on Housing Affordability: The Costs of Residential Parking Mandates and Benefits of Reforms, is a deep dive into these issues. It investigates parking mandate benefits, costs and equity impacts, and identifies alternative ways to serve parking demands. Let me share highlights.
Parking cost burdens
Parking facilities are expensive. Considering land, construction and operating costs a typical parking space costs $1,500 to $5,000 annually, as illustrated below, and since most jurisdictions require between one and three parking spaces per housing unit, they increase rents or mortgages by thousands of dollars per year. By increasing land requirements, parking minimums can also reduce the number of housing units that can be built on a parcel, reducing housing supply in high land value areas. As a result, parking requirements are a major cause of housing unaffordability.
Typical Annualized Parking Facility Costs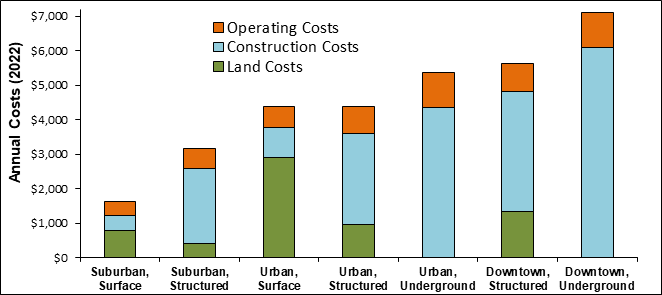 These policies are unfair; they force many households to pay for costly parking facilities they don't need. Since lower-income families have low vehicle ownership rates (see below) and value opportunities to save money, these requirements tend to be regressive. They also reduce development of lower-cost housing in high-opportunity urban neighborhoods that contain diverse services, good schools and abundant job opportunities accessible without driving, forcing lower-income households to live in automobile-dependent areas with high transportation costs.
Vehicle Ownership by Household Income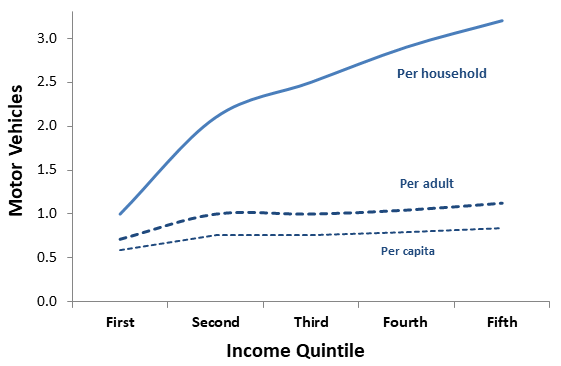 About 30 percent of first income quintile households and 10 percent of second income quintile households are car-free, with higher rates in urban areas. Field surveys indicate that lower-priced urban apartment residents only need 0.3 to 0.6 parking spaces per household, and these demands can be reduced further if parking is unbundled, so households save more money when they reduce their vehicle ownership, and buildings have convenient car- and bike-sharing services, and other TDM incentives.
My study estimates the economic impacts of parking minimums on various households:
A lower-income car-free household that pays $1,200 per month to rent a one-bedroom apartment overpays their parking costs by $150 per month for one unneeded parking space, about 5 percent of their total income.
A lower-income car-free single parent who pays $1,400 per month for a two-bedroom apartment overpays parking costs by $300 per month for two unneeded parking spaces, about 10 percent of their total income.
If a household wants to live in a high-opportunity neighborhood where high land prices require underground parking (UP), their parking costs about double, causing car-free families to overpay 10 percent of total income for a one-bedroom and 20 percent of their income for a two-bedroom apartment.
A moderate-income car-free household overpays $200 per month for a one-bedroom or $400 per month for a two bedroom, which represents 4-8 percent of their total income.
A moderate-income one-car household pays their share of parking costs for a one-bedroom apartment, but overpays $200 per month for a two bedroom, which represents 4 percent of their total income.
A higher-income two-car household living in a one-bedroom apartment, or a three-car household in a two bedroom apartment, underpays their parking costs by $300 per month, about 3 percent of their income. Their parking costs are subsidized.
Typical Parking Cost Over- and Underpayment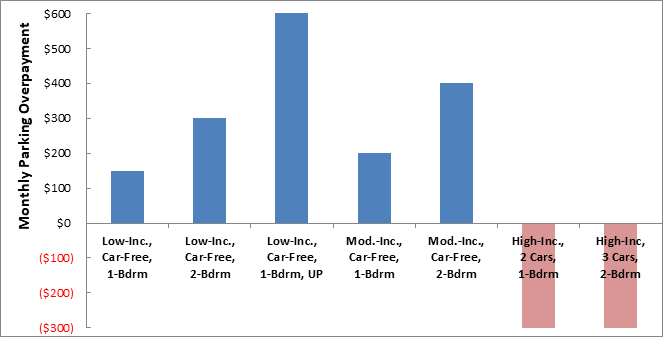 These illustrate the large cost burdens that parking minimums can impose. In these examples, parking requirements are equivalent to an additional 5 percent to 20 percent income tax, imposed most on lower-income households. When household are unable to afford basic goods such as healthy food, medicine or school tuition, the real cause is often excessive housing costs, due in part to excessive parking requirements.
Most moderate- and higher-income households do not consider excessive parking mandates problematic because they own approximately the number of vehicles that are mandated and the costs of excess parking are a small portion of their total budgets. In fact, many moderate- and higher-income households own more than average vehicles and so benefit from excessive parking mandates; their parking costs are subsidized by their neighbors.
These impacts are largely invisible. Parking costs are seldom itemized and their effect on housing supply is seldom measured. Not only do they directly increase housing costs, they also reduce affordable housing in high-opportunity neighborhoods, forcing lower-income families to move to automobile-dependent areas, which harms those families directly and increases traffic and environmental problems. Yet, policy makers, planners and engineers seldom estimate the magnitude and distribution of these costs.
The following reforms can reduce residential parking costs and increase overall affordability.
Eliminate parking minimums, so property owners can decide how much off-street parking to provide based on market demands. These should be implemented with policies to address potential spillover problems (motorists parking at inappropriate locations nearby) including more efficient management of on-street parking and improved wayfinding to help motorists identify their parking options.
If eliminating parking minimums is infeasible, apply maximum adjustment factors. This can significantly reduce parking requirements for lower-priced housing located in compact, multimodal neighborhoods, and for properties that implement demand management strategies.
Require or encourage property owners to develop transportation and parking demand management plans. Support development of local organizations that coordinate transportation and parking management activities in an area.
Encourage property owners to share parking facilities. Sharing can be optional: motorists pay less for shared spaces or more for a personal space. 
Encourage mixed-use developments that include residential and commercial in one building or block to maximize parking sharing opportunities.
Require or encourage property owners to unbundle parking (rent parking separately from building space), particularly for low- and moderate-priced housing.
Allow property owners to fund transit, carsharing, bikesharing and taxi/ridehailing trips instead of subsidized parking.
Encourage or require property owners to provide secure bicycle parking, including some spaces with electrical plugs for e-bike recharging.
Where on-street parking is congested, regulate and price it for efficiency, and make it available to multifamily as well as single-family housing residents. To achieve social equity goals, public parking fees can be reduced for motorists with disabilities and lower-incomes.
Reform development policies to allow property owners that reduce parking demands and manage parking efficiently to increase allowable units.
Improve neighborhood walkability in order to expand the range of parking facilities that serve a destination.
Support professional development for architects, designers, transportation engineers, planners, and development concerning why and how to reduce parking supply and manage parking for efficiency and equity.  
Develop systems to identify and respond to spillover parking problems.
Conclusions
To make driving more convenient and cheaper, most North American cities require most housing to have abundant off-street parking, resulting in more spaces than needed at many locations. These requirements are inefficient, inequitable, and contradict other community goals.
Parking minimums are not essential. Eliminating them does not eliminate parking; it simply allows property owners to decide how much parking to provide based on market demands. This tends to result in unbundling (parking rented separately from housing) and more efficient management, so fewer spaces are needed to satisfy motorists' needs. Without minimums, motorists can still find parking but may need to walk farther and pay more, instead of having parking costs bundled into rents and mortgages.
Off-street parking requirements may be appropriate in sprawled areas with high vehicle ownership rates, inexpensive land, and dispersed development, but not in compact, multimodal neighborhoods with high land prices, or for housing that serves lower-income households less likely to own cars. They are also inappropriate in communities that value affordability, social equity or environmental quality.
Various policy reforms can make parking more efficient and equitable. Some jurisdictions are eliminating parking minimums either completely or just in transit-oriented neighborhoods. If that is politically infeasible, planning agencies and practitioners can apply more accurate and flexible parking standards, require unbundling so residents only pay for parking spaces they actually use, and implemented demand management policies to maximize parking efficiency and minimize costs.
Reducing minimums and unbundling parking can typically reduce the costs of basic, lower-priced housing by 10 to 20 percent and provide thousands of dollars in annual transportation savings for households in multimodal urban neighborhoods. These benefits are particularly large for lower-income households because they tend to own fewer vehicles than average, value money saving opportunities, and benefit from living in high-opportunity neighborhoods, but often cannot afford to due to excessive parking minimums.
Parking reforms are a critical component of efforts to improve housing and transportation affordability and to achieve other economic, social, and environmental goals.
For more information
British Columbia (2023), Home for People Action Plan.
Stuart Cohen (2023), Parking Revolution: Housing Solution, TransForm.
Alan Durning (2013), Apartment Blockers: Parking Rules Raise Your Rent, Sightline Institute.
Fox Tuttle (2021), Parking & Affordable Housing, Shopworks Architecture.
Catie Gould (2023), Parking Reform Legalized Most of the New Homes in Buffalo and Seattle, Sightline Institute.
GreenTRIP Parking Database measures parking spaces per unit, occupancy rates, and the cost of unused spaces for various residential buildings.
Daniel Baldwin Hess and Jeffrey Rehler (2021), "Minus Minimums," Journal of the American Planning Association. 
Hannah Hoyt and Jenny Schuetz (2020), Parking Requirements and Foundations are Driving Up the Cost of Multifamily Housing, Brookings (www.brookings.edu); at.
Nate Jo (2022), Parking Policy & Housing Affordability: How Minimum Parking Requirements Impact Housing Costs and What Cities Can Do About It, Whatcom Housing Alliance Policy.
Lewis Lehe (2018), "How Minimum Parking Requirements Make Housing More Expensive," Journal of Transportation and Land Use, Vo. 11/1.
Todd Litman (2021), Parking Management: Comprehensive Implementation Guide, Victoria Transport Policy Institute.
Todd Litman (2022), Comprehensive Parking Supply, Cost and Pricing Analysis, Victoria Transport Policy Institute.
Todd Litman (2023), Parking Requirement Impacts on Housing Affordability: The Costs of Residential Parking Mandates and Benefits of Reforms, Victoria Transport Policy Institute.
Parking Reform Network promotes various reforms, particularly parking pricing with revenues returned to local communities and businesses.
Robert Pressl and Tom Rye (2020), Good Reasons and Principles for Parking Management, Sustainable Urban Mobility Plans.
Donald Shoup (2005), The High Cost of Free Parking, Planners Press.
Jeffrey Spivak (2018), People Over Parking. Planners are Reevaluating Parking Requirements for Affordable Housing," American Planning Association.
---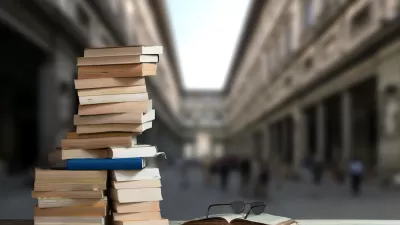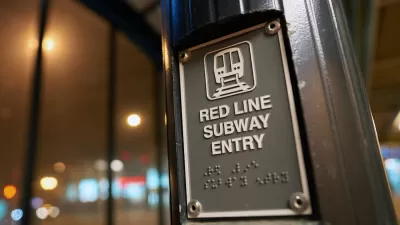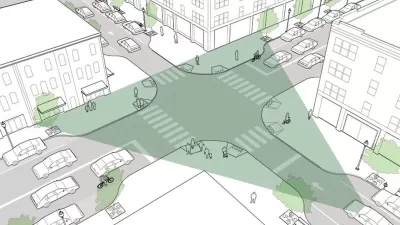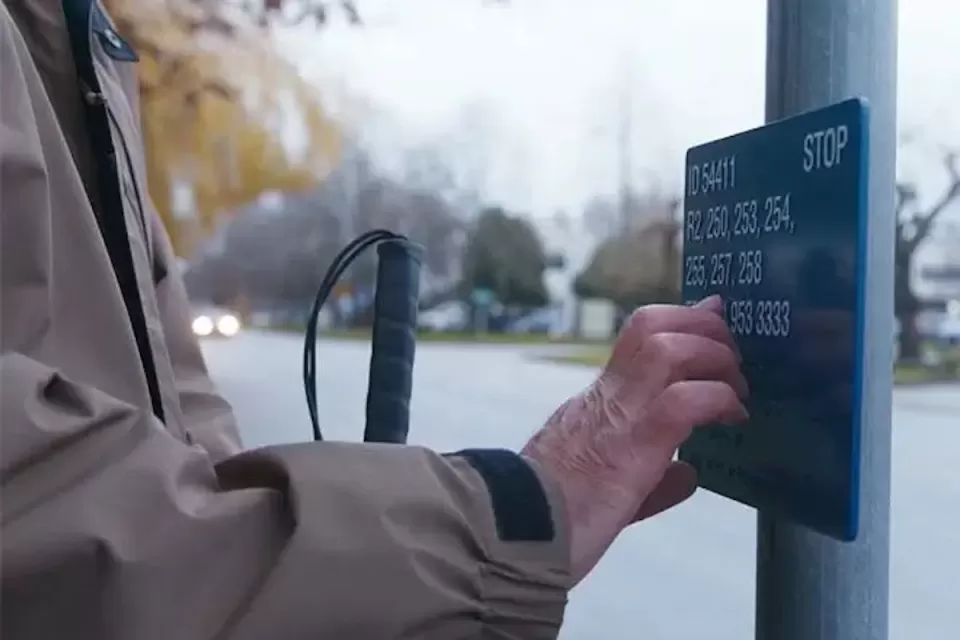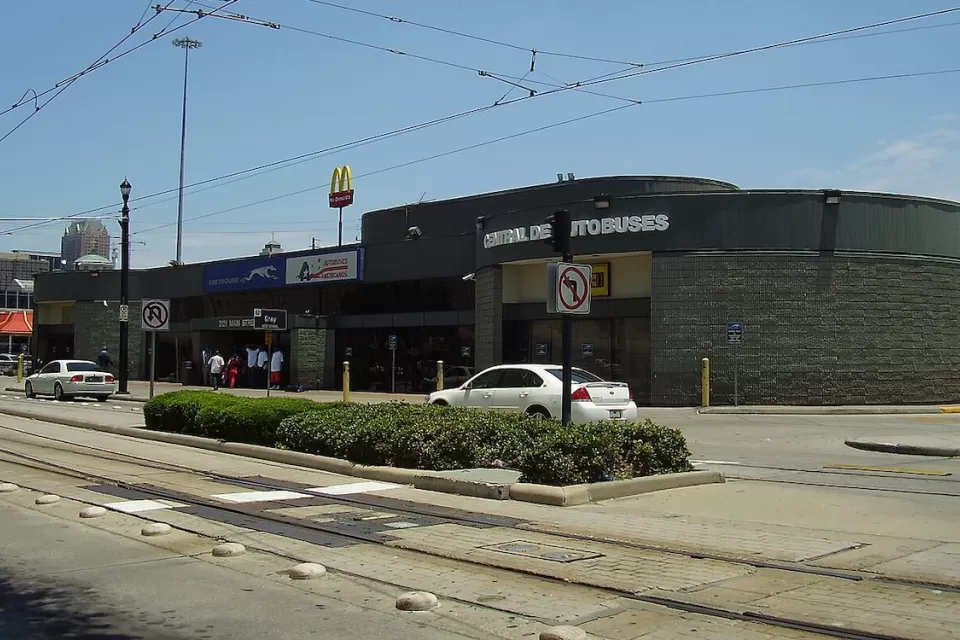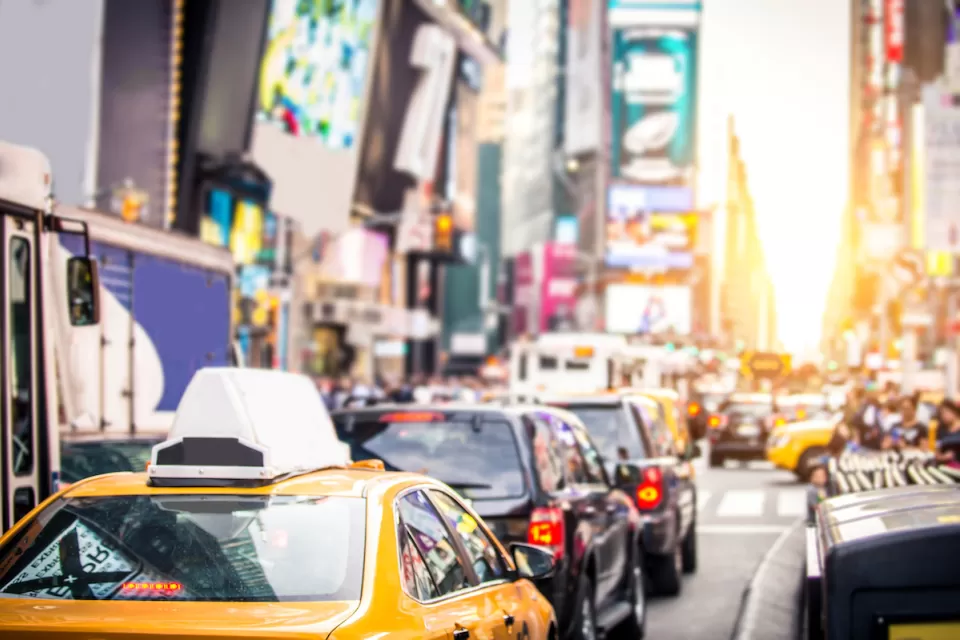 This six-course series explores essential urban design concepts using open source software and equips planners with the tools they need to participate fully in the urban design process.
Learn the tools for implementing Universal Design in planning regulations.
View More