"The Practice of Democracy: A View from Connecticut" is a new exhibition on display from January to June in Bridgeport, New Haven, and Norwalk which unpacks the relationship of land use and development to democracy.
---
A new exhibition called The Practice of Democracy examines how the built environment can shape someone's ability to access the democratic principles of life, liberty, and the pursuit of happiness in the United States. 
After making its debut in New York City in 2022, this exhibition or "experience" has moved north to Connecticut. Using rarely-seen maps, photos, and documents gathered from libraries and historical societies in three of Connecticut's largest cities, The Practice of Democracy: A View from Connecticut reconstructs stories about land use and development from the past and probes their impact on democracy in the present.
For example, the NYC exhibition touched upon urban renewal, a federally-funded program during the mid-1900s that encouraged cities to use eminent domain to build highways, civic centers, and other infrastructure within so-called "blighted areas," often kneecapping the growth of urban communities of color. 
A View from Connecticut tells related stories—a demolished public housing complex in Bridgeport, an early integrated community in Norwalk, a neighborhood erased by urban renewal in New Haven—and asks visitors to consider how these circumstances impacted the way residents perceive or participate in democracy. 
Designing for Democracy produced A View from Connecticut with help from a partnership of higher education institutions and pro-housing groups including: Housatonic Community College, Gateway Community College, Norwalk Community College, the Center for Housing Opportunity, the Housing Collective, and Regional Plan Association. 
The vision and ideas behind The Practice of Democracy are rooted in the personal and professional journey of April De Simone, Curator at Designing for Democracy and Principal at Trahan Architects. "The whole goal here is to ask, 'what is democracy if I can't walk out my door and relate to it'," says De Simone. "We're going to hold up democracy as a rhetorical nod and gesture and reserve it for monuments and memorialize it in rocks, but how does that put food on my table? How does that ensure that I'm not cold?" 
Growing up in The Bronx alongside collapsed buildings and the detritus of the Cross-Bronx Expressway, an urban renewal project, April saw first-hand how the built environment could facilitate or stifle democratic ideals. She saw how life, liberty, and the pursuit of happiness seemed just out of reach for many in her community. 
The exhibition arrives as more Americans are beginning to contemplate the impacts of the built environment. Gen Z is making land use planning popular on social media, while the Wall Street Journal declared the YIMBY movement is "going mainstream" in response to rising housing costs. This discourse is certainly not penetrating every sector of American society, but it has become part of the zeitgeist all the way up to the White House, which set aside some infrastructure funding to "reconnect" communities split apart by urban renewal projects. 
In states like Connecticut, it was the widespread recognition of racial inequality in 2020 that prompted lawmakers to pass land use reforms. De Simone is quick to point out, however, that her exploration of land use is not a foil for race. "This exhibit is not about race for me: this is about democracy and legacies of dehumanization that create the issues we're dealing with today…It's not about shaming or blaming, it's about scaling our collective humanity."
Jennifer Reynolds-Kaye, the Director of the Housatonic Museum of Art at Housatonic Community College in Bridgeport, was excited about the reach and impact of the experience, which was stationed at the Housatonic in January and February. "The organizers wanted to house the experience within the community college system because of the emphasis on community and their desire to reach a broader and more diverse population," she said. "I would say so far they've succeeded in doing that." 
Reynolds-Kaye and her team built programming around the exhibition. Visitors were invited to place thumbtacks onto a HOLC map of Bridgeport to show where they lived. (HOLC, or the Home Owners' Loan Corporation, was the entity created by the US Congress in 1933 which produced the infamous "redlining" maps.) Students were invited to attend lectures in the space, including a talk about public housing which attracted 80 eager participants. Some professors integrated content from A View from Connecticut into their classes, asking students to write essays based on prompts within the exhibition.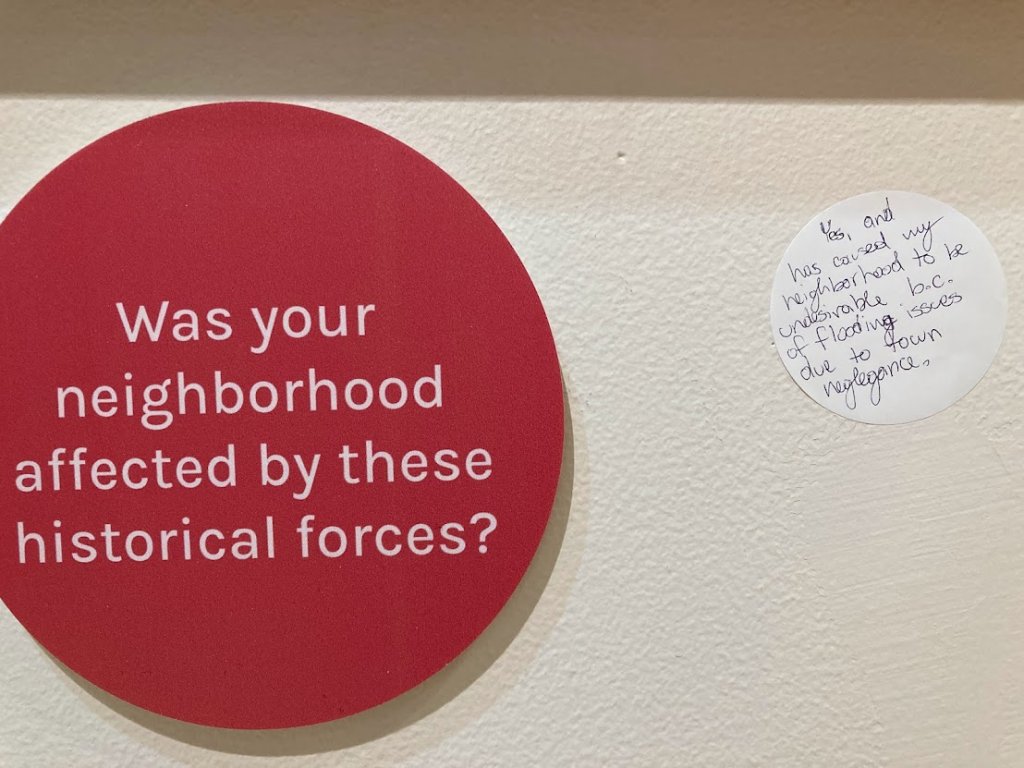 The content is topical and timely in Connecticut. After generations of stasis in the realm of land use, in 2021 pro-homes groups successfully lobbied for statewide reforms aimed at reducing segregation and expanding access to housing. They're trying to achieve more far-reaching reforms in 2023 and appear to be gaining momentum. 
Connecticut residents often disagree about the cause of residential segregation, however, and this can make change challenging. Industrious Connecticut is one of the wealthiest states in the country. Some residents who have worked extremely hard to achieve material wealth and buy a home may not enthusiastically support legislative changes which make it "easier" for others to achieve success by, for example, expanding access to housing.  
This is not necessarily unique to Connecticut. The American sociologist W.E.B. Du Bois coined the phrase the "American Assumption" to describe the commonly-held belief (also known as the "bootstraps ideology") that anyone in America who works hard enough can achieve success. The American Assumption can at times manifest itself in Connecticut in the way some residents in wealthier suburban communities talk about less resourced urban communities. This opinion from the Republican Town Committee Chair in Greenwich offers one example:
Instead of finding and advocating for creative solutions to improve their cities, Democratic leaders have looked for scapegoats. By blaming well-run suburban towns and communities for their inability to address their urban problems, this absolves them of their inability to improve the lives and future prospects of their citizens.
This thinking assumes the communities being compared here are on equal footing, but the history of land use—with urban renewal as just one example—demonstrates this is not always the case. To cite another example, Connecticut law systematically disadvantages many of its cities by requiring them to only raise revenue through property taxes while simultaneously exempting non-profit- and government-owned property from being taxed. In the case of New Haven where Yale University is the largest property owner, this starves the city of resources. 
Detractors say the cities are spendthrifts. Yet Connecticut cities spend just 50-60 percent of what exclusive suburbs like Westport, New Canaan, Weston, and Wilton do to pay for their teachers, police, firefighters, roads and more, even though these jobs are arguably more challenging in the cities. As New Haven mayoral candidate Liam Brennan put it last year CT Mirror, "the cities do more with less." 
Others say the cities are corrupt. It is true that some Connecticut cities have historically struggled with different degrees of mismanagement. Bridgeport offers a tragically comic example. In 2003, six-term Mayor Joe Ganim was convicted of racketeering, conspiracy, extortion, mail fraud, bribery, and filing false income tax returns. In 2015, he was re-elected.
Egregious failures by lawmakers should never be excused, but nor should they be used to discount structural failures by systems. While both exist, A View from Connecticut brings to the debate a bit more evidence about the structural failures. As a result, an optimist can hope it will also bring more common understanding to Connecticut's fraught land use debate.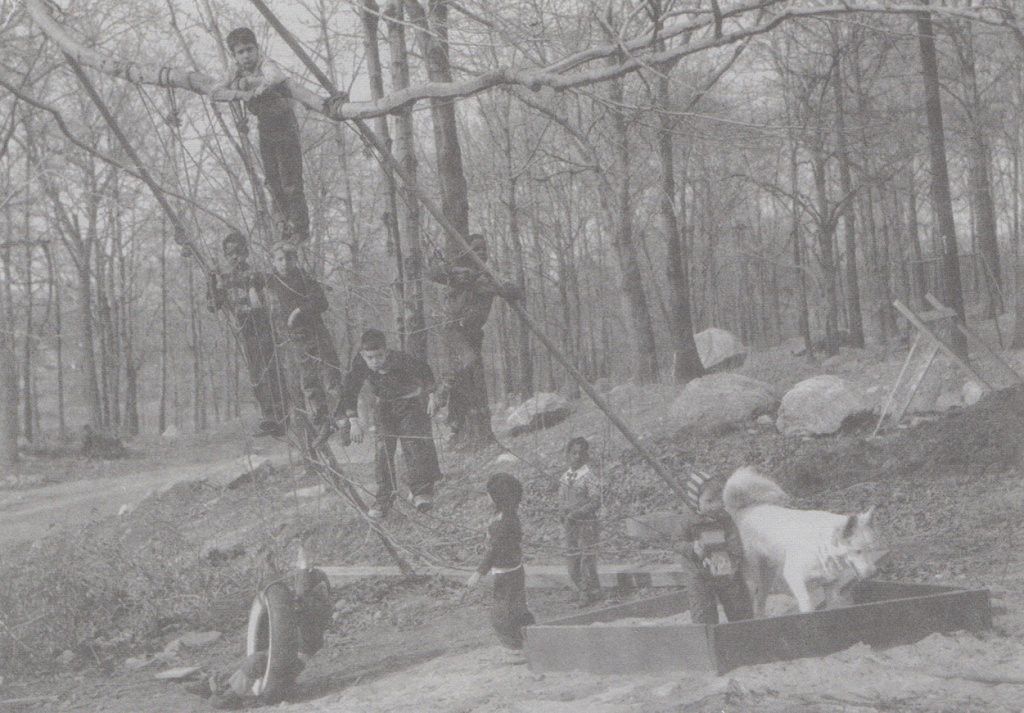 "What we're hoping this exhibit does is change the vernacular, change the perceptions and mental models that create these conditions even by the most well-intended person," says De Simone. "I appreciate the ability to congregate people from all different backgrounds and professions in a room and hopefully they get to talk to each other and find commonality. It's a duty that we all have, beyond TV and internet searches, to begin to have fellowship with one another and say 'hey, we're not that different."
From Bridgeport the exhibition moves first to NewAlliance Foundation Art Gallery at Gateway Community College in New Haven from March 6 to April 14, and lastly to Fairfield County to the East Campus at Norwalk Community College in Norwalk from April 24 to June 2. The content is also available online.
---
The Quiet Housing Crisis in Rural America
While housing shortages in major cities are grabbing headlines, rural communities are seeing higher rates of growth in housing prices and a silently spreading homelessness crisis.
This six-course series explores essential urban design concepts using open source software and equips planners with the tools they need to participate fully in the urban design process.
Learn the tools for implementing Universal Design in planning regulations.
View More