A few graphs provide insights into factors that affect the amount of motor vehicle travel in a community, and how driving can be reduced.
---
How much must people drive? How can vehicle travel be reduced? These are timely issues for planners.
Many jurisdictions have emission reduction targets. These can be achieved through a combination of vehicle travel reductions and "cleaner vehicle" technologies. Vehicle travel reductions provide more benefits (consumer savings, reduced congestion, increased safety, infrastructure savings, improved public fitness and health, etc.), and are generally faster to implement than changing vehicle fleets, so most emission reduction plans achieve about half their transport targets through travel reductions.
For example, California has targets to reduce greenhouse emissions 40%, reduce total vehicle travel 15%, increase walking 400% and bicycling 900%, and strive for 10-50% transit mode share and 10-15% active mode share in rail transit hubs. Similarly, the City of Vancouver has targets to reduce emissions by 33%, reduce per capita vehicle-kilometres by 20%, and increase total walking, bicycling and public transit mode shares to 50% by 2020 and 66% by 2040.
How should communities achieve these goals? Many factors affect how and how much people travel including the quality of travel options available in their communities, roadway supply and design, neighborhood design (density, mix and housing types), plus fuel and parking prices. In order to illustrate some of these relationships I've been playing with various data sets. Let me show some interesting results.
The U.S. Federal Highway Administration's Highway Statistics Reports include various information on urban regions, including Daily Vehicle Miles Travelled (DVMT), population density and roadway supply. This data indicates a huge variation in the amount that people drive. For example, residents in the twenty highest-mileage cities, which average 46 DVMT per capita, drive about 340% more than residents of the twenty lowest-mileage cities, which average about 13.4 average DVMT. What explains these differences? Higher-mileage tend to be more sprawled and affluent than lower-mileage cities, but other factors affect the amount that people drive in a community, as illustrated in the following graphs. For simplicity sake these only reflect the 68 largest U.S. urban regions, but the data set includes almost 500 cities, so it is possible to perform this analysis for various categories of cities.
The figure below shows a statistically strong negative relationship between vehicle travel and urban population density for the largest urban regions.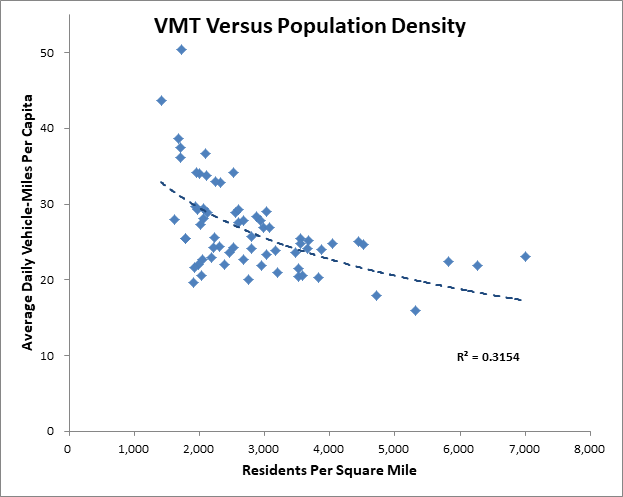 Per capita vehicle travel declines with density, particularly changes from less than 2,000 to more than 3,000 residents per square mile, equal to an increase from less than 3 to more than 5 residents per acre.
The following graph shows statistically strong positive relationships between vehicle travel and roadway supply, including total roads (blue diamonds) and freeways (red squares). This has two implications. First, expanding roadways tends to increase vehicle travel. Second, increased vehicle travel requires more urban roadways and therefore increases roadway costs.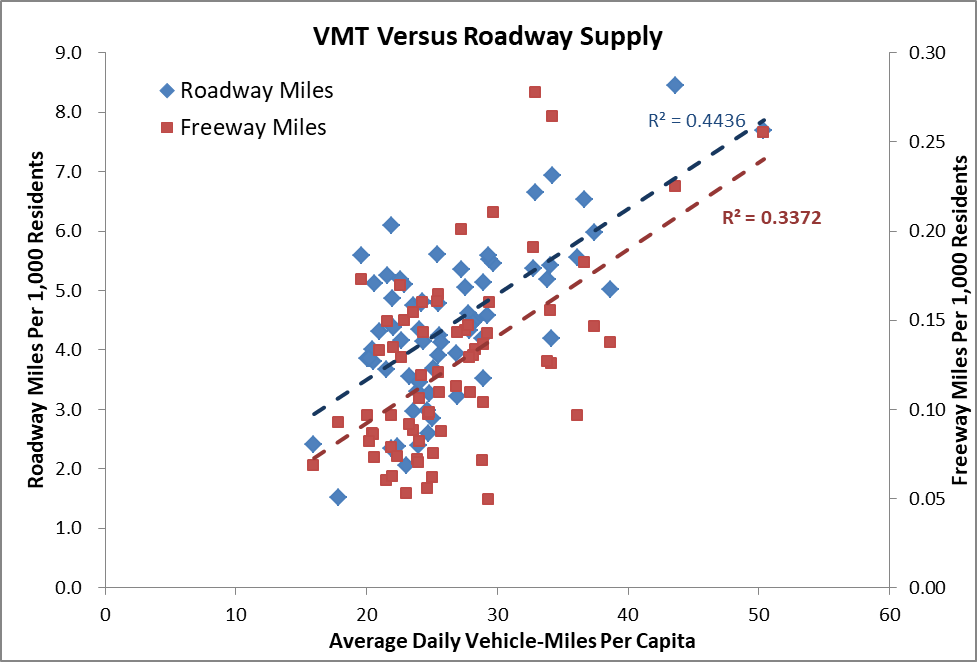 Vehicle travel tends to increase with roadway supply, which suggests that expanding roadways tends to increase vehicle travel and urban roadway costs.
I also analyze data from the Federal Transit Administration Database. The graph below illustrates a strong negative relationship between public transit funding and vehicle travel. This suggests that investing in public transit, particularly spending more than $200 annual per capita, tends to reduce vehicle travel. Previous research, summarized in my report, "Raise My Taxes Please: Evaluating Household Savings From High Quality Public Transit Service," indicates that high quality public transit typically requires about $400 in additional funding but provides vehicle, parking, and road cost savings averaging $1,040 per capita, plus health, safety and environmental benefits, so residents should rationally support tax increases if needed to create high quality public transit systems in their communities.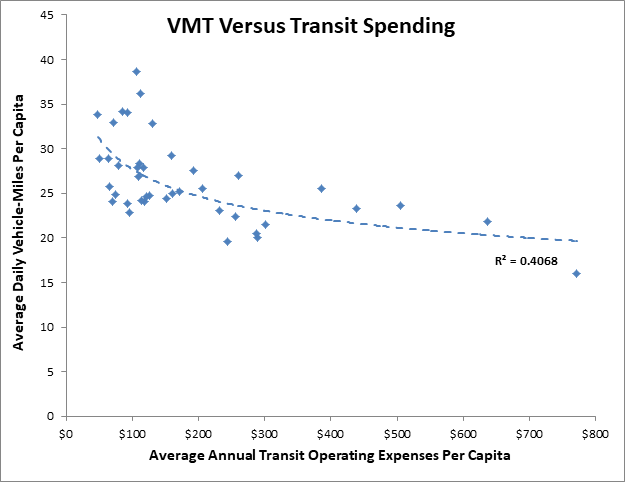 Increased transit funding tends to reduce driving.
The following graph shows a statistically strong negative relationship between transit passenger-trips and vehicle travel, particularly increases from less than 30 to more than 50 annual trips per capita. This suggests that improving transit service and TDM incentives that encourage people to shift mode, such as efficient parking pricing and commute trip reduction programs, help reduce driving.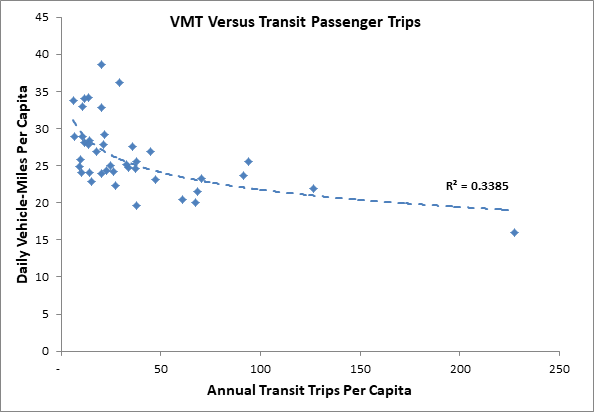 As transit ridership increases, automobile travel tends to decline, particularly increases from less than 30 to more than 50 annual transit trips per capita.
Note that the resulting increase in transit travel is generally much smaller than the resulting reduction in motor vehicle travel, called the transit leverage effect. As indicated in the table below, residents in the ten highest transit ridership cities ride transit about 558 more annual miles and drive 2,669 fewer vehicle miles annually, indicating a 5:1 leverage effect.
| | | |
| --- | --- | --- |
| Transit Ridership Group | Annual Transit Passenger-miles | Annual  Vehicle Miles |
| Ten Highest | 629 |       8,118 |
| Ten Lowest | 71 |     10,788 |
| Difference | +558 | -2,669 |
As cities become more transit-oriented their reductions in vehicle travel are much larger than their increases in transit passenger-miles indicating large leverage effects.
The graph below shows a statistically-moderate negative relationship between state fuel taxes and per capita vehicle travel. This is further evidence of the price elasticity of vehicle travel.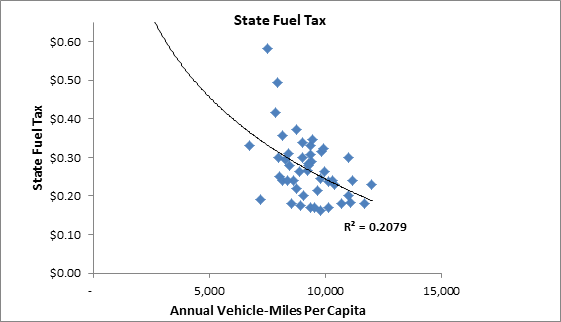 As fuel taxes increase, driving tends to decline.
Of course, many other factors affect vehicle travel including demographics (middle-age people tend to drive more than younger or older groups), employment (employed people drive more), incomes (driving increases if households change from low- to moderate incomes), parking price (higher prices reduce driving), and the social status of travel options. To be successful, VMT reduction programs must respond to specific community needs.
We now have good examples of cities that are successfully reducing motor vehicle travel through a combination of improving resource-efficient travel options (walking, bicycling, ridesharing and public transit), providing incentives for travellers to use the most efficient option for each trip, and Smart Growth development policy reforms that create more compact and multimodal neighborhoods.
This is good news because surveys indicate that many people want to drive less and rely more on walking, bicycling and public transit, and live in more compact, multimodal neighborhoods, provided that they are convenient, comfortable and affordable. This research provides guidance for responding to those demands in ways that provide many economic, social and environmental benefits, as summarized in the table below. Everybody benefits from more multimodal planning!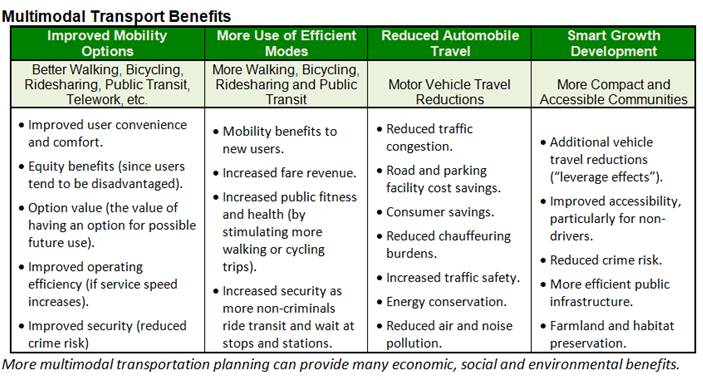 For Additional Information
Michelle Byars, Yishu Wei and Susan Handy (2017), State-Level Strategies for Reducing Vehicle Miles of Travel, University of California Institute of Transportation Studies.  
Marlon G. Boarnet, et al. (2017), The Economic Benefits of Vehicle Miles Traveled (VMT)- Reducing Placemaking: Synthesizing a New View, White Paper from the National Center for Sustainable Transportation.
CARB (2010-2015), Impacts of Transportation and Land Use-Related Policies, California Air Resources Board.
Chad Frederick, William Riggs and John Hans Gilderbloom (2017), "Commute Mode Diversity and Public Health: A Multivariate Analysis of 148 US Cities,"International Journal of Sustainable Transportation.
Chad Frederick and John Hans Gilderbloom (2018), "Commute Mode Diversity and Income Inequality: An Inter-Urban Analysis of 148 Midsize US Cities,"International Journal of Justice and Sustainability, Vol. 23, No. 1.
Climate Works (2014), Climate-Smart Development: Adding Up the Benefits of Actions that Help Build Prosperity, End Poverty and Combat Climate Change, Climate Works Foundation (www.climateworks.org) and World Bank (www.worldbank.org).
Co-Benefits of Climate Action (www.changingtheconversation.ca/co-benefits).
Kevin Fang and Jamey Volker (2017), Cutting Greenhouse Gas Emissions is Only the Beginning: A Literature Review of the Co-Benefits of Reducing Vehicle Miles Traveled, National Center for Sustainable Transportation, University of California, Davis
Global Commission on Environment and Economy (2014), Better Growth, Better Climate: The New Climate Economy Report, Global Commission on the Economy and Climate.
Todd Litman (2014),"The Mobility-Productivity Paradox: Exploring The Negative Relationships Between Mobility and Economic Productivity," International Transportation Economic Development Conference.
Todd Litman (2016), Understanding Smart Growth Savings, Victoria Transport Policy Institute.
Wesley Marshall, Daniel Piatkowski and Chris McCahill (2019), "[Re]Evaluating How We Value Transportation," Research in Transportation Business & Management (http://dx.doi.org/10.1016/j.rtbm.2019.01.005).  
Anne Vernez Moudon and Orion Stewart (2013), Tools for Estimating VMT Reductions from Built Environment Changes, WA-RD 806.3, Washington State Department of Transportation.
PPIC (2017), Driving Change, Reducing Vehicle Miles Traveled in California, Public Policy Institute of California.
PPMC (2016), An Actionable Vision of Transport Decarbonization: Implementing the Paris Agreement in a Global Roadmap Aiming at Net-Zero Emissions Transport, Paris Process On Mobility And Climate (PPMC) On Behalf Of The Global Climate Action Agenda Transport Team (www.ppmc-transport.org).
---
European Cities Act on Density
The sprawling mass of suburbia has been a disaster for the environment. But now smaller, denser cities herald a renaissance in city living.
Nashville Sets Downtown Parking Maximums
Nashville is the latest city to enact a substantive change to the parking requirements set by the city's zoning code—doing away with parking minimums and setting parking maximums in the city's Urban Zoning Overlay.
This six-course series explores essential urban design concepts using open source software and equips planners with the tools they need to participate fully in the urban design process.
Learn the tools for implementing Universal Design in planning regulations.
View More