The United States has, by far, the highest traffic fatality rate among peer countries. Don't blame drivers; planners need to rethink transportation safety.
---
Europe has experienced a tragic series of terrorist attacks this year, resulting in 170 total deaths. As a response, some groups are canceling planned European tours. They are misguided. Europe is actually very safe overall, with much lower violent death rates than in North America, due primarily to the Continent's very low traffic fatality rates.
A recent CDC report, "Vital Signs: Motor Vehicle Injury Prevention — United States and 19 Comparison Countries," and Economist Magazine analysis, "America's Road-safety Record is the Worst in the Rich World," indicate that, despite huge investments in traffic safety programs and safety engineering, the United States has, by far, the highest per capita traffic fatality rate among peer countries. 
There is no lack of effort. The United States has high traffic causality rates despite huge investments in safer roads, safer vehicles, and traffic safety programs. To be fair, these efforts did reduce the U.S. traffic deaths rate by 31 percent between 2000 and 2013, but during that period peer countries reduced their crash rate a much more impressive 55.1 percent. If peer countries had the same traffic fatality rate as the United States (10.3 deaths per 100,000), they would have had an additional 30,295 in 2013. Europe's additional terrorist deaths are tiny compared with the much higher U.S. traffic death rate. It would be more rational to fear visiting Montana, Mississippi, North Dakota, West Virginia, Alabama, and Oklahoma, not France or the Netherlands.
U.S. States With the Highest Road Death Rates
| | |
| --- | --- |
| | Fatalities per 100,000 pop |
| Montana | 22.6 |
| Mississippi | 20.5 |
| North Dakota | 20.5 |
| West Virginia | 17.9 |
| Alabama | 17.6 |
| Oklahoma | 17.6 |
| Arkansas | 16.3 |
| South Carolina | 16.1 |
| South Dakota | 16.0 |
These very high traffic casualty rates (several times higher than peer countries) can be explained by high (about double) per capita annual vehicle mileage and automobile-oriented community design. The current North American approach to traffic safety is incomplete because it only addresses the symptoms without reforming the root cause of very high traffic fatality rates, transportation and land use planning which force people to drive high mileage. Fortunately, there are better solutions, but they require rethinking traffic safety.
My new report, "The Hidden Traffic Safety Solution: Public Transportation," published by the American Public Transportation Association, shows how high quality public transit services and transit-oriented development can increase safety for users and communities. Public transit travel has about one-tenth the traffic casualty (death and injury) rate as automobile travel, and transit-oriented communities have about one-fifth the per capita traffic casualty rate as automobile-oriented communities. This occurs because high-quality public transit spurs compact, multi-modal development which reduces per capita vehicle travel and traffic speeds, and helps reduce higher-risk driving. These benefits are often overlooked: conventional transit project evaluation seldom considers traffic safety impacts despite their huge value, and traffic safety programs seldom advocate transit improvements, although it can be a very cost-effective traffic safety strategy, considering all benefits and costs.   
The study shows that auto deaths and injury rates tend to decline significantly in a community as public transit ridership increases. Cities that average more than 50 annual transit trips per capita have about half the average traffic fatality rates as cities where residents average fewer than 20 annual trips. Since Americans average about 1,350 annual trips on all modes, this increase from less than 20 to more than 50 annual transit trips represents a small increase in transit mode share, from about 1.5 percent up to about 4 percent. That equates to an increase in transit mode share of less than three trips a month per person.  
When paired with traditional roadway traffic safety strategies, public transit can be very valuable in addressing high-risk and vulnerable driver groups, according to the study. Efforts to reduce higher risk driving, such as graduated licenses for teens, senior driving testing, and impaired and distracted driving campaigns, become more effective if implemented in conjunction with public transit improvements. For instance, urban teens take five times as many public transit trips and drive half as much and have about half the per capita auto death rate. As a result, both youth and total traffic fatality rates decline with increased public transit travel.
Other common transportation innovations, such as pedestrian and bicycling improvements, transportation pricing reforms, complete streets policies, parking policy reforms, and Smart Growth development policies can leverage similar traffic safety benefits that will only be recognized if their impacts are measured per capita at the community level, rather than per passenger-mile/kilometer. Of course, transportation planners advocate many of these innovations for other reasons, including congestion reductions, consumer cost savings and environmental benefits; understanding their safety benefits can provide significant additional justification.
The report critiques current traffic safety programs. Of 11 major programs reviewed, only two (the "Global Road Safety Partnership" and the "Transportation Planner's Safety Desk Reference") mention public transit improvements as a possible traffic safety strategies, and even they provide little information about those strategies, with minimal guidance on how to predict the safety impacts of transit improvements, and how to evaluate their full benefits (including co-benefits) in order to support such strategies. Conventional safety programs reflect little understanding of the ways that pro-transit policies can leverage additional crash reductions.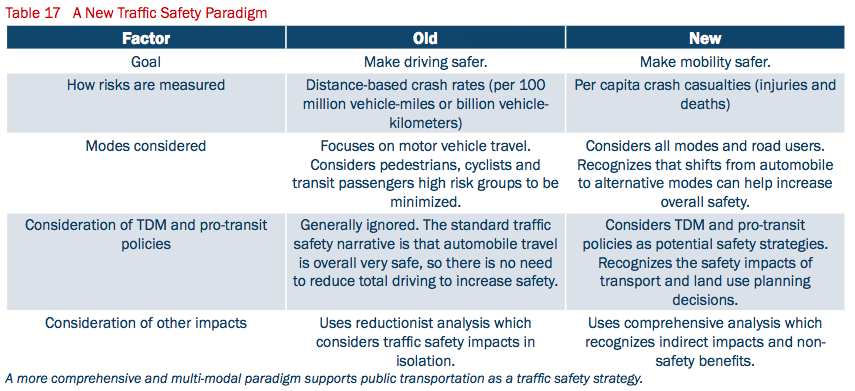 This is actually good news. This research demonstrates that there are many additional ways to increase traffic safety that have been virtually ignored in North America. Investing in high quality public transit and creating more transit-oriented development can provide many economic, social and environmental benefits, including large, community-wide reductions in traffic casualties.
For more information
Nicolae Duduta, Claudia Adriazola-Steil and Dario Hidalgo (2013), Saving Lives With Sustainable Transportation, EMBARQ.
Nicolae Duduta, et al. (2014), Traffic Safety on Bus Priority Systems: Recommendations for Integrating Safety Into the Planning, Design, and Operations of Major Bus Routes, EMBARQ.
Reid Ewing and Eric Dumbaugh (2009), "The Built Environment and Traffic Safety: A Review of Empirical Evidence," Journal of Planning Literature, Vol. 23 No. 4, May, pp. 347-367.
Todd Litman (2014), "A New Transit Safety Narrative,"Journal of Public Transportation, Vol. 17, No. 4, pp. 114-135.
Todd Litman (2016), The Hidden Traffic Safety Solution: Public Transportation, American Public Transportation Association. 
Todd Litman and Steven Fitzroy (2005), Safe Travels: Evaluating Mobility Management Traffic Safety Impacts, Victoria Transport Policy Institute.
Juha Luoma and Michael Sivak (2012), Why Is Road Safety in the U.S. Not on Par With Sweden, the U.K., and the Netherlands? Lessons to be Learned, Transportation Research Institute, University of Michigan.
Wesley E. Marshall and Norman W. Garrick (2011), "Evidence on Why Bike-Friendly Cities Are Safer for All Road Users,"Environmental Practice, Vol 13/1.
Jim P. Stimpson, et al. (2014), "Share of Mass Transit Miles Traveled and Reduced Motor Vehicle Fatalities in Major Cities of the United States," Journal of Urban Health: Bulletin of the New York Academy of Medicine. 
Hans-Joachim Vollpracht (2010), "They Call Them Coffin Roads," Routes-Roads, N° 347, World Road Association.
---
How Urban Trees Save Lives
New research shows a strong connection between a healthy urban tree canopy and lowered mortality rates.
This six-course series explores essential urban design concepts using open source software and equips planners with the tools they need to participate fully in the urban design process.
Learn the tools for implementing Universal Design in planning regulations.
View More