Methane Emissions Replace CO2 Emissions— Is This Progress?
For the first time, electricity generated from burning natural gas will surpass coal, largely due to fracking of shale. While that means that carbon dioxide emissions will continue to drop, it also means that methane emissions will increase.
Last year, coal and natural gas supplied roughly equal amounts of energy in the U.S., about one third of total energy generation each, according to the U.S. Energy Information Administration (EIA), though in April 2015, natural gas inched out coal as the nation's top energy source, but for only one month, notes the EIA.
This year, the EIA projects for the first that time that natural gas will surpass coal in mix of fuel used for U.S. power generation for an entire year, though not by much: 33 percent vs. 32 percent, respectively.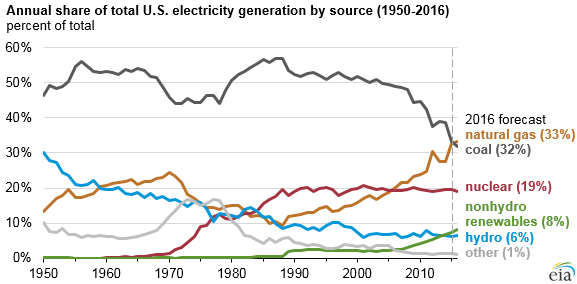 Source: U.S. Energy Information Administration, Monthly Energy Review, and Short-Term Energy Outlook (March 2016)
Now this should be good news for climate change, due to the lower carbon emissions (about 57%) of burning natural gas compared to bituminous coal, and a boon to public health due to hugely lower criteria pollutants and toxic emissions. Natural gas also eliminates solid wastes, such as coal ash and other by-products of burning coal.
Chris Mooney, who writes about energy and the environment at The Washington Post, focuses just on the former, the climate impact of increased use of natural gas, much of which is derived from the controversial drilling technology known as fracking. Methane leakage from fracking operations has emerged as a serious concern due to its short term climate impact, 25 times the global warming potential of carbon dioxide over a 100-year period.
The increased methane emissions clouds the contention that natural gas "could serve as a 'bridge' to an era in which wind and solar provide the bulk of the nation's power," writes Mooney.
In an article published Friday, Mooney writes that U.S. methane releases are higher than initially thought according to the 21st annual U.S. Greenhouse Gas Inventory Report: 1990-2014, released April 15, "that the agency submits to the United Nations."
Credit: EPA: Sources of Greenhouse Gas Emissions

"Data on oil and gas show that methane emissions from the sector are higher than previously estimated," said the [U.S. Environmental Protection Agency] in a news release upon the report's release. "The oil* and gas sector is the largest emitting-sector for methane and accounts for a third of total U.S. methane emissions."

Prior inventories, such as last year's report [PDF], which provided data through the year 2013, had suggested that the U.S.'s highest source of methane was ruminant animals like cattle and other livestock, rather than the oil and gas industry. [See "enteric formation" (PDF)].

Credit: EPA
The findings will no doubt influence the importance of EPA's new methane emission regulations, which aim for 45 percent reduction by 2025.
Mooney's comprehensive articles includes discussion of the enormous leak of methane from Dec. 4, 2015 to Feb. 11 from the Southern California natural gas storage facility, and comments from the American Petroleum Institute which, as one would expect, questions the EPA's findings.
Perhaps the best part of his articles are the many studies he references on methane emissions, some of which indicate that EPA has underestimated methane emissions, others which point to enteric emissions being a greater source.
The good news, suggests Rob Jackson, a researcher at Stanford [University], is that while it's very hard to do anything about a global trend in agricultural emissions, it's not so hard to clamp down on U.S. oil and gas leaks, which his latest study suggests are worse in some key areas — which means they can be targeted.
That position is confirmed by Mark Brownstein, who heads the oil and gas program at the Environmental Defense Fund. He "argues that ultimately, the question of whether emissions are now going up due to fracking in the U.S. is somewhat of a 'red herring' — the fact is, there are substantial emissions from the oil and gas sector, and they're fixable, he argues," writes Mooney.
You simply have to regulate the industry, rather than let it police itself voluntarily — something President Obama pledged to do along with Canadian prime minister Justin Trudeau in March.

As indicated earlier, the environmental debate over methane and carbon dioxide emissions ignores the aforementioned life-saving public health benefits obtained from switching to cleaner burning natural gas.
*Note that the increased methane emissions resulting from fracking for domestic oil bears little if any relationship to electricity generation and displacement of coal but is lumped with natural gas in the above "pie chart of U.S. methane emissions by source."
Hat tip to Mark Boshnack
Published on Wednesday, April 13, 2016
in