The American Planning Association 2016 National Conference included a wide variety of topics and a significant amount of tweeting. This blog shares the highlights from the conference.
---
[Updated 4/11/2017] The APA National Conference in Phoenix featured a wide variety of planning topics that all planners could learn from. This is the sixth year that I (@evanscowley), along with Patrick Holland (@p18holland), have analyzed the conference using Twitter (see the analysis of the 2014 conference, 2013 conference, and 2012 conference, with @b_kubinski, and 2011 conference with @cubitplanning). To help us comb through all the tweets from this year's conference we used NodeXL software, a free and open sourced software package that helps to visualize Twitter interactions. Using the hashtag, #APA16, all the tweets related to the conference were well organized into an Excel spreadsheet. From there we could look at which topics were receiving the most interactions, and which topics were developing trends. More information about scrapping data from Twitter can be found here.
Throughout the conference attendees were actively tweeting. This year 4,300 people attended the conference and tweeted over 4,000 times, an increase of 1,700 tweets since 2011. Twitter interaction at the APA conference has been progressively climbing since we started tracking data back in 2011. 203 people were tweeting in 2011, 691 in 2012, and 1,089 in 2013.
Highlights from the conference included housing, data, and how planning has impacted the city of Phoenix.
US urban policy: Free housing & infrastructure for cars, unaffordable & inadequate housing for people. #APA16 #CPlan pic.twitter.com/esz44omktH

— urbandata (@urbandata) April 3, 2016
The most retweeted tweet from the conference came from @urbandata, "US urban policy: Free housing & infrastructure for cars & inadequate housing for people. This image depicts a massive parking crater in downtown Detroit, Michigan. It is similar to highlights from last years conference where Donald Shoup said, "We've got it all wrong, by providing free housing for cars, and expensive housing for people." The image represents how our urban cores still have a long road to recovery.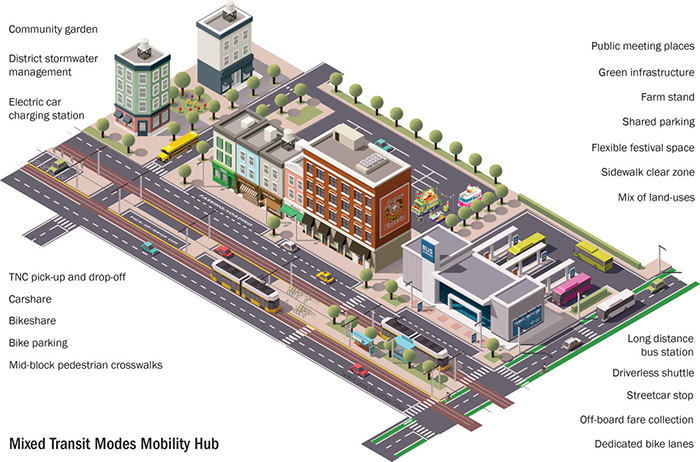 Other visual highlights included how sidewalks will change as transportation continue to shift toward multi-modal options. This image created by Sarah Lewis of @GreaterPlaces expresses a sprawl retrofit model that implements several transportation modes like on-demand rides. Complete streets of the future could continue to look more and more like this.
Topics of Conversation
There were numerous topics discussed throughout the conference. Since the conference was held in Phoenix, the city was focal point of conversation. Bikes and transportation were hot topics at this year's conference as several people shared pictures of them using GRID BIKES and Phoenix's light rail system.
One of the newest topics for this year's conference was the missing middle—housing that is denser than single family homes, but does not feature the high rise density. Missing middle housing includes townhomes, duplexes, and courtyard apartments. Here you can see a breakdown of the 25 most popular topics found on Twitter at the conference.
| | |
| --- | --- |
| Topic | # of Tweets APA2016 |
| data | 546 |
| cplan | 544 |
| phoenix | 491 |
| bike | 370 |
| housing | 351 |
| techzone | 174 |
| downtown | 143 |
| apps | 140 |
| innovation | 128 |
| infrastructure | 120 |
| public participation | 112 |
| transportation | 110 |
| equity | 78 |
| neighborhood | 72 |
| water | 66 |
| phealth | 54 |
| development | 47 |
| missing middle | 46 |
| sustainability | 45 |
| economic development | 41 |
| stormwater | 39 |
| civic | 33 |
| zoning | 30 |
| apps4planning | 28 |
| uber | 25 |
One topic I was expecting to see a lot about was the coming of autonomous vehicles. It could likely be the most impactful technology on urban form in the next few years, but the conversation on Twitter was almost nonexistent.
Meaning of our Tweets
Sentiment analysis helps us to understand the climate and meaning of our tweets. It can be used to convey information about a large number of people's reactions to how a conference went. To learn more about sentiment analysis I have a publicly available article on the topic.
Reaction's to this year's planning conference were overwhelmingly positive. This particular set of tweets was taken near the end of the day on Wednesday and portrays participants' holistic view of the conference. Although there were other negative tweets found throughout the conference, the majority of people enjoyed their experience at the conference. The sentiment analysis could have looked much different during other portions of the conference, but the end of the conference was analyzed to show peoples overall perception of how they felt.
Who Participated
A total of 813 people tweeted while at the conference, generating a great deal of interaction on social media. Some people were heavy tweeters, but others only tweeted a handful of times. Throughout the conference, over 4,594 tweets were recorded, including 1,904 retweets.
Listed below are the top 12 most retweeted tweets from the conference.
| | |
| --- | --- |
| Tweet | # of RTs |
| RT @urbandata: US urban policy: Free housing & infrastructure for cars, unaffordable & inadequate housing for peoples. #APA16 #cplan | 315 |
| RT @transportdata: spotted outside #apa16: a meeting of traffic engineers who haven't yet approved the @NACTO urban street design guide | 57 |
| RT @APA_Planning: Sea level rise is both a wicked problem and an opportunity for "wicked good planning." @johnglander #apa16 | 21 |
| RT @VictorDover: No surprise cyclists take sidewalks when many streets remain like this @GridBikes #apa16 @BikePhoenix #whatnottodo | 17 |
| RT @MobilityLab: Can we extend the disruption in transportation to a disruption in urban design, #apa16? https://t.co/0JaGLevfp7 | 15 |
| RT @VictorDover: Two corner buildings, downtown Phoenix. Which habitat better supports human life? #whatnottodo #apa16 | 15 |
| RT @tooledesign: this downtown Phoenix bike lane was a litter over capacity this morning #apa16 | 15 |
| RT @Boenau: Sometimes that "killer project" showcased at a conference is a menace to society. #apa16 #visionzero | 14 |
| RT @jgmoore: In asking why a there's a concentration of race/poverty, "they can't afford anything else" isn't a good reply #apa16 | 14 |
| RT @ SFJ_Transit_News: @GridBikes @SocialBicycles #bikesharing makes getting around downtown Phoenix easy, fun, and healthy #apa16 | 13 |
| RT @MKSK_Studios: The Downtown Columbus Riverfront takes home the #apa16 National Planning Excellence Award!! https://t.co/CLO0b0mNDX | 9 |
| RT @SF_Transit_News: Phoenix Metro #lightrail is very well designed. Curb separation from traffic, seating, shade, and solar A/C #apa16 | 8 |
There were clearly some key, heavily tweeting influencers at the conference. MKSK (@MKSK_Studios) tweeted heavily about the resurgence of Midwestern cities, including Columbus, which received Ohio's Award of Excellence for a downtown waterfront implementation plan. Jessica Garrow (@GarrowJessica) tweeted throughout the conference about several topics happening at APA ranging from small town development to the future of agriculture. Andy Boenau (@Boenau) focused his tweets around the pedestrian and bicycle experiences found in Phoenix and coupled it with other transportation topics.
Hey #APA16 tweeps, lots of bike-friendly destinations & events in Phoenix. #bikePHX #bikethatAZup pic.twitter.com/V6UoMdmZSa

— Andy Boenau (@Boenau) March 31, 2016
Blogging the Conference
A few other people have blogged about the 2016 APA conference. The American Planning Association broke down the conference using social media as well. Their findings are located here. One cool feature they have is a gif map visualizing where tweets were coming from during the conference.
APA also shared a 9 things planners love about Phoenix.
Resources from the Conference
Conference attendees did a wonderful job distributing a breadth of content. There were several links depicting a wide variety of planning related content so we grouped highlights accordingly.
Climate
Big Data
Biking
Housing
Equity
Neighborhoods
Public participation
Transportation
Technology
Etc.
My takeaway from the use of Twitter at the conference is that a significant number of people were able to use this medium to share and engage in conversations around planning topics that resonate with them. It provided a platform to engage in social conversations that helped people meet each other both on and off line. What more could we ask for from social media in a conference? I look forward to even more participation at the 2017 conference in New York City. APA has also shared a breakdown of the conference by the numbers.
[This post was updated with proper credit for the photographer and location of the photo.]
---
How Urban Trees Save Lives
New research shows a strong connection between a healthy urban tree canopy and lowered mortality rates.
This six-course series explores essential urban design concepts using open source software and equips planners with the tools they need to participate fully in the urban design process.
Learn the tools for implementing Universal Design in planning regulations.
View More