Participatory mapping has become an increasingly popular planning tool. The examples that follow highlight how communities are using participatory mapping.
---
Participatory mapping has become an increasingly popular planning tool. Maps have become every more prevalent in the daily lives of our residents, who use mobile mapping technology to guide them to a local restaurant, provide the fastest commute time, and explore new recreational opportunities. As a result, residents are increasing spatial literacy and interest in map making.
Participatory mapping is about getting people to share their knowledge of the community, identifying challenges or opportunities that directly impact their community. Participatory mapping allows community members to become active in the process of creating maps.
Planners, academics, and others are using participatory mapping tools such as Open Street Map, an open source tool, making it possible to edit a base map. There are also tool kits such as the City Resilience Action Planning Toolkit, which includes training on how to engage in participatory risk mapping. Highlighted below are examples of participatory mapping projects.
The Anti-Eviction Maps project focuses on documenting eviction of San Francisco Bay Area residents. The project includes oral histories and digital maps that visualize the increase in evictions. Residents are invited to complete an eviction survey, and the information is used to shape an understanding of the region's housing issues. In this project, 28 maps were developed using Open Street Map.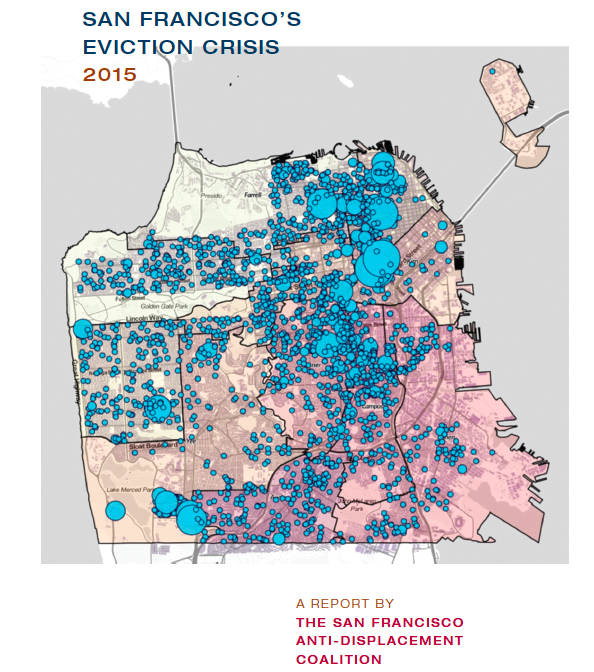 The Detroit Food Map gathers food pricing to identify food deserts. Volunteers become part of the survey team and aid in the Nutritional Environment Measures Survey. The Motor City Mapping project brought together 150 Detroiters to survey every parcel in the city of Detroit, capturing photographs and information about the condition of every property. Mayor Duggan created GO DATA (Government Open Data Access To All) as a portal to provide 90 data sets to the public. This has made it easier to undertake participatory mapping.
Where in Wally? Playing off the children's character Where's Waldo (known as Wally in the United Kingdom), a team of architects in preparation for the 2015 E17 Art Trail and London Festival of Architecture undertook a a project  to understand treasured places and spaces. Members of the community tagged their favorite places adding descriptions, for example: "Discovered this old building in an unloved part of town - it looks like it might be developed for flats or other boring uses, but a public programme could transform the space around it." The result is a map of treasured places and spaces in Walthenstow, United Kingdom.
The Mappiness project called on residents in the United Kingdom to use an app to tag their mood, allowing community happiness to be mapped. This project, created by faculty at the London School of Economics and Political Science, worksto understand how people's feelings are affected by their environment—everything from air pollution to noise. Participants download an app on their iPhone providing some information about themselves and their health. Users receive a notification between once and up to five times a day asking users to report how they are feeling taking about 30 seconds. Users can take a photo of where they are if they like.
Is your community using participatory mapping? If so, share in the comments below how your community is benefiting from engaging the public in participatory mapping.
---
Planning for Congestion Relief
The third and final installment of Planetizen's examination of the role of the planning profession in both perpetuating and solving traffic congestion.
Car Noise Is Killing Us
It's not just traffic collisions that kill—a new study from researcher at Rutgers finds that the loud noises emanating from cars has direct impact on heart health in Americans.
This six-course series explores essential urban design concepts using open source software and equips planners with the tools they need to participate fully in the urban design process.
This course aims to provide an introduction into Urban Design Sketching focused on how to hand draw master plans using a mix of colored markers.
View More