The Bloomingdale Trail, the star attraction of the 606 in Chicago, has been compared to NYC's High Line. But with its restrained design and focus on high-use activity, it is nothing like it, and, in certain ways, it's even better.
---
As I have previously written about, several recently unveiled projects in Chicago have been justifiably attracting a lot of attention. Most of these, including the impressive expansion of the Riverwalk, are, as one might expect, located in the central, tourist-filled Loop neighborhood. But it is the one farthest afield—the 606, which opened over the summer—that I believe will ultimately prove to be the most significant when it comes to having a positive impact on its community. At a time when the direct link between public open space and public health is more established fact than hopeful supposition, and cities are increasingly willing to invest in their urban landscapes, the focused program and straightforward design of the 606's centerpiece, the Bloomingdale Trail, provides an exhilarating breath of fresh air into an urban realm in need of a few good surprises.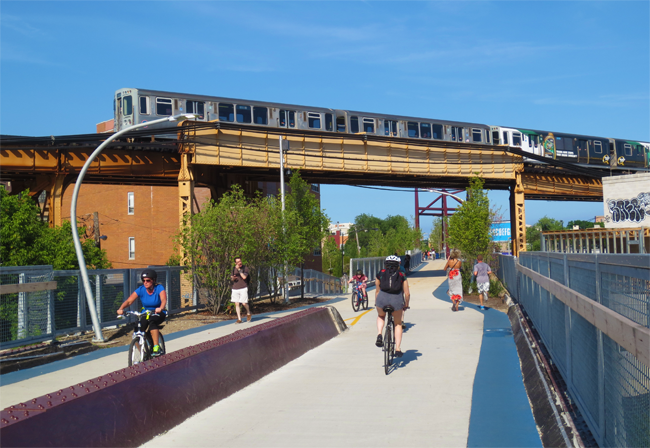 The Bloomingdale Trail at the 606. All photos by Mark Hough
The Trail is a very linear, 2.7-mile converted rail line that runs through four Chicago neighborhoods a few transit stops outside of downtown. It, along with several attached parks, trailheads and open spaces combine to make up the 606. Although early press on the project (which goes back over a decade now) made allusions to "Chicago's High Line," there are actually very few similarities between the two places. Yes, both are linear and elevated, but that's about it. Visitors expecting to find in Chicago a similarly high-stylized and expensively detailed park as in Manhattan may be disappointed. Or, like me, they may be excited by the understated and coherent design that makes the whole thing very inviting. 
The design of the 606 was led by the Brooklyn-based landscape architecture firm Michael Van Valkenburgh Associates (MVVA). With a project this huge, and hugely expensive (at around $100 million), the list of people and organizations deserving credit for the finished product undoubtedly scrolls into the hundreds. An important one of these is the Trust for Public Land, which was a lead partner and responsible for a lot of the hard work, including raising money, acquiring property and leading community involvement. The look of the place, however, was largely in MVVA's court…and it is worth talking about.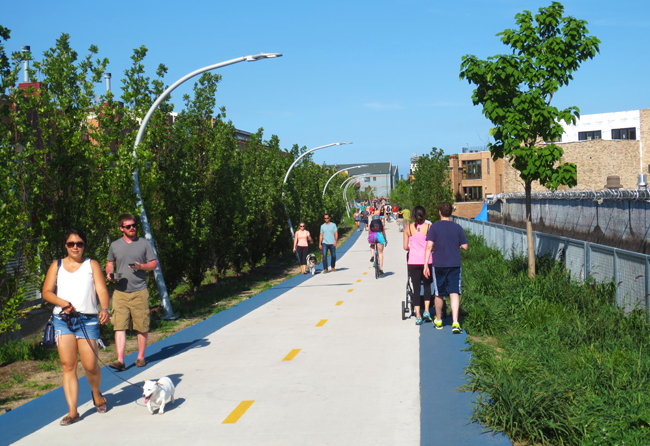 The term that came to my mind when I first walked the Trail on a beautiful blue-sky afternoon was solid. That is probably not the word most designers want to see used to describe their project; but it fits here, and in a good way. There are no frills, no extraneous elements put in place to make anything look fancier than it needs to be. The design is a lot more about practicality than pretense. There is certainly a sense of style established with the cool lighting and wood plank seating, but the bulk of the project is unadorned concrete—new and old—and lots of galvanized steel railings and barriers that provide both heft and a transparency that allows for views to the streets below.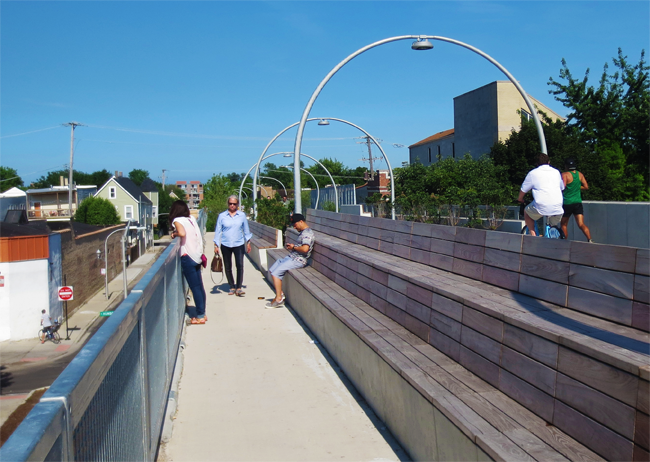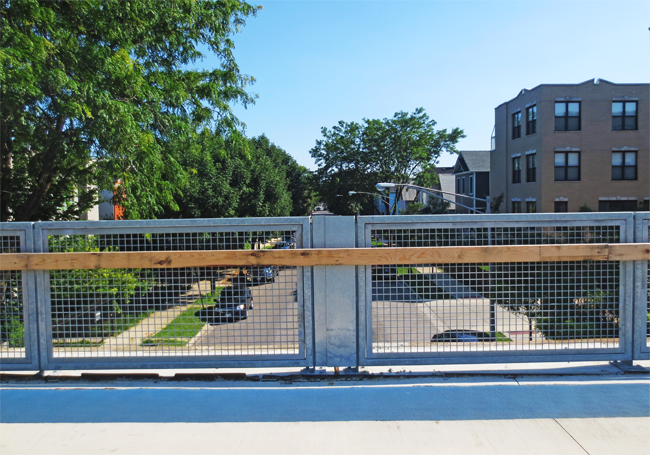 The materials combine to form a sort of rugged elegance that contrasts a persistent expectation that urban spaces need to be filled with hip furniture, shiny stainless steel fixtures and pristine paver systems arrayed in geometric precision in order to be successful. A perpetuation of this myth puts us at risk of creating too many catalog-generated, date-stamped spaces in cities that will likely fall out of fashion far sooner than intended. The stripped-down, confident restraint of the Trail's design, which successfully masks its structural complexity, may not seem like much in comparison to other high-profile landscapes, but it probably has a better chance of standing the test of time. Such focus on durability has, in my opinion, become a welcome trademark of MVVA's public work. It is seen to great effect in the firm's work at Brooklyn Bridge Park, which is full of rustic, yet contemporary detailing, as well as an inventive use of repurposed materials (in particular, the fabulous Granite Prospect, built from reclaimed stone from the Roosevelt Island Bridge).
Designing for longevity is critical in high-use spaces, but does not always seem to be the priority. During visits to Chicago over the past decade, for instance, I became increasingly frustrated witnessing the beautifully detailed, yet fragile granite paving in Millennium Park's Lurie Garden crumble under the feet of park goers. The miscalculation that seemed to place disproportionate value on finish over function in creating what would work beautifully for a garden, but less so for a crowded public park, led to the need for an expensive redo. The granite was recently replaced by a system of less glamorous but far more practical concrete pavers, with no real detrimental impact to the space. I don't see such a thing happening at the 606.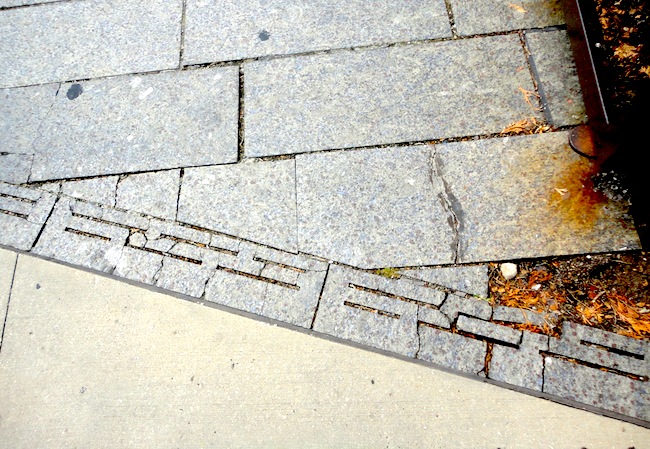 Lurie Garden in Millennium Park
To be fair, all public places are unique, and the design of each should never be based on standard criteria or boiler plate programs. It is easy to see why clients and donors for the Lurie Garden would have different expectations for detailing amid the two-plus acres of gorgeous, horticulturally rich planting beds than with the Bloomingdale Trail, which was created largely to facilitate recreation and connectivity, and displays a planting scheme that is anything but gardenesque. The route is lined with scrims of wildish-looking plants that mimic the linear landscape often found running parallel to regional rail corridors—where only truly tough and adaptable plants can survive. As different as the two places are, however, it is legitimate to expect that they, like all public spaces, should be designed to last more than a few years.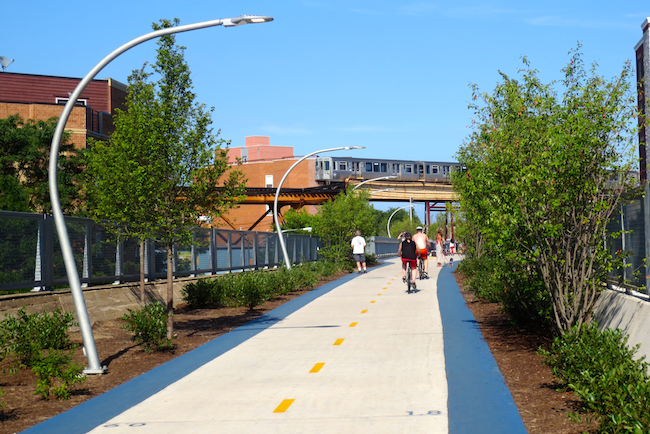 As I have argued before, aesthetics matter a great deal in public spaces. Even so, their look and detailing should be generated out of the program requirements, not vice versa. The reason the 606 is already worth the investment the city made in it is not because of the way it looks, it is how well it is being used. When I was there, the Trail was a bustling multi-modal paradise, packed with what seemed to be almost exclusively locals. In this sense, it is a lot more like a landscape version of a neighborhood pub than some glitzy new nightspot (see the Riverwalk).
Earlier that same day I had been one of many tourists walking through Millennium Park, snapping a hundred photos—the exact ones taken by thousands of people before me. But here, on the new Trail, there were no other design geeks to be found. It was great. The place was packed with runners, cyclists, walkers, dogs, kids on scooters, skateboarders, inline skaters, and people pushing babies in strollers. Although I did not witness any accidents, the potential for incidents seems high due to the amount of pedestrians and vehicles maneuvering through the same narrow space at varying speeds. A clever manipulation of grades and breaking up the straight path of travel where possible definitely help, but safety will likely be an ongoing issue.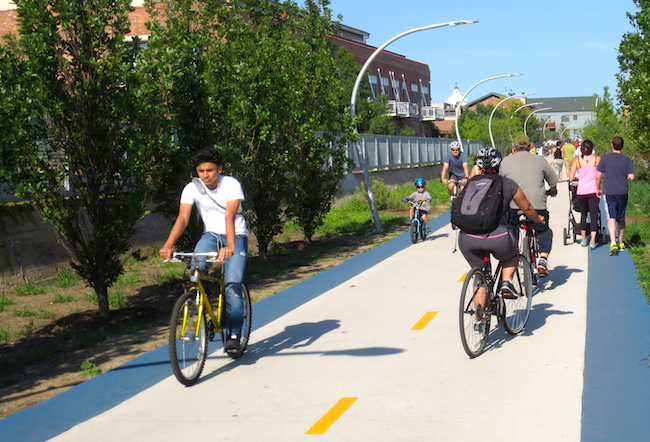 As much as I admire the project and appreciate its design, however, I cannot imagine traversing the whole thing more than maybe once, except as part of an exercise regime or as a commuting route. Even though there are some great unexpected moments along the way, it is a bit of one trick pony and gets repetitive pretty quickly. For casual observers, it is best utilized in shorts trips—off and on along its length as a way to experience some very active and cool neighborhoods you may not otherwise have a reason to see.
In the end, the Bloomingdale Trail will likely always be overshadowed by the High Line in the media and by urban-loving tourists. Considering how much that project has transformed its Chelsea neighborhood—and the ridiculous effect it is having on local real estate—I'm sure that is just fine for the residents of these four Chicago neighborhoods, who would no doubt be perfectly happy had the 606 stayed their own little secret.
---
The Right to Mobility
As we consider how to decarbonize transportation, preserving mobility, especially for lower- and middle-income people, must be a priority.
Early Sharrow Booster: 'I Was Wrong'
The lane marking was meant to raise awareness and instill shared respect among drivers and cyclists. But their inefficiency has led supporters to denounce sharrows, pushing instead for more robust bike infrastructure that truly protects riders.
This six-course series explores essential urban design concepts using open source software and equips planners with the tools they need to participate fully in the urban design process.
Learn the tools for implementing Universal Design in planning regulations.
View More