The enthusiasm of Detroit's new civic leadership, who engineered its bankruptcy and set up its recovery, is infectious. How the city will ultimately fare, and how other troubled cities learn from Detroit's mistakes, remains to be seen.
---
BEVERLY HILLS, Calif. — I confess that my most intimate understanding of the city of Detroit comes from the Eminem biopic 8 Mile and the novels of Jeffrey Eugenides. Watching its decline from afar, in the relative comfort of Los Angeles, has made me thankful for California's prosperity and mindful that our struggles—of traffic, affordability, pollution, sprawl, and the rest—pale in comparison to those faced even by other American cities.
For all that Detroit and its stalwart residents have endured, Monday's panel on Detroit at the Milken Institute Global Conference gave me a slight pang of jealousy. I would not wish Detroit's plight on anyone. And yet, every city should be lucky enough to have experienced such a catharsis as Detroit has.
The panel consisted of business leaders and public officials who engineered Detroit's turnaround and are leading its slow climb back to prosperity. They're all self-interested, and there was no counterpoint. So their analysis must be taken with a grain of salt. Such are the shortcomings of conferences. Even so, there are worthwhile messages for cities regardless of how Detroit's recovery turns out.
The panelists agreed on an undeniable truism that cannot be denied: upon declaring bankruptcy in 2013, with $18 billion in debt, Detroit had nowhere to go but up. If you ask the panelists, it's gone way up—at least downtown has. Downtown office space is growing scarce, and professionals are moving into apartments and condos. Citywide, emergency response times are down, and streetlights are back on. Even the bulldozing of entire neighborhoods is considered a success. Studies indicate that unoccupied homes have a more than 90 percent change of becoming blighted. While many Detroiters still struggle, the place is showing signs life.
Life could have returned sooner. As with California's drought, Los Angeles' traffic, and so many other urban challenges, Detroit waited for challenge to turn to crisis before it took action.
Quicken Loans CEO Dan Gilbert, one of the city's corporate saviors, said that bankruptcy came a full 13 years too late, after public officials feared, year after year, that they would suffer political consequences from admitting that the worst had happened. Of course, the "worst" is relative: every day that Detroit failed to enter into a bankruptcy proceeding was another day that the city slid further and further into despair. As the city's former Emergency Manager Kevyn Orr put it, their attitude was, "not on my watch"—as in, "I'm not going to do anything on my watch."
As it turns out, tough choices aren't as unpopular as Detroit's former leadership (including a mayor who is now serving time in federal prison) might have assumed. "Citizens are smarter than people give them credit for," said Gilbert. "If you're going to go bankrupt, just go bankrupt."
The result was, according to Michigan Governor Rick Snyder, that even creditors were "celebrating the success of the bankruptcy. Creditors became investors in the city." Gilbert noted that the settlement brought back certainty. The forces of business can handle an impoverished place. They cannot handle it if they don't know whether poverty is going to get better or worse.
That's one reason why Snyder cited leadership as the most important, or at least most necessary, component of the city's turnaround: "The greatest challenge is not changing a law or regulation but changing a culture," he said. That's a point that deserves consideration, and it's one they don't discuss much in public policy school. How a government performs depends in large part on the habits, values, and expectations of the people who work in that government. 
Of course, we can't be blithe about this. The graphs and charts illustrating the terms of the bankruptcy are sobering. Some creditors did OK—getting 50 cents on the dollar—while others lost their shirts. But there are always losers with a bankruptcy, be it personal, corporate, or civic. That's how the system works. Legal bankruptcy just confirmed Detroit's de facto bankruptcy.
What the panel emphasized was that the bankruptcy settlement came from earnest, candid negotiations—not from fantasies or desires to assign blame. While that might just be a feel-good assertion, I can't help but accept it: obfuscation and pettiness undermine negotiations by definition. Ipso facto, someone—perhaps everyone—was finally doing something right.
Of course, Detroit has done the right thing before, at least in economic terms. It's not an exaggeration to say that Detroit was once the leading industrial city in the world. It might have been the richest in the world, at least by some measures. Its population peaked at 1.89 million in 1950. It has lost population every decennial since, down to 713,000 today.
Though I suppose this is the story for the entire Rust Belt, I can't help thinking that Detroit's spectacular success set it up for its equally spectacular failure. Success naturally breeds pride, and pride almost always leads to one of two things: self-denial, or outright disappointment. Detroit has been disappointed in itself for three generations, knowing that—no matter what happens—it will never, ever top the success it enjoyed when its assembly lines were the envy of the world. I'm not a psychologist, but I'm convinced that cities can suffer from low self-esteem every bit as much as people can.
This attitude almost required that Detroit hit rock-bottom. What's amazing now is that the city isn't going through incremental change. It's going through radical change. Self-esteem is irrelevant when your worst fears have been met.
It's a cautionary tale both for booming and struggling cities, and an inspirational one too. If Detroit can recover, anyone can. For the San Franciscos, New Yorks, and Londons of the world, Detroit proves that prosperity in one decade ensures nothing of the sort in succeeding decades. Whether they are arrogant, confident, or just preoccupied, cities that do not account for education, health, housing, affordability, and all the rest risk similar fates. Unless, of course, those cities care more about quarterly earnings than about generational stability.  
It's also a cautionary tale for stakeholders in those cities. Businesses, labor groups, and everyday citizens need to assure their public officials that budget cuts and other tough decisions need not necessarily be unpopular decisions. Stakeholders should be demanding, but they should be willing to let government do the right thing. What, after all, is the alternative?
8 Mile is a story of meteoric success, borne of desperation and laced with profanity. Even by the panel's most optimistic reckoning—and it's easy to be optimistic when you're in a Beverly Hills ballroom—Detroit's success will come far more slowly. As for the cheerleading, clearly they hope that enthusiasm will breed genuine confidence. And why shouldn't it? Every investment involves a leap of faith, and every city deserves more than one shot.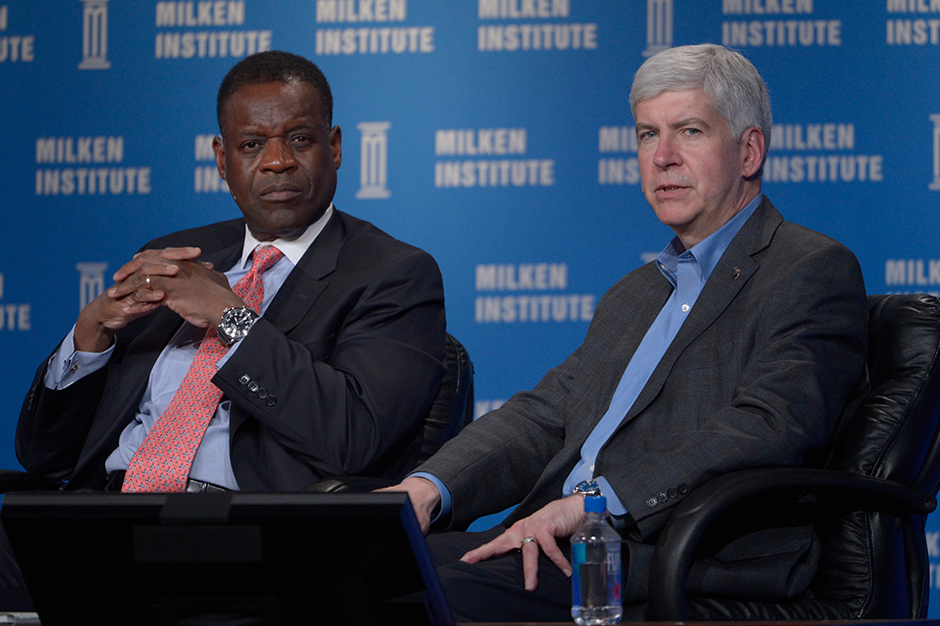 ---
The Hyperloop's Prospects Dim
The media is coming around to the idea that the hyperloop is not a near-term solution for the country's transportation woes. It's too little, too obvious, too late.
The Great American Exodus: A Conservative's Perspective
During his keynote speech on September 11 at the National Conservatism Conference in Miami, Florida Governor Ron DeSantis describes the demographic shifts in America since he became governor in 2019 in what he calls the 'Great American Exodus.'
This six-course series explores essential urban design concepts using open source software and equips planners with the tools they need to participate fully in the urban design process.
This course aims to provide an introduction into Urban Design Sketching focused on how to hand draw master plans using a mix of colored markers.
View More