On Urban-Think Tank, a design firm working at the intersection of architecture and urbanism to further environmental justice.
---
For either architecture or urban planning to achieve real good in today's world, the boundary between the disciplines needs to come down. That, at least, is the lesson of Urban-Think Tank (U-TT), an interdisciplinary design practice with offices in Caracas, São Paolo, New York, and Zürich. Co-founded by architects Alfredo Brillembourg and Hubert Klumpner, U-TT has been operating in the realm of tactical urbanism since the 1990s, designing small-scale, replicable solutions to environmental inequality. "What we tried to do was to go to the peripheries of architecture, to where architecture intersects other disciplines—art, painting, geography, geology, the sciences," explained Brillembourg. "We wanted to go to . . . the limits of what you'd say is no longer architecture, to reinvent the core and center of architecture."
Brillembourg relocated to Caracas after graduating from Columbia University in 1986. Klumpner, who also studied architecture at Columbia, joined him a decade later. The pair went in search of the unique social conditions that had inspired previous avant-garde movements. "When you try to build a theory about architecture, you have to go into the unknown. So for us, we thought South America was a good place to start," said Brillembourg. At first, he recalled, they felt isolated. "People said, 'Why are you going to Caracas?' but that's exactly what early modernists [like Le Corbusier] did. For us these areas are incredible experimental zones. They have nothing; they want and need everything."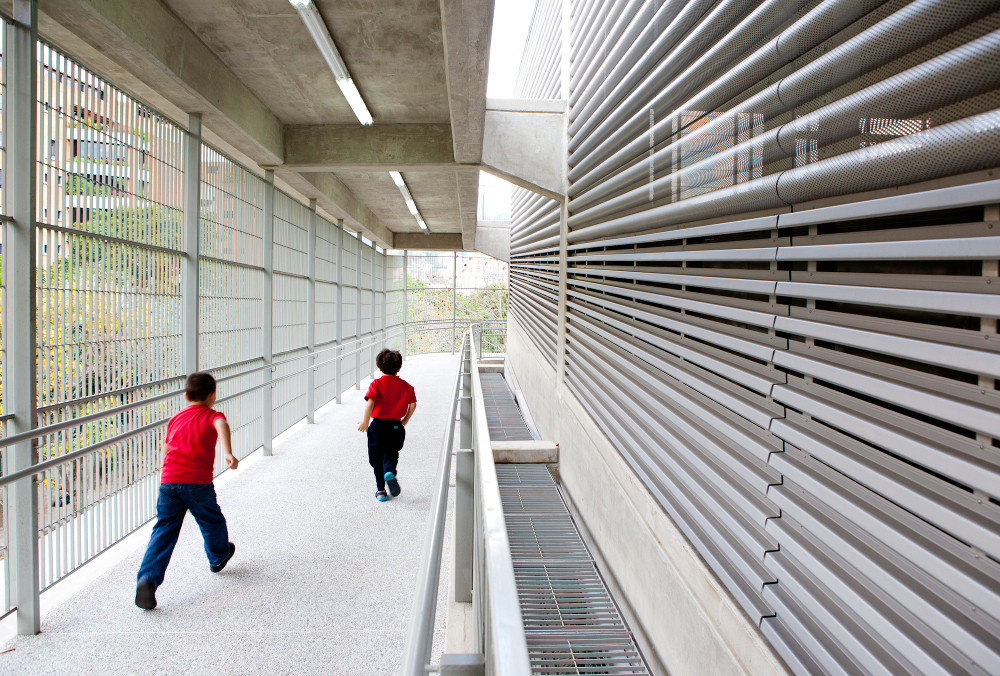 In Caracas, Brillembourg and Klumpner came face-to-face with the city's slums. "We looked at the slums first with a kind of fascination, as this kind of rhizomatic geometry," said Brillembourg. "Later when we started to go inside, we realized the social problems." Brillembourg began U-TT on an informal basis in 1993 as a way to address these problems through design. Five years later, with Klumpner now in Caracas, the firm was officially founded. "We started a kind of movement," recalled Brillembourg, "first with friends, then [as] a kind of institute, then an NGO, then an office . . . . We basically wanted to make another kind of architecture. Latin America became a kind of laboratory: poverty, the lack of infrastructure, became our . . . ideas and themes."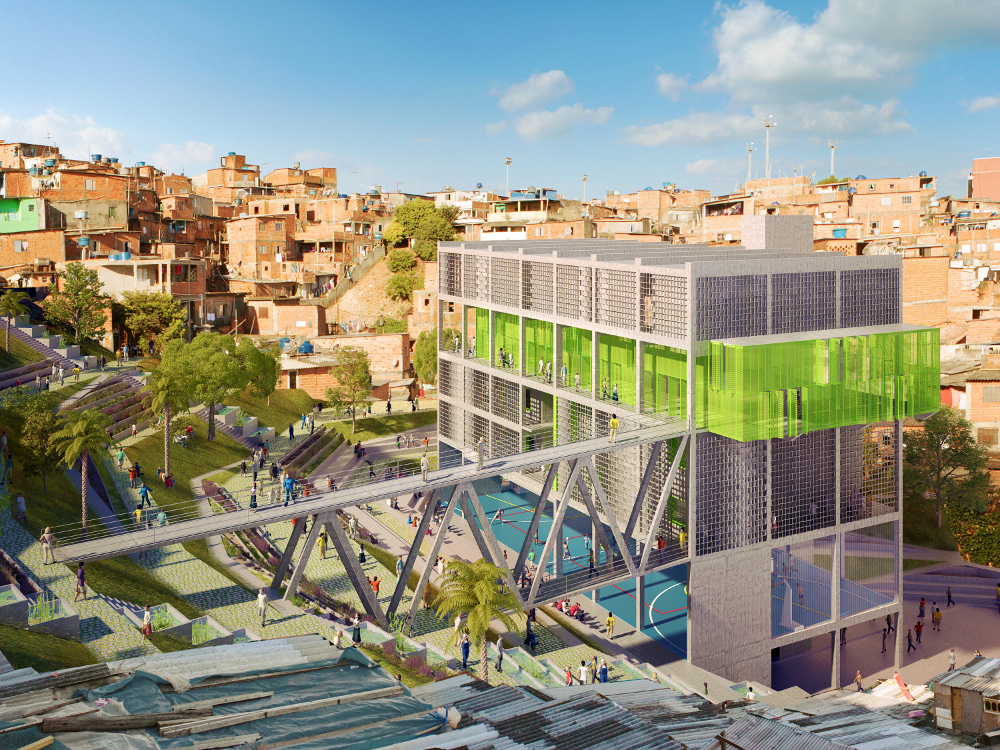 U-TT calls its collection of designs an "urban toolbox." "All of our projects are prototypical buildings that can be reproduced . . . . We do not make one-of-a-kind custom buildings," explained Brillembourg. The various tools are, in addition, intended to work together, a concept Brillembourg refers to as a "Magic Mountain." There's a dry toilet, a prefabricated modular stair, and a self-supporting pedestrian bridge. U-TT also designed Metrocable de Caracas, a gondola lift system that connects hillside residents with the city's public transportation network. Other projects create spaces for community services. These include a concept for a modular music-education building, the Grotao Community Center and park in São Paolo, Brazil, currently under construction, and the Vertical Gymnasium.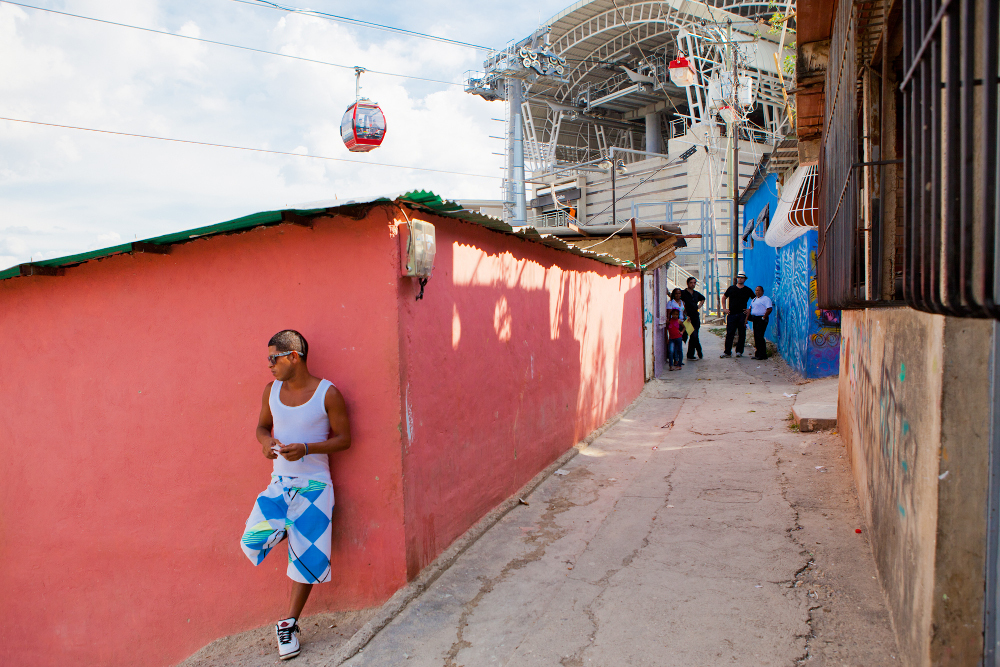 The Vertical Gymnasium, like U-TT's other community spaces, is designed around a simple premise: when it doesn't make sense to build out, build up. "We knew that the vertical densification of the city was absolutely the way to go, to add more infrastructure," said Brillembourg. "We knew we didn't want to build larger footprints in cities, [but instead to] build a new city on top of the old city." The firm built a prototype Vertical Gymnasium in Chacao, Caracas, transforming a street-level, makeshift playing field into a multi-story fitness center, complete with dance studio, running track, rock wall, and open-air soccer field. Following the success of the Chacao facility (it sees an average of 15,000 visitors per month and led to a drop in local crime rates), U-TT built two additional Vertical Gymnasiums in Caracas, and a third is under construction. Additional Vertical Gymnasiums have been proposed for cities including New York and Amman-Russaifah, Jordan.
For Brillembourg, the redefinition of the relationship between architecture and urbanism should begin in the classroom. Brillembourg and Klumpner are both long-time educators, having taught in Venezuela, at Columbia University, and, currently, at the ETH in Zürich. "The curriculum shouldn't differentiate between [architecture and urban planning] . . . because the city needs people to think in these multiple ways," said Brillembourg. "The idea to color things in red, blue, and green on two-dimensional scales in land use plans is wrong. We should think in 3D; we need complexity to step in. We need buildings to impact the social."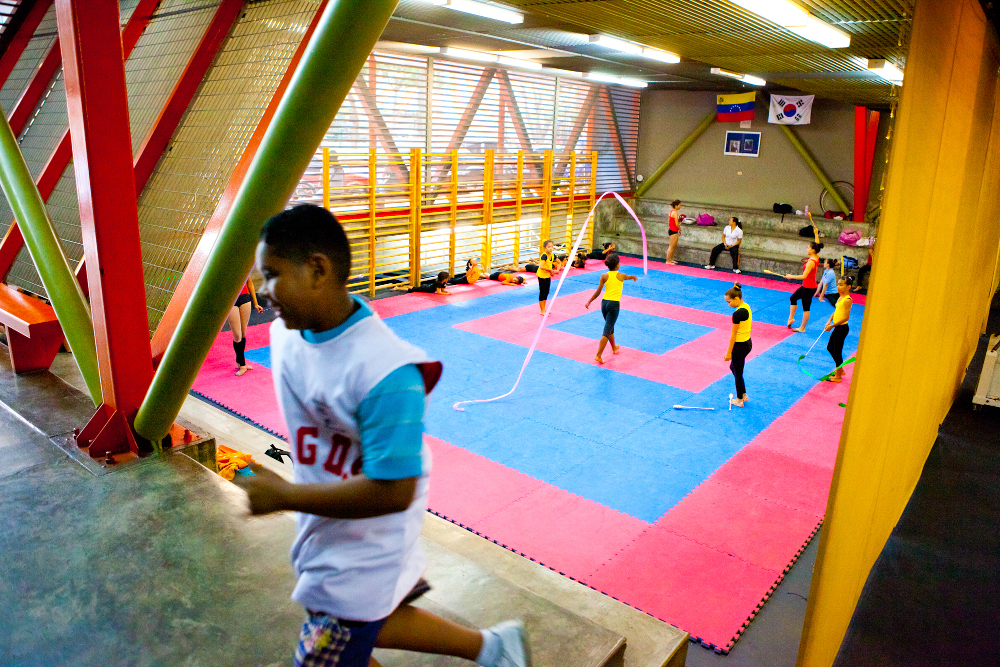 ---
Making Healthy Places
The editors of the book "Making Healthy Places," recently published in a second edition by Island Press, discuss the intersections of public health and planning, including key concepts such as green gentrification, health impact assessments, and AI.
The Great American Exodus: A Conservative's Perspective
During his keynote speech on September 11 at the National Conservatism Conference in Miami, Florida Governor Ron DeSantis describes the demographic shifts in America since he became governor in 2019 in what he calls the 'Great American Exodus.'
This six-course series explores essential urban design concepts using open source software and equips planners with the tools they need to participate fully in the urban design process.
This course aims to provide an introduction into Urban Design Sketching focused on how to hand draw master plans using a mix of colored markers.
View More