A new paradigm is expanding transport safety strategies to include demand management and smart growth, but the old paradigm is alive and deadly as illustrated by two new traffic safety guidance documents.
---
If there is one planning goal that virtually everybody supports it is to increase transportation safety. However, there is growing debate about how best to achieve this goal. The old traffic safety paradigm focuses on reducing crash rates per unit of travel by building safer vehicles and roads. It measures crash risk per 100 million vehicle-miles or billion vehicle-kilometers; measured this way, crash rates have declined significantly during the last half-century, which advocates claim proves that past traffic safety strategies are effective and should be continued.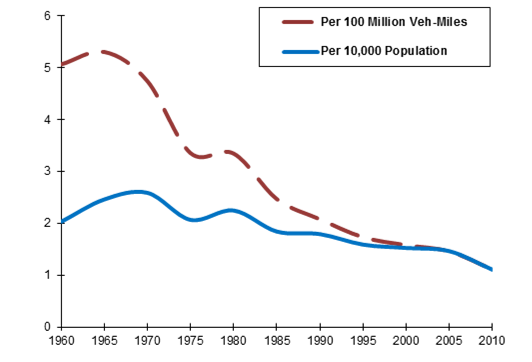 During the last half-century traffic crashes per 100 million vehicle-miles declined significantly, but these safety gains were largely offset by increased per capita vehicle travel, resulting in little reduction in traffic deaths per capita.
However, during this period per capita mileage increased significantly, offsetting much of the safety gains. As a result, measured per capita, traffic accidents continue to be a major problem and the U.S. has the highest crash rate among its peers. From this perspective, conventional traffic safety programs have failed and new approaches are needed.
Per Capita Traffic Fatality and Vehicle Travel Rates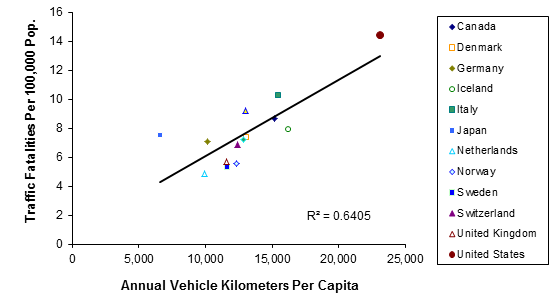 The U.S. has the highest traffic fatality rate among peer countries, which can be explained by high per capita vehicle mileage.
A new traffic safety paradigm is more comprehensive and multi-modal. It recognizes that how and how much people travel affects their crash risks, and so expands safety strategies to include demand management and smart growth.  
The old traffic safety paradigm argues that automobile travel is overall a very safe activity; according to this view traffic accidents are caused by special risks such as driving by young males and inebriants. According to this perspective it would be inefficient and unfair to reduce total vehicle travel to address problems caused by a few "bad" drivers. As a result, its programs target high-risk driving while encouraging increases in total vehicle travel by supporting development of higher-speed, limited-access highways. However, there are good reasons to believe that high- and low-risk driving are complements: the community design features that increase overall driving – automobile-dependent transportation systems and sprawled development patterns – inevitably increase high-risk driving, and features that reduce per capita automobile travel – such as improving alternative modes and more compact, smart growth development policies – tend to increase safety.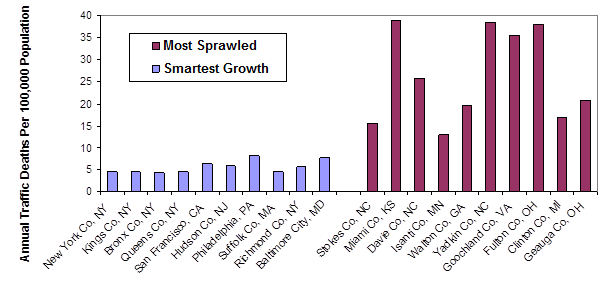 The ten smartest growth counties have about a quarter of the per capita annual traffic fatality rates of the most sprawled counties. Yet, smart growth is usually advocated primarily for its infrastructure saving and environmental benefits, we fail to communicate its very large safety benefits.
Described differently, to be effective, traffic safety strategies intended to reduce high-risk driving, such as graduated licenses that limit driving by teenagers and strict laws discouraging inebriated driving, must provide viable travel alternatives that allow teenagers, drunks, and people with mental problems to get around without driving. This is easy in a compact, multi-modal community; teenagers can get around by walking, cycling and public transit, and drunks can easily walk home from local pubs or take a cheap taxi ride, but these alternatives to driving are difficult and costly in sprawled, automobile-dependent communities. As a result, targeted traffic safety programs are more effective and equitable in more multi-modal, smart growth communities.
The old paradigm is reflected by two major traffic safety guidance documents. Toward Zero Deaths is an official United States highway safety vision produced by an alliance of transportation industry organizations. It lists numerous ways to reduce per-mile crash rates but ignores exposure (the total amount that people drive) as a possible risk factor and transport demand management as a possible safety strategy.
Similarly, the American Highway Users Alliance's Roadway Safety Foundation just released,
Road Safety Guide: A Primer for Community Leaders
 also emphasizes ways to reduce vehicle crash risk without considering exposure. It even advocates building wider and straighter roadways, and various "safer crash" strategies such as airbags and roadside barriers, although experience indicates that, by making driving seem safer, these strategies encourage motorists to marginally increase their risks (drive faster and with less attention, and drive more total miles) which offset expected safety gains (called offsetting behavior or risk compensation). This helps explain why investments in safer roads and vehicles
have failed to achieve expected safety benefits
.
To their credit, both reports include some bicycle and pedestrian safety strategies, such as bike lanes and traffic calming, but none discuss public transit improvements, transportation demand management or smart growth as potential safety strategies, despite good research indicating that 
public transit travel is far safer than automobile travel
, and residents of smart growth have 
far lower traffic fatality rates
 than residents of automobile-dependent communities. 
Care is needed when calculating the cumulative impacts of multiple strategies. Total impacts are multiplicative not additive, because each additional factor applies to a smaller base. For example, if one factor reduces travel by 20%, and a second factor reduces travel an additional 15%, their combined effect is calculated 80% x 85% = 68%, a 32-point reduction, rather than adding 20% + 15% = 35%. This occurs because the 15% reduction applies to a base that is already reduced 20%. On the other hand, many strategies have synergistic impacts (total impacts are greater than the sum of their individual impacts). A transportation demand management program that incorporates various cost-effective strategies (e.g., road and parking pricing, improved travel options, and smart growth land use policies) can be expected to reduce per capita crashes 20-30% or more where applied.
Contrast these predicted safety gains with the crash reductions likely to be achieved by more well-known traffic safety strategies. For example, airbags are estimated to reduce crash fatality risk by 7-10%, so doubling the portion of vehicles with airbags is likely to reduce fatalities by 3-5%.
This suggests that cost-effective mobility management programs can provide crash reductions comparable in magnitude to many well-known safety strategies. The overall value of the new safety paradigm is particularly evident when all impacts are considered. Conventional traffic safety strategies tend to have high financial and environmental costs. For example, conventional safety strategies require expensive new vehicle technologies such as airbags that add hundreds of dollars to vehicle production costs and add weight that reduces fuel efficiency, and expanded roadway clear zones which require cutting down more trees along highways. On the other hand, most demand management and smart growth strategies provide many additional benefits, besides traffic safety. As a result, more comprehensive evaluation tends to favor demand management solutions.
Do you have any suggestions for helping planning professionals understand the new traffic safety paradigm?
For More Information
G. Chi, et al. (2010). "Gasoline Prices And Their Relationship To Drunk-Driving Crashes," Accident Analysis and Prevention, Vol. 43(1), pp. 194–203.
Eric Dumbaugh (2005), "Safe Streets, Livable Streets,"Journal of the American Planning Association, Vol. 71, No. 3, pp. 283-300. 
Reid Ewing, Richard A. Schieber, Charles V. Zegeer (2003), "Urban Sprawl As A Risk Factor In Motor Vehicle Occupant And Pedestrian Fatalities,"American Journal of Public Health, Vol. 93, No. 9, Sept., pp. 1541-1545.
Reid Ewing and Eric Dumbaugh (2009), "The Built Environment and Traffic Safety: A Review of Empirical Evidence,"Journal of Planning Literature, Vol. 23 No. 4, May 2009, pp. 347-367.
FHWA (2010), Transportation Planner's Safety Desk Reference, Federal Highway Administration.
Ian Johnston (2010), "Beyond 'Best Practice' Road Safety Thinking And Systems Management – A Case For Culture Change Research,"Safety Science, Vol. 48, pp. 1175–1181.
Todd Litman (2009), "Transportation Policy and Injury Control,"Injury Prevention, Vol. 15, Issue 6.
Todd Litman (2012), Pricing For Traffic Safety: How Efficient Transport Pricing Can Reduce Roadway Crash Risks, Paper P12-5310, Transportation Research Board Annual Meeting.
Todd Litman (2013), Safer Than You Think! Revising the Transit Safety Narrative, Victoria Transport Policy Institute. 
Todd Litman and Steven Fitzroy (2005), Safe Travels: Evaluating Mobility Management Traffic Safety Impacts, Victoria Transport Policy Institute.
Gord Lovegrove, Clark Lim and Tarek Sayed (2010), "Community-Based, Macrolevel Collision Prediction Model Use with a Regional Transportation Plan,"Journal Of Transportation Engineering, Vol. 136, No. 2, February 2010, pp. 120-128.
Murray May, Paul J. Tranter and James R. Warn (2011), "Progressing Road Safety Through Deep Change And Transformational Leadership," Journal of Transport Geography, Vol. 19 (www.elsevier.com/locate/jtrangeo), pp. 1423-1430
Sage R. Myers, et al. (2013), "Safety in Numbers: Are Major Cities the Safest Places in the United States?" Annals of Emergency Medicine, Vol. 62, Is. 4, pp. 408-418.e3, American College of Emergency Physicians.
NYC (2010), The New York City Pedestrian Safety Study & Action Plan, New York City Department of Transportation (www.nyc.gov).
Peter Swift, Dan Painter and Matthew Goldstein (2006), Residential Street Typology and Injury Accident Frequency, Swift and Associates, originally presented at the Congress for the New Urbanism.
T.Y. Lin International (2012),Best Design Practices for Walking and Bicycling in Michigan, Michigan Department of Transportation
---
Planning for Congestion Relief
The third and final installment of Planetizen's examination of the role of the planning profession in both perpetuating and solving traffic congestion.
Urban Design, Transport, and Health
The Lancet medical journal published a series of articles that explore how to evaluate and guide urban planning decisions to create healthy and sustainable cities. Live long and prosper!
This six-course series explores essential urban design concepts using open source software and equips planners with the tools they need to participate fully in the urban design process.
This course aims to provide an introduction into Urban Design Sketching focused on how to hand draw master plans using a mix of colored markers.
View More