How many people go to Grand Central Terminal just for the experience? Peter David Cavaluzzi, FAIA describes a new approach to transit station design that, in its desired appeal to non-transit users, is indebted to the great stations of the past.
---
On any given day, Grand Central Terminal in midtown Manhattan, which opened almost 100 years ago, enjoys far more visitors drawn to its shopping, dining, and cultural events, than actual transit users. There are more than 750,000 people that pass below its vaulted astronomical ceiling every day. When the building was first designed, however, New York did not realize it was laying the foundation for the development of today's most modern transit stations and public places. But as we return to the lessons learned at this project, in an era of revived interest in downtown living and car-less transit, we see how progressive yet timeless that approach really was. The American Public Transportation Association reports that Americans took 10.4 billion rides on public transit in 2011, which is an increase of 1 billion since 2000. It is time, again, to design with optimism for transit stations that will be grand 150-200 years from now.
In addition to laying rail and passenger platforms, the architects and engineers of Grand Central emphasized real-estate development in designing one of New York City's most iconic spaces. The developers coined the phrase "taking wealth from the air" as the way to describe how they planned to make Grand Central much more than a place to board a train. They set out to design transit infrastructure so that it doesn't look and feel like transit at all. The goal was to use transit as a way to design iconic spaces such as the great hall, the retail passages, and Park Avenue that embody the culture of the city and create enormous real-estate value at the same time.  
This is what the City of Minneapolis and surrounding Hennepin County was looking for when it came time to design what they are now calling The Interchange, a major transit hub at the edge of their downtown central business district. This new nexus, designed by EE&K a Perkins Eastman company, is based on design principles called "Open Transit" that we've been developing in our projects over the last 15 years. By testing these design principles in such car-centric, highway-organized cities as Los Angles, Kansas City, and Houston, we've been able to challenge what we know about transit design in the toughest environments.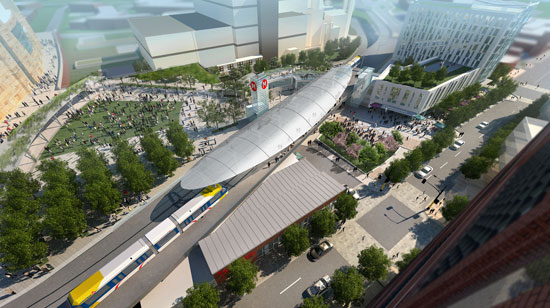 What we're calling "Open Transit Design" is a new way to explain the concepts underlying some fairly long-established principles in station design that are re-emerging in an era of unprecedented interest in city living. Just as the name suggests Open Transit is an inclusive design point of view that incorporates a wider array of spaces and modes to create an iconic place. Great cities across the world are defined by great places. If we are to make cities more sustainable we need to create transit places that will also sustain and enhance urban life. For the first time in more than two decades, growth in town and city centers is outpacing suburban growth according to the U.S. Census (figures reported in July 2011). Cities are re-marketing themselves around different amenities as the suburbs lose popularity. Transit is an essential component to defining the difference between world-class cities with vibrant 24-hour occupancy and the type of commuter city that empties out when work is over.
Our experiences in designing transit stations for cities hoping to fundamentally shift their transit attitudes helped shape the principles of Open Transit Design. At L.A.'s Gateway Center, for instance, America's largest intermodal transportation facility links buses, long distance and commuter rail, light rail and the city's subway system with a 3,000-car park-and-ride facility. Since Gateway Center's completion in 2000, ridership on all modes of transit has increased from 7,000 people a month to 80,000. By providing a first-class environment for those taking advantage of the city's expanded transit system, we believe the design of the station helped play a role in getting car-centric Angelenos to embrace transit, and buck the notion that public transit was not for everyone.
So what comprises Open Transit Design? There are five essential elements needed for this type of project:
Integration of all available transit modes
An orientation towards real estate development
Architecture that makes iconic spaces
Integration of culture with transit design
Appeal for non-transit users
Open Transit Design is that which integrates all modes of transit including: rail, bus, cars, bikes, and walking. Bicycles are a newer part of the equation being pushed in both bigger cities (New York has massively altered traffic patterns in such complicated places as Times Square to include bike lanes) and smaller ones where people have simply grown tired of gas prices and want a more active lifestyle. A few years ago, bikes were still considered primarily for recreation, but they are becoming an increasing part of the daily commute in cities across America.  As such, The Interchange will have a "Bike Bar" cafe that will provide bike repair, rental, and other services.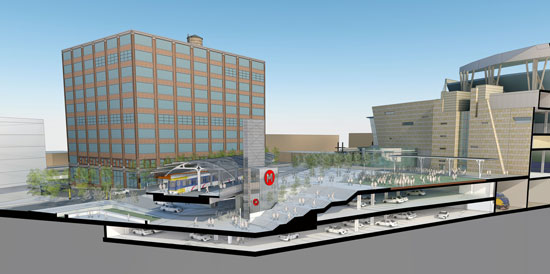 Taking a lesson from Grand Central, Open Transit doesn't just respond to trends, it creates them. Transit centers designed according to these principles are development-oriented, meaning they catalyze investment in a region as much as they follow it. One of the problems The Interchange solves is the massive influx of people attracted to the area by the opening of Target Field as the home of the Minnesota Twins baseball team. But the opportunities it creates are even greater. The transit hub is integrated with a Great Lawn, an amphitheater, and commuter-oriented retail. Much like LA's iconic Hollywood & Highland center, completed in 2002, the Interchange connects a series of public spaces as a destination. In the Hollywood Hills adjacent location, along a boulevard of historic theaters, we explored how to integrate existing amenities into one new place that capitalized on a new transit line.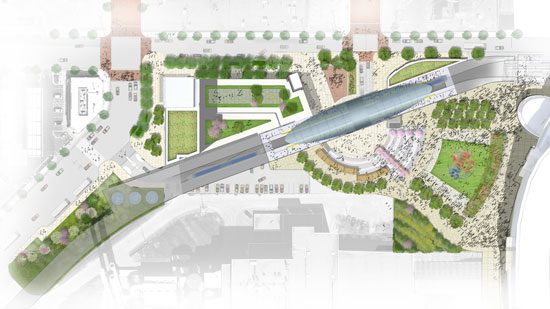 Looking north on Park Avenue in Manhattan, one cannot help but experience the Beaux Arts wonders of the design at Grand Central. The architecture of the iconic space makes public transit feel high-class. In the open-air version we are creating for Minneapolis, visitors will experience the same hustle and bustle, but broken up into a series of high quality spaces. In both cases, iconic spaces will draw the tourist as much as the commuter. Use by non-transit riders is what adds that extra level of vibrancy to the open transit principles of design.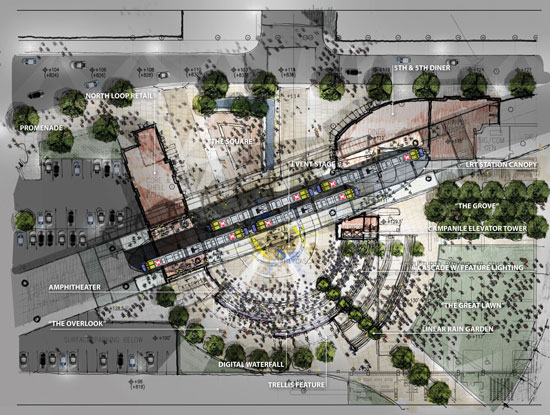 Culture has to integrate with transit, and that means locating stations in the heart of public space. It worked well in the middle of downtown Houston, with our design of Houston Main Street Square. An area that was once a ghost town after 5:00 PM now has a sense of arrival and event that has spurred development for blocks. The Interchange will take that one step further in the design of the Cascade Amphitheater, which celebrates entertainment and light rail simultaneously. Concertgoers will sit on a great lawn looking up at the stage as elevated trains pull in and take off over the stage, effectively becoming part of the performance.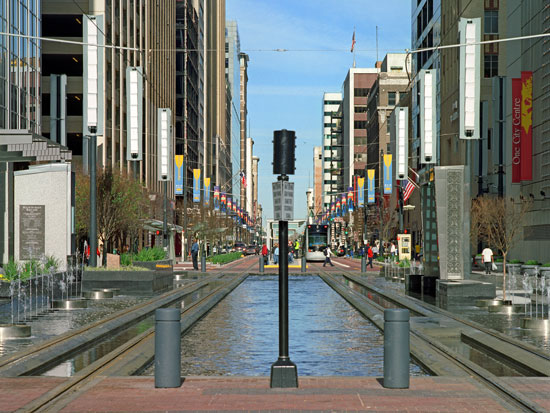 The Interchange in Minneapolis pushes the lessons of open transit even further with a holistic approach to the building as a community member. It aims to help sustain Minneapolis's urban revival by incorporating environmentally responsible features like rainwater collection (for irrigation and building use) and a symbiotic use of water with recycling trash. The LEED certified development will use heat from the nearby Hennepin Energy Recovery Center to heat sidewalks, in order to melt snow in the winter. Like Grand Central, The Interchange plans to be around for centuries.
Combining a state-of-the-art transit station with complementary mixed-used development and year-round public space, The Interchange will create a new emblem of civic identity and community pride in its mix of uses. Ultimately it will create the first of a new generation of facilities to truly integrate transit and culture. Like Grand Central, it will draw tourists, workers, shoppers, diners, and casual observers. As an oasis in a part of the city where large-scale freeway infrastructure collides with the historic grand warehouses of the North Loop neighborhood, it fundamentally changes Minneapolis.  And as the home of one of the most advanced transit centers and modern community destinations in the country, Minneapolis is building on lessons learned in changing the transit cultures of Los Angeles and Houston, while adding features that make use of Minneapolitans' own amenities, culture, and growing desire for more activated outdoor urban space.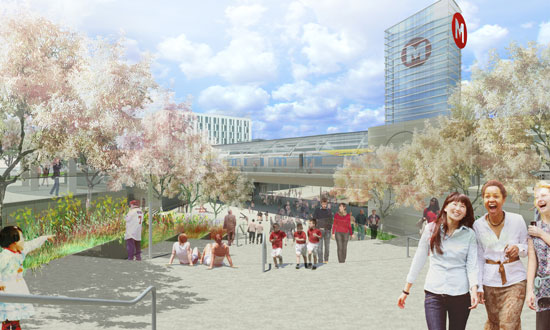 When the project broke ground last month adjacent to Target Field in the North Loop neighborhood, it signaled that downtown was about to join a new era of urban revival. The design highlight is a "Campanile," or a vertical element that will project light shows and video displays. In connection with that, the "Train Shed Canopy" above the entire length of the lofted train platform will glow and light up as trains arrive and depart the station, giving outsiders a sense of the activity within. While light shows and canopies many not be the new Beaux Arts, they are parallel to Grand Central in surprising ways. The mix of services, shopping, and tourism with the right location within the community is the lasting lesson of Grand Central which can fit many different styles. "Open Transit Design" is the future of vibrant American cities, taking the best of the past re-envisioned and evolved for the future.
---
The Interchange project was planned by the Hennepin County Interchange Project Office. The prime contractor is Knutson construction. The design is by EE&K a Perkins Eastman company. When completed the Interchange will be have over 500 trains per day including light rail and commuter rail along with buses, bikes, and cars. The project also includes mixed-use development fully integrated with a beautiful new 'Station Square" that anchors the plan.
Peter David Cavaluzzi, FAIA is a Principal at EE&K a Perkins Eastman company and is based in the firm's New York office. Peter's unique approach to architecture considers the buildings and public spaces together as a complete design. A Ralph Rapson Fellow, Cavaluzzi has great enthusiasm for the future of Minneapolis, a testament to The Interchange design-build team's level of commitment to creating an urban place of world-class quality.

The Right to Mobility
As we consider how to decarbonize transportation, preserving mobility, especially for lower- and middle-income people, must be a priority.
Early Sharrow Booster: 'I Was Wrong'
The lane marking was meant to raise awareness and instill shared respect among drivers and cyclists. But their inefficiency has led supporters to denounce sharrows, pushing instead for more robust bike infrastructure that truly protects riders.
This six-course series explores essential urban design concepts using open source software and equips planners with the tools they need to participate fully in the urban design process.
Learn the tools for implementing Universal Design in planning regulations.
View More