The Strange Saga of the Salton Sea
From it's accidental creation due to an engineering oversight, its heyday in the 1950s as a resort area, to its decline and uncertain future, the unlikely story of the Salton Sea is an important chapter in the "Great American Water Wars".
Located in the desert landscape of California's Imperial County, the Salton Sea was created accidentally as a result of flooding along Colorado River between 1905 and 1907. It became a tourist resort in the 1950s and was a vacation hotspot for the rich and famous. But increasing salinity and industrial runoff doomed the resort. Strangely, the Salton Sea remains an important habitat for birds with productive fisheries.
"The saga of the Sea is one of tangled government agencies, farmers whose crops cradle its shores, local Native American tribes, legislators, environmentalists, and private water utilities. It's about politics, ecological frontiers, brutal ironies, and historical wounds still smarting. But more than anything else, it's about water: those who get it, those who don't, and those who outright loot it. The Salton Sea is the latest battle in the American water wars, and without drastic action, in a matter of years it will fall - and bring Southern California down with it."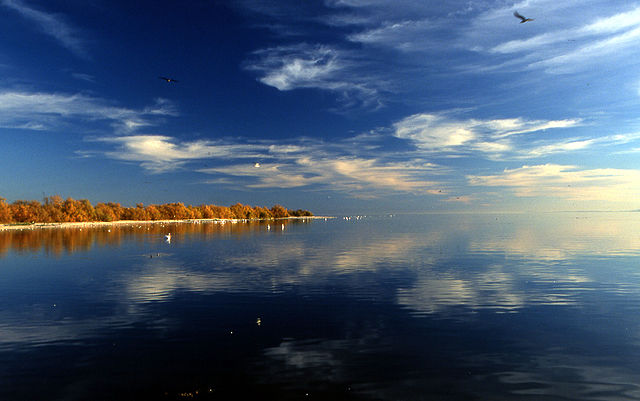 Photo: Wikipedia
Published on Friday, September 14, 2012
in