The benefits of building a new $52-million HSR that connects London to northern England are plausible but not persuasive, says The Economist.
Largely skeptical of change, the British public is divided on the issue. To the extent that the project will "ameliorate the north-south divide in Britain's economy and prosperity" once it is completed in two decades' time, people simply aren't convinced that either the change is real or the deadline can be met. What's more, some have expressed concerns over the environmental impact that the proposed construction will have in Chilterns, an area about 40 miles northwest of London known for its picturesque view and is home to affluent voters.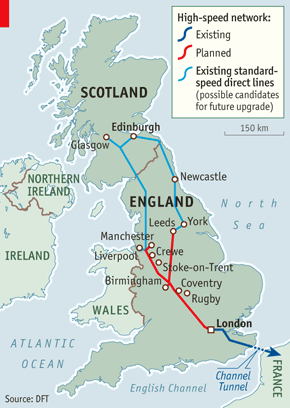 The case can be made that there is always a need to build the latest transportation infrastructure. Whether the upgrade, expansion, or replacement of the existing rail network justifies the cost depends in no small part on the urgency of need, particularly for advanced economies like Britain.
From the vantage point of practicality, "Britain's infrastructure demands are different from other countries'. Its regular trains are already faster than most other nations' equivalents. [The country] is sufficiently small that even without pricey futuristic technology, Manchester and Leeds are only just over two hours from London. And a greater proportion of the population is already connected to the road and rail network than elsewhere in Europe."
Calling the proposal a "railroad to nowhere," The Economist points out that the money "at its disposal might well yield a higher return if it were spent on less glitzy schemes, such as road improvements and intra-city transport initiatives."
Topics