While there may not be popular songs specifically mentioning urban planning, there are many songs about cities and the impact of planning decisions. Here are my 10 of favorites.
---
 Musician David Byrne, formerly the leader of the band The Talking Heads and now an advocate of bike-friendly urban planning, remarked in a recent interview:
"if somebody could write a song about [city planning] I'd have to stand up and cheer for them. No. There are some things you just can't write songs about."
While there may not be popular songs specifically mentioning urban planning, there are many songs about cities and the impact of planning decisions. Here are my 10 of favorites.
(Update Dec 10: I added 5 more songs suggested by readers.)  
1. Big Yellow Taxi
I can't think of a more concise criticism of planning decisions than these incisive lyrics from Joni Mitchell's 1970 hit Big Yellow Taxi:
They paved paradise
And put up a parking lot
In this live version she sings an extra verse:
Late last night
I heard the screen door slam
And a big yellow tractor
Came and took away my house, it took away my land
According to Wikipedia, Joni said this about writing the song:
I wrote 'Big Yellow Taxi' on my first trip to Hawaii. I took a taxi to the hotel and when I woke up the next morning, I threw back the curtains and saw these beautiful green mountains in the distance. Then, I looked down and there was a parking lot as far as the eye could see, and it broke my heart this blight on paradise. That's when I sat down and wrote the song.
The "tree museum" Joni sings about refers to the Honolulu's Foster Botanical Garden, a museum of endangered tropical plants. (Wikipedia)
2. Our Town
Written by Randy Newman and sung by James Taylor, this Grammy-winning song from the 2006 Disney/Pixar film Cars is about the decline of a fictional town after the creation of Interstate Highway 40 (Wikipedia). In the movie, the song is introduced with these words:
Forty years ago, the interstate down there didn't exist. Back then cars came across the country a whole different way. The road didn't cut through the land like that interstate it moved with the land it rose, it fell, it curved.

Cars didn't drive on it to make great time, they drove on it to have a great time."
Note the visualization of the fictional town Radiator Springs – thelayout of the city, the architecture, the traffic volume, the scenes of abandoned streets.
3. My City Was Gone
This 1982 rocker, written by Chrissie Hynde of The Pretenders is about runaway urban development around Akron, Ohio and the leveling of Akron's historic center to make way for an urban plaza (Wikipedia).
I went back to Ohio
but my city was gone
there was no train station
there was no downtown
South Howard had disappeared
all my favorite places
my city had been pulled down
reduced to parking spaces
Ay-o, way to go, Ohio
4. Four Wal-Marts
South Carolina artist Baker Maultsby writes about "an Old South region struggling to accommodate such modern abominations as theme restaurants, superstore chains and urban sprawl." (No Depression)
Strip malls on both sides of the street
Asphalt on top of concrete
...
They closed the door on the five and dime
But the west side's growing like a kudzu vine
...
We've got four Wal-Marts
In the tri-county area
An outlet mall
It's bargain hysteria
We got a HP with a cappuccino machine
An Exxon attached to a Dairy Queen
'Cause it's small town, mall town America
5. Traffic Jam
James Taylor captures the frustration of a commuter heading back home in this song:
Well I left my job about 5 o'clock
It took fifteen minutes go three blocks
Just in time to stand in line
With a freeway looking like a parking lot
The song is inspired by an actual traffic jam on the Pacific CoastHighway in Los Angeles. Taylor ends the songs with a statement about "fossil fuel".
6. Mansion on the Hill
In this evocative song from Bruce Springsteen's acoustic masterpiece Nebraska (1982), the town, its geography, and a mansion behind "gates of hardened steel" form a backdrop to childhood memories.
At night my daddy'd take me
and we'd ride through the streets of a town so silent and still
Park on a back road along the highway side
Look up at that mansion on the hill
7. Our Town
This hauntingly beautiful song by Iris Dement takes us on a tour of a hometown's landmarks. To the singer, the places have a meaning because of deeply personal memories:
It's here I had my babies and I had my first kiss.
I've walked down Main Street in the cold morning mist.
Over there is where I bought my first car.
It turned over once but then it never went far.
8. Allentown
Billy Joel's 1982 hit Allentown is about living in an industrial city "coping with the demise of the American manufacturing industry"(Wikipedia). Joel had originally named the song "Levittown." Levittown in Long Island is considered to be the first "mass-produced suburb[and] widely regarded as the archetype for postwar suburbs throughout the country" (Wikipedia).
Well we're living here in Allentown
And they're closing all the factories down
...
And we're waiting here in Allentown.
But they've taken all the coal from the ground
9. Do You Know What it Means to Miss New Orleans
Performed by Louis Armstrong and Billie Holiday, this classic from the 1947 movie New Orleans is a love song to a city. The lyrics don't mention streets or buildings; in this song, the focus is on the landscape and nature:
Miss the moss-covered vines
the tall sugar pines
where mockingbirds used to sing
And I like to see the lazy Mississippi
hurrying into spring
...
The moonlight on the bayou
a Creole tune
that fills the air
I dream of Magnolias in bloom
and soon I'm wishin' that you were there
10. I Love L.A.
Every major city should have a song that can be sung by a cheering crowd when the home team wins a championship. Los Angeles has "I Love L.A." written and sung by Randy Newman (1983).
From the South Bay to the Valley
From the West Side to the East Side
Everybody's very happy
'Cause the sun is shining all the time
...
Century Boulevard (We love it)
Victory Boulevard (We love it)
Santa Monica Boulevard (We love it)
Sixth Street (We love it, we love it)
After painting an unflattering black-and-white view of New York and Chicago, the music video bursts into a colorful montage of clips ofLos Angeles. When Newman sings "look at that mountain" the clip shown is of a fake mountain at Disneyland.
This song is an example of Newman's ambivalence toward the American Dream, as it celebrates living the dream ("look at that mountain, look at those trees"), while giving a nod to those who have been unable to fulfill the dream ("look at that bum he's down on his knees"). Newman also presents this dichotomy by incorporating the names of L.A.'s Century Boulevard, Victory Boulevard, Santa Monica Boulevard, Imperial Highway and 6th Street into the lyrics of the song. Traversing any one of these roadways from end to end will reveal some of the wealthiest and some of the poorest areas of the city. (Wikipedia)
More songs about cities
Wikipedia hasa listof songs about cities. Twenty-seven world cities have pages oftheir own including 12 U.S. cities of Atlanta, Birmingham, AL,Boston, Chicago, Detroit, Los Angeles, Miami, Nashville, New Orleans,New York City, California/San Francisco/the Bay Area, and Seattl.
Updated Dec 10, 2010 with readers' favorites
11. The Suburbs
Planetizen reader Warren inFH recommends the album The Suburbs (2010) by the band Arcade Fire.
In the suburbs I
I learned to drive
And you told me we'd never survive
Grab your mother's keys we're leavin'
...
Under the overpass
In the parking lot we're still waiting
It's already passed
So move your feet from hot pavement and into the grass
Cause it's already passed
It's already, already passed!
12. The Planner's Dream Goes Wrong
jasontinkey sent in this gem by The Jam from their 1982 album The Gift.
They were gonna build communities
It was going to be pie in the sky
...
If people were made to live in boxes
God would have given them string
To tie around their selves at bed time
And stop their dreams falling through the ceiling
... But planners just get embarrassed
when their plans go wrong
13. Subdivisions
Reader cytrain recommends Subdivisions (1982) by the band Rush.
Sprawling on the fringes of the city
In geometric order
An insulated border
In between the bright lights
And the far unlit unknown
14. Empire State of Mind
UrbanOmnibus recommends this 2009 collaboration between Jay-Z and Alicia Keys (Wikipedia).
Yea I'm out that Brooklyn, now I'm down in TriBeCa
right next to Deniro, but I'll be hood forever
I'm the new Sinatra, and... since I made it here
I can make it anywhere, yea, they love me everywhere
... New York, concrete jungle where dreams are made of
There's nothin' you can't do
Now you're in New York
These streets will make you feel brand new
Big lights will inspire you
Let's hear it for New York, New York,New York
15. Cities
UrbanOmnibus also adds Cities by The Talking Heads.
I'm checking them out
I'm checking them out
I got it figured out
I got it figured out
There's good points and bad points
Find a city
Find myself a city to live in.
...
Down El Paso way things get pretty spread out
People got no idea where in the world they are
They go up north and come back south
Still got no idea where in the world they are.
---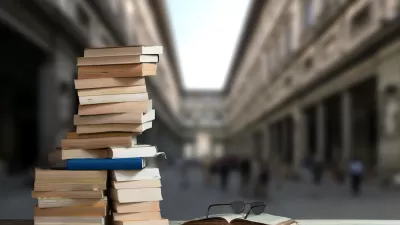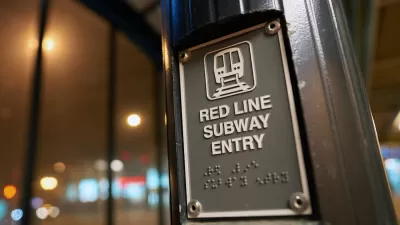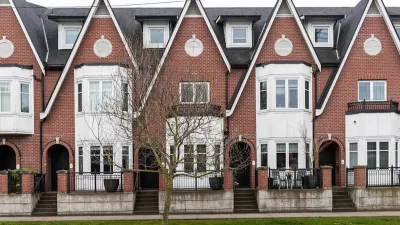 More Affordable Housing for People, Less for Cars
Most jurisdictions have off-street parking requirements that increase motorists' convenience but reduce housing affordability. It's time to reform these policies for the sake of efficiency and fairness.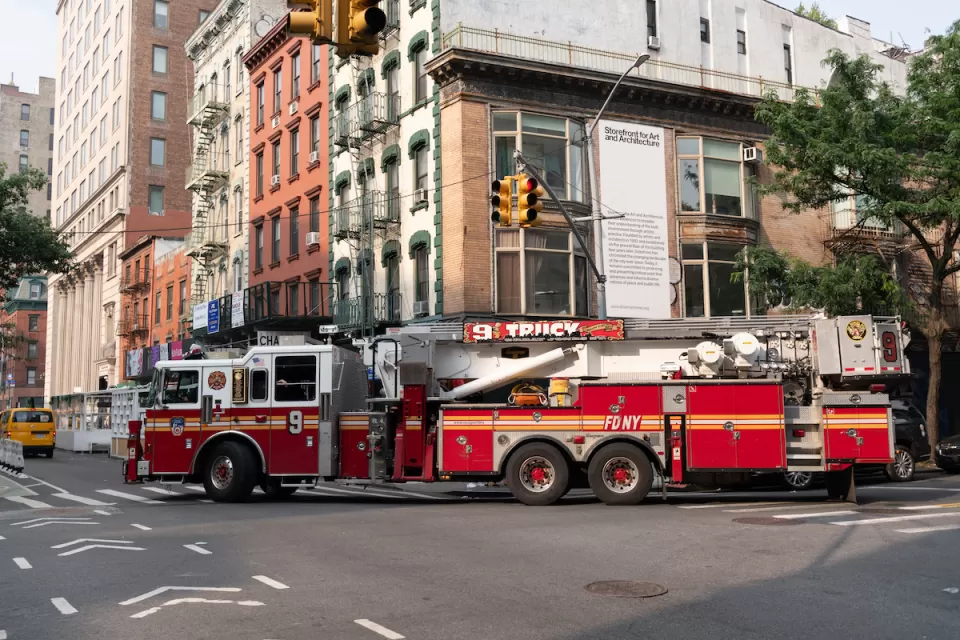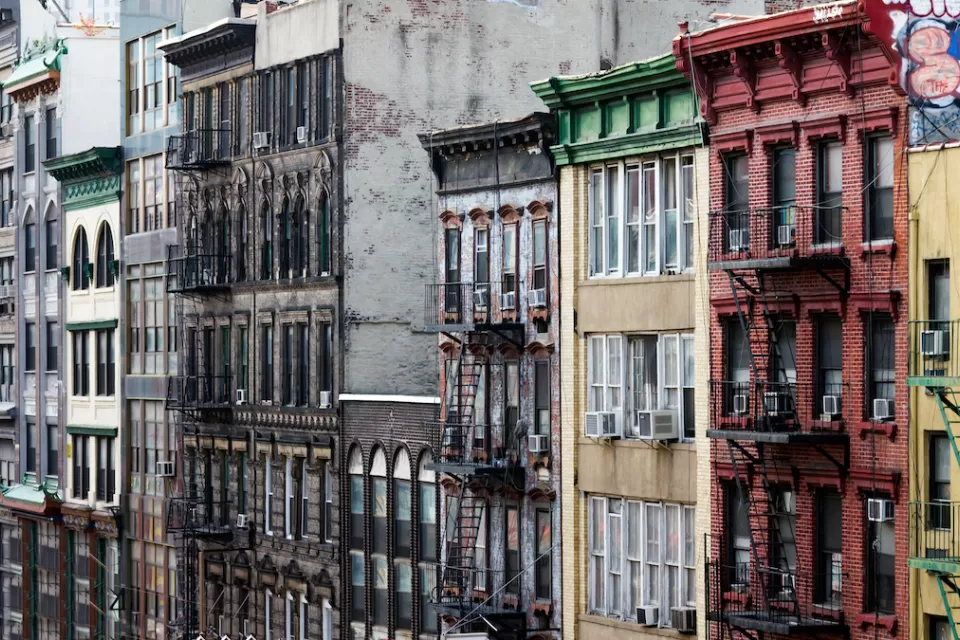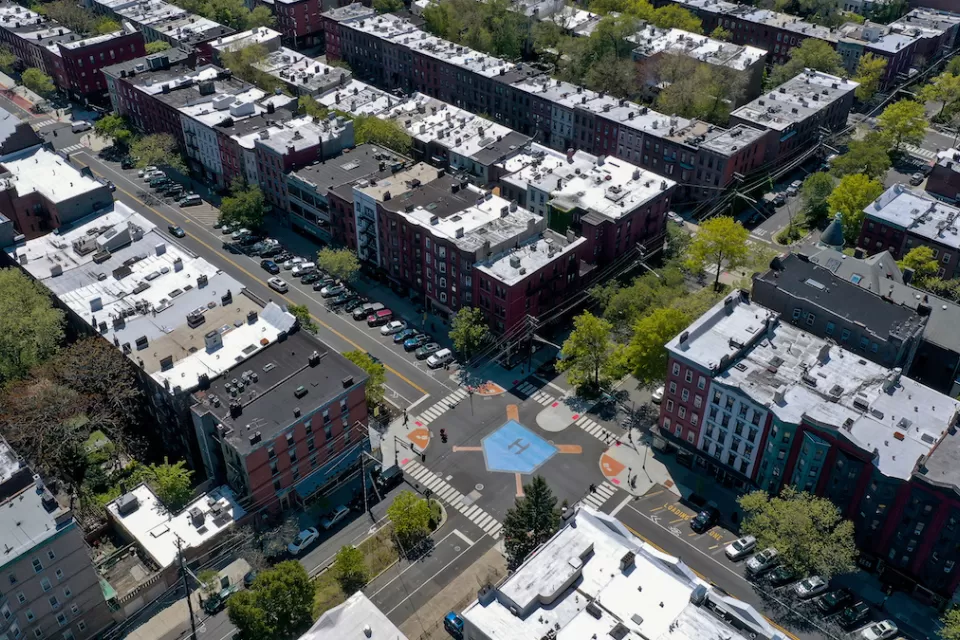 This six-course series explores essential urban design concepts using open source software and equips planners with the tools they need to participate fully in the urban design process.
Learn the tools for implementing Universal Design in planning regulations.
View More