A list of personal favorites—music that expressed more than research or rhetoric can about the places where we live, work, and play.
---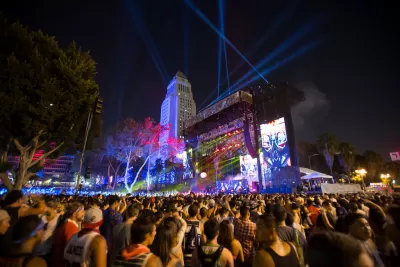 How often does music transport you back to a specific place and time?
How often has music, at the right moment and in the right place, heightened your senses and awareness of your surroundings?
I'm describing familiar experiences, I'm sure, but I'm surprised by how seldom we mention our appreciation of music alongside our appreciation of places. Somewhere between conscious and subconscious, between intellect and intuition—music and places push us deeper and further. I admit that I don't fully understand how music and places play co-conspirator in inspiration. But I believe places require many of the same interior processes as music to fully appreciate. And we need music, like we need literature, as inspiration for the hard work of protecting our values.
Some of my earliest memories attached music to place. Michael Jackson, of course, was seen dancing in alleys or, spectacularly, sidewalks doubling as interactive light installations. And as a Bay Area native, I was filled with awe that a band as luminous as Starship (ha) would immortalize the connection between Rock n Roll and San Francisco.
I moved to the big city after discovering gumption in the defiant urban spirit of punk bands like The Ramones and The Stooges. The Modern Lovers, however, remain my favorite band for poking at the big questions of modernity—debated at the scale of places—that can seem impossible to answer without the solidarity of music: the old world versus the new, the suburb versus the city, school versus a cigarette.
If I had my way, we would never separate music from our memories of places. "I was on the A train under the East River listening to Jay Z and Alicia Keys," I've said more than once. How powerful that memory becomes when music is added to the equation. How impossibly grounded and transcendent humans become when inspired by music and places.
Maybe you missed it, but recent years have produced great songs of all styles about places. See Kendrick Lamar's instant classic album good kid, m.A.A.d. city and songs like "ABC City" by Holograms, "New Folksongs for New Buildings" by Freshkills, "In the Woods" by Dog Day, "Higgs Boson Blues" by Nick Cave, "Reagan" by Killer Mike, and "City's Full" by Savages for some of the best examples.
2014 has been just as generous in its bounty of songs about places. What follows is some of my favorite music from 2014 on subjects relating to, or relying on, place and places. These are places both specific (like Long Beach, CA and Laramie, WY) and conceptual (like "the city").
My taste is my own—I don't hope to make it yours. When it comes to music, as with places—I want to be moved, and I want to dance. I hope you'll join me. So please add your favorite songs about places in the comments below or on Twitter with #SongsAboutPlaces.
Broncho, "It's On" – "We can go to L.A./we can drink Manhattans/we can go to Chez Jay/We can drink old fashioneds." Besides the clever juxtaposing of Los Angeles with its favorite provocateur, Manhattan, the mention of Chez Jay is completely topical to a land use and planning discussion. This historic bar, actually located in Santa Monica, was once a favorite watering hole of the Rat Pack and other classic Hollywood types. Last I was there the bar was still open and effusive with its historic charm, but reports are that the bar will be reconfigured to serve adjacent Tongva Park, recently opened and designed by James Corner Field Operations.
Chain and the Gang, "Devitalize" – Kriston Capps wrote in detail about this song for CityLab as a sign of a shift in punk rock toward local concerns. Chain and the Gang's lead figure, Ian Svenonius, is on the record making light of how historicizing and mythologizing can pervert the legacy of music scenes, so it's probably better to focus on the music. Chain and the Gang might, to the uninitiated, look and sound like a cartoon, but while Svenonius's tongue might often be found planted in his cheek, "Devitalize" unequivocally excoriates the development establishment. Even the middle class is subject to the destructive impulses of this song.
Copeland, "Advice to Young Girls" – This song is the year's most powerful expression of the power of urban communities. Minimalistic drones provide the soundscape for a softly recited diatribe, wherein Copeland encourages young women to escape to the city: "Sneak out of the window/ and meet your friends on the corner/ together you're strong/ you walk the streets/ thank the city/ thank the night/ the city is yours."
Cymbals Eat Guitars, Lose – The year's place-based concept album, this album had me at song titles like "Jackson," "Laramie," and "Place Names." (On the value of the latter term, I've always deferred to a passage by Ernest Hemingway, which I imagine this band has read, fingers crossed.) Across the album Lose, Cymbals Eat Guitars map their emotional processes in places like Six Flags; Manalapan, NJ; "a dream Grand Central"; "Philly"; Mystic, NJ; Cape May, NJ; Orlando, I-80, Caldwell, NJ; Stapleton (Staten Island: "It's technically NYC but dear Christ does it get lonely"); Barnegat, NJ; Wells Mills Road; Popcorn Park Zoo; and Pinelands High School. I don't want to say that's a tour de force, but it's a tour, with force.
Elliphant, "One More" – Where "Advice to Young Girls" speaks to the city as the gathering place of community solidarity, "One More" plays out a more intimate and personal exchange. Two women head downtown to work out their troubles by counting streetlights and coming back to life a "sleazy bar," where "you get tacos for free" [my emphasis]. Just like the Gold Room in Echo Park! Tacos for free, seven nights a week! Brilliant.
Freddie Gibbs and Madlib, "Lakers" – Odes to Los Angeles have been done before, but Freddie Gibs leaves aside satire or critique, instead professing undying allegiance. Gibs admits that, like so many others, he came from outside—"with my Indiana bucket"—to cruise Crenshaw Boulevard after seeing Boyz n the Hood. How's this for commitment: "My children gon' be raised at/ where they gon' place my grave at/Since Magic bought the team/ he brought new meaning to that L.A. hat/ Shout out to the blocks/ Inglewood, Compton, South Central to Watts."
Run the Jewels, "Lie, Cheat, Steal" and "Close Your Eyes" – Pitchfork's album of the year falls short of some of the place-based thinking that the members have produced before (the aforementioned Killer Mike—author of arguably the most pointed musical takedown of the prison industrial complex—is a member of Run the Jewels, for instance). There's this pointed line from El-P on the song "Lie, Cheat, Steal": "Cause death by electrocution's like life in New York, isn't it?" Later on the same song, Killer Mike mentions his perceived necessity to resort to violence when living at an address that includes the letters MLK. Then there's the verse on "Close Your Eyes" delivered by Zack de la Rocha, who taught a generation of young radicals to question authority in places like Mexico and Beverly Hills. Here, he name-drops Dallas, Malibu, Gotham, and Philip 'AK' Dick.
Spoon, "New York Kiss" – This is a song about something that happens in New York, presumably in real life. This song is not a song about New York by someone named Taylor Swift that has, according to critics, nothing to do with real life. Spoon also has a song called "Rainy Taxi" on the same album. Not "Rainy Uber" or "Rainy Transportation Network Company"—"Rainy Taxi." There's something to be said for that word choice, I think, in how we imagine our cities and how we'll continue to imagine our cities, even after some tech companies turn as much as they can to grey.
Vince Staples, Hell Can Wait – To be clear, "Hands Up" is not a song for Rudy Giuliani or George Pataki. If a man from Long Beach calling out the Los Angeles Police Department, the Long Beach Police Department, and the Los Angeles County Sheriff's Department offends you, you won't like this music. And if it's preferable that white musicians make music about militarized police forces, I recommend The Clash. The Hell Can Wait EP describes life in hell, literally and metaphorically—inherited violence, inherited addiction, and the constant, looming threat of prison. On "Hands Up" Vince Staples claims his voice: "Raidin' homes without a warrant/ Shoot him first without a warning/ And they expect respect and non-violence/ I refuse the right to be silent." I'm listening.
---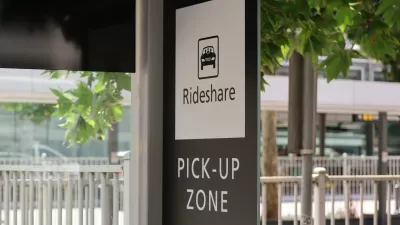 The Slow Death of Ride Sharing
From the beginning, TNCs like Lyft and Uber touted shared rides as their key product. Now, Lyft is ending the practice.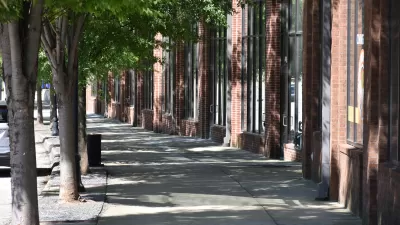 Cool Walkability Planning
Shadeways (covered sidewalks) and pedways (enclosed, climate controlled walkways) can provide comfortable walkability in hot climates. The Cool Walkshed Index can help plan these facilities.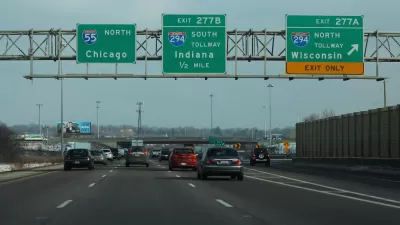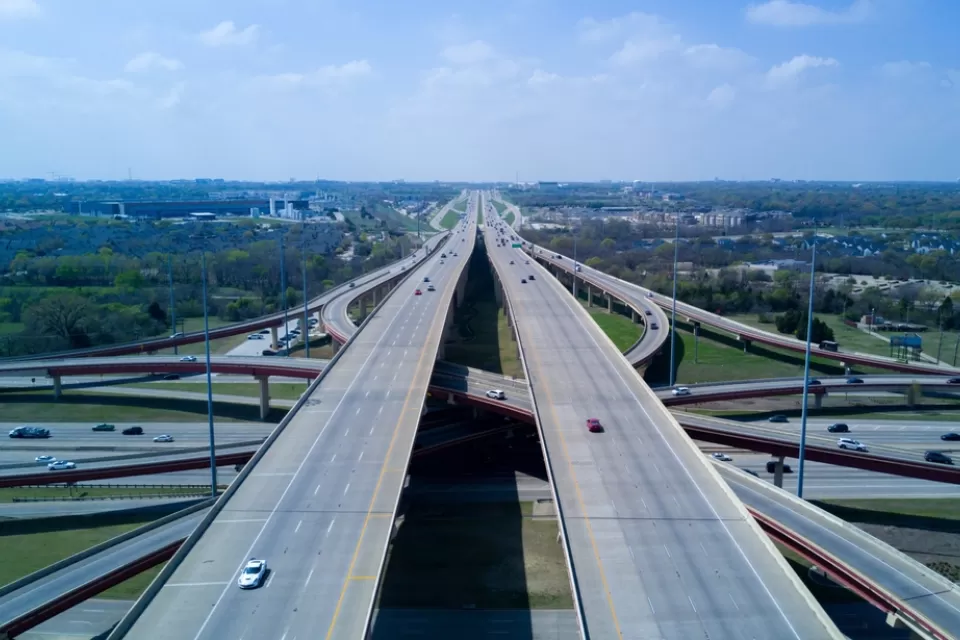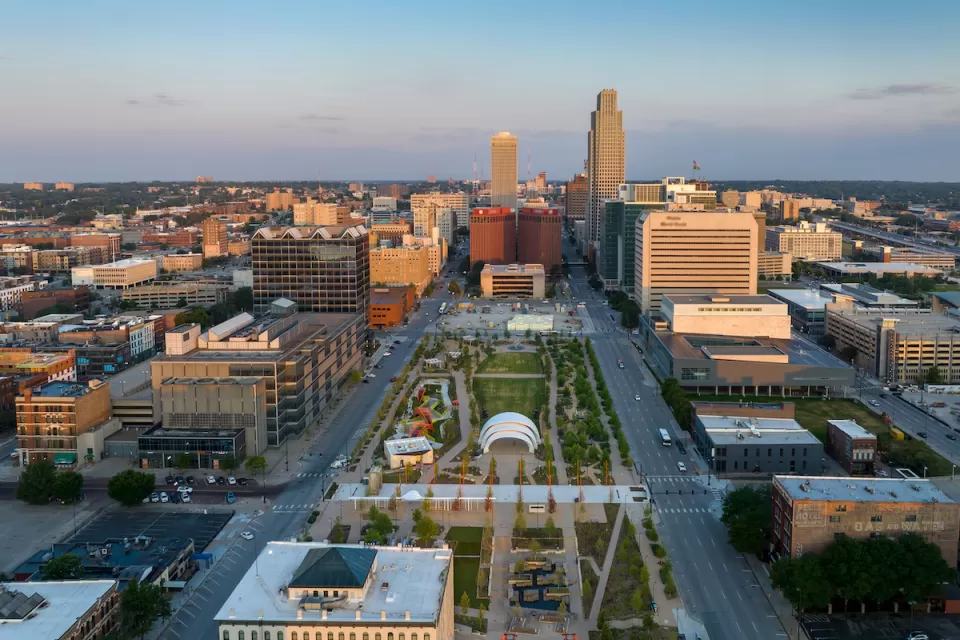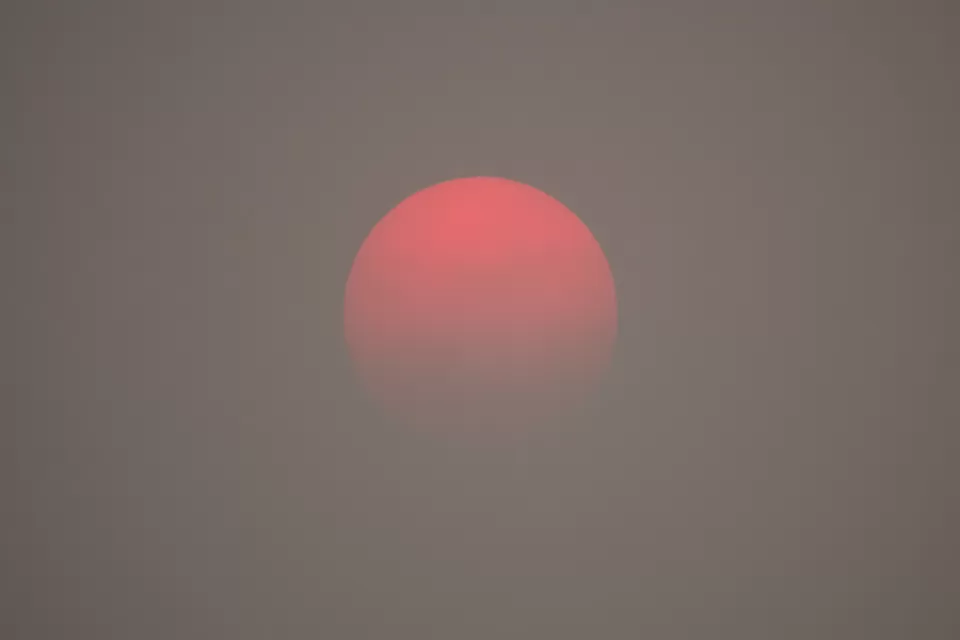 Planning for Proximity, for the Climate's Sake
A new global platform will help the world identify and encourage opportunities for more proximity in the built environment—development patterns that can help reduce sources of greenhouse gas emissions and other forms of pollution if built well.
This six-course series explores essential urban design concepts using open source software and equips planners with the tools they need to participate fully in the urban design process.
Learn the tools for implementing Universal Design in planning regulations.
View More