Planopedia
Clear, accessible definitions for common urban planning terms.
---
What Is Levittown?
Known as the archetypal post-war American suburb, Levittown was the first mass-produced housing development and set a standard for planned subdivisions for decades to come.
---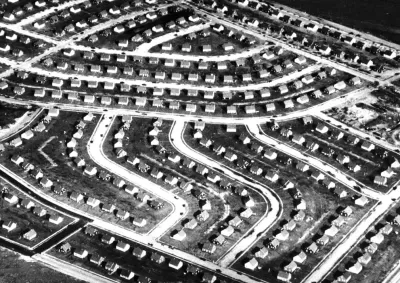 As World War II came to an end and American GIs returned from abroad eager to settle down, start families, and live the American dream, these young families sought comfortable, clean, and safe places to live. One such soldier, William Levitt, brought this idea to his father, Abraham Levitt, a developer who had been building homes for upper-middle-class New Yorkers. William convinced his father to invest in 4,000 acres on Long Island, which would become the largest private housing development in the country at the time. 
Seeing the opportunity in affordable, mass-produced housing, Levitt designed a type of housing development that went on to largely define the suburban model in America. The Levittown, as it became known, was made up of mass-produced homes built using a strict division of labor that cut expenses and construction time and were equipped with modern appliances and television sets. Levitt's construction processes, inspired by auto manufacturing assembly lines, were the first of their kind in housing construction. Levitt realized that by combining standardized materials with hyper-specialized tasks for each worker that moved from house to house performing their one task, he could save immense amounts of time and money and turn home construction into a modern, industrial venture. The houses were so similar that some residents reported walking into the wrong one on accident. As Levitt put it, "we are not builders, we are manufacturers." Levitt envisioned his company as "the General Motors of the housing industry."
The communities also featured community swimming pools and and veterans' clubs and organizations. At the peak of construction, Levitt was building one house every 16 minutes. Each house cost around $8,000, a price that was reduced to about $400 with GI bill benefits (the equivalent of about $4,500 today). The first Levittown development opened on Long Island, New York in 1947. After the first 300 families moved in in 1947, the community became hugely popular, and the originally planned 2,000 homes swelled to over 17,000 by 1951. Other Levittowns, in New Jersey, Pennsylvania, and Puerto Rico, followed.
The popularity of Levittown was also assisted by "the 1948 Housing Bill, which loosened billions of dollars in credit and gave every American the chance to get one of those five-percent-down, 30-year mortgages in the first place." The federal government supported the developments as affordable housing for returning WWII veterans and provided the loans which gave GIs steep discounts on mortgages and 0% down payments on Levittown homes. Before the Federal Housing Administration, home buyers had to put down more than half of the cost in order to purchase a home. FHA loans provided a new way for households to secure mortgages and low down payments. 
Racial Exclusion
Like many other suburbs of the time, Levittowns were not open to people of color, including Black veterans who had fought abroad. The underwriting manual of the Federal Housing Administration, which dictated where mortgages would be issued, "said that incompatible racial groups should not be permitted to live in the same communities." The FHA included racial covenants in deed restrictions, further segregating communities. Although racially restrictive housing covenants were struck down by the Supreme Court in 1948 in the Shelley v. Kramer decision, the segregated legacy of Levittown has had lasting effects. By the time the 1968 Fair Housing Act opened more housing developments to African Americans, the prices of homes had soared to unaffordable levels. In 2019, the percentage of Black residents in Levittown, New York was 1.2%.
Little Boxes
Levittowns also symbolized a push toward conformity and a post-war return to traditional gender roles. From the start, critics attacked Levitt's developments as "American suburbia reduced to its logical absurdity" (Eric Larrabee in Harper's) and a "uniform environment from which escape is impossible" (Lewis Mumford). Despite Levitt's assertion that "no one who owns his own house and lot can be a Communist," Levittown had strikingly communitarian tendencies, "such as Levitt's insistence that no homeowner fence off a private yard from the shared green." 
The "cookie-cutter" homes and community regulations created the uniquely mid-century image we think of as American suburbia today, but also encouraged unsustainable sprawl and normalized daily commuting. The popularity of suburban developments soared in the 1950s, with 85% of new home construction being in suburban areas. The shift to suburban life precipitated the rise of the personal automobile as a necessity and the long commutes that defined the American workday in the second half of the 20th century.
More planning terms