You really need to almost get hit by a car to feel like a true Johannesburg pedestrian. That's the way it goes here. A huge, sprawling greater metropolitan area of about 10 million people covering more than 600 square miles, the city is built for the car. And if you're not in one, good luck.
---
You really need to almost get hit by a car to feel like a true Johannesburg pedestrian. That's the way it goes here. A huge, sprawling greater metropolitan area of about 10 million people covering more than 600 square miles, the city is built for the car. And if you're not in one, good luck.
I've been here for a few weeks and I'll be here for a while longer. My main exposure to the city has been on foot. And I'm not alone. The World Cup is going on in South Africa, so there's a lot of excitement. There's also generally a ton of activity in this city, which is the economic heart of the country, and by extension the continent. These two situations combine to make the urban realm a bit hectic. And for those getting around on foot, that hectic atmosphere is often dangerous as well. But don't blame the World Cup, or Johannesburg's economic power. Blame the city's physical form.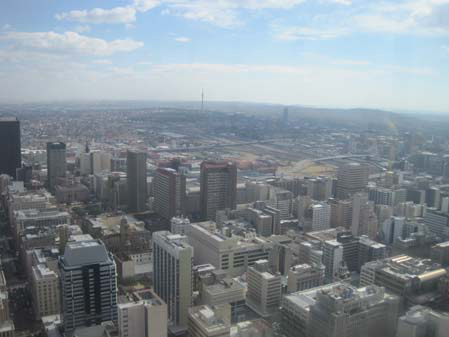 It's a city broken into dozens of neighborhoods, which helps it feel small. But really, the city is enormous, stretching and sprawling like there's no end in sight. And there isn't. Much like the American suburbs of the Los Angeles basin, Johannesburg is surrounded by developable areas. It can keep going, and it will . Over the course of about 15 years, Johannesburg has blended into its metro neighbor to the north, Pretoria, to create a vast metropolitan region that's basically unbroken by empty land or undeveloped territory.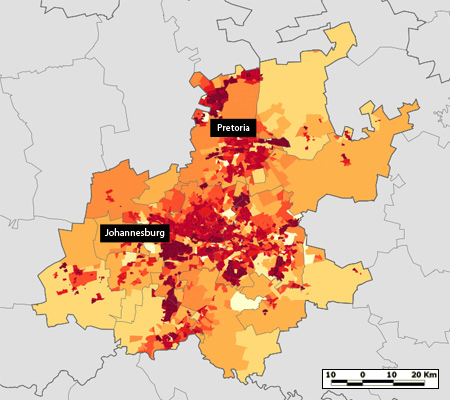 To be a pedestrian here is either to be bold or to be poor. The car rules the city, and everything else just gets in the way. There is public transportation here, but it's dominated by the minibus industry, which is a semi-formal system run by what are essentially vans with room for 15. Or 17. Or 20. But beyond their capacity, the footprint of the minibus on the road is the same as another car. And there are plenty of both. There are proper high-capacity buses as well and some suburban rail transport. The city has also been gradually unveiling a new bus rapid transit system ahead of the World Cup. So there are options. But those options are incredibly time consuming.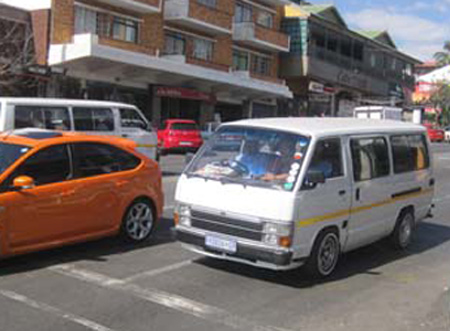 And, like they say, time is money. But if you don't have money, time is just time. The majority of the people commuting in the greater Johannesburg area are doing so by minibus, bus and rail because that's all they can afford. This report from 2005 suggests that more than 70% of the city's population uses minibuses to commute. I don't necessarily believe that represents the city's commuting makeup, but based on my interviews with planners here, the amount of people in the greater Johannesburg that relies on means other than private automobiles is the vast majority. And unlike the drivers of cars leaving their heavily fortified garages and electric-fenced homes, each of those public transit trips is also a pedestrian trip. After a few weeks of walking around here, mainly as a semi-tourist in a few distinct areas, I can attest that there's basically no love for the pedestrian in Johannesburg. Red lights mean little to the minibus drivers, and people walking across the street are mere obstacles to drivers trying to finally get through a stopped-up intersection or around a corner. I've almost been hit many, many times since I've been here, and I've seen other people have similarly close calls as well, so it's not just me being an ignorant foreigner. At least not entirely.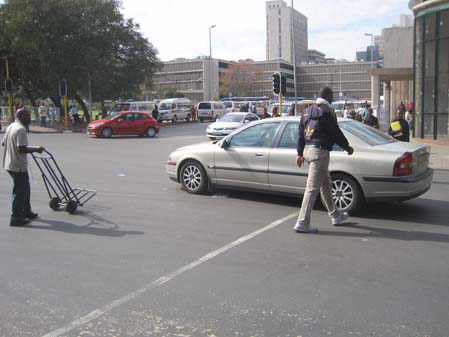 Driving around this city can be frustrating. The few experiences I've had in private cars here have been dominated by thick, honking, unbudging gridlock. It can take hours to travel just a few miles. But without a car, those few miles are much longer than they seem. And for those without a car to protect them, the distance can be deadly.
According to Mayor Amos Masondo's State of the City address from March 2010, pedestrian fatalities represented 60% of all road fatalities in 2009. There were more than 2300 road fatalities in the Province in 2002, and trends suggest that number would have only increased in between then and 2009. And with the Johannesburg representing the major population hub of the province, that translates to more than 1,000 pedestrian road fatalities a year. And that estimate is probably low.
Because I'm currently carless in this city, I've been walking a lot. I've also been using the minibus system and some bus and BRT lines as well. But, like the majority of this city's desperately poor population, most of my trips are on foot, and so far I've felt vey unwelcome as a pedestrian. It's not that there aren't sidewalks or other pedestrian amenities. It's just that the places people do walk are instantly second class to the car-dominated roadways. A greenlight doesn't mean anything if you're in a crosswalk here, unless you've got numbers on your side. Cars will stop for 30 or 50 people crossing a street. But three or four? No chance.
There are, however, some really nice pedestrianized areas downtown. These, though, represent only a speck of the road footprint in this city.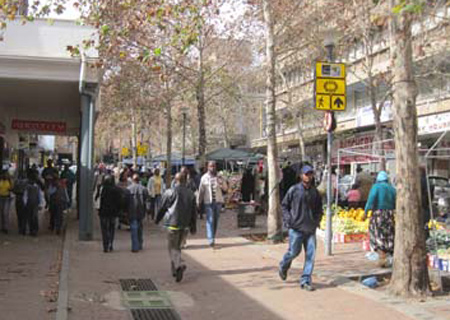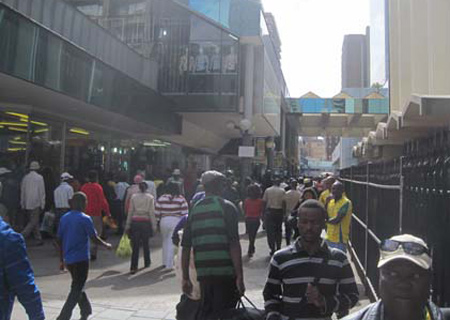 At first I was a proud pedestrian, yelling at drivers and calling them terrible names as they careened around me or nearly through me. But after a while I realized I was the only one upset. Every other pedestrian had learned to accept that they were simply second class citizens in the mobile world of Johannesburg. Maybe I should accept it too. Or maybe I should experience the city the way the minority likes it -- from behind the wheel of my own private automobile.
---
The Right to Mobility
As we consider how to decarbonize transportation, preserving mobility, especially for lower- and middle-income people, must be a priority.
Early Sharrow Booster: 'I Was Wrong'
The lane marking was meant to raise awareness and instill shared respect among drivers and cyclists. But their inefficiency has led supporters to denounce sharrows, pushing instead for more robust bike infrastructure that truly protects riders.
This six-course series explores essential urban design concepts using open source software and equips planners with the tools they need to participate fully in the urban design process.
Learn the tools for implementing Universal Design in planning regulations.
View More