<p> <span><span style="font-size: small"><span style="font-family: Times New Roman">As planners, one of our roles is to help stretch the scope of what is considered possible. For example, between 1950 and 2000 most development was highly automobile-dependent, based on the assumption that almost all travel would be by personal automobile and other modes were relatively unimportant. This pattern is so well established that many people have difficulty imagining anything different. It is useful to help people understand the full range of options available, from automobile dependency to carfree communities. </span></span></span> </p>
---
As planners, one of our roles is to help stretch the scope of what is considered possible. For example, between 1950 and 2000 most development was highly automobile-dependent, based on the assumption that almost all travel would be by personal automobile and other modes were relatively unimportant. This pattern is so well established that many people have difficulty imagining anything different. It is useful to help people understand the full range of options available, from automobile dependency to carfree communities.
Although carfree sounds radical, it was actually the goal of much suburban development, which was intended to create isolated suburban campuses where people can park their vehicles and walk through bucolic landscapes between buildings, and quiet cul de sacs where traffic impacts are minimized. This approach fails in many ways – the dispersed land use pattern that results creates more vehicle traffic with significant economic, social and environmental costs, but the basic desire for carfree environments is actually widely established. Most people would probably agree that carfree development is a nice idea, they simply have no idea how to achieve it.
A new book, Carfree Design Manual by J.H. Crawford, provides specific guidance for creating carfree communities. Crawford has long been a proponent of carfree planning: he wrote the book Carfree Cities in 2000, and maintains the Carfree.com website.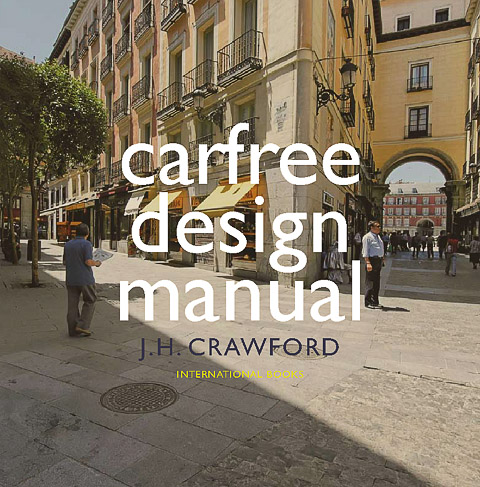 Crawford's book provides detailed discussion of carfree design concepts, that is, why carfree communities are desirable for economic, social and environmental reasons; their historic context; and the principles by which they can be implemented. His analysis begins with the most general concepts and works down to economic and engineering details, such as how to design communities (involve users), the best method to allocate land (use the Internet to allow households to bid for the properties that best reflect their preferences for location and building type), and to where to locate utility lines (bury them). Many of his ideas are insightful and well argued, although he may provide too much incidental detail for many readers.
Crawford draws extensively from previous urban designers, particularly Christopher Alexander, including A Pattern Language and the more recent series, The Nature of Order. He explores patterns related to building, street and neighborhood design.
Crawford's ideal is based on medieval European cities, particularly Venice, Italian hilltowns, and other urban communities that developed prior to automobiles and elevators, and so have walkable boulevards radiating from plazas, four- to six-story buildings with housing above commercial constructed around central courtyards, and abundant civic amenities including neighborhood parks and local markets. To these he adds high quality rail transit systems, an efficient freight distribution system, and state-of-the-art underground utilities.
Crawford is a designer's designer, so every detail of the book is carefully considered and explained. It contains hundreds of illustrations and photos, many by Crawford himself, others based on his extensive collection of old postcards with photos of street scenes, urban skylines and buildings. These images are used to considerable advantage, described and discussed in the text to illustrate concepts and tell stories.
Planning practitioners should find plenty of inspiration in the book, but are likely to be frustrated by the lack of practical guidance for dealing with common planning problems. Crawford has strong opinions: he insists on totally car free cities with only grudging respect for New Urbanism or other incremental change. Much of his analysis assumes greenfield development: a parcel of land upon which a new neighborhood or entire city will be built, controlled by a central authority that has virtually unlimited control of urban design and management. There is little guidance for planners in existing communities who may want to support incremental change toward more multi-modal development. Such neighborhoods could be called "car light," but are usaully described as walkable communities or transit oriented development.
There is plenty of evidence that many people do want to drive less, rely more on walking, cycling and public transit, and live in more accessible, mixed-use communities, the sort of traditional neighborhoods people associate older small towns; unfortunately, just the sort of towns that often lost population and jobs due to centralization of employment and services. Ironically, the best current examples of these concepts in North America are artificial amusement parks, such as Disney World, which have very walkable streets, attractive (mostly) human scale buildings, convenient and attractive public transit, and underground utilities, but lack true community and diversity.
Despite these weaknesses I recommend the Carfree Design Manual, even for planning professionals not currently building car free cities, both as a stimulant for creative thinking and because it is a truly beautiful book.
---
Planning for Congestion Relief
The third and final installment of Planetizen's examination of the role of the planning profession in both perpetuating and solving traffic congestion.
Short-Term Rentals Vex Dallas City Council
Residents complain that vacation rentals exacerbate the city's housing shortage and bring traffic and noise to residential neighborhoods, calling on the city to impose—and enforce—stricter regulations.
This six-course series explores essential urban design concepts using open source software and equips planners with the tools they need to participate fully in the urban design process.
This course aims to provide an introduction into Urban Design Sketching focused on how to hand draw master plans using a mix of colored markers.
View More