Rethinking Streets During the Pandemic
A new book from the "Rethinking Streets" series identifies 25 quick redesigns cities can use to reconfigure streets for the realities of the COVID-19 pandemic.
The introduction to the new book Rethinking Streets During COVID-19—authored by Marc Schlossberg, Rebecca Lewis, Aliza Whalen, Clare Haley, Danielle Lewis, Natalie Kataoaka, and John Larson-Friend—reads as follows:
During COVID-19 Re-allocating space on streets to accommodate new uses—particularly for walking, biking, and being—is not new. COVID-era needs have accelerated the process that many communities use to make such street transitions, however. Many communities quickly understood that the street is actually a public place and a public good that serves broader public needs more urgent than the free flow or the storage of private vehicles. This book captures some of these quick changes to city streets in response to societal needs during COVID, with two open questions: 1) what changes will endure post-COVID?; and 2) will communities be more open to street reconfigurations, including quick and inexpensive trials, going forward? We hope you look at the examples in this book and find ones that could work in your community and then use your voice to help implement your own local version of what you see here. Enjoy!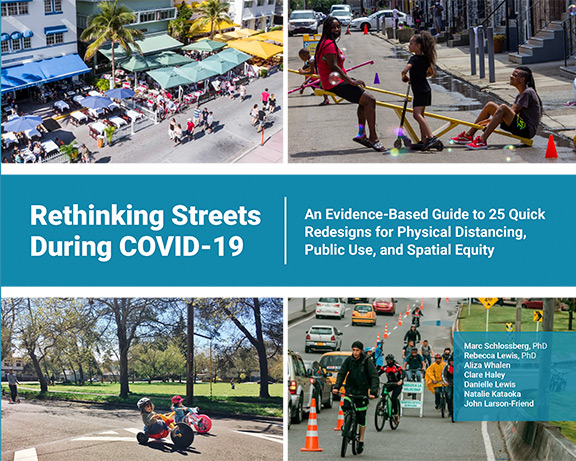 Topics