What will the future hold for cycling and bike infrastructure? With the introduction of e-bikes, the landscape of cycling, and even the definition of a bike, is changing.
---
Imagine you're leaving your house on a brisk November morning sometime in the near future. Instead of jumping in your car to join the legions crammed onto the highways, you grab your e-bike and wheel it out of the house.
As you speed up using your power-assisted bike, it's not long before you merge onto a cycling lane suspended above the railway lines, easily navigating the car-free transportation network on your way to the office.
A team of London architects and innovators recently proposed such a radical project. Called SkyCycle, the project would build a 220-kilometer cycling network that crisscrosses London above railway lines on an elevated deck.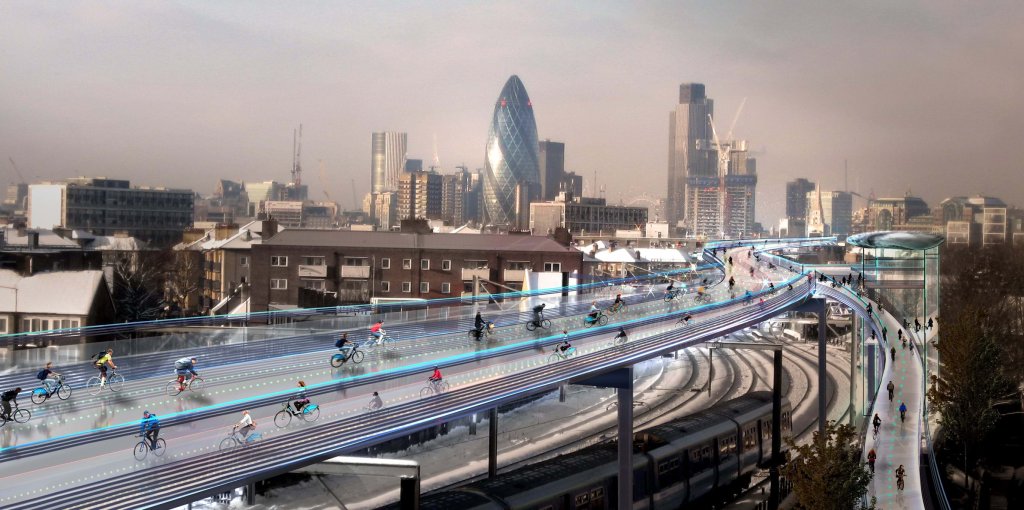 There's a catch, though. The project, which was laid out in 2012, has yet to see the light of day (and probably never will).
Though this specific project might never happen, what it illustrates about the future of bicycle infrastructure could be prescient: The need for new infrastructure to redefine what bike commuting will look like in the modern city.
And with this conversation, we have to acknowledge the new kid on the cycling block: the e-bike.
E-bike sales increased by a whopping 240 percent during the pandemic. Since then, e-bikes have seen their star rise, with even luxury carmakers such as Porsche investing in them. 
In that time, people have been become more accustomed to e-bikes zipping through bike lanes, speeding on sidewalks, and generally mixing up the alternative transportation landscape. For better or worse, their continued presence, and growing popularity, will force cities to make space for them.
This place, where the danger of fast travel meets bike lanes, mountain bike trails, and pedestrian paths, is a strange one, perhaps necessitating new mobility infrastructure made for this new type of bike.
The recent emergence of e-bikes could be a catalyst for big projects like SkyCycle to become a reality. Even if it doesn't inspire such changes, e-bikes may, in the least, require new infrastructure. In fact, e-bikes might not be bikes at all, at least in the traditional sense of the word.
After all, the normal constraints of bike travel, such as distance and effort, are being whittled away by the emergence of the e-bike. Because the e-bike acts as a hybrid between bicycle and motorcycle, it offers you more speed and range of travel than is typically possible with a classic bicycle.
Perhaps e-bikes will be the catalyst for more cities to follow the path forged by Amsterdam and Copenhagen, which have famously made ample room for cycling culture to flourish within their city limits.
One of the problems with American cities has always been their size. The name of the game has been sprawl, usually consisting of low-density housing with dead-end streets and low-connectivity. This type of housing has been consistently expanded until it was impossible to get around by anything other than a car. 
E-bikes, which have the ability to move quickly up hills and cross longer distances, could become a new contender for America's transportation choice, even in poorly connected suburbs.
Building freeway-like infrastructure for bikes may provide the sort of cross-town transportation freedom typically afforded only to cars. With that, though, will come other concerns such as safety, accessibility, and feasibility. 
City officials have already seen the positive impact of separated bike lanes on the streets where they're built on.
Though a far cry from an elevated bike highway, the simple act of installing protected bike lanes has proven to be a solid investment for cities, both for safety and economic stimulation. NYC saw decreases in injuries, and Salt Lake City saw increases in business sales along protected bike lane streets. This is a far cry from some European cities, though. Residents of Amsterdam, since 2017, have made 68% of trips to and from work and school by bicycle, with cycling making up 36% of all traffic movements. 
Though spread-out, American cities might not be able to emulate similar mode choices with traditional bikes, but perhaps e-bikes could achieve a similar type of bike mobility.
The Emerging Role of E-Bikes
Will e-bikes actually make biking in the United States a viable form of transit? 
But this question beckons another question: Can you consider e-biking to be biking at all? 
If this is all starting to sound like a paradox, you might be onto something: because e-bikes don't fit very well into current transportation categories.
As the Atlantic detailed in a recent article, the e-bike is a unique hybrid between a bicycle and motorcycle. Though it has more speed and requires less effort, it still brings along many inherent disadvantages of the bicycle, such as being exposed to weather conditions and lugging around something heavy and cumbersome throughout your day.
With all these technological and design developments, the typical definition of what is and isn't a "bike" might completely change. 
E-bikes could eventually earn themselves a whole new category in the transportation spectrum. They feature a heftier price tag and a healthier weight than a typical commuter bike. As electric vehicles and transportation modes become more and more common, an interesting array of hybrid vehicles come into existence, further confusing the transportation categories in current use.
E-bikes also ruin some of the best benefits of bikes, such as the exercise earned by pedaling up hills and the efficiency of powering a trip with human power. It still waits to be seen if the longer trips taken on e-bikes will balance out the lower effort it takes to ride one.
In some contexts, these are advantages, offering daily riders a bike that won't leave them smelly and sweaty when they arrive to work or to a date. I can still remember the drawbacks of my biking days, such as arriving to meet up with friends a little out of breath and uncomfortably sweaty.
For an avid cyclist like me, this was a sense of pride. I enjoyed the challenge, and the satisfaction, of transporting myself by bicycle. E-bikes, at their core, feel different, existing in some sort of transitional phase between what we would consider a bike and a motor vehicle. 
Where e-bikes will land in the emerging future of transportation still remains to be seen. Regardless, transportation will continue to be a critical factor in an increasingly interconnected, and interdependent, world.
Eric Carlson is a writer, urban planner, and designer with degrees in both Journalism and urban planning. His passions include high-speed rail, walkable neighborhoods, and urban design. He writes and manages publications on Medium about urban planning and music, and has been featured in the publications Fanfare and Age of Awareness. Find his work online and on LinkedIn.
The Right to Mobility
As we consider how to decarbonize transportation, preserving mobility, especially for lower- and middle-income people, must be a priority.
Early Sharrow Booster: 'I Was Wrong'
The lane marking was meant to raise awareness and instill shared respect among drivers and cyclists. But their inefficiency has led supporters to denounce sharrows, pushing instead for more robust bike infrastructure that truly protects riders.
Memphis: Crime-fighting Camera Sheds Light on Police Abuse
The irony is unmistakable. Public surveillance cameras, long controversial in the criminal justice community, provided pivotal video footage of the beating of motorist Tyre Nichols by five Memphis police officers at a traffic stop on January 7.
How Autonomous Cars Could Impact Energy Use
The complex algorithms used by self-driving vehicle technology use massive amounts of energy, which could lead to a steep rise in carbon emissions as autonomous cars become more commonplace.
Safe Streets Grants Announced
The federal Safe Streets and Roads for All program funds planning and implementation for road safety projects aimed at reducing traffic deaths and building safe infrastructure for pedestrians, cyclists, and other vulnerable road users.
This six-course series explores essential urban design concepts using open source software and equips planners with the tools they need to participate fully in the urban design process.
Learn the tools for implementing Universal Design in planning regulations.
View More