America's suburbs are increasingly diversifying, expanding, and evolving as COVID-19 and new economic realities shape behavior. New stories are unfolding in these suburban places as they change and grow. Is it time for a suburban revival?
---
One morning outside of Dallas, two very different American stories converged at a fast-food drive-through off I-20 on the way to the airport. It was as ordinary a pit stop as could be imagined for the hundreds of millions of Americans who spend their lives traversing great distances and low densities in cars for just about everything they do. For my young colleague, who grew up in Washington, D.C. and New York City, this coffee run was a novel experience—she had confessed this was her first time at a drive-through. Both educated and trained as urban planners, our experiences of everyday life in this country were fundamentally different.
This anecdote is indicative of the vastly different lifestyles that have existed between Americans living in the country's cities and its suburbs for almost a century. While many have bemoaned the advent, rapid growth, and repercussions of the suburban model, there is reason to believe the 21st century will profoundly change our understanding and experience of suburban America.
Following the suburbanization boom of the middle 20th century, it looked like Legacy Cities in places like the Northeast and the Rust Belt were in existential trouble. Planners, architects, developers, and urbanites alike were thrilled to see the reversal of this trend in the early 21st century as new segments of the population, including immigrants, Millennials, and empty nesters began to rediscover inner cities. For two decades now, Legacy Cities and boomtowns in the South, Southeast, and West have seen substantial growth and investment as cranes dotted skylines and ushered in a new era of urbanization. Throughout this time, suburban America struggled with population loss, aging infrastructure, and lifestyle offerings that seemed outdated and unresponsive to the needs of an increasingly cosmopolitan population. Ever swinging, the pendulums of economic pressures and societal preferences appear to be offering suburban places a second chance, as droves of people rediscover opportunity and community outside cities.
Suburbs in the largest metro areas throughout the country gained 4.7 million people since 2010. The population shift from urban areas to suburban communities has only been amplified by the COVID-19 pandemic, as more people prioritize privacy, increased living space, dedicated outdoor space, and other features that are increasingly difficult to access in dense urban environments. The 2020 Census provides insight on this trend, reporting a record number of change-of-address requests to the United States Postal Service during the first six months of the pandemic. Attributes that planners have spent decades fighting to reverse—single-use land uses, low development densities, the proliferation of personal automobile travel, a prioritization of private space—are again sought after by many who struggled through social isolation and physical confinement.
While the pandemic undoubtedly inspired broad swaths of the population to reconsider their priorities for living and working, growth in communities outside major cities is a trend with deeper roots. The truth is, while many might prefer a more urban lifestyle—with its density, diversity, housing and transportation options, cultural vibrancy, and job opportunities—many simply cannot afford to live in big cities. Many of the same people who helped drive the early 20th century re-urbanization trend are today settling into careers, starting families, and exploring opportunities for homeownership. As home prices in cities continue to skyrocket, these classic elements of the "American Dream" are increasingly impossible to achieve in America's cities when balanced with preferences for quality real estate, desirable neighborhoods, room to grow, and good schools. Furthermore, the pandemic revealed to many employees and employers a new reality of our time, which is that work can be effectively done, and teams can connect, from just about anywhere.
As economic forces continue to drive low- and middle-income people out of cities and flexible work expands the geographic landscape, individuals and families are recognizing the benefits of housing and lifestyle options outside major cities. But while Millennials and Gen Z-ers are among those leaving cities to find opportunity elsewhere, they are bringing their preferences for urban lifestyles with them. There is a growing demand for a stronger sense of place in suburban and exurban environments. New residents are often disinterested in suburban malls and shopping complexes, instead favoring something more akin to an urban downtown or the walkable Main Street experience often found in small, more established cities. Additionally, as suburban locales see increasing market pressure while also becoming increasingly racially, culturally, and economically diverse, many new and existing residents are seeking a greater diversity of housing options, including denser products like townhouses and apartments. These products, which are more naturally affordable and often sited in areas that negate the need for private car ownership, provide new options for people looking to downsize or continue to live independently as they age.
These demands were not prioritized when many suburbs were developed. However, suburban communities throughout the country should see these trends and the renewed interest in their neighborhoods as opportunities to better serve their current population, attract new residents, provide more diverse housing options, bring in new businesses, and become more equitable and environmentally sustainable. Through strategic planning and investment, smart land use policy, partnerships with public and private stakeholders, and an authentic celebration of the unique attributes of these communities, localities can retrofit and redefine the suburban living experience. For many of these places, this starts with identifying well-connected and underutilized areas of communities ripe for transformation and reinvestment.
Case Study: Sterling Heights, Michigan
Over the last several years, there have been great examples of communities that embraced the opportunity to evolve and meet the demands of their changing and growing population. Design Workshop had the opportunity to work with one such community in the city of Sterling Heights, Michigan. The city developed as a quintessential American suburb in the middle of the 21st century. Located just 15 miles north of downtown Detroit, Sterling Heights has been a bedroom community and major industrial employment center for decades. In that time, the city has grown to become Michigan's fourth largest city; however, the community's development composition is overwhelmingly traditional suburban-style single-family neighborhoods. Through a recent comprehensive planning effort, the community identified a handful of locations throughout the city where tired commercial and industrial corridors could be transformed into denser, mixed-use places to fulfill residents' desires for a local, walkable Main Street or downtown-like environment.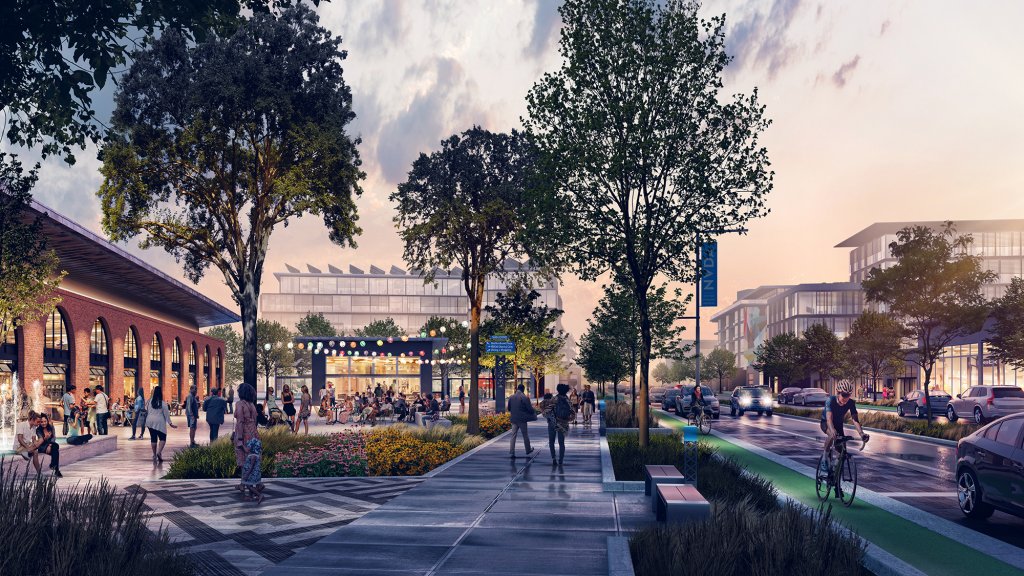 One of these corridors was a 1.5-mile-long segment of Van Dyke Avenue—a historic road running through the center of the city. The corridor today largely comprises low-density auto-oriented commercial and industrial uses, a wide right-of-way designed to facilitate efficient and high-speed automobile traffic, and large but underutilized development sites. However, the community recognized the potential of this 240-acre area. Among its attributes are its location at the intersection of two major local thoroughfares and between two regional highways, its position between multiple established neighborhoods and robust employment centers, and its intersection with the magnificent Clinton River corridor and greenway that spans southeast Michigan. These assets—in combination with the vision of the city's leaders and community demand for new civic and commercial experiences and a greater diversity of housing products—set the stage for the development of a long-term vision for Sterling Heights's first urban place at the newly branded North Van Dyke Avenue district.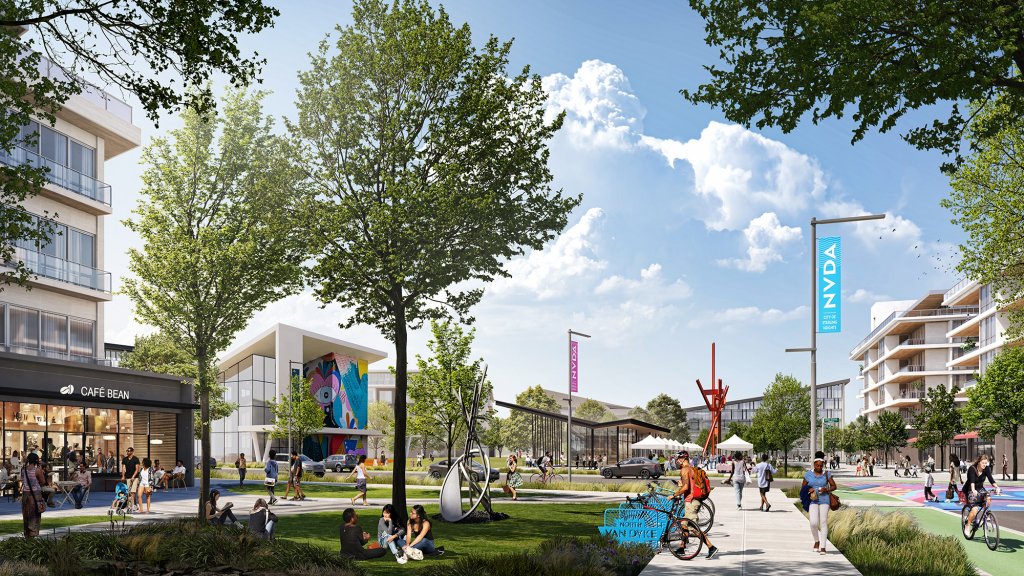 The North Van Dyke Avenue Master Plan vision will inform public investments in the area in the next couple of decades and entice new kinds of private development to the city. The plan envisions mixed-use development taking shape at the district's center and new "missing middle" housing development adjacent to existing neighborhoods. The vision includes substantial and frequent pedestrian and bicycle connections to the river corridor, a walkable street network within and connecting outside of the district, flexible and programmable parks and plazas that focus on community gathering, and a cohesive brand for the district that celebrates Sterling Heights' past and present while welcoming the community's future growth. The plan imagines a place authentically reborn from its history and recommends development forms that are new while appropriate to the scale of its surroundings. As the first step in the district's transformation, the Design Workshop team, along with the city identified the immediate priorities and "low-hanging fruit" that would enable public and private partners to get started from day one. Six months after finalizing the plan, community partners are underway with development efforts and the city is directing funds towards public realm improvements and working to invest in priority sites.
Case Study: Wheaton, Illinois
While Sterling Heights story exemplifies the first planning step of identifying and shaping a vision for places where transformation and investment can occur, stories of how communities have implemented projects to create new experiences show how successful these investments can be. The city of Wheaton, a western suburb of Chicago, is one such example. The recent investment in the public realm is attracting new residents, creating incentives for transit-oriented development and nurturing the growth of new businesses. Wheaton was designated in 1890 with a traditional downtown core, but eventually the expanding growth of the western suburbs came to define the city as a suburb. In 2013, Wheaton completed a Downtown Plan—with a "Strategic streetscape" component embedded in the planning process. The city knew that they needed to update much of the historic downtown's aging infrastructure and, in doing so, saw an opportunity to maintain a competitive edge within the region as demographics and demands for suburban living shifted.
As part of the process, the market study concluded that downtown Wheaton cannot rely upon normal population growth in the surrounding areas to increase business over time. If the city wanted to see growth in downtown retail and office, the only way to achieve this growth is by introducing new residents into the heart of Wheaton. The thesis was to leverage public investment to upgrade the 16-block streetscape and create new public gathering spaces. The investment in the public realm would in turn generate private interest in the targeted redevelopment of higher-density residential developments and new commercial uses in the city's downtown.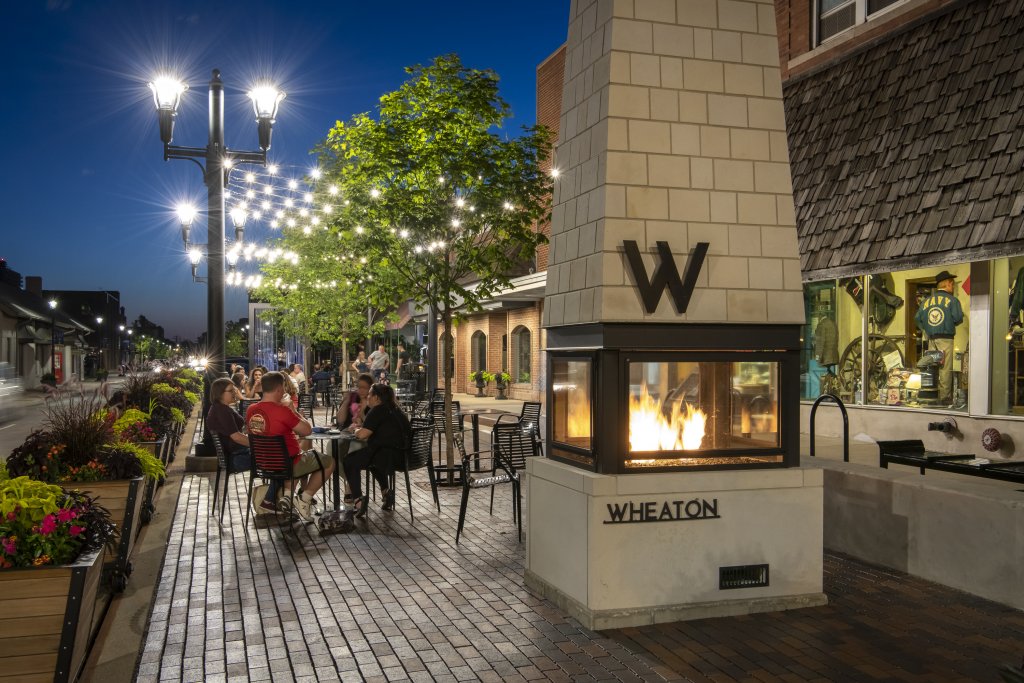 To achieve these goals, the city began by defining a clear methodology for measuring return on investment. While it's difficult to project return on investment (ROI) in the public realm, the team was able to quantify the detailed cost of varied levels of streetscape treatment and materiality, considering key metrics important to residents such as wider sidewalks, a larger tree canopy, and green stormwater management. A new branding element, "Living Wheaton," was expressed in the design vocabulary within the downtown. These efforts have shifted the way people experience the downtown by evolving into more of an entertainment and culture-oriented destination, attracting new residents and demand for transit-oriented development while differentiating downtown Wheaton from its peer suburban communities.
Lessons for Communities Looking to Redefine Suburban Living
Leverage selling points by knowing who you are marketing to. Understand your target demographics and how they might be changing. What demands, needs, or amenities might better serve or attract them?
Identify places with transformative potential and a concentration of assets.
Invest in cultural and recreational amenities. Consider the streetscape as a venue for recreation and cultural exchange.
Invest in the public realm to generate economic ROI. Treat investors and businesses like clients, making them stakeholders in planning processes.
Ensure that existing residents and businesses benefit from new investment.
Enable multiple housing types and density, particularly around transit lines.
Create activity centers or "downtowns" where they do not exist.
Audit your city's branding and its expression within the public realm to make sure it captures the city's spirit. Consider how sustainability is communicated within the brand and built a fabric that best reflects the community. Partner with the tourism bureau and businesses to incorporate the city's branding as part of marketing efforts.  
Do more with less. Complete a strategic investment plan to ensure effective and responsible use of public funding. A large component of investment accountability is knowledge of how best to prioritize spending and a clear method to define return on investment.
Deliver results swiftly. Concentrate early investment in quick "wins," such as demonstration projects, tactical urbanism projects, or pilot tests.
Understand your own trajectory to track performance—all cities cannot be measured against one-another—they all have a different starting point.
Reveal the true cost of infrastructure to reduce environmental impacts and maintenance costs. Invest in appropriate soils for long-term tree health and green stormwater management.
Promote opportunity and quality of life for all. Cities must position themselves as inclusive destinations that cater to all citizens. Be deliberate about how you address equity from the inception of any planning effort.
Chris Freda, AICP is a planner and urban designer with Design Workshop's Chicago studio. Chris brings communities together to tackle challenges related to health, civic engagement, environmental stewardship, economic opportunity, and access to public spaces and resources.
Sara Egan, AICP is a planner and landscape architect with Design Workshop's Chicago studio. Sara's experience at the implementation scale informs the execution of her work at the strategic and regional scale, focusing largely on district level planning, transportation corridors and public realm design.
The Right to Mobility
As we consider how to decarbonize transportation, preserving mobility, especially for lower- and middle-income people, must be a priority.
Where Pandemic Bike Improvements Won Out
While some cities are reverting back to pre-pandemic street configurations, others are taking advantage of the momentum for bike and pedestrian infrastructure to make pandemic-era projects permanent.
This six-course series explores essential urban design concepts using open source software and equips planners with the tools they need to participate fully in the urban design process.
Learn the tools for implementing Universal Design in planning regulations.
View More