A new statistical analysis of Airbnb listings shows the short-term-rental service is growing worldwide, but suggests that many hosts don't stick with it. Intermittent commercial uses of residences could be seen in the planning context of "mixed use."
---
When it comes to meeting the Silicon Valley ideal of "disruption," Airbnb seems to be doing quite well.
Once short-term rentals (STRs) appeared mostly in seasonal vacation settings like beach towns. But they are increasingly becoming an issue in cities, as Airbnb's booming, web-mediated business makes it easy to market nearly any property as an STR.
Cities and citizens have been left roiled by competing impulses.
In New Orleans, there is a sense that STRs are changing neighborhood character, as yard signs declare "neighbors not tourists."
In the Netherlands, as elsewhere, there is worry that STRs take housing away from local residents. After a bank report showed a sharp rise in Amsterdam housing prices, the Green Party floated the idea of a ban on Airbnb.
In contrast, a recent analysis from Sightline was skeptical that restricting STRs would influence housing affordability. And in my hometown of Portland, Oregon, the mayor advocated adapting to the times.
"The Internet is changing everything in ways that we weren't necessarily ready for," Charlie Hales told The Oregonian. "We ought to figure out how to run apace with this rapid change when we can."  Portland established permits and taxes for STRs, but compliance has been poor.
Beneath these practical worries lie a whole substrata of narratives about what the rise of the sharing economy means. In a fascinating article in Ecological Economics, Chris Martin described the contradictory and evolving ways that services like Airbnb have been framed. Are such services liberating economic opportunities? Pathways to a more just and sustainable society? Or simply new and unregulated ways to abuse the already powerless?
The study
I can't answer those big questions, but I do think that discussions of STRs and housing supply have been hampered by a lack of data and analytical perspective.
For example, STRs must surely affect neighborhood character and long-term housing supply to some degree, but what degree? Size matters. A collection of 500 STRs will make a much bigger impact (whether for good or for ill) in Paris, Texas, than in Paris, France, a city one hundred times larger.
Similarly, how "exchangeable" are STRs with long-term residences? Is it reasonable, one Planetizen author asked, to assume that everything functioning as an STR could be converted to long-term housing? The novelty rentals like treehouses and Airstream trailers probably shouldn't count, but how many of those are there really?
I decided to start getting some relevant numbers together. For nine cities worldwide (Amsterdam, London, Los Angeles, Madrid, Melbourne, New Orleans, Portland (Oregon), San Francisco, and Sydney), I asked:
How do the number of Airbnb listings relate to population?
How fast are the number of those listings growing?
How long-lived are the individual listings?
The results aren't the final word on Airbnb and short-term rentals, but I think they're a start.
Full disclosure: I'm an experienced researcher and data analyst, and co-editor of a web site about accessory dwelling units. I also currently rent out the accessory dwelling unit on my own property through Airbnb (I have the relevant permits). I'm confident I've taken an objective approach, so everything about this analysis is open-source. Anyone can get the data I used from Inside Airbnb, and anyone who knows the statistical program R can read and re-run my code. I did this project on my own initiative with no financial assistance or supervision, for better or worse.
Method in brief
I relied on data collected by the Inside Airbnb project. Inside Airbnb makes periodic "scrapes" of the Airbnb web site, recording all the active listings in select cities on specific dates. I compared these different "scrapes" with one another, tracking individual housing units across all the available surveys. Population numbers came from Wikipedia.
It's important to know that Airbnb offers three types of rentals—"shared room," "private room," and "entire home/apartment." Unless otherwise noted, all of the numbers I give are for "entire home/apartment" listings only. These are the listings most likely to be taking housing units "out of circulation" for the purpose of long term housing.
1. Cities differ a lot in the "penetration" of STR units.
The density of "entire home" Airbnb listings differs a lot among cities. When I standardized the number of "entire home" listings by metropolitan area population, Amsterdam had about 5 times as many offerings as Portland. When I standardized by urban population, that factor rose to about 9. It seems likely that the impact of Airbnb, whether it's cultural or economic, positive or negative, is bigger in Amsterdam.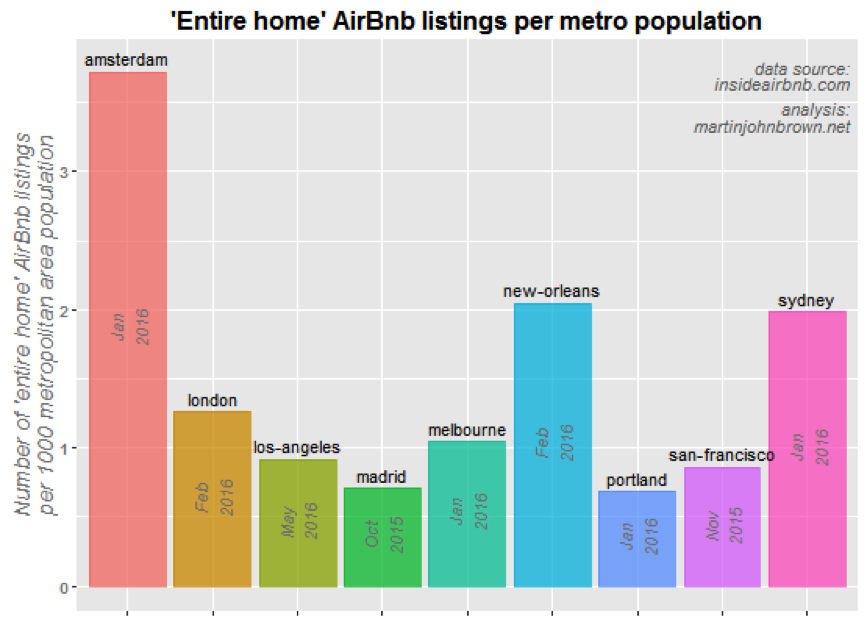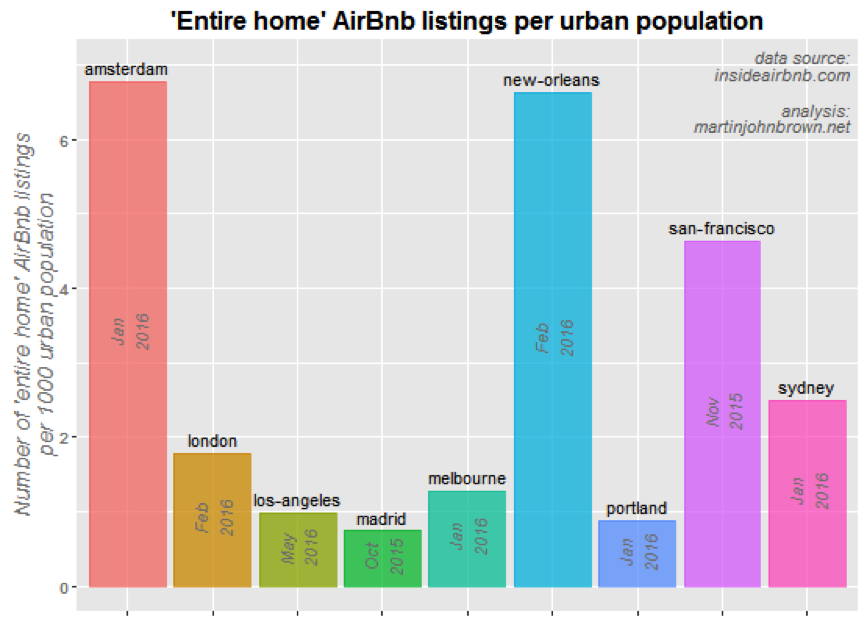 We could get better perspective by comparing the number of Airbnb listings to the total number of housing units in a city (instead of population). Housing unit numbers are trickier to get, though, so I've only done it for my own city. In Portland, Oregon, my recent examination showed 1,666 "entire home" Airbnb listings out of about 275,000 housing units in the city. "Entire home" Airbnb's were 0.6% of the housing stock.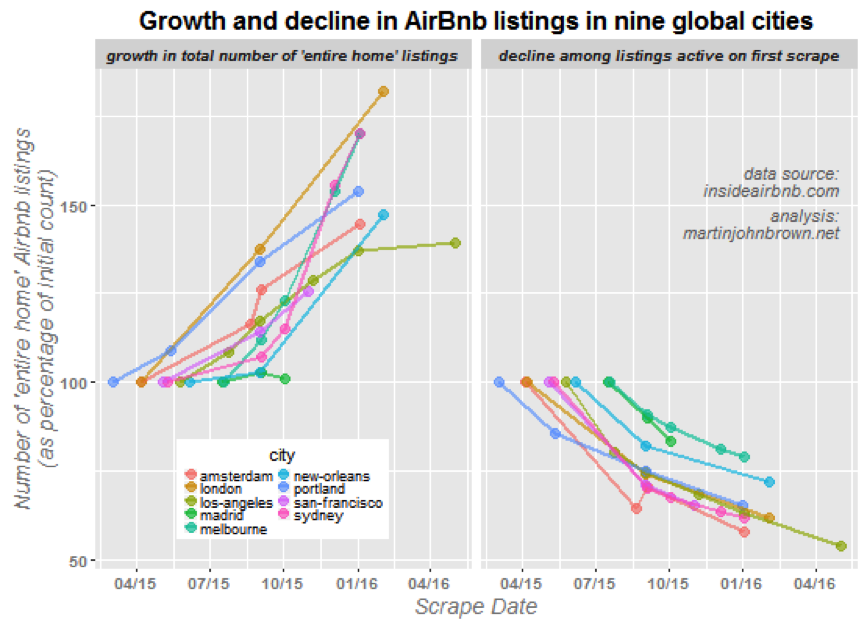 2. There's no question Airbnb listings are growing, but a lot of people don't stick with it.
During 2015-early 2016, the total number of "entire home" Airbnb listings grew in every city except Madrid. A lot of people were trying it. However, something else was happening in that same time period. A substantial proportion of the listings observed on the first "scrape" disappeared from active status. They were no longer available for rent via Airbnb. Hosts were dropping out.
3. The data suggests that only about 50% of Airbnb listings last a year.
When I made a more exacting examination of the pattern of appearance and disappearance of individual listings, it suggested only about 50% of listings last a year. This result was fairly consistent across cities. My method did account for listings that went "on" and "off" multiple times.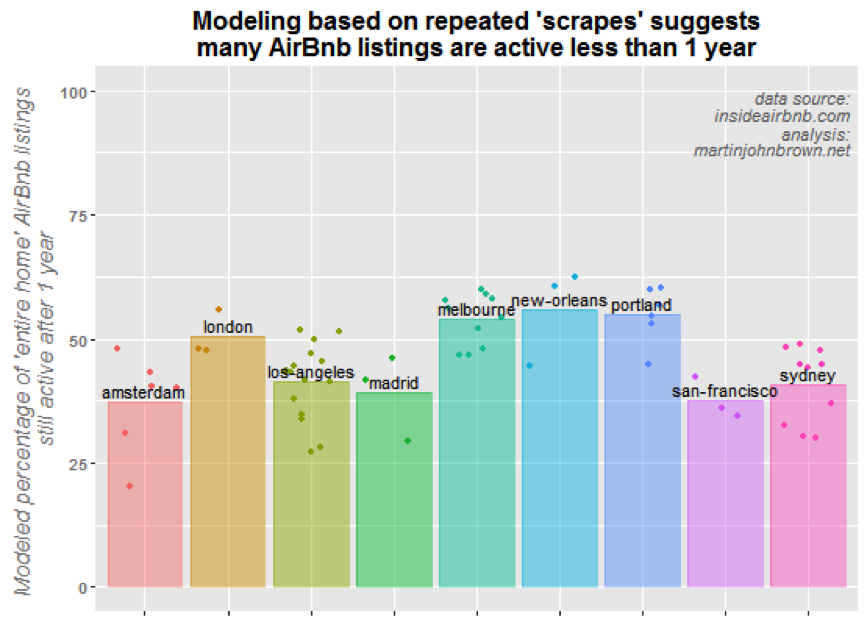 4. Housing units and residential zones are more mutable than they used to be.
Unfortunately, these data don't tell us a lot. We don't know why individual Airbnb listings are disappearing from availability. One explanation is that people try STR hosting, don't find it worthwhile, and switch back to providing long-term housing. However, we don't know yet how often that applies. Likewise, we don't even know how many of those STR offerings were used as long-term-housing before their use as STRs. Finally, we don't know how representative these results are for the future. They illustrate the growth and persistence of listings during a very specific period of time, roughly spring 2015-spring 2016.
Despite all the unknowns, I think the results communicate a few simple realities about housing today.
The fact that so many units go on and off the short term market so quickly implies the switch happens easily, and can go in either direction, regardless of what local rules say. Apparently many property owners feel completely natural about switching back and forth. My experience with accessory dwelling units (ADUs) suggests that flexibility in use is a highly motivating factor for those interested in developing a backyard cottage, basement apartments, or other example of that form. For ADUs in Portland at least, short-term rental is one possible use, but over time likely not the dominant one.
Technology like Airbnb's eases the switch between different uses of the same residence, and weakens the 20th-century distinction (at least in the USA) between "residential" and "commercial" zones. But that distinction was already being weakened by trends like telecommuting, work/live spaces, "home occupation" uses such as therapist's offices, and family day care businesses.
These examples of small-scale commerce within residential neighborhoods are a twist on the New Urbanist vision of mixed uses "within neighborhoods, within blocks, and within buildings." Today, mixed use could mean more than just residential units near corner stores and restaurants—it could mean temporary or permanent businesses within homes, and a collection of housing units that switch back and forth between long- and short-term uses.
The quick mutability of housing could play out in positive or negative ways. It might enable the market to respond quickly to emerging needs for either type of housing; or it might put the essential service of housing at the mercy of the tourist market.
Currently the incentives to convert to STR use look more powerful than the incentives to convert away from it. But the disappearing listings observed in my study suggest that many cities are already moving toward an equilibrium. 
Martin John Brown is a researcher and consultant on environment and housing. His work has been published in venues as diverse as the Journal of Ecology, Appraisal Journal, and MAKE magazine. He is also co-editor of accessorydwellings.org.
Details of the method, and city-by-city results
1. Data came from Inside Airbnb. (Populations came from Wikipedia.)
2. My R code can be found here.
3. I assume that data is correct and complete, and that all the listings in that data are "active" on the relevant scrape dates.
4. Different parts of the insideAirbnb source have different file structures, so I imported the data into R using a generic file-reading function called fread(). For a few cities, fread() failed with errors.
5. I limited my analysis to the nine cities which had been scraped >=3 times and had no fread() errors.
6. Growth of Airbnb listings were calculated from the raw number of listings imported.
7. Results about the persistence and longevity of listings were calculated from a slightly smaller data set. I removed a tiny number of listings (<1% of all) because they had been listed with more than one "room type" (for example, a listing that appeared once as a "shared room" and then later as a "private room"). Since I was critically interested in the "entire home" room type, I needed to be absolutely confident of the correct room type designation.
8. I modeled the longevity and persistence of Airbnb listings in each room type in each city with the following method: A) For each city (and room type) I figured all the possible pairs of scrape dates on which the presence or absence of individual listings could be compared. For example, if the city had been scraped in January, July, and September, there were three possible pairs of scrape dates: January to July, July to September, and January to September. B) For each pair of scrape dates I created a list of units available on the earlier scrape. Of that list, I looked to see how many were still available on the later scrape. That gave me a persistence ratio—for example, if out of 100 available on the earlier scrape, 50 were available on the later scrape, the persistence ratio would be 50/100.  Since I knew the time between the scrapes, I could express that rate of "decay" for any desired period of time, using the standard "exponential" decay pattern—for example if we start with 100, and after six months there are 50 left, that implies that after a year there will be 25 left. C) Each city now has several estimates of persistence of Airbnb units—one estimate for each pair of scrape dates. These estimates appear in my charts as individual points. I also calculated averages for each city, which appear as lines or bars.
9. Astute readers will notice several things about this method. A) It is good at dealing with the potential issue of listings turning on and off repeatedly, because such listings are evaluated repeatedly, once for each pair of scrape dates. When those mixed estimates are averaged, a more realistic middle value with be the result. B) Listings which first appeared in earlier scrapes (say, January instead of July) do have more weight in the final averages. That's because those listings will be involved in more pairs of scrape dates. However, this seems acceptable to me, because the entire date range of results is fairly short (a year or less for most cities), and the oldest listings should give the best idea of longer-term trends.
10. There's clearly a lot more that could be done—for example, comparing these numbers to the total number of housing units in each city—but there's only so much I can do as a volunteer. :) Enjoy!
Amsterdam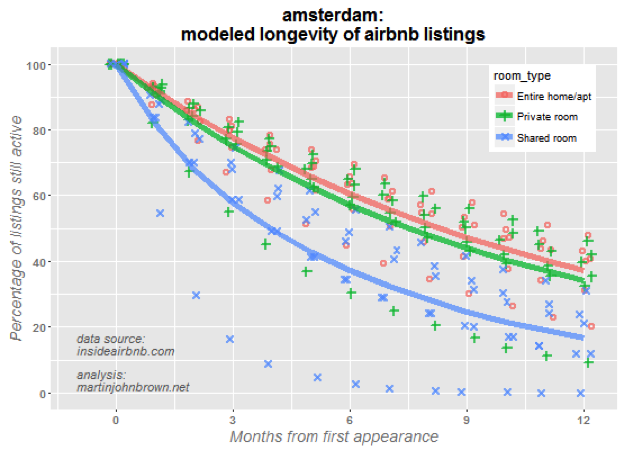 London


Los Angeles
 

Madrid

 
Melbourne


New Orleans


Portland, Oregon


San Francisco


Sydney


The Right to Mobility
As we consider how to decarbonize transportation, preserving mobility, especially for lower- and middle-income people, must be a priority.
Early Sharrow Booster: 'I Was Wrong'
The lane marking was meant to raise awareness and instill shared respect among drivers and cyclists. But their inefficiency has led supporters to denounce sharrows, pushing instead for more robust bike infrastructure that truly protects riders.
This six-course series explores essential urban design concepts using open source software and equips planners with the tools they need to participate fully in the urban design process.
Learn the tools for implementing Universal Design in planning regulations.
View More