There are a number of areas of planning that offer planners a role, but are not necessarily at the front of our minds. At the Association of Collegiate Schools of Planning Conference, researchers shared results that can impact practice.
---
Earlier this month, planning academics from across the globe came together for the Association of Collegiate Schools of Planning Conference. One of the things that struck me is that there are number of areas of planning that aren't always front of mind, yet are of critical importance in our communities. I highlight just three examples: microclimates, airport expansions, and planning as improv comedy. 
Policy Drivers of Urban Microclimates – Evaluating Zoning and Design Guidelines: Mehdi Heris of the University of Colorado Denver is interested in understanding how different downtown development regulations influence microclimates in the Denver metropolitan area. The heat island effect is the difference in temperature in an urban location when compared to surrounding areas. This study looks at downtown Denver and downtown Lakewood, Colorado. LoDo is a neighborhood with a mix of historic buildings and high rise buildings with a Euclidean zoning code. The Belmar neighborhood in Denver is mixed use with a form-based code. Heris distributed 20 ambient temperature sensors in each neighborhood to collect information on surface temperature. Using GIS data sets, satellite imagery, and temperature data, Heris was able to understand the microclimates within these neighborhoods. One key question is whether the zoning codes make a difference in the development patterns and, ultimately, the temperatures in the neighborhoods. Heris found that the form-based codes in Belmar resulted in lower and more comfortable temperatures in the neighborhood and, specifically, in public spaces. In the LoDo neighborhood, the lack of landscaping standards meant much more limited landscaping and higher surface temperatures. Heris also found that the lack of roof and face materials requirements was also a contributing factor. 
Airport Expansion: Assessing the Vulnerability of Airport-Adjacent Communities: Amber Woodburn at the University of Pennsylvania is conducting research on airport expansion. There are more than 20,000 airports, airfields, and landing strips across the United States. The FAA classifies hubs based on the number of passengers. The U.S. airport system is built on a hub and spoke model. The approximately 30 hubs account for 68 percent of all air traffic. For example, Atlanta Hartsfield, Chicago O'Hare, and Dallas-Fort Worth International are major hubs. Ninety percent of all passenger air traffic flows through 62 major hubs and medium-sized airports. There are 5.4 million people that live within three miles of those 62 airports. Airports have diffuse economic benefits across a metropolitan area, while the adverse impacts are highly concentrated in neighborhoods adjacent to an airport. For the 5.4 million people living near an airport, they may consider the aiport a health hazard due to increased exposure to noise and air pollution. Woodburn's key research question is whether the hub airport expansions disproportionately impact neighborhoods with certain demographic or environmental research.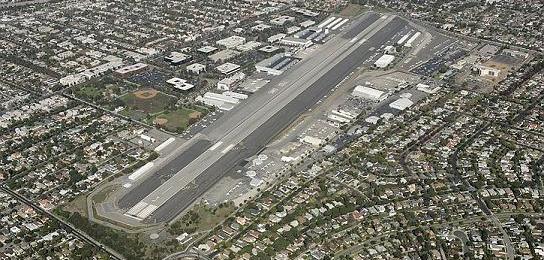 Since 2000, 16 new runways have been deployed. Woodburn's research focuses on understanding the differences between communities that had airports that expanded and those that didn't. The neighborhoods surrounding these airports have a larger Hispanic (13 percentage points higher) and foreign born population (12 percentage points higher) than the metropolitan area as a whole. The Charlotte, Nashville, and Salt Lake City airports have higher concentrations of racial and ethnic minorities, foreign born residents, and those living in poverty. 
Las Vegas, St. Louis, and Minneapolis have populations close to the airport that are the most representative of the population of the region as a whole. While St. Louis may have a representative population, it's also viewed as a poor example of airport expansion, having displaced one community in the 1980s and another in the 1990s. The airport overexpanded to serve an airline, but the airport was soon dehubbed leading to unused airport infrastructure.
This research begins to examine the nature of the communities surrounding airports and Woodburn hopes to further this research by understanding the environmental justice implications of airport expansions.
Acting Under the Influence - Plans as Improvisational Gifts: Robert Boyer from the University of North Carolina at Charlotte presented his research on techniques from improvisational comedy that can be used in the development coherent and meaningful stories. Boyer and his collaborator Lewis Hopkins use a 30-year light rail planning process in Charlotte as an example of how plans are used as signals between diverse stakeholders over long periods of time. They argue that plans are created in an ecosystem of decisions and actions and that these plans are used by stakeholders in the structuring of subsequent plans and decisions.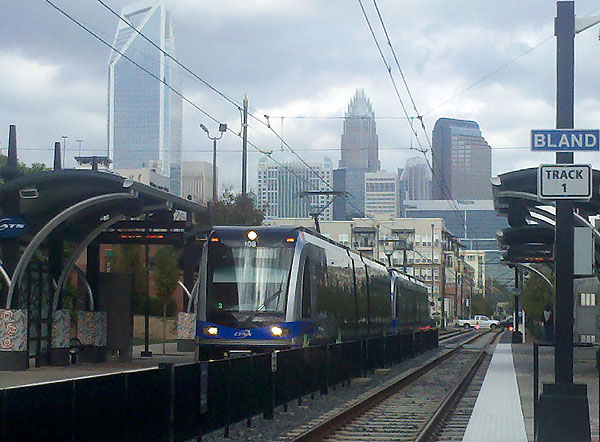 For 30 years the Charlotte region had been planning for light rail, with 30 years of conversations across stakeholder organizations. Each organization used the plans of other organizations, to form coalitions to accomplish mutually beneficial outcomes. But there wasn't a single plan for light rail. Boyer argues that light rail planning can be viewed through the lens of improv.
In Improv the basic idea is that you work unscripted, but through a coherent set of connected scenes. The actors use three approaches for managing the uncertainty.
Gifts: Improv actors say "Yes AND" to acknowledge an idea and offer a new idea.
Games: The actors seek and embrace patterns.
Group Mind: They play with the same actors over and over, for years.
Light Rail Planning in Charlotte can be viewed as a series of scenes over a 30 year period:
Choking on rapid growth.
The prescription to plan.
A bold vision!
Building a coalition, securing federal funding.
The game begins, or Environmental Impact Statements.
Adjusting to a new reality.
Boyer argues that using improv allows us to view the narrative of planning in a long-range time from and understanding planning events as a piece of a larger puzzle. Plans get used and reused over the years, even after their specific recommendations have been forgotten. In this model, implementation is not as critical. Instead we understand that large public initiatives are a dialogue of plans, rather than the consequence of a singular plan.
These are three topics planners do not typically spend a lot of time thinking about. What other topics are missing that you would hope to see planning researchers focus on? 
---
European Cities Act on Density
The sprawling mass of suburbia has been a disaster for the environment. But now smaller, denser cities herald a renaissance in city living.
Nashville Sets Downtown Parking Maximums
Nashville is the latest city to enact a substantive change to the parking requirements set by the city's zoning code—doing away with parking minimums and setting parking maximums in the city's Urban Zoning Overlay.
This six-course series explores essential urban design concepts using open source software and equips planners with the tools they need to participate fully in the urban design process.
Learn the tools for implementing Universal Design in planning regulations.
View More