Communities can receive high economic returns from appropriate bicycle facility invesments. It is important that advocates have solid arguments for responding to skeptics.
---
According to my analysis, bicycling is the most cost-effective travel mode for many trips; that is, its total costs, including vehicle and fuel (yum!) expenses, road and parking facility costs, health impacts (accident risk offset by physical fitness benefits), and environmental damages are lower per mile travelled than driving and walking, as illustrated in the following graph.
Comparing Total Costs of Car, Bike and Pedestrian Travel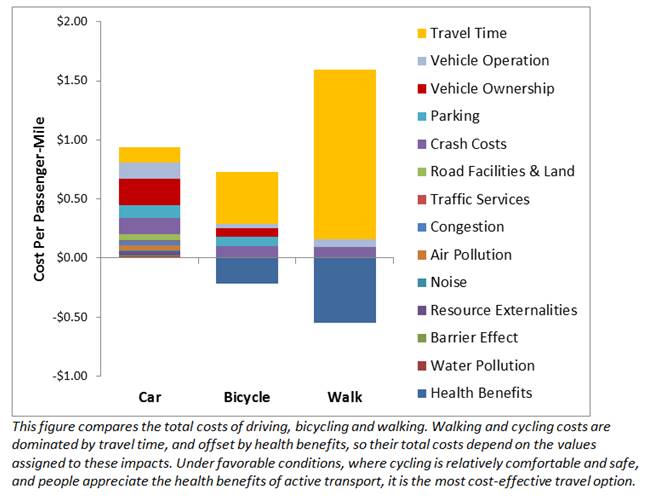 Of course, these costs vary depending on preferences and conditions: some people spend more on their bikes and shoes than required for functional purposes; some cyclists and pedestrians are safer or faster than others; and because travel time is such a large portion of active mode travel costs, their total costs are highly affected by the value users assign this time. As a result, using these modes is costly for people who dislike walking and cycling, but inexpensive if people enjoy these activities or appreciate their health benefits, so active travel substitutes for special time that must be spent exercising. As a result, under favorable conditions, walking and cycling can be very cost effective.
Cycling cannot serve all travelers or travel, but in communities that support it with suitable facilities, it can serve 5-15 percent of total trips (reported mode share data often only reflect commute trips, which is useful for comparisons but tends to significantly undercount cycling trips since cycling is particularly common for errands and social trips) and allows many households to reduce their vehicle ownership, which provides a cascade of additional savings and benefits. There is evidence of significant latent demand: where cycling conditions are improved, people tend to cycle more for both recreation and transportation. 
A good case study is Davis, California. In the 1960s, a progressive city council established the city's bike program that included some of the first North American bicycle lanes and other innovative treatments. Today, Davis has over 50 miles of on-street bike lanes and over 50 miles of off-street bike paths. According to the FHWA's Highway Statistics Report, it also has one of the lowest vehicle miles travelled per capita (15.1 average daily VMT, about half the U.S. average) which provides significant financial savings, plus very low traffic fatality rates (about 2.5 deaths per 100,000 residents, a quarter of the U.S. overall average). Of course, when Davis city councillors initially voted for significant cycling improvements, they had no economic analysis to justify their investments; they understood intuitively that cycling provides savings and benefits, and so is a worthy investment.
Not everybody agrees. Despite many successful examples, bicycle facilities are often controversial, particularly when existing traffic and parking lanes are converted into bike lanes. The debates are often emotional rather than rational. Critics argue that bike lanes are part of a "war on cars." Let there be peace! Motorists benefit from improved cycling conditions and other complete streets policies that reduce traffic and parking congestion, increased safety, and reduced chauffeuring burdens.
The New York region's Tri-State Transportation Campaign recently posted good examples of bike lane criticisms. These critics are often their own enemies—some of their comments seem foolish, but it is important to respond with solid arguments and data. Below are some good sources of information on the economic value of cycling improvements.
"The Complete Business Case for Converting Street Parking Into Bike Lanes An Annotated, Chart-Filled Review Of 12 Studies From Around The World," City Lab. This terrific column by Eric Jaffe summarizes various studies of the local economic benefits of bike lanes.
Bikenomics: Measuring the Economic Impact of Bicycle Facilities on Neighborhood Business Districts. This thesis by University of Washington student Kyle Rowe includes a comprehensive review of research on bicycle facility impacts on local economic activity, and used retail sales data (based on sales tax receipts) to analyze the impacts that development of bike lanes, and the resulting loss of some on-street parking spaces, had on local business districts in Seattle, Washington neighborhoods. The results indicated substantial (up to 400%) increases in sales volumes after bicycle lane installation.
300 South Progress Report: Broadway Protected Bike Lane, Salt Lake City Department of Transportation. This downtown Salt Lake City street was transformed in 2014 with the addition of a protected bike lane, median islands, pedestrian crossings, planters, artwork and colored pavements. Data reported to the Utah State Tax Commission by businesses along that roadway indicate that Gross Receipts on 300 South increased by 8.79 percent from pre-project to post-project, based on the first six months of 2013 compared to 2015.  
Good For Busine$$ - The Benefits Of Making Streets More Walking And Cycling Friendly, Heart Foundation South Australia. This study evaluated the local economic impacts of commercial street walking and cycling improvements. It found that streetscape enhancements that improve walking and cycling conditions tend to increase property values and rents, attract new businesses, and increase local economic activity. The analysis indicates that bicycle parking tends to provide much more retail spending than the same space devoted to car parking, and that a larger proportion of retail expenditure comes from local residents and workers, many of whom walk or bicycle, than car-borne customers.
"Bikes Mean Business: Building A Great Cycling (And Walking) City," Greater Victoria Cycling Coalition. This survey found that only 23 percent of downtown Victoria customers arrived by automobile, compared with 31 percent who walked, 26 percent who took public transit, and 17 percent who biked, and motorist tend to spend less per month than shoppers who arrive by other modes.
Evaluating Active Transport Benefits and Costs, Todd Litman, Victoria Transport Policy Institute.This report describes methods for evaluating the benefits and costs of active transport (walking, cycling, and their variants). These include direct benefits to users from improved active transport conditions, various benefits to society from increased walking and cycling activity, reduced motor vehicle travel, and more compact and multi-modal community development. It discusses active transport demands and ways to increase walking and cycling activity. This analysis indicates that many active transport benefits tend to be overlooked or undervalued in conventional transport economic evaluation.
Neighborhood Business District Access Intercept Survey, Seattle Department of Transportation. The Seattle Department of Transportation and Office of Economic Development partnered with neighborhood businesses to conduct a survey of customers. Approximately 1,400 intercept surveys were completed in six commercial neighborhood districts throughout the City (Admiral, Ballard, Capitol Hill, Columbia City, Fremont and Othello). It found that:
Most residents (61 percent) either walk or take transit to get to neighborhood districts

Most residents identified their local neighborhood district as their primary neighborhood for shopping and dining

Convenience is the top reason for choosing a particular mode of travel

Discretionary activities (dining/socializing rather than grocery shopping) make up a significant amount of visits
Rethinking Streets: An Evidence-Based Guide to 25 Complete Street Transformations, University of Oregon's Sustainable Cities Initiative. This is an attractive and information-rich document concerning the impacts and benefits of several street projects.
Reallocation of Road Space, Research Report 530, NZ Transport Agency. This comprehensive study describes many examples of commercial districts that experienced increased economic activity after the implementation complete streets planning.
What have I overlooked? Please let me know if you have other good evidence of active transportation economic benefits.
---
The Quiet Housing Crisis in Rural America
While housing shortages in major cities are grabbing headlines, rural communities are seeing higher rates of growth in housing prices and a silently spreading homelessness crisis.
This six-course series explores essential urban design concepts using open source software and equips planners with the tools they need to participate fully in the urban design process.
Learn the tools for implementing Universal Design in planning regulations.
View More