Building on its physical assets, city planners are succeeding in efforts to bring vitality to the Uptown district in Oakland, CA by supporting new housing development and enlivening what was once a preeminent arts and entertainment district.
---
Building on its physical assets, city planners are succeeding in efforts to bring vitality to the Uptown district in Oakland, CA by supporting new housing development and enlivening what was once a preeminent arts and entertainment district. Uptown's assets are its good bones: a grid pattern of streets, intersected by diagonals that reflect the history of place; the remains of an earlier era's Beaux Arts city planning with an emphasis on monumental buildings sited to provide grand vistas from the avenues; public spaces that celebrate the civic realm; and a commitment to public transportation and support for bicyclists and pedestrians.
I believe that a reason for young and creative persons being drawn to legacy cities such as Oakland is sensitivity to good design. The romance of the city has been rekindled. As Willie Nelson sings in "Me and Paul," he and drummer Paul English are "receiving their education in the cities of the nation." Caveat: Downtown revitalization that attracts creative types and provides space for their work and play does not solve the problems of poverty, high crime rates, and underperforming schools. It does improve the tax base and add vitality to the streets. As I walked along a bustling Broadway toward the Uptown Bay Area Rapid Transit (BART) station recently, there were people on the street, people sitting at sidewalk tables, music coming from open windows and doors. It was a perfect summer night in the city.
Oakland's policy makers and planners are using the tools of urban design to create jobs, protect existing residents from displacement, and find new uses for the historic buildings that survived. In the hard times of post World War II urban disinvestment, Uptown's stores, theaters, dance halls, restaurants, and nightclubs closed. Many of the buildings that housed them were replaced by surface parking lots. The role of design in the transformation of Uptown is highlighted by "Luminous Oakland," a light-based public art program that is creating a media-arts corridor through the district.
Uptown is a part of Oakland's downtown, and strict boundaries between the Uptown and the Downtown districts do not exist. In describing the ways that urban design tools are being used for revitalization, I focus on the area included in a 14-acre master plan, designed by MVE & Partners in association with Calthorpe Associates, a regional planning, urban design, and architecture firm. The boundaries as shown here in the Calthorpe Associates plan are 22nd Street to the north, City Hall Plaza to the south, Broadway to the east, and San Pablo Avenue to the west.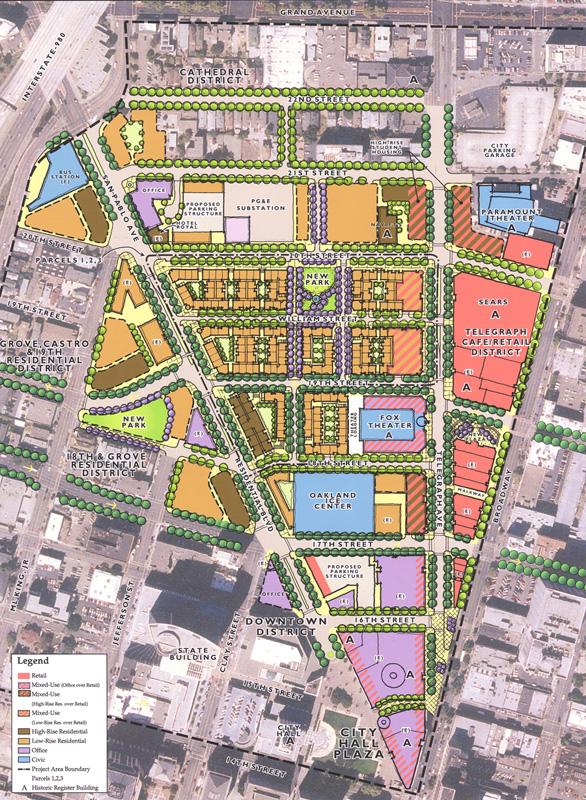 Urban design elements include the pattern of streets, blocks, and lots; buildings and their uses; pedestrian, bicycle, auto, bus, and train pathways; landscaping; public spaces; and signage, street furnishings, paving materials, and lighting. All are used to create a place. Here, I consider the street system, pathways, buildings, and public spaces.
The Street System
Oakland's grid pattern of streets dates from 1852, when city founders hired a Swiss engineer to lay out streets extending north from the Oakland Estuary of the San Francisco Bay to 14th Street. (Fourteenth St. is shown on the Calthorpe Associates plan at the tip of City Hall Plaza.) Broadway, a 110' wide boulevard, was at the center of the grid, meeting the only two country roads leading into the area, San Pablo and Telegraph Avenues, at 14th Street. Later the grid was extended northeast to the hills, encompassing almost all of Oakland's flatlands. By 1915, when Oakland had grown to over 200,000 residents, the mayor hired Werner Hegemann, a German city planner, to assess the plan. He focused on the congestion at the convergence of Broadway, San Pablo, and Telegraph avenues and on what he described as the "extraordinarily long unrelieved cross streets" between San Pablo and Telegraph, particularly north of 19th Street. He proposed adding new cross streets to these long blocks.
A century later, Calthorpe Associates added these cross streets when using the existing grid pattern of interconnected streets as a framework for their mixed-use neighborhood revitalization plan for the district. Werner Hegemann's proposal with suggested street openings is shown here. Compare this to the site plan created by Calthorpe Associates as shown above.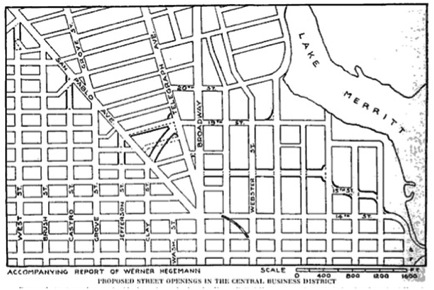 The pattern of streets is fundamental to urban design. As Kevin Lynch notes, paths are the way that we move through and observe a city. Other elements such as buildings and open spaces are arranged and related along these paths. Streets and sidewalks comprise a substantial share of the public space in any city. Oakland's grid pattern of streets provided an asset used by urban designers to promote walkability. The inclusion of cross streets between 18th and 20th streets makes the blocks more walkable because short blocks with many intersections give frequent opportunities for change of direction. The added streets are narrow, two-way, and tree lined—all of which calm traffic.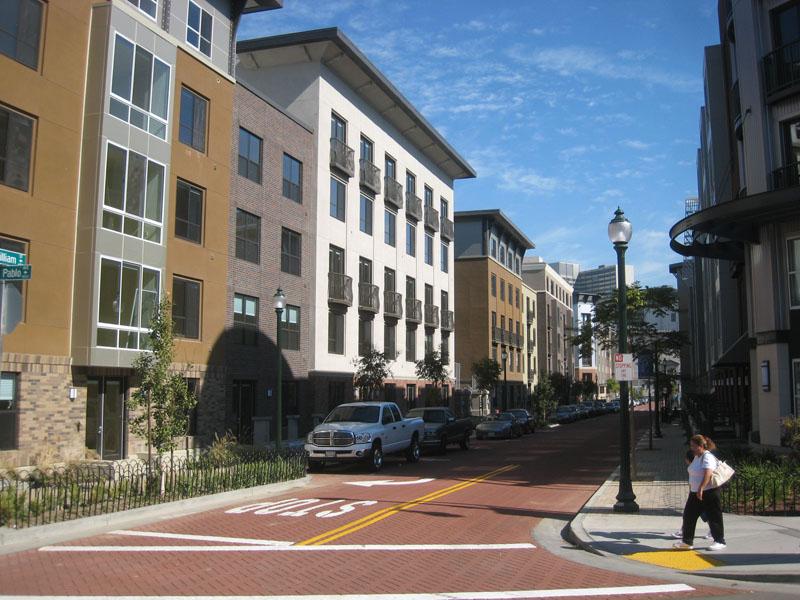 Pathways
With tree-lined sidewalks, bike lanes, Alameda Contra Costa Transit District (AC Transit) bus nodes, and three BART stations, Oakland has a downtown walk score of 97, a transit score of 83, and a bike score of 84. Oakland is #9 on Walk Score's 2015 ranking of most walkable cities. For historic and geographic reasons, Oakland has long served as the transit hub of the East Bay region and as the departure point for its San Francisco commuters. In 1903, F.M. Smith created the Key System of local streetcars linking the communities of the East Bay to San Francisco via six main transbay lines. The Key Line also operated its own Oakland pier and ferries to move passengers to San Francisco. When the San Francisco Oakland Bay Bridge opened, Key Route trains used the lower level. The image shows the Key Route trestle alongside the newly constructed bridge.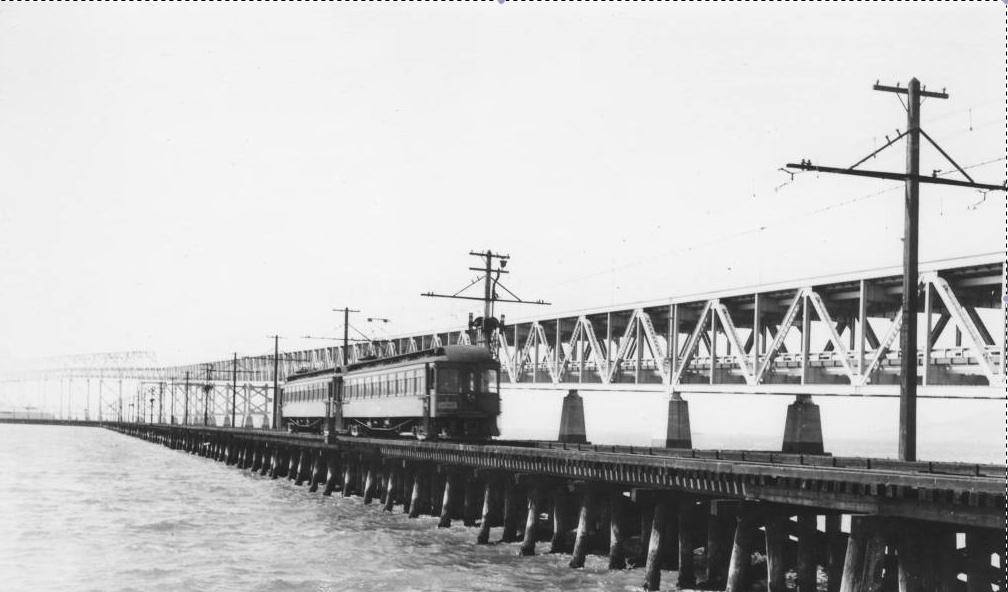 After WWII, declining ridership and other reasons caused the conversion to buses. In 1960, the publicly funded AC Transit inherited the Key Route rights-of-way and now operates buses in the 13 cities and adjacent unincorporated areas of Alameda and Contra Costa counties. The heart of the system is still downtown Oakland. The newly inaugurated Bus Rapid Transit route will begin at the 20th Street Uptown Station. One of three BART downtown stations is located at Broadway and 19th Street, directly serving the Uptown district. As Mayor Jerry Brown said, "Oakland is closer to San Francisco than San Francisco is to itself."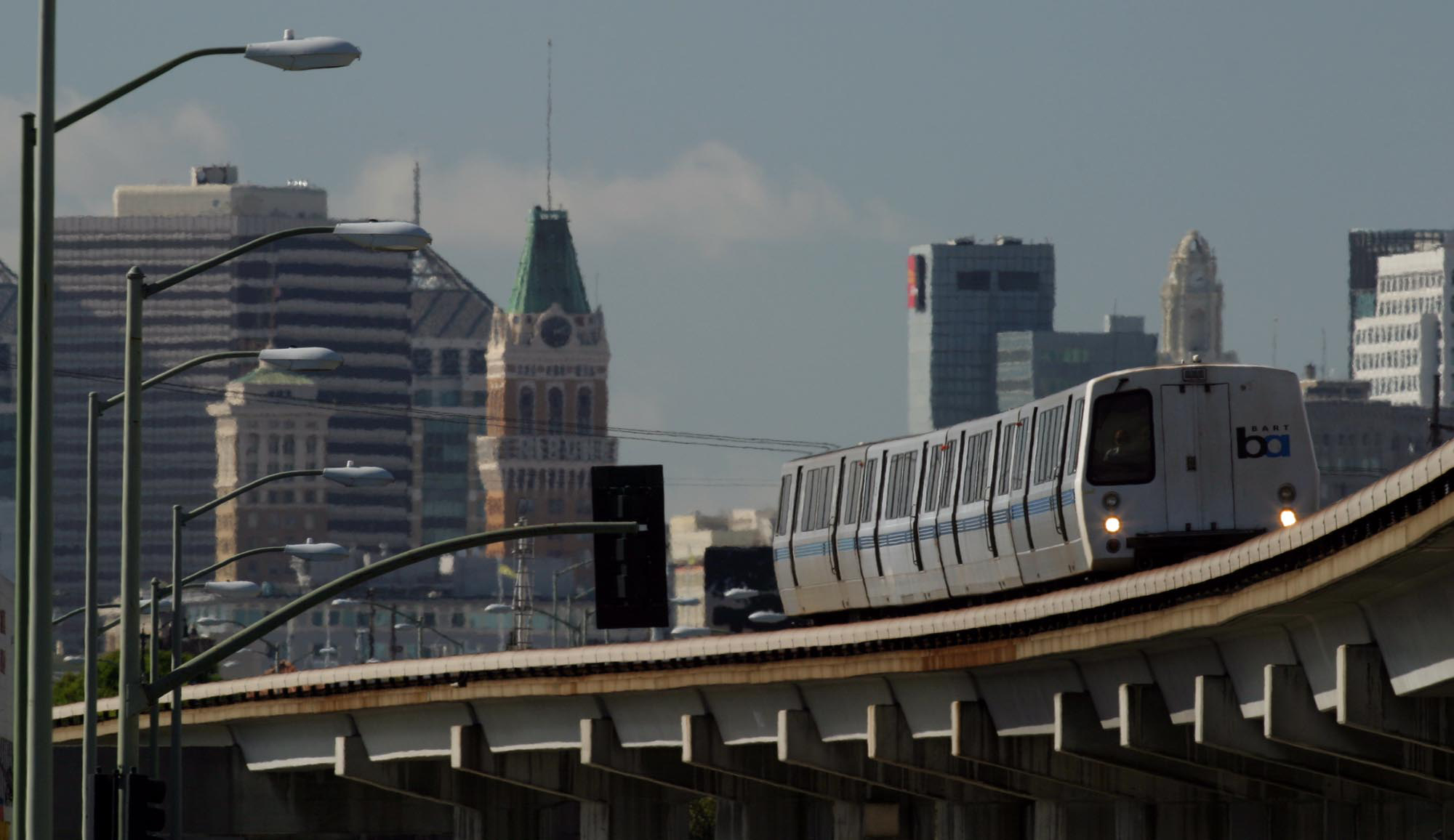 Buildings
The transition from Downtown to Uptown is Oakland's Beaux Arts City Hall and City Hall Plaza, now Frank H. Ogawa Plaza, planted with the oak trees that were on the site when the city was founded. Two Uptown gems escaped the fate of most early 20th century movie palaces and are now on the National Register of Historic Places. The Paramount Theater (circa 1931), at Broadway and 21st, and the Fox Theater (circa 1928), on Telegraph between 18th and 19th streets, survived through a combination of luck and hope. Both are now owned by the city of Oakland and are important venues for arts activity. The Oakland East Bay Symphony restored the Paramount. It continues to serve as its home and is the home of the Oakland Ballet. The Fox Theater is a live music venue and home to the Oakland School for the Arts, a tuition-free charter school.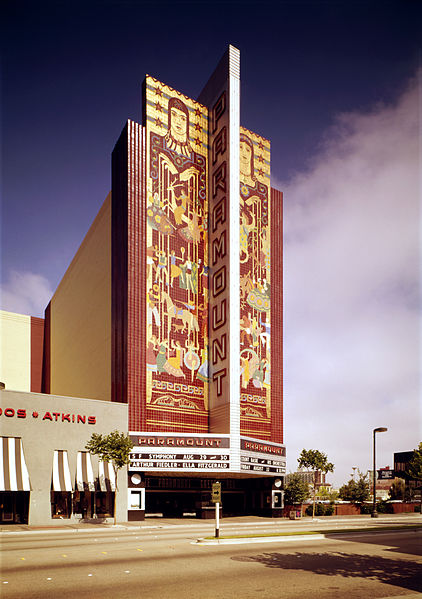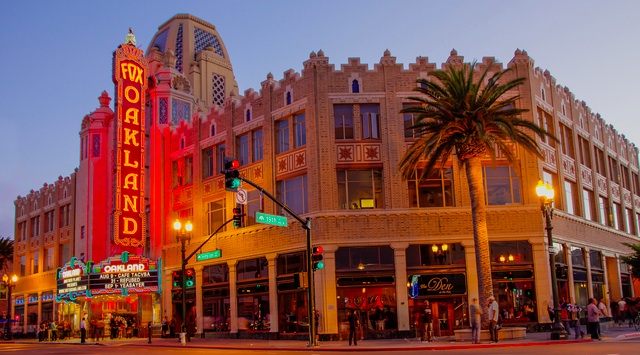 Several buildings that once housed magnificent department stores have escaped demolition and serve new uses. At Frank H. Ogawa Plaza, the Rotunda Building, originally Kahn's Department Store, was renovated in 2001 and is now a Class-A office building with ground floor retail. The Art Deco I. Magnin building at 2001 Broadway sat vacant for many years until being converted to office space in 2013. The 1929 Beaux Arts building between Broadway and Telegraph at 20th St. that opened as Capwell's department store, then became Sears, is now undergoing restoration by Gensler's Oakland office and will become office space for what the developers consider "creative tenants" on its upper floors. The ground floor with its direct access to the 19th Street BART station will be a market place with dining, coffee, and take-out food.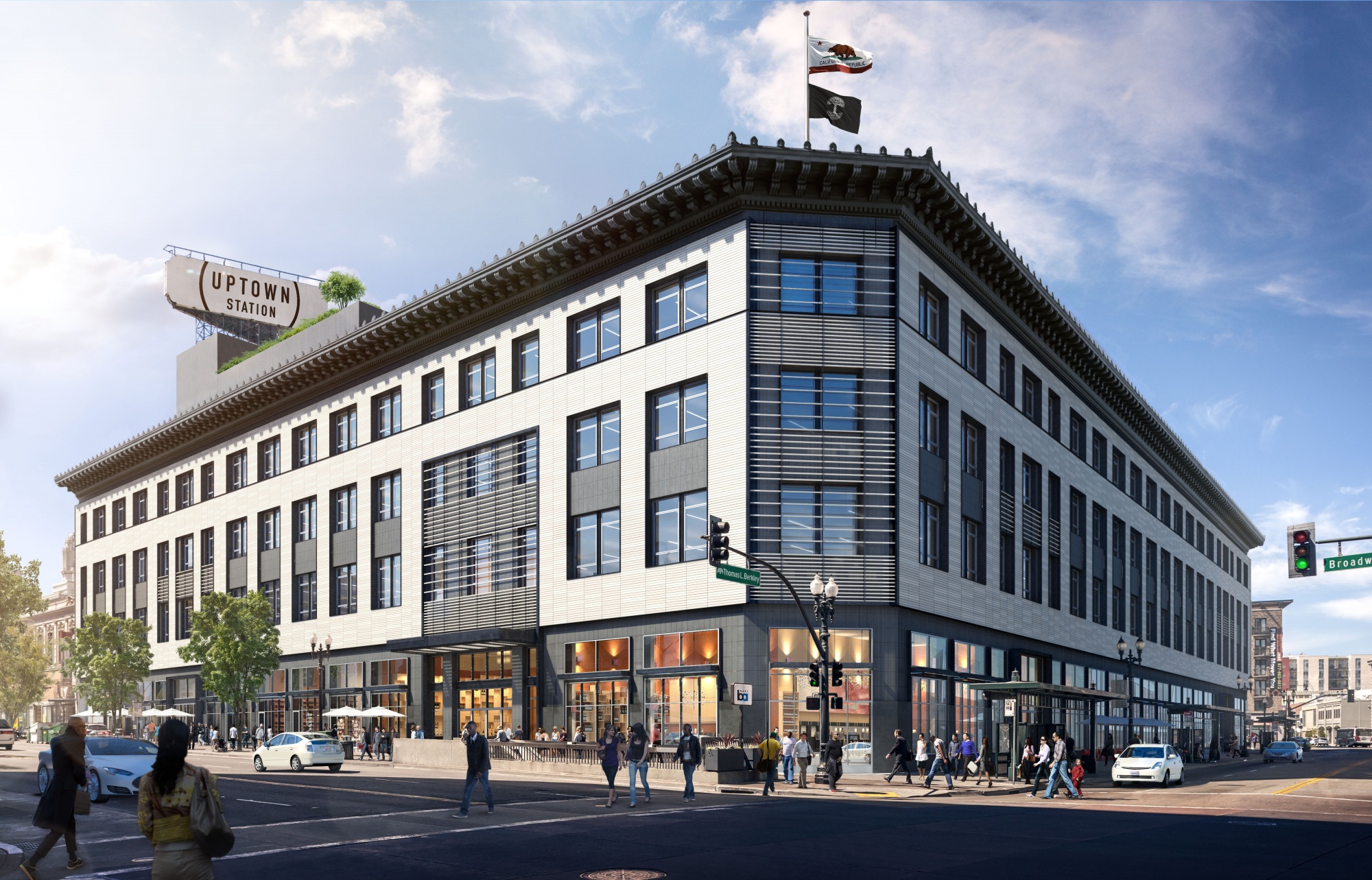 City centers need residents to support businesses that stay open beyond daytime office worker hours. Land was available for new building because much of the area west of Telegraph Avenue was being used for surface car parking. In 1999, Oakland Mayor Jerry Brown conceived a plan to build housing for 10,000 new residents using some of this land. The 10K plan included the Forest City Uptown development of 665 low-rise apartment buildings to match the low-rise scale of surrounding buildings west of Telegraph Avenue.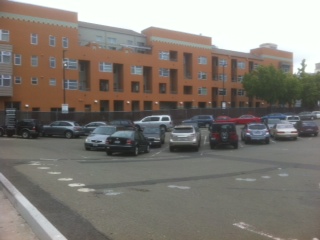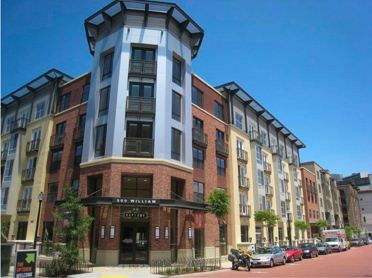 High-rise buildings on Telegraph Avenue respond to the scale of nearby office towers. Housing in Uptown will eventually include 2,350 dwelling units, of which 1,100 are mid-rise apartments, 900 are high-rise condominiums, and 350 are off-campus dorms. The California office of New York's Forest City Development and MacFarlane Partners of San Francisco received a $75 million subsidy from the city of Oakland to support the project.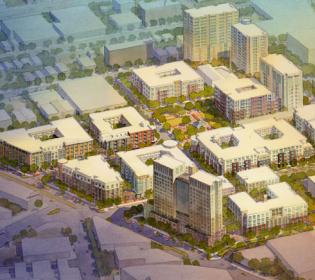 Luminous Oakland Public Spaces
A frequently used path from the 19th Street BART station to the Fox Theater and other Uptown venues such as the Uptown Art Park is an alleyway that leads from the 17th Street station exit at Broadway to Telegraph Ave. Once a dark and dingy passageway, the alley has been transformed into a "Luminous Oakland" gateway using the Public Art Program funding from the city. This is part of the Oakland Media/Light Arts Corridor being installed on the first four blocks north of Broadway, from 16th to 20th streets, along Telegraph Avenue. Dan Corson's "Shifting Topographies" wall sculpture and lighting, inspired by the Oakland hills and the San Francisco Bay, changes color from blue to green as sunlight and pedestrians move through the space. At night, lighting designed by the artist casts patterns across the sculpture's surface. (link to http://dancorson.com/shifting-topographies)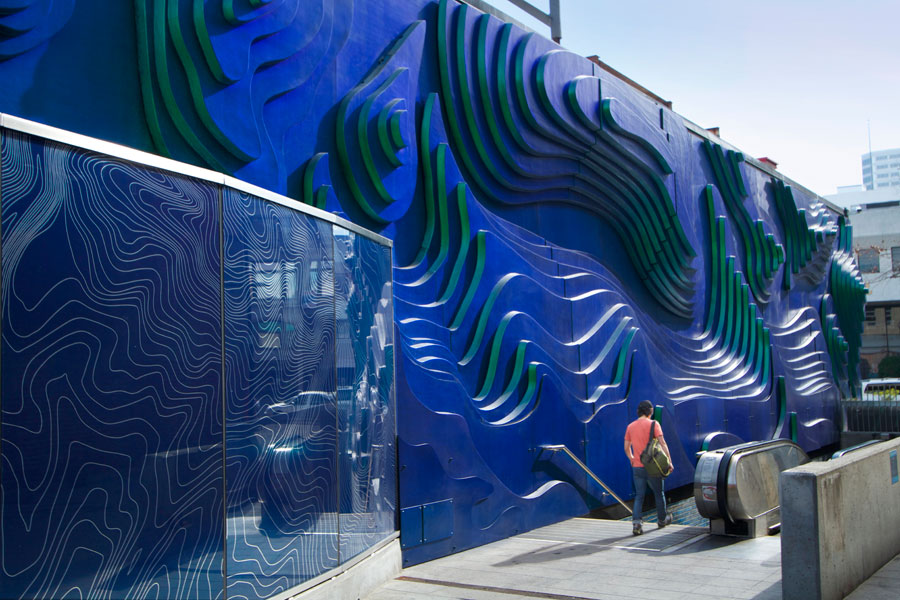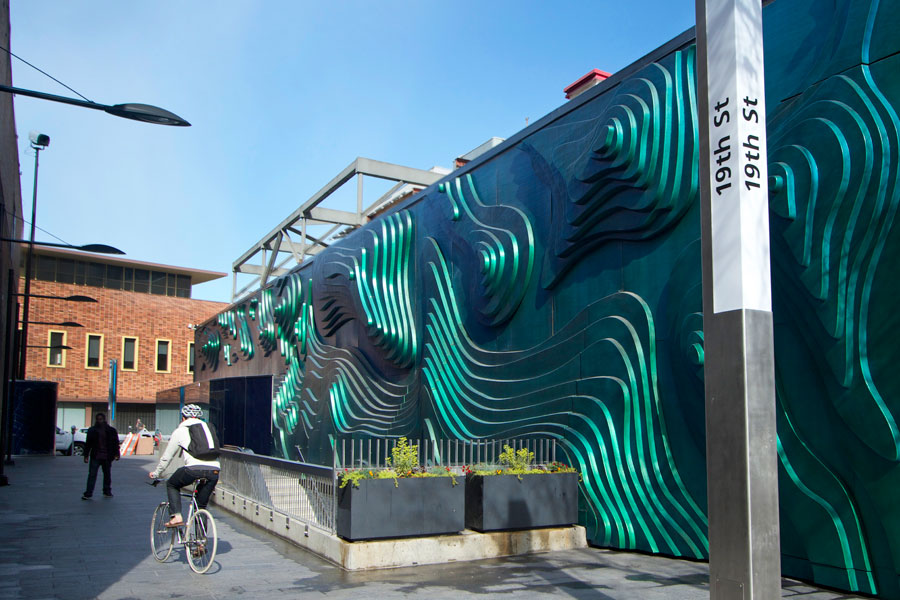 Other Luminous Oakland projects include the temporary sculpture displays at a former parking lot that is now Uptown Art Park, at Telegraph Avenue and 19th Street. Featuring rotating exhibitions of sculpture and public art projects by Oakland and Bay Area artists, it also has an amphitheater for local events.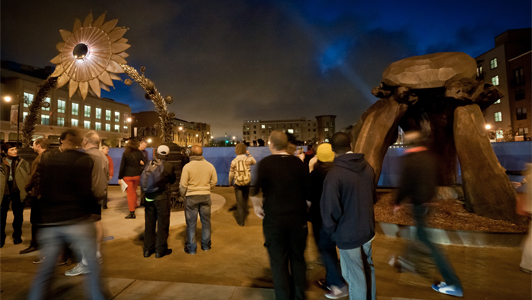 The city is a partner in the media projection program on the Great Wall of Oakland, a 100 by 100-foot outdoor wall near intersection of Grand Avenue and Broadway. The Great Wall is a free outdoors arts venue that provides local artists a place to screen their work.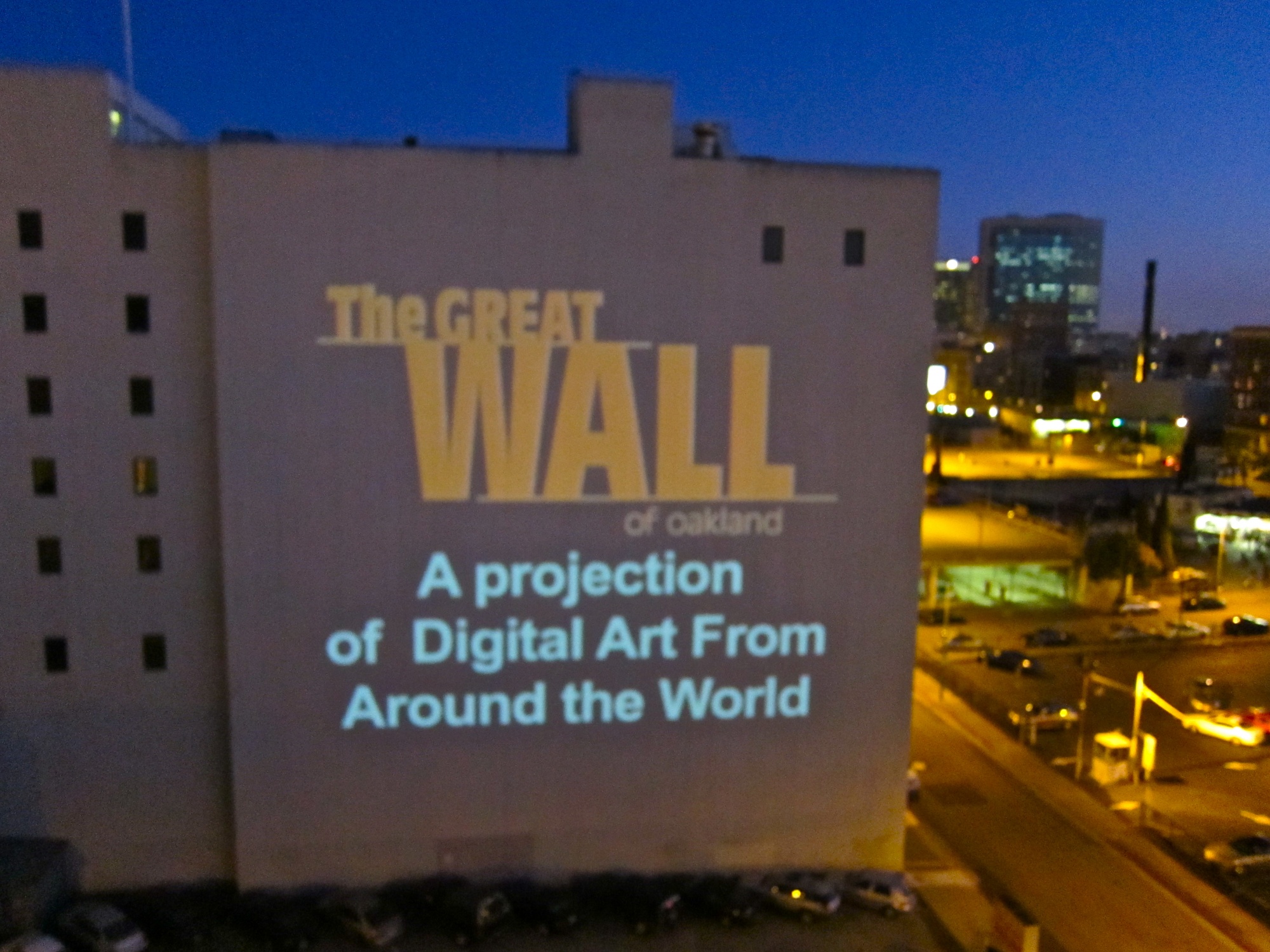 Oakland continues to confront the problems of many American cities, but it is lighting a path to regeneration rather than cursing the darkness of an aging infrastructure, loss of industrial base, poverty, and crime. It is drawing on the Lincoln Institute of Land Policy's prescription of revitalizing its central core as a strategy for "unlocking the potential of a city's assets to make sustainable regeneration possible." Burnishing a jewel such as Uptown Oakland can attract the population necessary for greater density, supports the use of public transit, and provides jobs. For regeneration to be sustainable, its new housing must serve a range of income levels and contribute to the neighborhood by adding clients for amenities. New job opportunities need to be made accessible to persons living in the city by providing training in the necessary skills. Improvements to the tax base must be used to improve the schools so that the next generation of job seekers is prepared for the next generation of jobs. As the Lincoln Institute says in its report, "Regenerating America's Legacy Cities," "Successful regeneration is not about signature buildings or megaprojects, but about multidimensional change to the cities' physical environments, their economic bases, and the social and economic condition of their residents to ensure that lower income and minority groups also benefit from the economic growth."
---
Denver Freeway Widening Plans on Hold
The Colorado Department of Transportation's plan to widen the Interstate 25 freeway through Denver is one of a few plans to widen urban freeways under consideration in the United States.
This six-course series explores essential urban design concepts using open source software and equips planners with the tools they need to participate fully in the urban design process.
This course aims to provide an introduction into Urban Design Sketching focused on how to hand draw master plans using a mix of colored markers.
View More