A cartoon by Streetsblog blogger John Greenfield imagines a fictitious rap battle in the style of the popular YouTube channel, "Epic Rap Battles from History"—except the rap battle is between two luminaries of the bike advocacy movement.
---
On one side is Mikael Colville-Andersen, CEO of Copenhagenize Design Company. Copenhagen, of course, is looked upon as the worldwide leader in bike infrastructure and a style of urbanism not completely modeled on the car. Thus, many bike advocates are smitten with the benefits of living in Denmark, and Colville-Andersen tours the world, sharing lessons of Copenhagen's successes.
On the other side is John Forester, a Californian who helped write the book on "vehicular cycling." Literally, he wrote the book Bicycle Transportation: A Handbook for Cycling Transportation Engineers, which provides much of the legal and technical background for the advance of bike infrastructure in the United States.
Two luminaries, two strings of "insults" lobbed at each other's way of doing things. Surely, both figures are a bit of a proxy for bike movements on either side of the Atlantic Ocean—with Forester's safety accouterments and Colville-Andersen's impeccable attire called to task, among other barbs.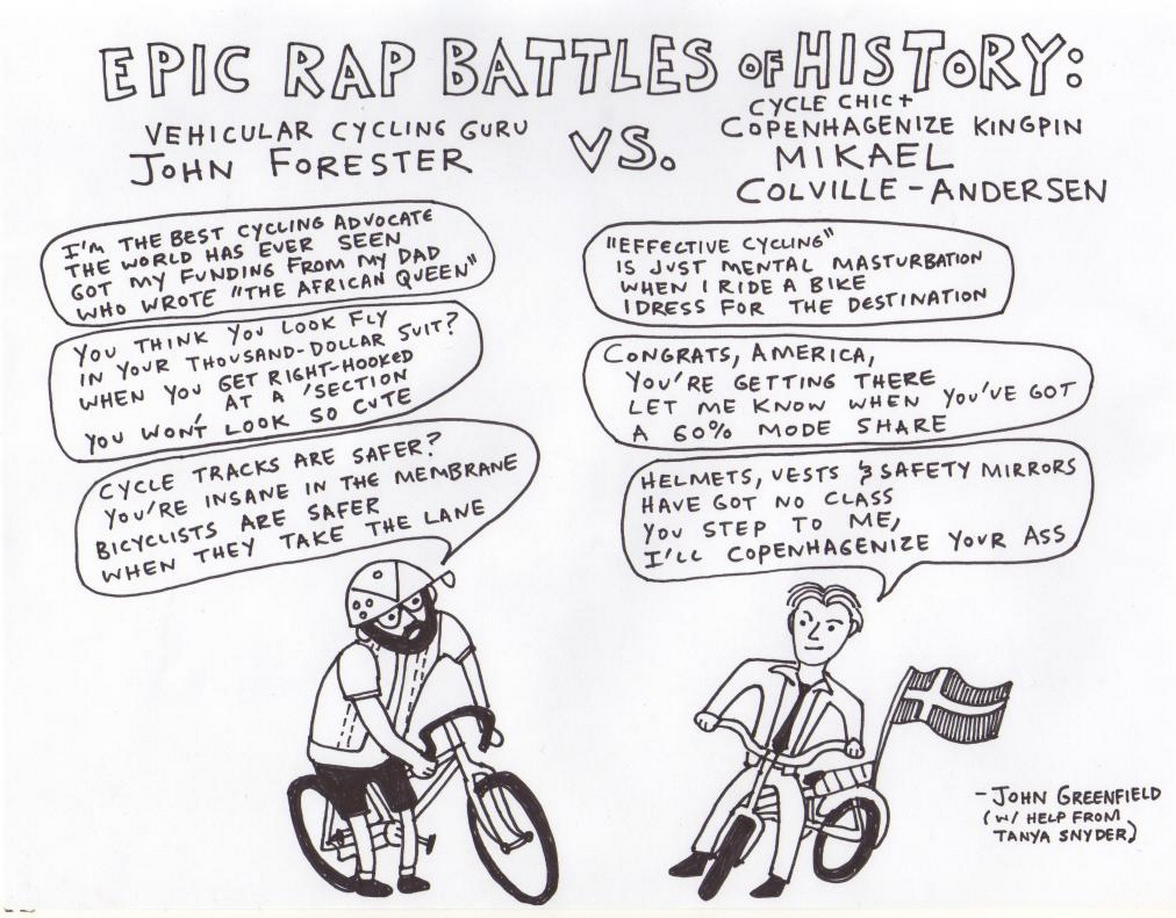 The cartoon was drawn by Streetsblog Chicago blogger John Greenfield with lyrics by Greenfield, Tanya Snyder, and the Streetsblog staff. Greenfield was kind enough to allows us to share the cartoon here (the original cartoon was published on Twitter), and even sent along these outtakes from the drafting process that got left on the cutting room floor (consider this post a bonus-feature-packed DVD):
Forester:
8 to 80, I say that's whack
If you don't look great in Lycra you can't ride in my pack

Mikael:
If you're impressed with US cycletracks I'd say you are mistaken
You gotta come and take a look at what we do in Copenhagen

Forester:
Who's Isabella? I don't know that demographic
I just hang with folks who like to ride in traffic
[Isabella is People for Bikes' poster child for protected bike lanes: http://www.peopleforbikes.org/green-lane-project/pages/build-it-for-isa…]

Mikael:
Come to Copenhagen, I'll show you Cycle Chic
You won't need that helmet, bet you wear it when you sleep

Forester:
Euro-style cycle tracks cause me pain
You don't need a bikeway, just a wide curb lane

Mikael:
Cars and bikes sharing the road -- are you some kind of ding-a-ling?
"Gotta keep 'em separated," just like The Offspring

Forester:
You think you need a dedicated lane to save your tush?
I'll tell you what I think about that [Smoosh]
I'm sure there are politicians in city halls all over the country who would be surprised that there are nuances to the agenda of the "All Powerful Bike Lobby," or, for that matter, that bike advocates have a sense of humor.
[If you're confused about the "Epic Rap Battles of History," please visit the YouTube channel that made such debates possible.]
The Surprising Oil Tax in the Inflation Reduction Act
President Biden has made reducing gas prices paramount in his administration, so it was likely a surprise to hear a Republican senator last Sunday warn TV viewers that a revived and increased oil fee in the climate bill will increase their gas costs.
The Tide Has Turned Against Open Streets
Once a promising development for advocates pushing for a less car-centric future in cities, the open streets movement has ceded significant ground to cars since the height of the pandemic.
This six-course series explores essential urban design concepts using open source software and equips planners with the tools they need to participate fully in the urban design process.
This course aims to provide an introduction into Urban Design Sketching focused on how to hand draw master plans using a mix of colored markers.
View More