A Special Focus on Planning for Healthy Schools
SAGE has provided free access to material from the Journal of Planning Education and Research's focus issue on Healthy Schools.
Obesity is a mayor epidemic among American children, and while recent nutrition campaigns may have had some impact stemming the tide of poor health in the country's youngest generation (See e.g., http://goo.gl/dxwVla), there is much concern that the automobile oriented suburban environments in which most children live are causing them to grow up less healthy than previous generations. This summer JPER will publish a special issue guest edited by Nisha Botchwey, PhD, MPH of Georgia Institute of Technology's School of City and Regional Planning, which focuses on the role of planning in promoting a new generation of policy and design for "healthy schools." Three of the issues articles are now available online at no cost for the next month through SAGE's e-portal.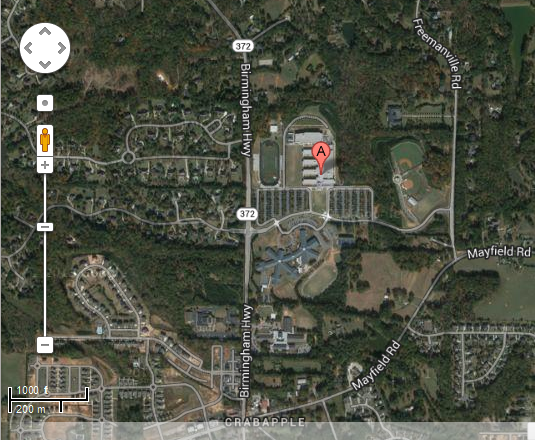 McDonald, Noreen C., David A. Salvesen, H. Renee Kuhlman, and Tabitha S. Combs. 2014 "The Impact of Changes in State Minimum Acreage Policies on School Siting Practices."Journal of Planning Education and Research: 0739456X14522493.
To Access this Article's Full Text Free Until May 15, 2014: http://goo.gl/1KV2Xx
The first of these articles is authored by Noreen McDonald of UNC and a series of co-authors. It discusses the issue of school siting and campus design. The educational sector has been cited as a driver of sprawl due to increasingly large footprints of schools, which now often occupy between 20 and 50 acres, which is often mandated through school minimum acreage guidelines,  implemented at the state level. These guidelines first appeared with the Council of Educational Facility Planners, International (CEFPI), and had been almost universally adopted by 1960, guiding development and siting of schools through much of the late 20th Century. However, the page turned on these guidelines and in 2004 CEFPI endorsed a more flexible approach to school siting, largely in response to critiques that new schools discouraged walking and encouraged sprawl. Many states have abolished minimum acreages, including South Carolina (2003), Rhode Island, (2007), Minnesota (2009), and New Mexico (2009). This article aims to document whether the abrogation of the minimum acreage guidelines has caused changes in siting practices and campus sizes at the local level, by comparing these states to matched pairs (Georgia, NewHampshire and California), which are states that have maintained minimum acreage guidelines.
The authors measured the impact of these changes through a survey of school district administrators in Georgia and South Carolina, and strategic interviews in other states. Many administrators noted that removing the minimums had little impact, because the change in policy orientation did not trickle down from state agencies to local actors. For example, in both SC and GA nearly a third of respondents did not know if there were minimum acreage guidelines and in SC where the minimums have been abolished since 2003, 61% of administrators answered that they still existed. Interviews around the country also indicated many districts still maintained CEFPI guidelines, in part due to concerns about parking. As such, it should not be surprising that in those states with reliable data about school building and acreage, the end of the old mandates has not led to noticeably different practices. While the authors note that this is not a comprehensive study of all states, the article does suggest that future efforts to achieve compact school campuses in walkable locations should focus on changing the paradigm at the district level.
Banerjee, Tridib, JungA Uhm, and Deepak Bahl. 2014."Walking to School The Experience of Children in Inner City Los Angeles and Implications for Policy."Journal of Planning Education and Research:0739456X14522494.
To Access this Article's Full Text Free Until May 15, 2014: http://goo.gl/Aczc56
McDonald's study focuses on the macro-questions of school footprints, while Banerjee's work with   Uhm and Bahl explores the neighborhood-level design influences on walking to school by asking what makes children feel comfortable walking to school, what are the relevant policy questions and measures around this issue, and what are the current strategies used by children and families. By interviewing 106 children in five low-income L.A. elementary schools, the authors found that even in the inner city 62% of children arrived at school in a private car. Walking trips averaged .48 miles and driving trips were over .6 miles, indicating long distances for young children. The authors tested several built environment characteristics for their association with walking, and also surveyed and interviewed the children about the places that they liked and disliked. The children reportedly liked commercial areas because of their perceived safety and activity, and disliked residential areas and parks because they were perceived to be unkempt and threatening. Children also were keenly aware of areas with gang activity and fast traffic conditions. Furthermore, the safety concerns of parents, who worried primarily about traffic conditions, differed from children, who were more attune to the social milieu. In short, a vibrant neighborhood with strong commercial activity and low crime seems more important to pedestrian grade school students than manicured parks and other infrastructure designed for children. 
Image from Michael Froehlich, ZoraPlays.com.
Vincent, Jeffrey M. 2014. "Joint Use of Public Schools A Framework for Promoting Healthy Communities."Journal of Planning Education and Research: 0739456X13513615.
To Access this Article's Full Text Free Until May 15, 2014: http://goo.gl/A4ruZI
Finally, Jeffrey Vincent of UC Berkeley, takes the discussion to the school house level and asks how the joint use of school facilities can promote healthy communities. By joint use Vincent refers to, "when school facilities or grounds are utilized by non-school entities or individuals, often after school or on weekends, when school is not in session." This is an important consideration given that McDonald shows that schools often occupy large swaths of community land, and thus can provide park and recreation space for the community during non-school hours. Many planners and public health advocates cite access to parks and recreation facilities as an important factor in promoting healthy lifestyles. Despite the potential for return on public investment at school facilities to be maximized by opening their doors to wider community use, Vincent identifies a series of barriers that have made joint-use agreements rare, which include potential legal liability, security, logistics and staffing issues, funding questions, and designs that make facilities sharing hard.
To better understand these issues Vincent conducted a review of national joint-use practices and interviewed key experts around the country. He then conducted detailed qualitative case studies in California schools. Most joint-use is for physical activity at campus facilities, often informally, while others are dedicated to curriculum development and academic services for students and the community. A final type of joint use involves planning for the use and upgrading of school facilities as a part of a larger redevelopment project in the neighborhood. Interviewees in all types of joint-use noted how hard community coordination ended up being. Vincent synthesizes these challenges in to five categories: users, space, time, frequency, and payment. These issues were exacerbated by a lack of clear joint use policies at the district level, and the need to build trust between users and the school in order to have successful joint use agreements.
Vincent finishes his article with a series of interesting policy suggestions and strategies for improving joint use agreements.
Follow us on Twitter @JPER7 and on Facebook (https://www.facebook.com/JPERPlanning).
Post by Thomas Douthat
Topics