The 2014 National Realtor's Survey asked consumers for preferences in housing and neighborhood types. Although preferences trended toward the suburban, the number of people who want to live in urban areas is under-supplied by multi-family housing.
---
Consumer preference surveys have always been fairly useless when it comes to determining actual housing preferences. They tend to ask questions in a vacuum, with no consideration for the actual compromises everyone makes when choosing where to live. Cost, size, amenities, schools, commute—all of these things and more play a role in decision-making processes. And we can rarely have everything we'd like. The questions tend to examine preferences without accounting for the trade-offs inherent in any housing choice.
It was refreshing, then, to see a question in the 2014 National Realtor's Survey that asked respondents to make a real choice (and for some, a compromise): live in an apartment or townhouse in a walkable neighborhood, or accept car dependence and live in a single-family home. In this survey, the suburban lifestyle won, with 57 percent of the vote, compared to 39 percent for apartments in walkable neighborhoods, which is shown in the last row of the chart below: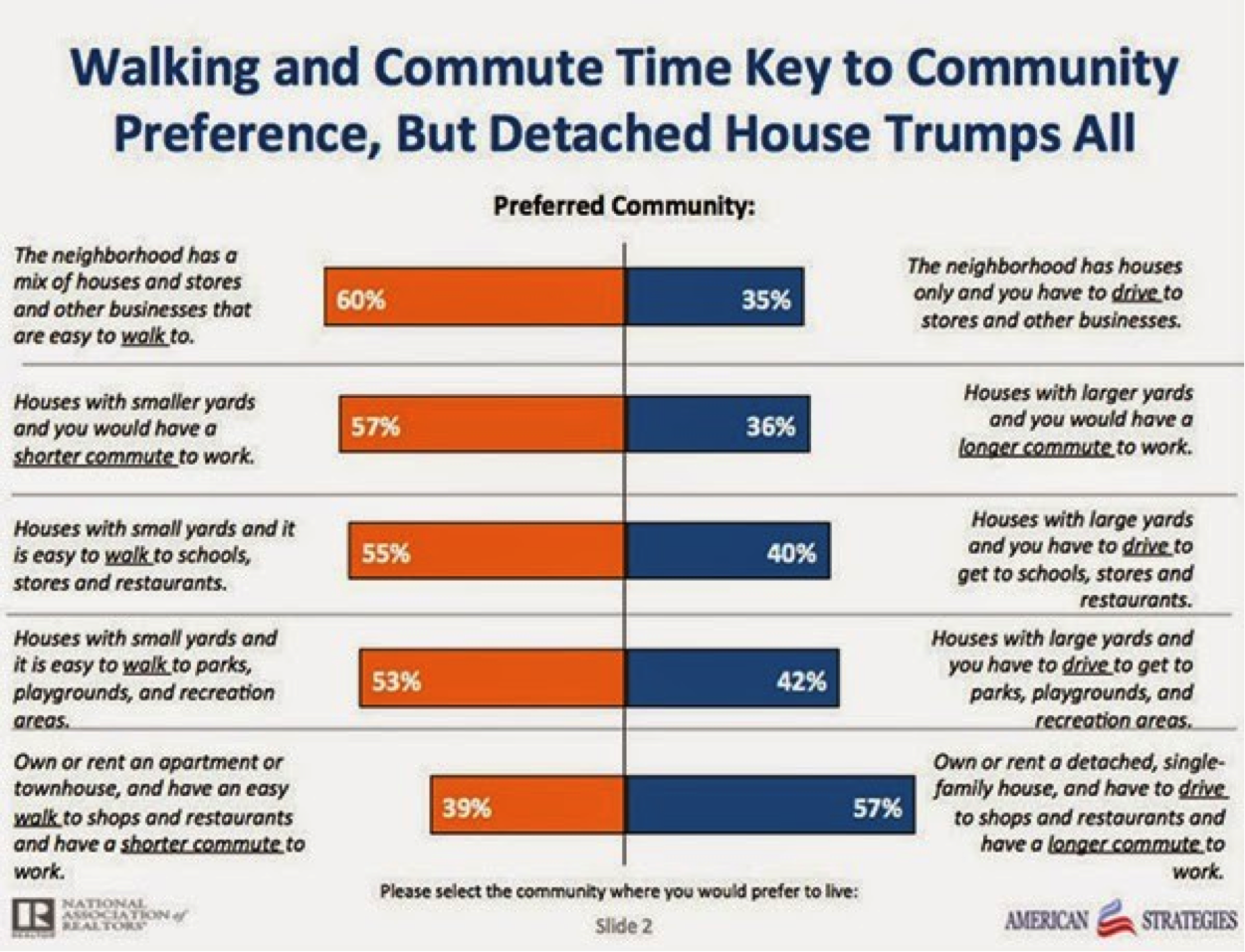 Some might see this as a defeat for urbanists: the majority of people prefer suburbs; the suburbs win! I'll admit to being disappointed that more people don't choose walkability, but most of us who push for more urban development, density, and transportation options aren't arguing that we should force people to leave the suburbs and join the rest of us in the bustling city. Our argument all along has been that people should be given the choice to live in cities—a choice that doesn't currently exist for many of us—and that there should at the very least be enough urban housing to meet existing demand.
With that in mind, the logical follow-up question is whether we're providing enough apartments and condos to meet the needs of those 39 percent of Americans—more than 120 million of them—who would prefer a walkable apartment to a car-dependent detached home. The answer, sadly, is a resounding no, to the tune of a nearly 8-million-unit shortage of apartments and townhouses.
Data from the 2012 U.S. Statistical Abstract totals housing units at about 130 million units (as of 2009)—of which 80 million, or about 61.6 percent, are single-family detached homes. Single-unit attached homes (which sounds like an oxymoron but is how some rowhouses and townhouses are classified) and multi-family homes account for another 43 million units, or 33 percent. Mobile homes pick up most of the remainder, at about 6.5 percent of total units.
Those 43 million attached/multifamily units aren't nearly enough to sate demand. If all 39 percent of those who would prefer to live in apartments in walkable neighborhoods had their wish, we'd need to build another 7.8 million apartments, condos, and townhouses for them. That would bring the total to more than 50 million units.
In fact, even an 8 million unit shortage may be understating the need: according to the 2012 American Community Survey there are approximately 60 million individuals living in buildings with two or more units, and another 20-25 million in single-unit attached homes. Since multifamily and renter-occupied homes tend to house a smaller number of people, that means that only 28 percent of Americans are currently living in multifamily buildings—30 million fewer residents than consumer preferences would predict. And even that is an understatement, since many existing apartment complexes are completely unwalkable, forcing residents into a car-dependent lifestyle.
Multifamily construction has picked up in recent years, but we're still building fewer than 400,000 apartment and condo units per year. At that rate it'll take more than 20 years to catch up to demand, ignoring population growth and demographic changes that are making walkable neighborhoods increasingly popular. We're unlikely to make much progress as long as the space we reserve for dense multifamily development remains extremely limited, and many big-city downtowns continue to drastically limit development and waste space with unnecessary parking regulations. Given this shortage, it shouldn't be any surprise that much of the existing stock of apartments in walkable neighborhoods is so astronomically valuable, and it should be a call to action to support more growth where it's needed, and desired, most.
---
Green Alleys: A New Paradigm for Stormwater Management
Rather than shuttling stormwater away from the city and into the ocean as quickly as possible, Los Angeles is now—slowly—moving toward a 'city-as-sponge' approach that would capture and reclaim more water to recharge crucial reservoirs.
This six-course series explores essential urban design concepts using open source software and equips planners with the tools they need to participate fully in the urban design process.
Learn the tools for implementing Universal Design in planning regulations.
View More