A new anthology tells the story of Seaside like we've never heard it before–on its own terms.
---
Seaside has become familiar enough to be taken for granted. Whether as the over-revered epicenter of New Urbanists, or the target of superficial criticism for their opposition, most of us like to think we know enough about this Florida new town to make an opinion. And while we do, here comes a book that tells its story like we've never heard it before.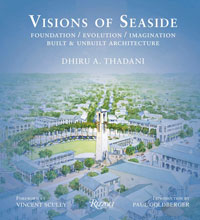 The 608-page anthology Visions of Seaside, created by Dhiru Thadani with more than 75 contributors, could only have come from someone as intimately familiar with Seaside's past and present, as acutely aware of its contentious perception within the larger profession today as the author. Thadani, a recognized New Urbanist, and creator of another lengthy recent volume–The Language of Towns and Cities: A Visual Dictionary–has followed the Seaside story from the very beginning: As a faculty member at the Catholic University of America, he was the first to have directed his students to make a hypothetical fully-built model of the town, long before the world knew of Seaside or New Urbanism. This was the beginning of an enduring two-decade-long scholarly obsession with this place–and this is what enables him to offer a refreshing and savvy presentation of a well-worn premise.
But my opinions of Seaside, New Urbanism or Thadani aside, the reason I like this volume is because it presents its subject on its own terms–without competing with anyone, without being preachy, without exaggerating that Seaside is the greatest thing to have happened on earth and without wasting time considering whether or not Seaside is a real town. I like this book because it simply takes what is factual about Seaside, and unapologetically celebrates it. This is a book that reminds us that Seaside was not born through the wave of a magic wand, but through an ordinary, imperfect, iterative process that kept adapting along the way. That it made numerous compromises just like any other development, even as it continued to aspire to the highest ideals of real-estate, design and community. That this enlightened vision has had many more authors than Robert Davis, Andres Duany and Elizabeth Plater-Zyberk. That seen through the educational and intellectual efforts of the Seaside Institute and the Seaside Prize it is today a lot more than a town. That it is, in fact, a phenomenon in flux, whose identity is continually emerging through plural visions and ideas all framed by a bigger noble agenda.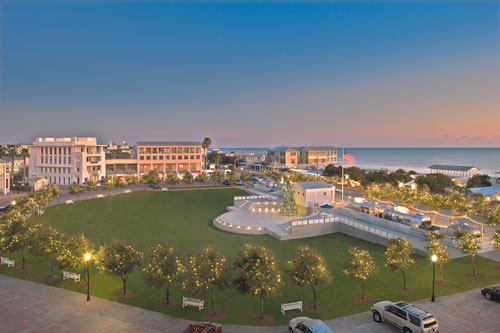 "The Complete Seaside" as I like to call this book more casually, has an expansive five-part structure: Foundation opens up with 19 insightful essays by numerous individuals who have known this place intimately in various capacities, be it Robert Cambell's "Personal Thoughts About Seaside," Isaac Stein's "Growing Up in Seaside," Robert A.M. Stern's larger contextualization of Seaside as an exemplary "Invented Town," or Andres Duany's "Ground Zero of New Urbanism" that candidly summarizes the movement's contemporary condition in a manner only he can. For me the most interesting aspects of this section, however, are its less-known quips and anecdotes–who knew that a young Duany caught the attention of Robert Davis, when Peter Eisenman during a public lecture retorted this former architecture student in response to a provocative question? Who knew that Rem Koolhas in 1984 had not failed to notice Seaside as "a time-bomb among us?" Or that it was Leon Krier who solidified the change in design direction Seaside would take?
The book's second section, Evolution, presents a revealing chronological history of Seaside's design. It begins with the earliest April 1979 sketch by Duany and Plater-Zyberk (then of Arquitectonica) when the plan's geometry was being derived by client Robert Davis' decision to deviate Route 30A to the north to avoid crossing it while going to the beach. It shows the turning moment in the Fall of 1979 when the plan was recast towards traditional urbanism after its authors (now independent from Arquitectonica) were profoundly influenced by a Krier lecture. It exhibits a less-known hand-drawn peer-review-sketch of the new plan by Krier himself. And it ends with the entitled plan, and Seaside's first official colored drawing. There are elaborate spreads on Seaside's pioneering urban code that would go on to become a reference point for so many neighborhood developments across the country. And there is an intricate collection of less-known diagrams that would gradually gel into some of the foundations of a movement we now know as New Urbanism.

The third section Built Architecture is familiar to many of us, and we all have strong opinions about it. Even so, to see the breadth of architecture with their respective drawings is a delight. We often forget the impressive design diversity of this town–the Neo-Classical plan of Cooper Johnson Smith's Seaside Avenue Residence, the crisp Modernist corner-lot townhouse by Alexander Gorlin, a young Steven Holl's mixed-use building on the main square directly opposite Machado and Silvetti's, Aldo Rossi's T-plan house, Leon Krier's meticulously proportioned Krier House, Scott Merrill's elegant Seaside Chapel, and then the various pavilions that enable "the democratic sharing of the beach." It is here that we see what Seaside has truly achieved–an unprecedented gathering of some of the most talented architects of our times, but in a manner that never makes a single voice louder than the collective agenda. As if to reinforce this point, Thadani has drawn the first floor plans and primary elevations of select Seaside buildings at the same scale offering a never-before-done comparative study. I cannot think of too many post-War developments that can boast of this kind of coherent diversity.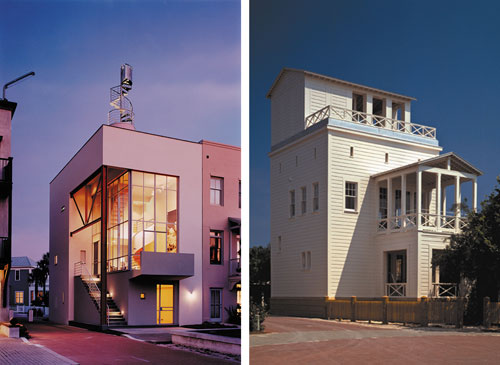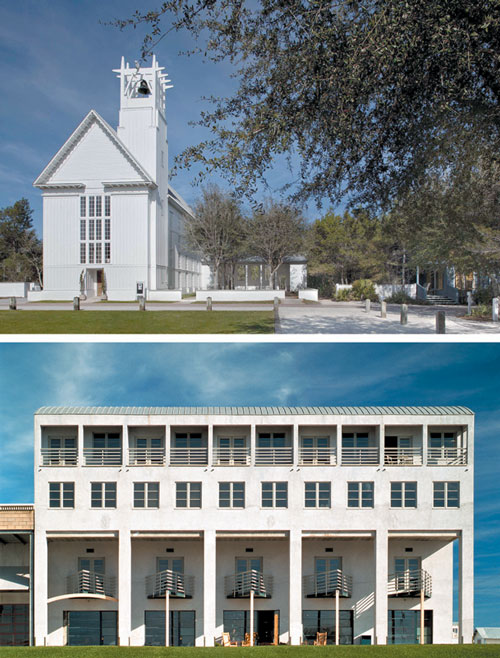 Top to Bottom: Seaside Chapel by Scott Merrill (photo by Steven Brooke); Hybrid mixed-use building by Steven Holl (photo by Steven Brooke)
The fourth section Unbuilt Projects is the volume's biggest contribution. The spread goes from landmarks and residences to hotels and community centers. The most ambitious is Robert A.M. Stern's Seaside Hotel, once proposed to the east of the main square. The most iconic is Andrea Ponzi's Waterslide Tower with an exterior-mounted 250-feet-long waterslide for users to descend into an outdoor pool. There are beautifully crafted civic projects for the Lyceum site by Richard Economakis and Walter Chatham, a formally complex modernist vacation house by Anthony Ames, an elegantly proportioned classical pool house by the late Charles Barrett, as well as a plan for the Seaside cemetery by Mike Watkins - which should convincingly solidify Seaside as a 'real' town once completed. In excavating this spectacular repository that would have otherwise remained un-noticed, this book has deservingly celebrated some truly beautiful architectural designs, while unfolding an unprecedented gallery of architectural pluralism to learn from or at least be provoked, if not inspired by.
The fifth section, Imagination, has to do with what's next for Seaside, or with planting the seeds for successional strategies, with a few cautionary tales. They range from founder Robert Davis' ambitions for creating the armature for ensuring Seaside's long-term conservation as well as its appeal as a "holiday town," Robert Orr's ideas for rethinking the "underutilized" Quincy Circle as a retail street behind the main square, Leon Krier's revisit to the size and configuration of the main square, Philip Bess' intriguing justification for bringing in a group of Benedectine monks to set up a monastery, and Daniel Slone's piece on Seaside's current and future modes of governance. If these are Seaside's ongoing preoccupations, then it is anything but the poster-'child' of New Urbanism. Here is a mature not-so-new town, long past its infancy, or what Jacquelin Robertson refers to as a "historic town" around which he designed the neighboring new town of WaterColor.
So what is this book missing? Some commentary on the visions of Seaside as a business model? Some insights on the marketing strategies that have raised its land-value far beyond expectation? Some lessons on the nexus of patient capital, design and real-estate development? Because there will always be those who remain stuck on how manicured Seaside is, some wisdom on why we should not confuse the things that make Seaside an inspiring precedent for mainstream development, with the aspects that clearly set it apart as one-of-a-kind? And because we all know Seaside is a very expensive place, some elaboration on a key point that Vincent Scully makes in his Foreword – on how the principles developed at Seaside have also produced some of the "most humane and spectacularly successful low-cost housing in modern America." In hindsight, Thadani admits there have been many omissions, in-part to keep the book at a bargain price of $75.
Visions of Seaside is a must-read for every thinking urbanist–whether you are developer or architect, traditionalist or modernist, whether you like Seaside or not or want to create anything like it. It is a place you absolutely need to know about, but not through some casually made opinions on its picket fences and porches. You need to know Seaside for what it truly is–its facts, struggles, victories, shortcomings and presence. And that is why you should read this book–because the Seaside story has never been told more unabashedly, comprehensively and elegantly.
---
Vinayak Bharne is Director of Design at Moule & Polyzoides Architects & Urbanists in Pasadena, California, and a joint faculty of urbanism and planning at the Sol Price School of Public Policy and the School of Architecture at the University of Southern California.
The Hyperloop's Prospects Dim
The media is coming around to the idea that the hyperloop is not a near-term solution for the country's transportation woes. It's too little, too obvious, too late.
The Great American Exodus: A Conservative's Perspective
During his keynote speech on September 11 at the National Conservatism Conference in Miami, Florida Governor Ron DeSantis describes the demographic shifts in America since he became governor in 2019 in what he calls the 'Great American Exodus.'
The Resilience of Bikeshare
The inherent simplicity of bikes makes shared mobility systems a crucial transportation option during natural disasters.
This six-course series explores essential urban design concepts using open source software and equips planners with the tools they need to participate fully in the urban design process.
This course aims to provide an introduction into Urban Design Sketching focused on how to hand draw master plans using a mix of colored markers.
View More