As a new cohort of young planners prepares to enter the field, more than a dozen recent graduates share their insights on how to make the most of a planning education and navigate one of the most challenging job environments in recent memory.
---
For those who graduated during the latest recession and its aftermath, stepping out of the safety of the ivory tower and into the murky waters of the working world certainly produced some trepidation. A challenging employment environment created by intense competition for scarce openings has required a diverse set of strategies to land an opportunity to put that planning degree into action. After several years of navigating this professional environment, it's interesting to see how the aspirations of graduating students and young professionals have weathered an uncertain, but apparently improving, national economy.
This article attempts to shed some light on the challenges encountered, and insights gained, by Cornell's 2009 to 2012 City & Regional Planning (CRP) graduate cohorts, as they work to climb the career ladder. The experiences of these young professionals are meant to inform a new set of students and graduates as they enter the field, helping them to make the most of their planning education and succeed wherever that job search lands them.
Challenges Faced Before Landing That First Job
On a positive note, most everyone who responded to a recent survey conducted by the author is gainfully employed, with thirteen out of 16 respondents reported having found planning work. However, nearly half of those currently employed applied for more than 25 positions before landing their current job. Those working in the planning field are employed by cities and for private planning and consulting firms in states such as Alaska, California, New York, Missouri, Wisconsin and Hawaii, and in a few cases, assigned to federal projects. They are employed as researchers, lecturers, planners, and project managers focusing on economic development, housing, community planning, transportation planning, and environmental planning.
Many of those who responded to our survey reported not finding employment soon after graduation due to a combination of limited job openings and their lack of on-the-job experience. "Like many of my colleagues who graduated during the economic downturn, I struggled to find a job right out of graduate school. In fact, it took me a year and a half to find a full-time job in the planning field," says Rima Shamieh (Class of 2010), reflecting on the challenges she faced after graduation. "However, I now have over a year of professional planning experience and am about to start a new job."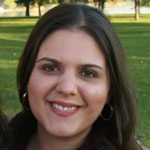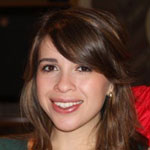 Rima Shameih and Karla De Leon
Karla De Leon (Class of 2011) took a job in business finance when faced with the bleaker prospect of landing a public sector planning position. "One of the difficulties I faced was the massive budget cuts in California," she explains. "On at least one occasion, a position with a city government I applied and tested for was canceled due to budget cuts. Another difficulty I faced was my lack of practical experience in planning. Most jobs (entry-level planner jobs) required 1-3 years of experience in planning. With a Master's from Cornell, I was over-educated but under-qualified for many jobs."
"It's experience that really counts in this job market," adds Sam Scoppettone (Class of 2012), who was recently hired to work as an Economic Development Analyst at Camoin Associates, Inc. in Saratoga Springs, New York. "There are very few entry-level jobs to be sought, with most requiring at least 2 years of experience in the field. How is one supposed to acquire experience if there are so few entry-level jobs? Since I had almost no work experience in the field, I didn't make it past HR in most cases," 
Meghan Hayes (Class of 2011) refers to her lack of experience in historic preservation planning as a "Catch-22", stating, "I need experience for a good job, but I need a job for experience." She is currently employed as an adjunct faculty member at a private school, and says that this was "not how [she] envisioned [her] future." She asserts, "I stay involved in local preservation when time allows, but there are no job openings within 100 miles that don't require a few years of experience."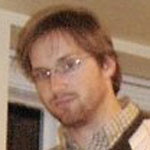 For many graduates, internships or fieldwork completed with student-run organizations such as Cornell's Design Connect, provided an invaluable opportunity to gain real world experience. "As a student I was honored with the opportunity to lead [this] student design and planning collective we named Design Connect. Helping to lead and build this organization taught me that it was possible to create the kind of work that I wanted to do, rather than waiting for someone else to do it for me," says David West (Class of 2011). In addition to co-founding Randall-West, a planning consultancy in upstate New York, he also runs an up-cycled furniture store with his wife and works part-time as a GIS lecturer at Cornell.
Assessing the Most Useful Skill-Sets
"Employers seek very technical skills and mastery of software," says Christopher Glenn Hayes (Class of 2012) who "[t]hrough professors and the alumni network, [has] made contacts who have provided [him] with several small planning-related contracts." He explains, "There appears to be little on-the-job training for these skills; you're expected to know how to use ArcGIS, Adobe Creative Suite, or have knowledge of how to implement web-based community outreach through social media and through specialized web apps."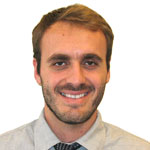 Most of the respondents to the survey found having advanced technical know-how and experience working with a variety of software programs imperative for the work they were asked to perform. "Coming into a job with a relatively limited amount of software skills was I think the biggest hurdle. I had good knowledge of GIS, but lacked experience in supporting programs such as Adobe Illustrator," says Daniele Petrone (Class of 2011). "I've since used the trial and error method to become quite skilled in Illustrator, but would have benefited from a stronger software curriculum in graduate school. Other important programs we use frequently include SPSS, InDesign, Sketch-up, and AutoCAD." Petrone has been working as an Associate Transportation Planner for Nelson\Nygaard Consulting Associates based out of the Bay Area.
Other skill sets that have proven critical to respondents' professional experiences include a strong grounding in land use law and participatory planning, and an in-depth knowledge of theory and history -- all heavy components of Cornell's City & Regional Planning core program.
Though nine out of the 16 respondents reported finding employment within their specialization, at least two now working in the transportation sector claim they would have benefited from more training in their concentration area. "I had very little background in transportation planning, so I was unfamiliar with the New Starts process and all of the stipulations under NEPA [or the National Environmental Policy Act]. I also had very little background in the construction and engineering process, so there was a large learning curve," explains Aki Marceau (Class of 2011), who is currently employed by Parsons Brinckerhoff in Honolulu, Hawaii.
Some of the Challenges Faced While on the Job
Needless to say, after successfully landing that first full-time position, novice planners are confronted by other challenges. The young professionals who responded to the survey reported a variety of obstacles encountered in their new places of employment. "My biggest professional challenge to date has been getting enough on-the-job training and feedback from experienced planners. My current position requires a lot of self-teaching, which takes up a lot of time." says Shamieh. "I have also encountered some skepticism from municipal officials regarding my credentials because I do not yet hold an AICP certification." Shamieh has worked as an Environmental Planner for the Otsego County Conservation Association (OCCA), a local non-profit in upstate New York, and has recently entered the civil service as a Planner for Cayuga County.
Other problems cited by respondents include low wages for municipal government positions, lengthy hiring processes for government positions, and politics in the workplace. Others voiced concerns about the difficulties of choosing where to reside, and the challenges of engaging with discourteous members of the public.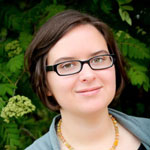 Anna Brawley (Class of 2011), who works as an associate for Agnew Beck Consulting, a small private consulting firm based out of Anchorage, Alaska, says she "sometimes feel(s) isolated from the rest of the planning professional community" since she is far from the rest of the U.S. She says, "Jobs are not as hard to come by up in Alaska, so I'm happy to be doing interesting work and making a dent in student loans - but I did move a long way away from home!" In an effort to feel more connected, she tries "to keep up with the field by reading as much as [she] can, and [was also] looking forward to going to the APA conference in Chicago this April."
Advice for Those Considering Graduate School
"It would help to know what you want to do at the end," says Alvina Lin Condon (Class of 2009) who is currently the Housing Program Coordinator for the National Coalition for Asian Pacific Community Development (National CAPACD). "It's okay to go in for one thing and find out you like doing something else much more, but have a goal and work hard towards it! Knowing your goal(s) also helps you find an advisor who is better suited to help you through the program and through your research project/thesis."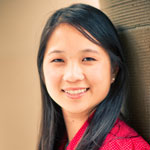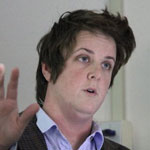 Alvina Lin Condon and C.J. Randall
"Approach courses as an empowered consumer, if a class sounds interesting and useful, but the professor isn't providing what you need, drop the course and invest your time in something else." says West.
"Get as much 'on the ground' experience as possible (Workshops, Design Connect, APA meetings, competitions, etc.), as those experiences [provide] the professional skills necessary for life as an urban planner," asserts Petrone. "Every project is also an opportunity to build your professional network." adds West.
"Internships, internships, internships!" exclaims Shamieh. "Find a good one, or better yet, two. Competition is fierce for entry level planning jobs, so making yourself competitive with some real-world, on-the-job experience can make a world of a difference."
Good time management skills and wise financial planning may pay off as well. Finish on time and try to avoid taking on a large debt burden since young planner pay is notoriously low. "Keep in mind that you will be indebted for a very long time, and so it is not just a two-year commitment," says Scoppettone.
Finally, network and get to know your own colleagues, as these connections will continue to serve you in unexpected ways as you grow in your field. "[What] really helped from Cornell was my classmates," asserts C.J. Randall (Class of 2011), Principal and co-founder of Randall-West in upstate New York. She also reminds entering graduate students to "have fun", adding, "Go to all the parties, go to all the talks you can, in and out of the department. It's over so fast."
---
After completing her coursework at Cornell in 2010, Erica Gutiérrez undertook a research project that led her to Barcelona for two years. While there, she also engaged in a variety of freelance and independent contract work-- from working as a project manager, to translating a book from Spanish to English, to giving history and architecture walks. She currently works for an affordable housing nonprofit in Santa Monica, California. 
The Right to Mobility
As we consider how to decarbonize transportation, preserving mobility, especially for lower- and middle-income people, must be a priority.
Early Sharrow Booster: 'I Was Wrong'
The lane marking was meant to raise awareness and instill shared respect among drivers and cyclists. But their inefficiency has led supporters to denounce sharrows, pushing instead for more robust bike infrastructure that truly protects riders.
This six-course series explores essential urban design concepts using open source software and equips planners with the tools they need to participate fully in the urban design process.
Learn the tools for implementing Universal Design in planning regulations.
View More