The Changing Business of Planning
Amid diminishing government resources and the expanding influence of emerging technologies, Laurel Prevetti, Assistant Director for the Department of Planning, Building and Code Enforcement for the City of San Jose, discusses how the role of the public sector planner must change to meet the demands of governments eager to spur development and stakeholders more demanding of access and influence. 
What is the business of planning?  Public sector planners typically respond with one or more of the following:
Building the city of the future
Helping people realize their dreams
Promoting our communities
Attracting and retaining companies
Enhancing the quality of the city
Maintaining a long range perspective
While these activities continue to fill the busy days of planners, there are forces of change in play beyond plan-making and implementation.  Planners are increasingly called upon to facilitate development, rather than simply regulate it.  This requires customer service finesse to shepard a project through the planning process in a timely manner while meeting the city's codes and policies. 
Not only is the development community increasingly "high touch", so are community members, Chambers of Commerce, and other interested parties.  They all demand transparency, access, and engagement in the process and a substantive impact of the project/plan.  When a stakeholder emails a planner, there is an expectation of an immediate response in our 24/7 world.  Public records requests and media inquiries add to the visibility of a planner's work. 
Fiscal forces of change have also hit the Planning profession hard.  The economic recession halted development applications, and many parts of the country are only now beginning to see new applications filed.  With reduced economic activity and falling property values, tax revenues plummeted and city budgets shrank.  While cities could conceivably raise planning and development processing fees, most local governments were reluctant to do so in a recovering economy.  The resulting layoffs left the planners lucky to remain employed with the task of doing more with less.
Other forces of change shaping the profession include leadership turnover in city government as the baby boomers retire, term limits kick in, or mayors clean house and bring in people loyal to them.  On the other hand, economic and cultural factors are contributing to senior staff members working longer, reducing the upward mobility opportunities for young talent.
Lastly, history – of a development poorly designed or a process poorly managed - is a constant presence weighing on the work planners do every day.

How has the core business of Planning changed in light of these forces?
Planners are rethinking our work by creating a positive work environment, recognizing that we need to appreciate the skills and talents of our colleagues, and remembering to have fun along the way.  Planners are listening more carefully, both internally and externally.  What are the staff talking about?  What are the customers concerned with? Why?  Finally, Planners are learning, testing, and adapting to this rapidly changing world.
San Jose, California (almost 1 million population), located at the southern tip of San Francisco Bay in Silicon Valley, has used several approaches to address these challenges:
Creating a culture of continuous improvement
Using performance measurement
Trying new funding and staffing models
Mentoring staff talent
Culture of Continuous Improvement.  The planning and development review process is ripe for ongoing improvement in processing applications more efficiently and effectively.  Hence, staff and stakeholders should be engaged in an open dialogue to identify ways to  improve the approvals process and determine the priority of improvements.  In San Jose, this is done in partnership with the Chamber of Commerce and the development community at quarterly meetings.  At these meetings, staff and a small group of interested stakeholders work through the details of the improvement, pilot it, and then roll it out on a broader scale.  It is critical that identified improvements are made and implemented, requiring a commitment and investment of staff and other resources. 
For example, San Jose has launched a "chess clock" to identify how long an application is in the applicant's court versus on the planner's desk.  The resulting data is expected to improve the approvals process by compiling an honest account of the time spent by an applicant revising plans or how long departmental reviews take.

Performance Measures.  Demands by public officials and constituents for continuous, measurable improvement have necessitated a culture shift from being issue driven to becoming data and performance driven.  In the past, planning departments focused improvements on addressing particular land use or policy issues.  Now, data and performance drives improvements in areas such as customer response times, application review times, and customer satisfaction.  San Jose's development services goal is to increase the City's economic vitality by using integrated performance measures, managing data-driven and customer-focused operations, and achieving long term sustainability.
Success also requires clear objectives as an organizational foundation.  For San Jose, these are:
Improve communication with customers
Improve accountability and consistency
Improve timeliness by clarifying and simplifying processes
Build on our existing, strong staff
Enhance customer satisfaction
The organizational foundation also necessitates linking performance measures to each objective.  Measures must be useful, meaningful, and easy to measure with readily attainable data.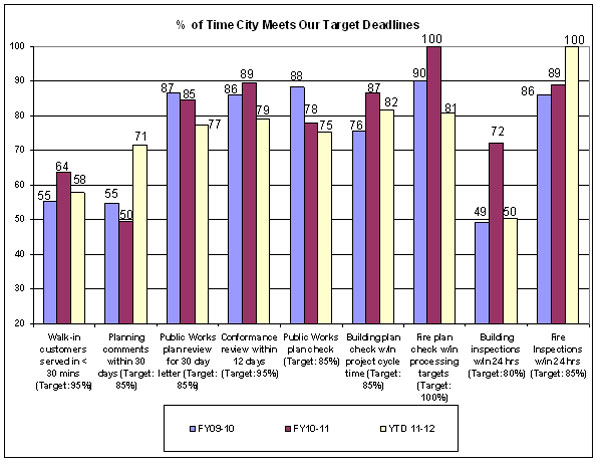 Armed with data on actual performance, the old, damaging stories can be replaced with new ones.  To compile such data, San Jose completes an annual scientific customer survey conducted by an outside consultant.  One thousand customers (i.e., applicants) are selected at random and surveyed.  As expected, customer satisfaction went down after layoffs and began to increase as staffing levels rose to handle pending applications according to the City's timeliness goals.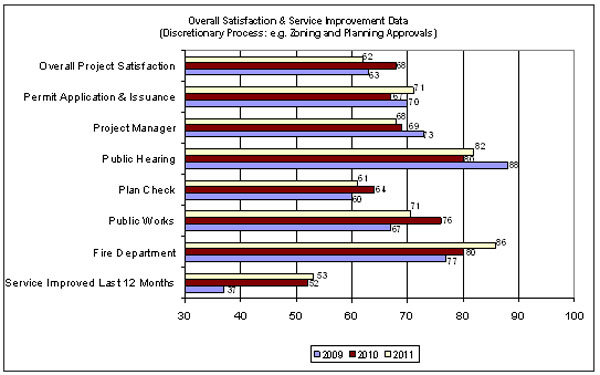 In addition, anecdotal customer experiences continue to be captured on customer comment cards at the customer's convenience.  Comment cards usually capture strongly worded input, either highly favorable or the opposite.  Unsolicited, positive customer testimonials are always appreciated, and tend to be used repeatedly by elected officials, particularly if the staff work results in tangible economic development outcomes.  For example, the quote below from the CEO of Brocade demonstrates the role of planning and development services in keeping a high profile company in San Jose.  Finally, an investment in getting to know reporters and bloggers can go a long way in getting good stories distributed in the media and/or internet.



Planners are well accustomed to community engagement in plans and projects.  Now, engagement with the business and development community is a must.  In San Jose, quarterly meetings with the Chamber as well as monthly meetings of a Developer Roundtable foster ongoing communication about what is working well in the planning office and what could be improved.  Staff are also encouraged to establish strong working relationships with applicants through conversation and not just email.
Furthermore, staff engagement is essential to building better relationships with customers.  Currently, San Jose planners and other disciplines involved in the development process are involved in a "Superior Customer Service Initiative" in which staff identify their commitments to service, as well as how to work with applicants as responsible partners throughout the process.  Mid-managers convene discussions at staff meetings and invite development customers to help shape the Initiative.  The result is clarifying expectations for both parties.  For example, the effort revealed that the staff could not effectively deliver high quality service for incomplete applications.  Time is wasted by staff tracking down required information instead of working to get the application ready for a public hearing.

New Funding and Staffing Models.  Both Current and Long Range Planning can benefit from new funding and staffing models.  For Current Planning, across the board fee increases to cover service costs are unlikely given the recovering economy.  Instead, targeted fee increases for certain permits or processes can result in improved cost recovery.  A strategic approach, that identifies reasonable targets for increases with staff and applicant input, can be easier for an elected body to approve. 
In addition, General Fund (discretionary tax revenue) monies can be leveraged to try new service delivery modes to meet the emerging needs of customers.  For example, an Expedited Planning service was piloted in San Jose using General Fund dollars to support a planner.  Once the program was up and running, application fees replaced General Fund dollars and the City Council was able to reinvested the General Fund monies in other service delivery pilots.
Long Range Planning is historically supported by General Fund dollars, which is an excellent investment for a city.  However, when these dollars become stretched, it becomes difficult for a planning office to compete with public safety needs.  Outside funding may, in turn, become necessary to augment a reduced General Fund investment.  San Jose has been successful in obtaining grants from other governmental agencies and from local foundations and nonprofits, such as the Health Trust.  After the comprehensive update of the city's General Plan, the nonprofit community saw alignment with their missions and began funding planners to create ordinances facilitating access to healthy foods and other mutually desirable outcomes.
Staffing models are becoming more flexible as well.  After the deep layoffs in 2009, San Jose is beginning to add civil service positions again.  These positions are being added judiciously, so a core number of staff can perform their work according to performance targets.  Expecting a future surge in development applications, San Jose is preparing to augment the permanent staff with "peak staffing" from consultants.  These individuals would work side by side the permanent staff under the same supervisor.  All of these resources enable the City to match job skills with the specific projects, while retaining a core, permanent staff for service continuity.
Success depends on hiring the right people with the right skills.  Technical skills are no longer the only criterion for a good hire.  Incoming staff are screened for their creative problem solving, empathy towards the customer/community, critical thinking, and excellent communication skills.  People who are solution-oriented are now hired over the pure technical expert.  While hiring for soft skills has been common for executive placements, this is now commonplace for entry level positions as well.

Mentoring Staff Talent.  The forces of change described earlier in this piece have added stress to the workforce.  Retaining and valuing staff talent is critical to reduce and mitigate this stress.  A decent paycheck goes a long way, and staff appreciate bonuses for excellent performance; however, local government does not have the resources to do this.  Instead, training and other career development investments can reward and encourage staff to do their best work. 
In addition, a flexible work environment communicates an employee's value to the organization.  If an employee works offsite and demonstrates that the work was accomplished, trust and respect are enhanced. Flexible work hours can enable a staff member to attend a child's school event in the middle of the day and participate in Planning Commission meetings in the evening.
A planning office is rich with material for a comedy routine.  Take time out to laugh, and to celebrate accomplishments and one another.  It is too easy to move on to the next project, so make an effort to stop and recognize the hard work of team members to achieve major milestones or the completion of a plan or project.  A workplace retains talent when it is a fun place as well as professional office. Hard fought accomplishments should be rewarded in fun ways.
A learning organization makes for a dynamic environment and keeps employees engaged.  Staff meetings should be used to review performance data, work on process improvements, critique and refine processes, and share emerging trends.  Successful innovations as well as failures should be rewarded to encourage thoughtful risk taking.  As retirements occur, planning offices need to prepare for succession and knowledge transfer. 
The changing business of planning necessitates genuine staff and customer engagement with follow-through on agreed upon next steps. 

Parting Thoughts.  As the Planning profession moves forward, the development dynamic is changing from one of adversaries to one of partners.  Planners will be asked to enhance the customer experience while achieving key City objectives and balancing community needs.  Staff performance reviews provide important feedback and linkage to performance data and customer satisfaction.
---
Laurel Prevetti is the Assistant Director for the Department of Planning, Building and Code Enforcement in the City of San Jose.  She also teaches part-time in the Urban and Regional Planning Master's Program at San Jose State University. 
The material in this article was first presented at the National Conference of the American Planning Association in Los Angeles California, April 2012.  The author extends acknowledgements and thanks to Joseph Horwedel (San Jose Director Department of Planning, Building and Code Enforcement) for his leadership in championing the efforts described in this article.