The Problem with Architecture that is Landscape-Driven
Architect David Heymann says that a lot of architects claim to use the specifics of a site's natural features to inspire their design, but most end up with designs that are aggressive to the landscape - and to people.
Heymann pooh-poohs the "ridiculous sustainability tie-in" of working with the landscape, and argues that architects who claim to be using the landscape as inspiration are just as "willful and gestural" as those who do not, if not more so:
Heymann writes that "...many - most - of the buildings conceived by these means over the past two decades are stridently volatile forms, and their landscapes are dramatically altered by their arrival. Consider an early progenitor of the type: Zaha Hadid's fire station for the Vitra complex in Weil am Rhein, Germany, completed in 1993. The design drawings for this project notoriously (and, in architectural design, familiarly) extended the geometric patterns of the adjacent surroundings - farm boundaries, crop plantings, rail lines, road angles, and so forth - back over the constructible area to provide a matrix of controlling lines in what would seem to be - to the parent landscape - a sympathetic first step."
"What's then initially surprising about the actual Fire Station - so sympathetically conceived - is how aggressive it seems to its parent landscape."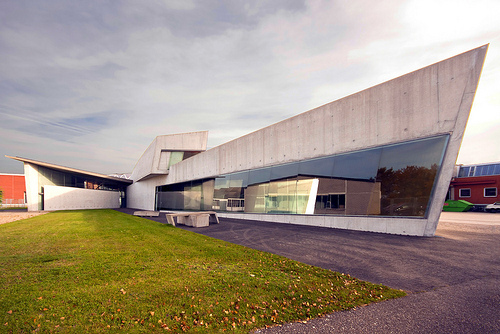 Zaha Hadid's fire station in Weil am Rhein, Germany PHOTO: Wojtekgurak