The Second Coming of Marked-Down Detroit
The 2010 Census reveals that Detroit's population is approaching the 1910's level. Of the City's 714,000 residents, 83% are black and nearly 40% live in poverty. With virtually every statistic going against its favor, can Motown make a comeback?
That Detroit faces "a demographic catastrophe [...] without parallel in the developed world" is anticipated. For starters, the City has over 60,000 vacant homes, dismal property values, stratospheric crime rates, and a dysfunctional school system. On the last point, a mere "11% of Detroiters aged between 25 and 34 has a college degree; in Seattle, the equivalent figure is 63%," according to The Economist.
"Yet despite all the gloom, there is a bit of a sense that things might just be starting to turn, and the reason is simple: Detroit is now incredibly cheap. And that has drawn some admittedly rather pioneering types back into town," says the article.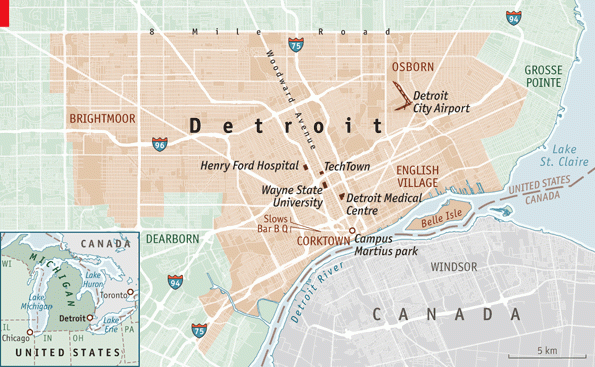 To that effect, Mayor Dave Bing "would like to concentrate his citizens, boosting the population density in areas that are still economically viable, while encouraging people to move out of districts that are not." The proposed M1 light-rail system "will run along Woodward Avenue, the main axis of Detroit's planned redevelopment. With the river and downtown at one end, the 'Woodward Corridor' stretches north to one of the other great hopes for the city, a cluster of universities and business parks."
Published on Thursday, October 20, 2011
in
Topics