Wave of the future, or glorified golf cart? Lisa Nisenson says that dismissing neighborhood electric vehicles (NEVs) is a mistake, and planners can use NEV planning to make more walkable urban centers.
---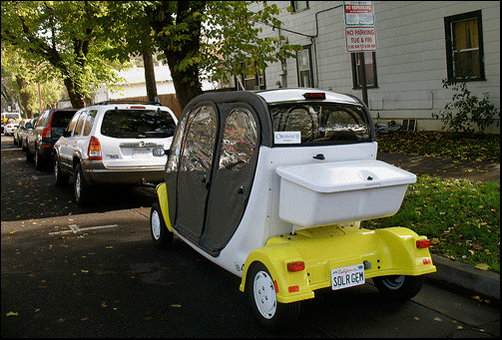 A few weeks ago, I saw a neighbor who doesn't get out much. She had just been dropped off by an electric car that is part of a new service providing free rides. Launched to carry tourists around Siesta Key in Sarasota, Florida, the owner soon found a business foothold not only in tips and advertising related to our tourist trade, but in local residents seeking to avoid parking and perhaps to get out a little more often. As my neighbor left the vehicle, I did not just see an elderly person getting around. I witnessed the latest transportation technology serving a fast-growing mobility challenge.
From full size cars to scooters to bicycles, new electric and solar technology is transforming old modes of transportation. There are new modes as well, with the growing popularity of smaller neighborhood electric vehicles, or NEVs. Their appeal is somewhat akin to the iPad – a technology described as scratching an itch you didn't know you had. For the most part, planners have either dismissed the trend as a niche market for glorified golf carts, or with a degree of hostility, since there is still a checklist of impacts related to any vehicle unrelated to what powers the engine.
But dismissing low speed vehicles and their potential role in better travel and land use options would be a big mistake. While market watchers can't seem to make up their minds on electric vehicle sales, cities and private businesses -- including Best Buy and Cracker Barrel -- have announced large scale plans for charging infrastructure. The Orange County chapter of the Urban Land Institute awarded its 2011 Vision Award to the Western Riverside Council of Governments recognizing their four-city NEV plan.
One of the more interesting twists is the use of low speed electric vehicles to provide microtransit and paratransit services. In Florida, companies such as GreenHopper, Gothcha Ride and Jonny's Free Beach Rides are offering shuttle and circulator systems in 6-person GEM cars for free or a nominal charge. While the original business plans called for shuttle services on college campuses or resort areas, the companies are finding demand for services outside the "bar scene" range. For example, Gotcha Ride in Tallahassee recently provided rides within the restaurant district at night, and shuttle services for visitors around the Capitol during the legislative session. This demand is sending a clear message: our travel options need rethinking.
Background
Those signals are coming from the efforts of a small band of private sector entrepreneurs, but what could happen with a little foresight and planning? First, it helps to examine the current regulatory framework. NEVs are allowed on public roadways with speed limits up to 35 miles per hour, with a top speed of 20 mph and a weight limit of 3000 pounds, including passengers.
Contained communities, such as The Villages retirement community in central Florida were early adopters of golf cart mobility. Because the restrictions listed above apply to public roads, communities with private roads are the top candidates for wider adoption.
In communities with public streets, the "NEV shed" will be determined by several factors including range per charge, the connectivity of streets marked 35 mph and lower, and the density of common destinations in the NEV shed. Planning for NEVs typically starts with map layers showing the location of streets marked 35 mph and under, as well as locally relevant trip generators and populations with the most to benefit from a new kind of transit and transportation. From there, connections can be mapped – either those that exist or rights-of-way with potential.
Cities can also work with their transit agencies to investigate NEV feeder routes to transit stations and stops. As with bike and pedestrian battles of the past, NEVs will almost certainly face pushback in the name of safety. Current NEVs are not built to mix with high speed traffic, so the pressure to limit or ban their use might be only a matter of time with fast growth of NEV use, yet without a supporting planning and design framework.
Land Use and Transportation - Opportunities
A key question is what that planning and design framework looks like. Planners have two ways to deal with NEVs: (1) see what happens within the current planning and street design regime, or (2) get ahead of the curve and figure out how low speed electric vehicles can be used to drive better neighborhood design.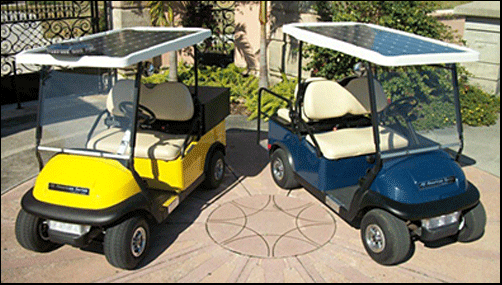 There are three main areas where low speed solar/electric vehicles could fit smart growth plans to integrate land use, transportation and community development:
1) Sprawl repair – Sprawl repair is pretty much like it sounds: using planning techniques to restructure and connect dispersed land uses by providing connections to multiple travel options such as walking and biking and a diversity of choice for housing, jobs, shopping and recreation.
But how would NEV's support sprawl repair when the idea is to build more walkable centers? First, sprawl repair is an iterative process; the first stages take place in areas where the economics, transportation and local support come together. Older shopping centers, key intersections along arterials, or other "nodes" are common candidates for retrofit and connection. While these new town centers will be walkable, access by bike, transit and NEVs will increase the economic catchment area needed to sell developers and elected officials on sprawl repair in the first place. In circumstances where a neighborhood is likely to fight a street connection for car traffic, a NEV trail or connection can offer a smaller road footprint, lower noise levels and lower speeds.
The building boom of the early naughts spurred redevelopment in areas with advantages, for example those with downtowns, great views, or proximity to transit. For sprawl repair, however, the next generation of redevelopment will be much tougher and lack the location advantages. Cities and developers will need a new set of incentives and amenities to add appeal to outdated corridors and 1970's style communities. NEVs and NEV type transit might provide that new appeal.
2) New types of transit – Transportation advocates celebrated a huge victory when the Federal Transit Administration announced the Small Starts and Very Small Starts programs, extending transit opportunity to cities across the country. Even with the program for smaller projects, however, the prerequisites and planning are still out of reach for smaller communities that cannot afford the multi-million dollar investment needed to meet the minimum performance requirements in the first place.
Smaller microtransit could provide a highly responsive system that combines the best of circulators, demand response systems (dial a ride) and options for people who cannot, or do not want to, drive an automobile. These systems might be considered as entry level transit for communities that need to build demand and land uses to the point of successfully supporting a Small Starts application.
Microtransit can also be used in downtown or redevelopment areas with a mismatch of parking lots and businesses. For example, downtowns can used a small fleet of trams to link an underused parking structure with the core of a restaurant district. NEVS are already being used by event planners and sporting venues to shuttle passengers to and from satellite lots.
Cruisecar, a Sarasota-based company, is building custom design tram and transit options, providing seating for up to 20 passengers. The key word is custom, so that we begin to tailor transportation to the setting, not the conventional, and dysfunctional, other way around.
3) Augment public transit – NEV transit need not be considered a competitor to transit systems and in fact, could provide better access to stops and stations. NEV transit feeders, operated by the transit agency, a private company or joint ventures, can link key residential areas with bus routes.
Challenges
1) Safety – The number one challenge will be managing both real and perceived safety issues. By design, their lightweight frames make solar and electric vehicles possible. The Insurance Institute for Highway Safety has already staked out a position that NEVs are suitable only in closed systems. But what communities around the country need now is more connections. There will be limitations on NEV and electric tram use, but there are also opportunities. With additional research and design options, we can get to the point where mobility and safety needs are both met.
2) Staffing and Economic Models – The main cost associated with any type of smaller scale tram or transit system is the driver. In part, this is what has driven the size of transit vehicles – if you are paying a driver, you might as well design big. The current use of NEVs for transit, however, does provide clues on how to pay for systems. The "free ride" models use tips and advertising, though the drivers note they increasingly are called upon to deliver groceries and take-out orders from restaurants. New financing and payment models will likely be needed, which may include subscription based pay and public-private partnerships with transit agencies, downtown partnerships or districts serving institutions with high or variable demands such as hospital districts.
3) Traditional Attention to Heavier Transit Modes – Planning, funding and research is pretty much weighted towards larger systems and technologies – after all you want a big bang for the bigger buck. But it is time to recognize serious gaps in transportation options across the country that will remain that way if we only plan around the small set of transportation technologies we have. For motorized travel, there is a huge gap between use of a personal automobile and the lowest level of transit technology. The two main options in this gap are taxi (expensive for the user) and paratransit (expensive for providers).
4) Opposition from Bicycle and Pedestrian (and even some Automobile) Advocates – NEVs don't fit squarely within the categories we've created for transportation modes; they are not quite cars, but they are bigger than bicycles and scooters. They are not really active modes, but may actually boost activity for a growing number of non-drivers who in reality cannot bike or walk far distances. Their fit in transit-rich cities is a big question.
Given the current battles over lanes, trails and parking spaces, opposition from another mode is all but guaranteed. Big auto companies, which now produce $40,000+ electric vehicles, might not welcome the challenge of NEVs, which cost less than $10,000.
Why Planners Should Get in the Game
Recently, President Obama and Secretary of Transportation LaHood announced a goal to have a million electric vehicles on the road by 2015. But if we just swap out one million gasoline powered passenger cars with one million electric passenger cars, have we really moved the needle? Or should we go for something different where we could knit land use, transportation and vehicle planning?
Stimulating Retrofit and Redevelopment
It is now very clear that the most effective way to boost local economies, restore the environment and enhance mobility is through walkable, mixed-use redevelopment. But redevelopment readiness will vary across the country and even within communities. NEVs can be part of the early kick start to build the iterative process between land use and transportation at the neighborhood scale where dollars for construction and expanding existing transit are hard to come by.
Better Planning
If sprawl was about supersizing and long commutes, sustainable land use is about the neighborhood scale. After all, TND, LEED ND and NEVs have the same "N" in common. Lincoln California hosted the first large scale study of NEVs and found that these electric modes did not replace active trips, but rather, auto trips. There is also a neighborhood economic story – you can't support local business at 70 miles an hour. But at 25 mph, it's an entirely different story.
Better Transit
The need to serve commuters will always dominate transit planning, at least the systems as we know them now. However, commute trips comprise a falling share of trips per household due to demographic and workplace trends. Of the 7200 transit systems recognized by the American Public Transportation Association, approximately 100 feature fixed guideways, heavier technologies such as light rail and subways. For the rest of the country, bus systems are the primary transit option and must address tripmaking with a completely different rhythm than morning and evening peaks. Better buses and better feeders are essential.
The Fast Lane for Low Speed
Ideally, a coordinated forum would come together with the help of the US DOT. They are the umbrella agency covering safety, infrastructure, research and integrative policy. They are also driven by innovation and partnerships with HUD and EPA, all factors needed to shape effective mobility and land use options through lower speed vehicles. If land use and transportation planners decide to get out in front of planning for lower speed vehicles and smaller scale transit, there are a couple of areas for such a forum to explore:
Safety and Vehicle Design
DOT can convene panels with representation from NHTSA the Insurance Institute for Highway Safety, transit agencies and land use planners to develop research, safety and transportation policy needs. Research on how to improve crash test performance with minimal weight and cost should drive the safety discussions.
Regulation and Land Use
The results of a safety panel will likely highlight new areas for regulation regarding safety. In addition, microtransit-type services by the private sector bring about a host of questions about licensing and insurance. The American National Standards Institute (ANSI) is now recruiting partners to develop standards for electric cars and infrastructure. The Electric Vehicle Standards Panel (EVSP) is critically important to developing standards that maintain NEVs low costs while enhancing safety.
On a side note, it looks like land use planning expertise is missing from the panel, a gap which may compromise the ability of the group to tackle electric transportation's full potential. Currently, state of the art thinking on land use for electric vehicles is "let's put charging stations in the zoning codes." We can do better, in particular where an entire new set of transportation technology and economic development tools are needed to unlock TOD for small scale transit.
Infrastructure and Streets
The introduction of lower speed vehicles may come as welcome relief to communities because they act to slow the overall flow of traffic. However, this also sets the stage for conflict where 35 means 45 or higher for some drivers. The limited real estate on existing roads is also under intense competition from multiple modes. For NEVs, the answers will lie mostly in strategic staging, where key road segments are restriped, speed limits adjusted, and path connections constructed.
Certainly, NEVs will not replace larger passenger cars and will be limited, at least in the near future, to certain districts, roads and settings. But the challenges of an aging population, outdated land use patterns and chaotic gasoline prices, combined with an innovation economy seeking new manufacturing jobs, points to exciting new options. These challenges are actually small compared to this nation's transportation investment gap, where money to fund large scale systems will not come close to need. While the pursuit of larger scale urban programs should and will continue, this article argues for more attention to the other end of the spectrum, where smaller, scrappier, adaptable solutions are available, and with a little creativity, poised to meet urgent mobility needs.
---
Lisa Nisenson is principal of Nisenson Consulting in Sarasota, Florida, specializing in smart growth, comprehensive planning, and water policy. Lisa has over 15 years experience in smart growth, with a unique combination of experience as citizen activist, federal policy analyst, planner in local government, researcher and writer.
Making Healthy Places
The editors of the book "Making Healthy Places," recently published in a second edition by Island Press, discuss the intersections of public health and planning, including key concepts such as green gentrification, health impact assessments, and AI.
The Great American Exodus: A Conservative's Perspective
During his keynote speech on September 11 at the National Conservatism Conference in Miami, Florida Governor Ron DeSantis describes the demographic shifts in America since he became governor in 2019 in what he calls the 'Great American Exodus.'
This six-course series explores essential urban design concepts using open source software and equips planners with the tools they need to participate fully in the urban design process.
This course aims to provide an introduction into Urban Design Sketching focused on how to hand draw master plans using a mix of colored markers.
View More