U.S. Bicycle Master Plan Undergoes a Renaissance
Rendered obsolete in the 1980's, Secretary of Transportation LaHood makes a commitment to bring back a national network of bike routes.
More than ever, Americans turn to bicycles as an alternative means of transportation. Andrew Price of Good Magazine reports that bike usage in the U.S. skyrocketed from 3.3 billion trips in 2001 to 4 billion trips 8 years later.
Upon approval of 6 new routes in Maine, New Hampshire, Michigan, and Alaska, the Association of American State Highway and Transportation Officials (AASHTO) has released a detailed map of the proposed "prioritized corridor" for the new national bike network. The map is equivalent to a highway system for cyclists.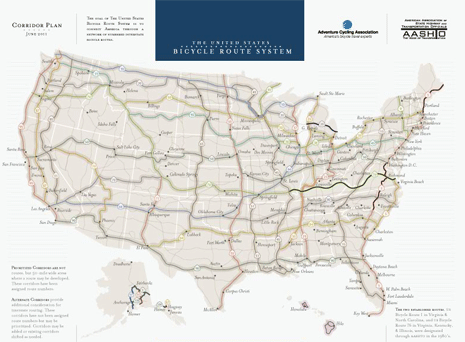 Price asks, "Why build infrastructure for a prehistoric mode of transportation like the bicycle? Who's going to need that in the 21st century? Well, as it turns out, biking is on the rise."
Published on Wednesday, June 22, 2011
in